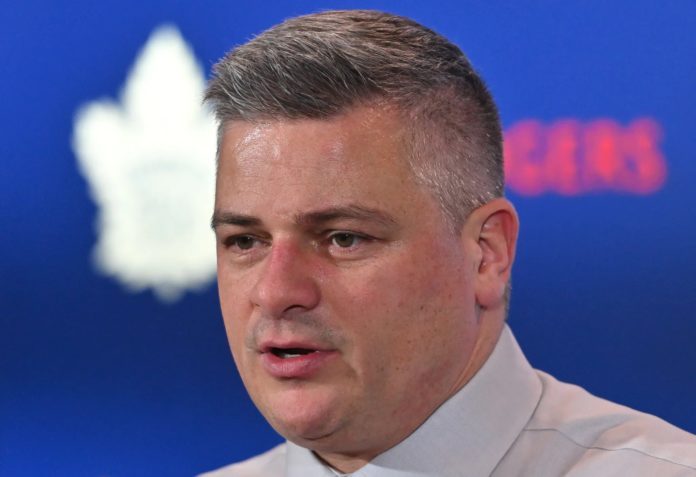 Sheldon Keefe addressed the media after the Maple Leafs' 6-3  loss to the Ottawa Senators which dropped the team's record to 6-5-2.
---
On how the game got away from the team in the third period:
They scored on the penalty kill off a skate, and then we gave them two gifts.
On the level of concern with the team's defensive play of late:
Very high.
On the source of the defensive issues of late:
Some of it is individual. Some of it is collective within the structure. Some of it is just being committed to it.

We sit here and celebrate guys who score big numbers and score a ton. We don't talk enough about what we give up. That is the reality. We have to prioritize keeping the puck out of our net.
On whether there is concern about John Klingberg's -3 game:
Yes.
On what Klingberg needs to improve specifically:
We need to protect him better.
On Joseph Woll's performance:
He had a tough night. Goalies have tough nights. You have to play better in front of him.

Listen, we didn't play a terrible game. We have played worse. We have given up twice as much in some other games than we gave up tonight. The game is right there for us. We just made big mistakes at really important times.

At the start of the second period, we overstretch our shift, and the puck ends up in our net. We are kind of chasing the game from that moment. Those are our best players on the ice. Can't happen.
On where he goes with the team from here:
Keep coaching. We have a lot of hockey left. It's early. Maybe it's too early in a lot of guys' minds, but it is time to pull it together here.

We have to get our game in order and do all that we can to take care of each other — take care of guys who are struggling at whatever position it is. The team and cohesion of the group, the process that you play with, should take care of everybody. That is where we have been disconnected at times.

This is different than some of the things we have gone through in the past. The group has to really pull together here.
On the team surviving slow starts in past seasons and if the knowledge that the team has always dug itself out of the hole could be playing into the team's mentality right now:
Half the team is new. I don't think those guys are thinking that. The new guys want to come in and have a good start. With the rest of the guys, you would have to ask them. I don't think that is how they approach it.

We have to pull together here to keep pucks out of our net. It is out of control.
On William Nylander's comment that the adversity could bond the team together:
I do think that for sure. When you think about some of the slow starts in the past, we have gone on to be some of the best regular-season teams in Leafs history despite some of these starts and some of the same questions that we have had.

It doesn't feel any better going through it. I think our group deserves better. Individually, guys deserve better. Our fans deserve better. It is not good enough.