Garrett Bauman
Got some interesting feedback from a couple sources regarding Kovalchuk's 17 year deal, and its potential impacts on future CBA negotiations.
Source 1:

"These long-term deals are getting ridiculous. How many teams can compete? Kovalchuk only had two suitors due to the number of years he wanted. The league is going to look at both capping contract term and moving toward non-guaranteed contracts in the next CBA.  Contracts signed 1-2 hrs after FA are also going to be looked at and hopefully resolved. The gloves will be off on both sides, but this stuff needs to be done."
Source 2:

"Kovalchuk may have unwittingly screwed the escrow issue for a lot of players. As more players make more salary than cap hit, payroll figures get inflated and the players end up paying a higher percentage of their salaries back into escrow. Kovalchuk's salary will be 5.5m beyond his cap hit for five years of the contract, 4.5m and 2.5m above for another two years after that. He's not the only player whose contract does this, but is the most high-profile given his standing and the absurd length of his deal. It's going to be interesting to see how this affects negotiations as players will inevitably find themselves fighting opposing fronts -- for contract freedoms such as term and front-loading, but against the escrow payments that result from those very freedoms. Advantage: league."
The interesting part about the escrow concern is Kovalchuk's salary doesn't jump beyond his cap hit until the 2012-13 season -- the same year it is anticipated a new CBA will be in effect (I believe the existing CBA has been or will be extended through the 2011-12 season). The contract was set up this way by design, and should be considered very telling as to what the focus of CBA negotiations will be from the NHLPA's perspective.
Update: Some have been asking in the comments why Kovalchuk's contract doesn't violate either of the so-called "100%" and "50%" rules. The reason for this is after the jump.
There has been a certain degree of consternation among Maple Leafs fans of late regarding the number of SPCs (Standard Player Contracts) the team has on the books. Many have expressed concerns that the Maple Leafs are near the league maximum, and fear the situation could adversely affect the team's efforts to continue to re-tool the club into a playoff contender.
A quick glance at the Collective Bargaining Agreement (CBA), however, tells us the situation is not so dire as some would have us believe. The reason? A seldom-discussed clause, unofficially dubbed the "Slide Rule".
Somewhat surprisingly, there has been a fair amount of debate over yesterday's signing of Colby Armstrong.
I find this interesting because  much of the criticism seems to revolve around the notion of $3m equating to more than a 15 goal career average, even though Armstrong wasn't exactly acquired for his offensive prowess.   The main criticism seems to be, why would the team be willing to make a $9 million investment over 3 years, when similar production can likely be found at a cheaper rate?
Now, it seems most decided to stop at that point and take the easy road; that being negativity for the sake of negativity (a known idiosyncrasy of Canadian hockey fans).  But instead of screaming "WHY did they sign him?", I propose a different question:  Why DID they sign him?
It appears as though Leafs' fans will have to put the thought of pending-UFA defenseman Mike Van Ryn returning to the Maple Leafs on hold, as reports suggest he will remain on the sidelines for another season.
Last season Van Ryn underwent an osteotomy, a complicated surgery to re-align the knee, as an alternative to a total knee replacement. He spent the entire season rehabilitating the knee with the hopes of playing in 2010-11, but it appears as though the recovery process will take him well beyond that target date.
This is why I don't like doing prospect profiles.  Call it the "Curse of GB".
2008-09's semi-popular "Getting To Know You" series featured six players who were (at the time) prospects Leafs' fans were excited about.
One by one, five of these prospects were gradually moved out of the system voted off the team, culminating in yesterday's decision to not qualify Phil Oreskovic.
The result?  Dale Mitchell is your MLHS "Getting To Know You" Survivor!
[pause for loud cheering, applause, and a spontaneous "Go Leafs Go" chant]

I've been holding off on posting one of these, as the sheer volume of Toronto-borne speculation renders separating the plausible from the impossible a rather difficult task.
Without further ado, here we go:
There is no guarantee that Tomas Kaberle is traded this weekend. Sources say the chance that he could remains a member of the Maple Leafs beyond the Draft is increasing by the day.  The reason?  "Burke wants a player who can step in and play right away. He wants to win now, and is far less concerned about getting draft picks than he is about getting an impact forward."

.
We've partnered up with Pension Plan Puppets to bring to you a Player Review series, where we will be evaluating and grading the 2009-10 season for every Leaf who featured in a significant number of games for the Blue and White last season, with an eye towards 2010-11. Today we feature Wayne Primeau, profiled by Garrett Bauman.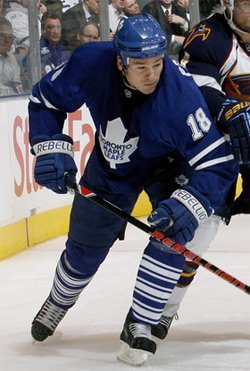 Summary:
Acquired via trade, Primeau was brought in to provide a veteran presence to a young locker room, add grit to the fourth line and fill the role of defensive faceoff specialist.
Although he did not particularly stand out during his 59 games, Primeau was relativley effective in his limited (albeit important) role. An unrestricted free agent, he is unlikely to return barring a substantial paycut from the $1.4m he earned last season.
We've partnered up with Pension Plan Puppets to bring to you a Player Review series, where we will be evaluating and grading the 2009-10 season for every Leaf who featured in a significant number of games for the Blue and White last season, with an eye towards 2010-11.Today we feature John Mitchell, profiled by Garrett Bauman.
It's difficult to know what to make of John Mitchell. During his Leafs' tenure he has flashed obvious talent, but also a tendency to disappear for lengthy stretches.  After a promising rookie campaign, Mitchell found himself struggling to earn ice time, playing in defensive role in front of shaky goaltending, and was later beset by a knee injury which caused him to miss 20 games.
A restricted free agent, it goes without saying that Mitchell will have a lot to prove should the team decide to bring him back.
Looks like the Halak trade may have opened up the floodgates.  At least, it has for the Nashville Predators, who announced two separate trades today.
Per the Globe & Mail:
Leafs Lunch is no longer being served at AM640 in Toronto. The daily hockey program, with Bill Watters and Darren Dreger, has been cancelled by the Toronto Maple Leafs' host broadcaster after making a concerted challenge to the Fan 590 in the noon-to-1 p.m. time slot. The station will instead go with a syndicated talk format with Charles Adler from noon to 4 p.m., followed by the Bill Watters Show from 4 p.m. to 7 p.m. The station will apparently direct its sports resources to the Watters show. "The Leafs Lunch brand is not going to die," program director Gord Harris wrote in a staff memo obtained by Usual Suspects. "It will live on -- in a modified form -- beginning in September." -- Full article here
UPDATE Per William Houston:
The Leafs Lunch show with Darren Dreger and Bill Watters will be shuttered in early July. Stafford's mid-morning show will be extended to 1 p.m., when Adler will take over, followed by the Bill Watters afternoon drive at 4 p.m. Previously, Stafford took a break from noon to 1 p.m. , when Leafs Lunch was on the air, and then came back for another hour from 1 p.m. to 2 p.m. Why was Leafs Lunch cancelled? Mostly because of ratings. -- Full article here (glove tap to ingy56 for the link.)
We've partnered up with Pension Plan Puppets to bring to you a Player Review series, where we will be evaluating and grading the 2009-10 season for every Leaf who featured in a significant number of games for the Blue and White last season, with an eye towards 2010-11.Today we feature Phil Kessel, profiled by Garrett Bauman.
Acquired via a controversial trade during the 2009 offseason in which three draft picks were sent to the Bruins, Kessel rebounded from shoulder surgery to become the Maple Leafs go-to guy in the offensive zone.
Despite missing a month of the season, the electrifying 22-year old winger led the Maple Leafs in several offensive categories while providing the team with a legitimate scoring threat -- and their first 30-goal scorer of the post-Sundin era.
Only 22, Kessel has a bright future ahead of him and many suspect it will be only a matter of time before 40-goal seasons become the norm.
At an afternoon press conference at Real Sports Bar & Grill, the Toronto Maple Leafs made official the worst kept secret in the NHL by naming Dion Phaneuf the 18th captain in the club's long and storied history (22nd if you count the St.Pats and the Arenas).
The Maple Leafs also unveiled the team's new jersey design.  The new jerseys return the horizontal white stripes to the bottom of the sweater, in homage to past tradition.  For more on the new designs, please see Alec's earlier post regarding the jerseys.
See the full list of TML captains after the jump.