Analysis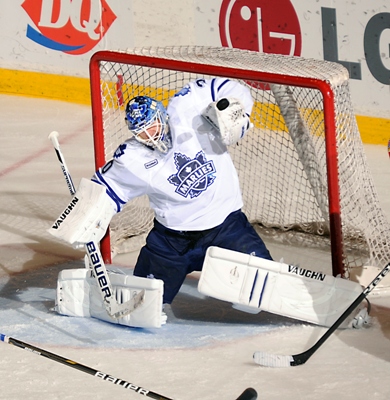 We had some Leafs news yesterday as Francois Allaire announced he isn't returning and we found out the extent of Joe Colborne's injury.
When it comes to Colborne's injury, I'll say a few things quickly.
Leafs management knew Joe was hurt in January, yet he played the rest of the year. To our knowledge, he didn't further damage himself further physically by doing so but he didn't play nearly as well as he was prior to the injury. To put it in perspective, Big Joe had 23 points in 22 games before hurting his hand, and only 16 in 43 after the incident. Colborne had surgery in June and is hoping to be back for October, which is over four months of recovery. He would have been back roughly around April/May had he gotten surgery immediately upon being injured. [more…]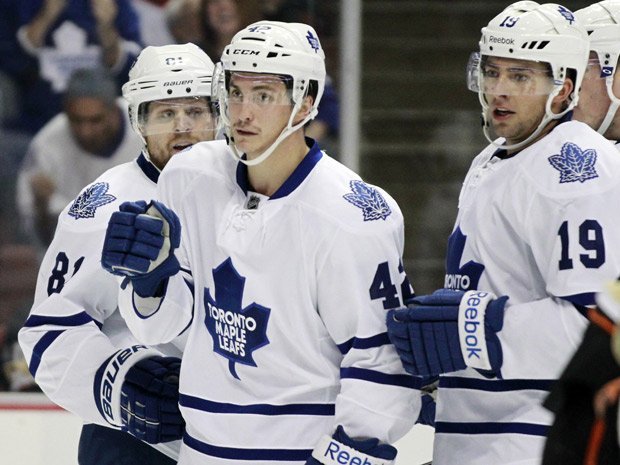 As the old saying goes, you have to learn how to walk before you can run. For a Leafs team that finished 25th out of 30 teams last year and has made few changes so far this summer, the Maple Leafs are still very much in that walking process.
The big changes Leafs fans hoped for haven't quite come to fruition as of right now. The Leafs were one of the youngest teams in the NHL last year, crumbled down the stretch, and have to this point only made three noteworthy roster changes this summer by bringing in James van Riemsdyk, Jay McClement and freeing a roster spot up for Korbinian Holzer. Thus, if the Leafs do improve next season, it will mainly be due to internal growth and development from the same group that totaled 80 points last year.
When fans and pundits evaluate teams from year-to-year the most obvious thing to do is to look at who has been subtracted and added to the line-up. Because Burke and co. have made such minimal changes, we are forced to look passed that. Instead, let's take a look at the roster that's returning and some of the areas where internal improvement is possible, hopefully leading to some more wins. [more…]
Here's the shake. It's the end of August, it's been a couple of months since we've seen an NHL game played, and four months since we've seen the Leafs play. Topics are running thin, especially if you do not have an appetite for CBA articles and you recognize that roster building is on hold until the CBA plays out.
What a great time to bring up primary vs. secondary assists. I come from a school of thought that not all assists are created equal; in fact, I'd be perfectly fine with one assist per goal, while everything else is +/-. This is largely based on the assumption that on most goals the player with primary assist was more responsible for generating the play than the player with the secondary assist. While this may not always be true, it hardly seems like a coincidence that Lupul, Kessel, Bozak, and Grabovski led the Leafs in primary assists. Out of players with more than 10 assists, the four of them also had the highest percentage of their assists as primary assists. [more…]
I plead guilty to writing far too many CBA posts in the past few weeks. This week I'm happily returning to a Leafs topic and looking at last season's penalties.
Finding who took a penalty and who drew a penalty can be found on behindthenet.ca, but I wanted to look at the penalties in specific situations. So I when through the 82 box scores from last season and put together this handy dandy spreadsheet for fans of pivot tables to enjoy. If you'd rather have the Executive Summary, you'll find some interesting facts listed below.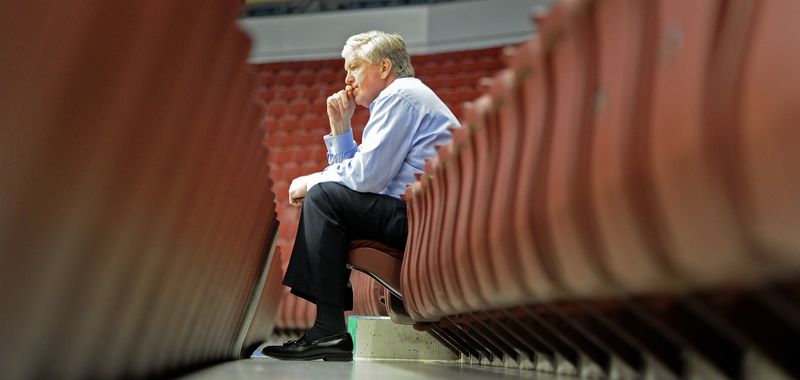 When it comes to the Toronto Maple Leafs, one of the first things often mentioned is money.
The team is, after all, the most valuable franchise in the league. With that in mind, it is always expected that they use that kind of financial power to the best of their abilities to put themselves ahead of other teams in the league.
And due to that, Brian Burke's stance on cap circumventing contracts (the fact that he won't do them) is pissing a lot of fans off.
Let's look at it. [more…]
It seems that a large percentage of Leafs Nation is completely convinced that the team they saw in February and March of the 2011-12 season is the true reflection of the roster's ability. Many have completely disregarded the 99-point pace the team played at for the entire 2011 calendar year and beyond, right up until February 6th of 2012.
This skepticism is not undeserved. The team completely collapsed after that victory over the Oilers in early February that saw the Leafs three regulation wins ahead of the eventual Cup-winning Los Angeles Kings. What followed that victory was one of the worst stretches in the entire history of the franchise. As a result, the fans have decided that a massive roster overhaul is necessary. Now well into the summer, they grow increasingly agitated with each day that passes and does not bring line-up changes.
It is not my intention to try and persuade Leaf fans to get their blue and white goggles back out and start drinking the Kool-Aid again. It is also not my intention to act as a Burke apologist. The Maple Leafs are not a great team, and they do have a long way to go before turning things around in a meaningful way. However, perhaps it would be wise for the fan base's collective sanity to reel in some of the pessimism and look at some of the reasons that the playoff drought, the embarrassment, and the general mediocrity may be coming to an end within the next couple of seasons. [more…]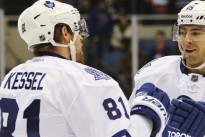 It seems like a fruitless endeavor to make full season predictions with the uncertainty of when the actual season does begin.
Regardless, here we are. Under ideal circumstances, the season would start as per the current schedule and should both parties salvage a full season, we need to be ready.
Every summer we get the McKeen's Hockey Yearbook together and about this time, I'm usually done with Leafs predictions.
It's a summer tradition to post Leafs predictions here, and I wanted to continue the custom. [more…]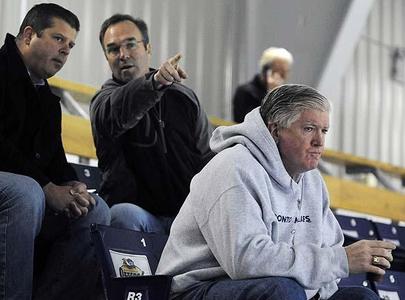 The Toronto Maple Leafs have – even by their standards – had a very quiet offseason.  Since late May, GM Brian Burke has focused almost entirely on improving the forward corps for the 2012-2013 season with the signings of both Leo Komarov and Jay McClement; and trading for potential sell-low steal of the year, James van Riemsdyk.  The acquisitions have mostly been lauded as beneficial to the club, in particular for infusing some snarl, defense and skill into the beleaguered club's front ranks.
But it takes only the most cursory of sifting through tea leaves to discover that these moves, while improving the team, are a precursor to even more change in the appearance of the forward ranks heading into next season.
Even without the additions of Komarov, van Riemsdyk and McClement, the Maple Leafs already have 13 forwards under contract for next season who played at least 10 games for the club in the 2011-2012 season. [more…]
As we approach the dog days of hockey, more and more Leafs fans are coming to the conclusion that there's a strong chance we will see a James Reimer and Ben Scrivens goalie tandem to start the year.
Barring a trade for Roberto Luongo (or a surprise move for another goalie), that's the duo the Leafs will start the season with. So with that, I decided to take a look at other AHL goalies over the years and how their numbers translated to the NHL.
In a nutshell, Ben Scrivens led the AHL in goals against average this year while also having the fifth best save percentage. A lot of fans have hung their hats on these stats and his generally-speaking strong season, and in light of this I decided to go all the way back to the 2005-2006 season and look up the top three goalies in GAA category of each season. Then, to increase the sample size, I also included the top three save percentages while pointing out notable goalies from each season that year who have had some NHL impact. [more…]
The Leafs have added some strength down the middle by signing Jay McClement to a two-year deal worth $3 million total.
They were also able to agree to terms with Matt Frattin on a two-year deal that totals $1.7 million, while resigning Ryan Hamilton and Jussi Rynnas as well as adding Mike Kostka to the organization, too.
It wasn't a banner day for the Leafs, but it was still an important one.
Most notably, they finally added the third line center they've needed for quite some time and that has serious ramifications on the rest of the roster. [more…]
NHL Free Agency was, originally, to be a major component of the Brian Burke 'rebuild' model - or 'retool,' whatever you want to call it - when the Maple Leafs' new GM arrived in Toronto. And despite perpetual inflation, it remains the surest and easiest avenue for a team to obtain top-quality players in their prime without sacrificing any organizational assets beyond cash. Factoring in the promises of a quick turnaround and transactions we shall not name, lest we incite debate involving high-end draft picks exchanged for promising young stars, free agency to the Brian Burke model becomes...well, not quite a necessity...but a really, really valuable step in getting the Toronto Maple Leafs back to the Stanley Cup finals as efficiently as possible.
One can't exactly say it's worked out nicely, thus far.
The problem, as Burke's lamented, has been the distinct lack of premier free agents available. Teams have compensated for the league's attempts to "liberalize" the market by locking up their talented players before they become UFAs. [more…]
While I had begun to sour somewhat on Schenn's potential last season, it was a little odd to wake up this morning and remember #2 was now a member of an organization not named the Toronto Maple Leafs. Schenn was celebrated as the first pillar of the Leafs' rebuild when Cliff Fletcher drafted him in 2008. Many a fan bought his jersey. Some said we had future captain material in Luke. Few would've predicted Schenn would be with a new organization before he turned 23.
I'm not going to call Schenn's rookie season a mirage, but it was somewhat of a tease. We heard Pierre McGuire call this guy a Human Eraser and we saw it with our own eyes when he stepped onto NHL ice as an 18-year-old and tossed a 245-pound Keith Tkachuk to the ice. What seems to have happened between the Schenn we knew then and the one Burke just traded was a combination of expectations heightening and his development traveling the trajectory of a more normal young defenceman, as opposed to the beyond-his-years beast we came to know him as in junior and very early on in his NHL career. [more…]