Morning Mashup
The Marlies tied up their Western Conference Semifinal series with Abbotsford last night, handing the Heat their first loss in twelve games. Matt Frattin, Korbinian Holzer and Ben Scrivens played especially strong games in a good overall effort by the Marlies to get themselves back on even terms with the series headed to British Columbia for the next three outings.
It was a 5-1 victory earned more on the defensive side of the puck than the scoreline might suggest. The Marlies killed all nine Abbotsford powerplays including a full two minute 5 on 3 kill, and another two abbreviated two man disadvantages. The Heat also outshot the Marlies 38 to 29 as Scrivens won the goaltending battle by a sizable margin over Abbotsford goalie Danny Taylor, who entered last night red hot on a nine-game winning streak.
Talk of the town Jerry D'Amigo had his AHL post season-leading sixth goal in five playoff games. A burgeoning offensive game, his contributions to the AHL's best penalty kill, and his added speed and size suggest the 21-year-old has a very good chance at earning some NHL appearances next season. [more…]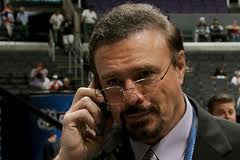 Apologies up front. The squishy memory bank/pun-generator between my ears thought I was referencing this guy with the mashup's headline when I'm actually, apparently, referencing this guy. Whatever. It works too well to change it.
Wednesday saw Marc Bergevin hired as the Montreal Canadiens' new General Manager, cementing a significant piece of the new front office that will be tasked with fixing that nightmare organization. Further changes are likely imminent, with Bergevin's first major personnel decision having already happened in the reassignment of Randy Cunnyworth to the role of an assistant coach. One has to think a new, hypothetical head coach would presumably want to select his own hypothetical staff: Might Cunnyworth's reassignment may one of gratitude for the now-former interim coach, a reward for steadfastly accepting a post which carried far more public scorn in its short term than was probably necessary?
Toronto fans, though, should be more concerned with Bergevin's focus on the higher floors of his new front office - if he's truly hoping to add the Maple Leafs' current fifth string GM Director of Player Personnel and former Thrashers' GM, Rick Dudley. (Links after the jump). [more…]
Like most Leaf fans, I have a strong distaste for the writing of Steve Simmons, and I will never understand how someone paid to write about sports for a living becomes so jaded and has such a sense of entitlement. What perplexes me the most is how he is regularly allowed to get away with these half-though-out articles that most people would be embarrassed to post on HFBoards.
Take Saturdays offering: "The Leafs Coulda, Shoulda Signed Stamkos." (click at your own peril; actually, don't click).
The title is already somewhat misleading as the premise is based in signing Stamkos to an offer sheet, and it would result in Tampa Bay matching the offer damaging their cap situation not actually adding Stamkos to the Leafs. Of course, the headline is purposely this way to sucker in people like myself who normally don't give Simmons the time of day.
While the title of the article indicates that in some way he is writing about a Stamkos situation from a year ago, Simmons is actually writing about the present day belief that the Lightning, the Leafs, and the Blackhawks are the front runners for landing Roberto Luongo, and that if Stamkos had a higher cap hit Tampa Bay would not be able to pursue him. [more…]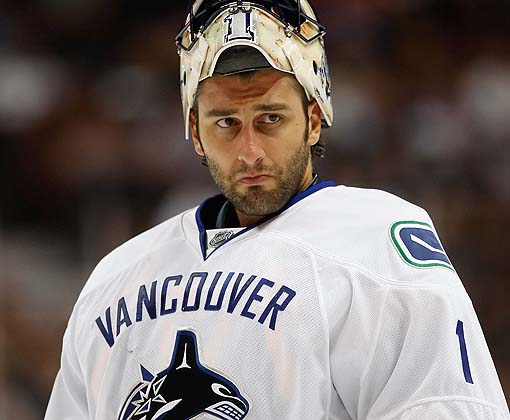 It's a slow NHL news Wednesday when we dedicate a second consecutive mashup to discussing the Canucks' star for sale franchise goaltender available goaltender.
You can at least partly thank James Duthie's epic tweet from late Wednesday night: "Sources say Roberto Luongo will submit a short list of teams he'd waive his no-trade to go to next week. Toronto will be on it."
That will surely quiet the discussion.
I'm not going to debate the merits of the player, the drawbacks of the contract, or the likelihood of Luongo's possible destinations - that's all been done, even by our own Ryan Fancey, who debated himself thoroughly on the topic yesterday and reached pretty much the same conclusion I do: "I can't pick a side. I just want the Leafs to get him and their goaltending to not be hilarious next season." Amen, friend.
I'll go a different route. Let's talk about no-trade-clauses. (Links after the jump). [more…]
The Roberto Luongo speculation found another gear yesterday with the revelation from the 33-year-old himself that he would accept a request to waive his no trade clause. The big questions that surround any possible move to Toronto remain whether or not Brian Burke would trade for a contract he wouldn't sign himself  (backsliding and by his definition cap circumventing), and whether or not Luongo sees Toronto as a desirable destination. With Schneider in need of a new deal, Luongo will surely be actively shopped, and the market can't be huge considering it's narrowed by two parameters: 1) not every team is in search for a goaltender, certainly not one with Luongo's price tag, and 2) the fact that Luongo controls his own destiny. Should the Leafs be a desirable destination of Luongo's, the price shouldn't be unreasonably steep considering those various factors.
I've talked about this before, but Luongo is made a much more attractive option for the Leafs if Burke believes an amnesty provision is a likely addition within the new CBA. An amnesty provision similar to the NBA's that is, which allows the purging of one contract from the cap at any point during the duration of the 10-year CBA. You could certainly argue that, given the lack of options, Luongo should be a target regardless.
Links after the jump. [more…]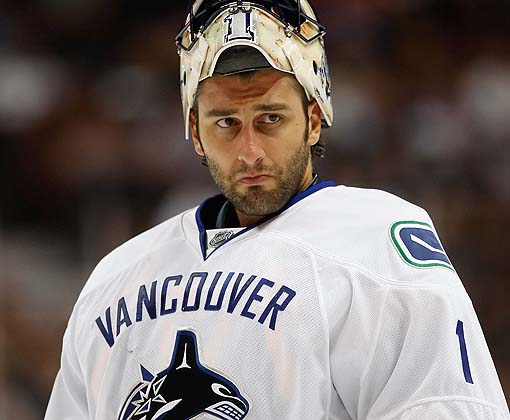 With Cory Schneider starting his second straight game in goal for the Vancouver Canucks last night, and winning, there are some in the Vancouver media who are saying Roberto Luongo may have played his last game as a Canuck. They also suggest  that the Leafs, of all teams, should take a run at him.
Connecting the dots, it's easy to see a fit. Toronto is in desperate need for a veteran, bona fide #1 goalie and there aren't many that are available that meet the criteria. Luongo has impeccable pedigree and a lot of hardware—save for a Stanley Cup—which makes him even more attractive than the current crop of available goalies. Cory Schneider has performed very well for the Canucks and in spite of all odds managed to wrestle the #1 position from Luongo. With Schneider's contract expiring, the Canucks find themselves at a cross roads when it comes to the goaltending situation, and in light of recent events it could well be Luongo, not Schneider, Mike Gillis opts to move.
There are a few things that stand in the way of that: #1. Cap hit (5.33 million, in itself, not too bad). #2. Length of term (10 more seasons). #3. Value of (young) talent going back the other way. #4. The fact that Luongo's contract, with his salary dipping to $1 million for the 2020-21 and 2021-22 seasons which the 33-year-old will never play, is clearly a cap-circumventing deal by Burke's own rules, insofar as he spoke out against them and suggested he wouldn't ever sign one. The key question here being "would he trade for one?" [more…]
From the Marlies:
"The Toronto Marlies announced today that they will open the 2012 Calder Cup Playoffs at Ricoh Coliseum on Thursday, April 19 at 7:00 pm. The Marlies will faceoff against the Rochester Americans, AHL affiliate of the Buffalo Sabres, in a best-of-five series. Toronto won seven of 10 games against the Americans during the regular season.

Toronto will host game two of the first round series on Saturday, April 21st at 3:00 p.m. at Ricoh Coliseum. Games three and four (if necessary) will be played at Rochester's Blue Cross Arena on Monday, April 23rd at 7:05 pm, and Wednesday, April 25th at 7:05 pm, respectively. Game five (if necessary) will be back in Toronto at Ricoh Coliseum on Saturday, April 28th at 3:00 pm.

The Marlies clinched the North Division title on Wednesday, April 4th and finished second overall in the AHL's Western Conference with 96 points (44-24-5-3). This marks the second time in the last five seasons that the Marlies have won the Sam Pollock Trophy as North Division champions.

For playoff ticket information, visit marlies.ca or call the team's ticket line at 416-597-PUCK. "
There you have it folks, the Edmonton Oilers will make their third consecutive first overall pick at the June Entry Draft in Pittsburgh. We're all red with rage (especially that Columbus fan) and rightfully so, but the real question here is – what are the draft implications for the Leafs?
They say monetary bills stick to each other and that money falls into money. The rich get richer and the poor have to wait to see who the rich will draft. Provided the Leafs don't move up, if the rich draft a forward, how will that impact our chances of drafting Galchenyuk?
A valid question. It's possible that the Oilers in fact trade that pick and move down to pick one of either Matthew Dumba or Ryan Murray, although it's fairly early to make that assumption. What we know for sure is that the NHL once again rewarded a franchise for failing to improve, even after two first overall draft selections in a row.
If they do pick at the one spot and presumably take Yakupov, it could severely damage our chances to draft Galchenyuk. Imagine if you will, a strutting Tambellini. He goes up on the draft floor and says: "We are proud (they aren't really) to select Nail Yakupov from the Sarnia Sting." Of course, this could then mean that Galchenyuk will be gone by the time the Leafs' pick rolls around given we are at the five-spot and all other teams ahead of the Blue and White are equally looking for future impact forwards. [more…]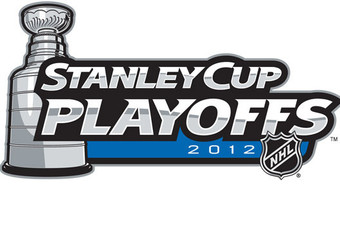 Playoff hockey is great, but the emptiness of being a Leafs fan on the sidelines has returned again this spring. May as well join a pool with your fellow MLHS'ers to increase your personal interest in the playoffs. I have set up a Maple Leafs Hot Stove group at the CBC Playoff Pool. The grand prize for the winner of the overall CBC pool is a KIA car of some sort, and we'll figure out a prize for the champion of the MLHS group as well. Join the group here and share your picks in the comments.
Links after the jump. [more…]
Tonight the Leafs host the Tampa Bay Lightning in their final home game of the season before wrapping up the 2011-12 season at the Bell Centre in Montreal on Saturday. It's tough to stay enthusiastic given the season was all but over ten-plus games ago, but try to enjoy your final 120 minutes of Leaf hockey until next October.
If you want to get your hands on Marlies tickets for Games 1 and/or 2 of the first playoff round, there is a presale happening today between 10 a.m. and 2 p.m. at ticketmaster.ca.
Links after the jump. [more…]
From the creator of the 2010-11 Maple Leafs video "Progress," TheAncientDirtbag has released his season-ending video for the 2011-12 campaign entitled "A Change of Seasons." You'll smile, you'll rage, you'll cry:
Continue for the links.
[more…]
Probable starter for the Leafs tonight in Buffalo, Ben Scrivens, has been named the AHL's goaltender of the month for the month of March.
The American Hockey League announced today that Ben Scrivens of the Toronto Marlies has been named the Reebok/AHL Goaltender of the Month for March. Scrivens was 6-3-0 with a 1.40 goals-against average and led the league with a .952 save percentage and three shutouts as the Marlies closed in on a division title.

Scrivens began the month with a pair of hard-luck losses, making 31 stops in a 2-1 defeat to Rochester on March 3 and stopping 37 of 38 shots in a 2-0 setback to Binghamton on March 7. Scrivens helped Toronto get back in the win column by allowing just one goal over his next three starts combined, highlighted by shutouts in Hamilton on March 9 (23 saves) and in Grand Rapids on March 16 (31 saves). Scrivens posted three more consecutive wins, including a 36-save blanking at Lake Erie on March 24 and a 33-save effort in Rochester on March 30, before being recalled by the parent Maple Leafs and earning a victory vs. Buffalo on March 31.

Scrivens, 21-14-1 with four shutouts in 37 appearances for the Marlies this season, leads the AHL with a 2.07 goals-against average and ranks third with a .925 save percentage. The second-year pro from Spruce Grove, Alta., made his NHL debut with the Maple Leafs earlier this season and is also 3-4-1 (2.97, .904) in nine NHL games on the year.
-Marlies press release