Battle of Ontario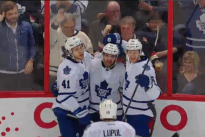 The Leafs played the Sens in the fourth of five meetings between these two teams. This Battle of Ontario offered great value as the Sens held a two point advantage in the Northeast Division and the Conference standings headed into this one. Not anymore. [more…]
Last 10: Toronto 4-2-4; Ottawa 7-1-2
The Toronto Maple Leafs are looking to earn at least a point in an eighth straight game Saturday night as they visit the Ottawa Senators, who have been on a decent run of their own.

In what is the most meaningful "Battle of Ontario" in the last few years, it's more than just pride on the line; it's home-ice advantage and two teams sizing each other up as potential first-round matchups. Toronto is trying on their new look as a playoff team for the first time in 8 years and Ottawa is revelling in their depth as a team that has been able to stave off huge injuries to Jason Spezza, Erik Karlsson and Chris Anderson with seemingly no drop-off in performance. [more…]
The winless Ottawa Senators visit the undefeated Toronto Maple Leafs tonight at the ACC. With a victory this evening, the Leafs would have their best start to a season since '99-00 when they won three straight out of the gate. It's just two games, but the symbolism of a return to the pre-lockout days - let alone a chance to put the Sens at 0-2 and gain early points on another division rival - would be nothing but sweet. [more…]
* aka "Operation: Basement Breakout"
With last night's loss, the Maple Leafs were mathematically eliminated from playoff contention for the 5th straight year. This was not really news - even the most optimistic of Leafs' fans pretty much knew this to be the case since early into the New Year, if not sooner.
However, a more prevalent question regarding the season standings remains: is getting out of last place in the Eastern Conference still possible?
Setting up a goal for the Leafs in lieu of a playoff spot, making up seven points to get out of the NHL basement is a good start .. but just how difficult will it be?
Let's find out together.
[more…]
Tonight will be a Battle of Ontario, as the Toronto Maple Leafs travel to Ottawa to take on the Senators in a Northeast Division bout. Vesa Toskala will get the nod in goal for the Leafs, while Pascal Leclaire will get the start for the Sens.
Update: Brendan Shanahan Officially Retires.
[more…]
The Leafs were down early as rookie phenom Jonas Gustavsson was lit up for 3 goals on 5 shots. Poor defensive coverage, a terrible line change, and a lucky bounce on a shot that Gustavsson likely should have had forced the Leafs to swap the goaltenders and bring in Vesa Toskala. The goaltenders tapped sticks at the bench in the shuffle. "Tag, you're it" can be described at the outcome.
[more…]
Make sure to catch Daniel's Rangers/Leafs preview.
I'll be attending my second Marlies game of the season today at Ricoh Coliseum at 3:00 PM. They try to avenge a loss last night to divisional rivals, Rochester Americans in the second half of a home-and-home.
Watching games, got me to thinking about perspective.
EDIT: Brad has a great take on this situation as well!
[more…]
The Maple Leafs are creative. You have to hand it to them for finding new ways to lose games all the time. In the home opener against Montreal, it was sloppy turnovers and poor special teams leading to a blown late third period lead. On Saturday night, they decided to pack it away early against the Caps before going on a late run at the end to make the score more respectable. Tonight, it was a listless effort physically and emotionally, creating virtually nothing in the way of offense and falling victim to a pair of strange plays. [more…]
Less than 24 hours after the Leafs season officially ended with a win over the Ottawa Senators on Saturday night, the fans and media have already turned their attention to two important dates: June 26th, the date of the NHL Entry Draft, and July 1st, when free agent frenzy takes off. Just for discussion's sake, here are a few interesting scenarios currently being tossed various news outlets today: [more…]
It comes as no surprise anymore that the Maple Leafs are capable of these late season success stories; the one's where they basically go on a ridiculous wins to loss ratio and play damn well near 0.700 hockey. And while this can make for exciting hockey, it leaves many shaking their heads at their televisions, laughing at the sheer dominance the club proved over an elite team.
[more…]
Ed. Note: Richard-Steven Williams, a UK-based NHL and European hockey enthusiast, will be joining the MLHS blogging team.
It's fantastic to have Richard aboard, he's an immense talent.
Here's his piece on Ron Wilson from a week ago.
[more…]