California
In part two of his 12 burning questions series, Derek Harmsworth looks at the Leafs goaltending of the past, and whether this year's tandem can provide them with healthy, consistent efforts.
The NHL goaltender.
It has been said that there is no more important position in all of pro sports. Â And if you believe that, it's quite easy to see why the Toronto Maple Leafs haven't had much regular season success in the post lockout NHL, and why the post season has eluded them. [more…]
This is the first episode of Midnight with Mike Aldred. On today's show, Vesa Toskala discusses his role on the ice, his trade to the [more…]
Being a General Manager of an NHL Hockey team is quite similar to sitting down at a high rollers table at the Bellagio in Las Vegas and having a marathon session of no-limit hold'em poker versus some of the biggest and meanest sharks in the ocean.
With a Leafs team stuck in the bottom 5 of the league from the first day of the season, and after public proclamations of being aggressive at the draft and public and vocal assurances that he has built one of the better defensive units in the East.  Additional proclamations that it would be reasonable to expect the Leafs to compete for the playoffs this year, spending right up to the salary cap, trading away the clubs next 2 1st round picks and trading away some of the organizations mostly highly thought of prospects for practically zero return, it is safe to say at this point, that if being an NHL General Manager were a game of poker, Mr Burke is "All In" and has absolutely zero chance of winning this round.  He has been effectively cleaned out.
There is a silver lining however, as Mr Burke is flush, sitting on a recently signed multi-year, multi-million dollar deal and has an opportunity to buy back into the game and try again.
No truer words ring out to the ears of the throng of fans and particularly management of the Leafs victory over the current GM's former organization.
And it took Alice in Chains to create them.
Cali, you're alright .....
[more…]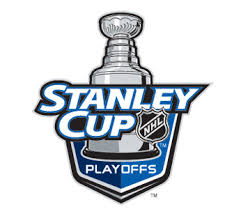 For a full team-by-team breakdown of all playoffs clubs, sure bets and sleeper picks for your playoff pools, visit the McKeen's Playoff Preview where the factors below have been outlined and pointed out in a team-by-team write up.
[more…]
Months of uncertainty and speculation are likely to come to an end in the next week when Brian Burke and his associates meet with Richard Peddie and the MLSE. The groups have already spoken albeit lawyer to lawyer last weekend to confirm the Anaheim Ducks had signed papers allowing their former GM to talk with other teams and if reports are to be believed, groundwork was laid on the forthcoming negotiations.