carlyle
That. That was the win that cemented the Leafs as playoff worthy. [more…]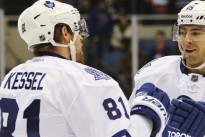 It seems like a fruitless endeavor to make full season predictions with the uncertainty of when the actual season does begin.
Regardless, here we are. Under ideal circumstances, the season would start as per the current schedule and should both parties salvage a full season, we need to be ready.
Every summer we get the McKeen's Hockey Yearbook together and about this time, I'm usually done with Leafs predictions.
It's a summer tradition to post Leafs predictions here, and I wanted to continue the custom. [more…]
Zone starts, zone finishes and a bunch of QoC.
Get ready for a lot of charts.
New metrics surfacing rapidly are being put to use. The charts below are being more-widely used to visually demonstrate usage of players in comparison to the level of competition they face.
Plenty of different examples exist.
OZQoC charts were architected by Rob Vollman of Hockey Prospectus. A full explanation is spelled out here. [more…]