CBA
Yesterday, in his summary of the recapture penalty of the new CBA as it pertained to Roberto Luongo, the Vancouver Canucks and potentially the Toronto Maple Leafs, Pierre Lebrun figured out the cap penalty the Leafs would sustain if Brian Burke were to acquire Roberto Luongo before this season and he were to go on to retire at age 40. That can be seen as the foreseeable point of retirement for Luongo as after the 2018-19 season, when Luongo will be 40, his salary will have already dropped from $6,714,000 in 2017-18 to $3,382,000 in 2018-19, and will then stand to drop to just $1,618,000 in 2019-20.
However, that retirement plan is by no means a guarantee, as Luongo's play could slip, his health could deteriorate (if he's placed on LTIR, Elliotte Friedman is already speculating on a possible loophole here) or ideally he could win a Cup with the Leafs and opt for early retirement. The $3,382,000 season was probably projected as a "maybe" year, for instance. After the jump, I have put together a breakdown on the cap penalty the Leafs or another acquiring team would sustain depending on when Luongo hangs up the skates. [more…]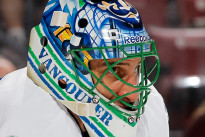 This just in tonight from Pierre Lebrun of ESPN, describing the cap benefit recapture component of the new CBA on existing deals over 6 years. [more…]
I used up all my lockout glee in yesterday's post (feel free to read it here) so here's a collection of links around the interwebs covering the one on and only topic that matters today, the return of the NHL. [more…]
A Quick and Dirty Look at the new CBA and How It Affects the Leafs (All that Matters)
What World Juniors? The Marlies played, who cares? We've got NHL hockey back!
Right or wrong, that's the attitude that is prevalent again, and while I enjoyed going to WHL games, getting up at 2am to watch prospects, and streaming Marlies games online, I am thrilled that we'll get see the game played at its highest level this winter.
The coming weekend and half will likely see a whole summer's worth of previews, speculation, and training camp analysis crammed in to it (personally I can't wait to see the schedule, and plan a trip to Toronto), but I'll get us started off with what we can expect for the Leafs out of the new CBA in the short and long term. [more…]
Editor's Note: We're pleased to welcome Ian Dudgeon to the MLHS blogging team. Ian was one of the co-founders of McKeen's Hockey.com. He's been busy at work assembling a database of profiles on Leafs prospects for MLHS, which you'll be able to enjoy before long. He's also going to be chiming in with a blog here and there.
Everyone please calm down and resume taking your medication. I have some extra Valium if you need some. There is no imminent NHL lockout. You will not be forced to watch basketball in October or November, or whenever they start playing that alleged sport. I think we will have hockey when we are supposed to and the threat of a lockout or strike is being artificially inflated by sports media who love, live for and need controversy.
The NHL tabled a proposal to the NHLPA this weekend and the collective reaction was as if everyone's favourite commish, Gary "The Count" Bettman took the Stanley cup and used it to prop up his car while he rotated the tires. From fans and media alike, it was one of the craziest overreactions I have heard since.. well since the Leafs last made a move. But really, I should stop being surprised at how sports media react to things and how fans take their cues from them. The little picture numbers seemed scary but stepping back and seeing the bigger landscape, the NHL's proposal was really not that concerning. [more…]
In their report, TSN mentions section 26.3 of the CBA which alludes to the NHL's right to reject a deal upon suspicion of circumvention. There's [more…]
Yesterday's trade with Calgary sparked a lot of immediate negativity amongst many of our readers at the loss of Stralman. Today we try to view it from another perspective as we clarify an important CBA related issue that may have been a key motivation for the departure the young defenseman. In other news: Burke speaks to Foxsports about prospective changes to the CBA, Leaf prospect Kenny Ryan is being recruited by the Memorial Cup champs and Vaclav Prospal bought out by the Lightning. [more…]