David Perron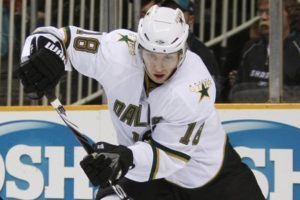 During his first full year at the helm in Toronto, you could make the case that Brian Burke was the league's most active general manager. There was the Kessel summer blockbuster with Boston and then the mega-deals on January 31st that brought in Phaneuf and Giguere. It's quite obvious that he's willing to expend assets to target any top notch premium young talent when it's made available. Both of those trades were opportunities: Kessel was a restricted free agent on a team with cap issues. Burke often spoke of inquiring on Phaneuf several times throughout the year until the "pressure points" of the cap and the struggles of the Flames pushed Sutter into making a bold move. This summer should be no different. Let's take a look at some of the young RFA's that might potentially attract Burke's interest.
The Toronto Maple Leafs visit the St. Louis Blues tonight, in the Leafs' final game prior to the NHL's Olympic break.
The Leafs are coming off a narrow loss to the West-leading San Jose Sharks, a game which left the team with much to feel good about. Â Tonight, the team will look to resolve their road woes and enter the break on a high note, by capitalizing on what has been an inconsistent and underachieving Blues squad.
There's nothing like an 0-6-1 start to push the rumour mill into full swing. Â  Â  The following is a quick rundown of some of the talk working its way through the grapevine.
As always, this is only talk -- as in, players rumoured to be under consideration, not deals that are on the brink of consummation. Â Take it for what it is.
Part 3: 20 Years of Maple Misery
From Gord Stellick to Cliff Fletcher Version 2.0
It's been over 40 years since the Leafs won the cup and while others make fun of the fans for continuing to cheer, here is an overview of why you shouldn't make fun, but feel bad for them…
[more…]
There's a little bit of the irony in the title because in fact, Christopher Didomenico has rarely been in the spotlight at all during his hockey career. He is the definition of an underdog, and a testament to what hard work and perserverance can lead to.
As a young Toronto native, he was passed over by the OHL draft, after playing just 4 games in 2 seasons with the North York Rangers of the OPJHL. So, he managed to hook onto a tryout with the Saint John's Sea Dogs of the QMJHL, made the team, and has blossomed into a great young player since. [more…]