Dominic Moore
The Toronto Sun is reporting that Brian Burke is back from his fishing trip, and that the action is supposed to pick up over the [more…]
Although it has been widely reported that Farjestads BK forward Rickard Wallin is considering leaving Sweden to return to the NHL, and that the team interested in bringing him back to North America is the Toronto Maple Leafs, there is no definite timetable on when he might sign.
One would assume a decision is likely to happen within the next week.   Wallin's four year contract with Farjestads includes a clause which allows him to sign with an NHL team, but that clause is only in effect until July 15th.
The Ottawa Citizen's reporting "speculation" that Dominic Moore is interested in a return to the Maple Leafs this summer. Presumably, if Moore is interested then he'll be ready to accept Burke's terms that he walked away from at the deadline. However, since the deadline we've seen John Mitchell ably step into Moore's former role as a third line center that can provide a solid two-way presence as well as some offensive impetus. It seems that the third line center role is Mitchell's for the taking at the start of the season. There could be other options available in terms of availing a roster spot such as parting ways with Matt Stajan, who has been rumoured to be on Burke's summer shopping block.
In the MLSE land of unreasonable expectations, even a superstar troupe like Burke and Wilson will not be afforded another record breaking season; at least not if said record is a fifth consecutive season of playoff free hockey. Subsequently Burke is going to be looking for a catalyst to the rebuilding project come summer and the most obvious route will arrive in early July, not a week earlier in Montreal.
Now that the 2008-09 regular season has officially ended, it's time to take a look back over the roster to assess each of the Maple Leafs' players.
Note that I'm only including players who finished the season with at least one game played for the Maple Leafs, and am excluding those traded away during the course of the season.
Statistics for those who were acquired mid-season reflect games played as members of the Maple Leafs only.
So you're Brian Burke and it's July 1st.
Who do you go after? And what is the contract you offer?
Ten questions as you ponder the Leafs' future with Martin Gerber between the pipes.
[more…]
Sorry Leafs Nation, Brian Burke didn't splurge on a deal to give Leafs Nation the false hope of a playoff spot. What a shame…
Instead, Burke traded Nik Antropov, Dominic Moore and the Toronto Marlies' Richard Petiot for two 2nd-round picks (CAR and NYR), a 4th-round pick (TBL), a conditional pick (NYR), Olaf Kolzig (our next savior), Jamie Heward and Andy Rogers. Also, he picked up Martin Gerber (who was sensational tonight in Washington) and Erik Reitz from waivers.
Martin Gerber stole this game for the Toronto Maple Leafs.  A few months ago, that sentence would have made absolutely no sense for so many reasons.  In his first game as a Leaf, Gerber played in a fashion that will make more than a few Senator fans shake their heads in frustration.  Other than a late goal that broke his shutout, Toronto's new Swiss goaltender stopped a Washington squad that has admittedly struggled of late.
[more…]
A message to those disappointed in yesterday's anti-climactic outcome:
Stop expecting the big deals (except Kaberle, see below). Watch the small things in the context of the big picture. Yesterday may not have been ideal, but it symbolically stamped the new regime in Toronto as legit. No more stop gap solutions.
[more…]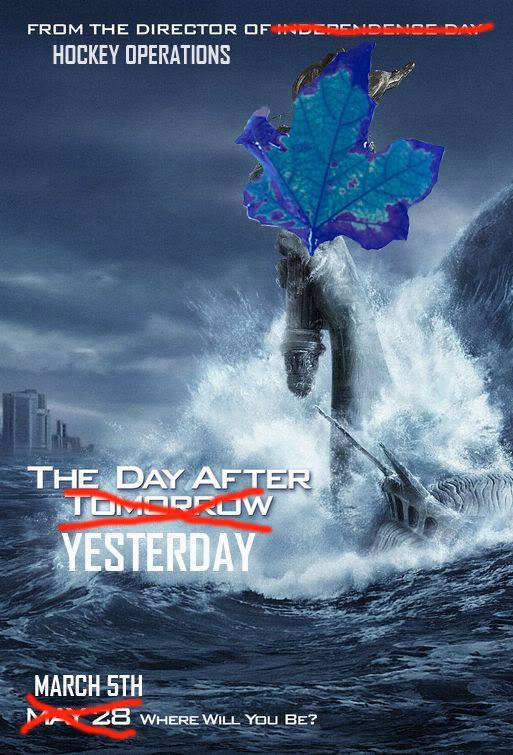 "The Day after Yesterday" (the prequel to "Day after Tomorrow"). These two things have a lot in common. Millions of people watched it all unfold, hoping the guy in the lead role could do the impossible and save the day (it didn't happen, the world still froze over and the Leafs still don't have a second 1st round pick). There was a serious injury that needed medical aid (Toskala's hip/groin, and Laura Chapman's blood poisoning). And everyone was running around frantically once they found out about the strange phenomenon (Guy 1: "Hey look, a giant tsunami!" Guy 2: "Who cares, Andy Wozniewski was traded!" Guy 1: "You're right! That's far more bizarre.")
[more…]
On a night where the real buzz was focused on mounting trade talk, the Leafs tied a NHL record for consecutive overtime games.  Vesa Toskala played an exceptional game in net, and the Leafs came alive in the third period to transform an otherwise dull game into an exciting back-and-forth goaltender's battle. After an almost full five minutes of riveting overtime play, Toronto eventually succumbed to an Oduya winner.