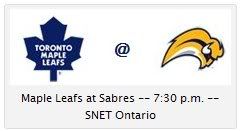 Williams & White score to rally Leafs to 2-1 win at the HSBC
The Maple Leafs escaped from the House of Pain with two points tonight and, better yet, their two call-ups were superlative in the process. Jeremy Williams sniped his second in as many games from the half boards to even the game at ones late in the second frame before Ian White beat Ryan Miller with a seeing eye double to give the Leafs the edge in the third. Fellow call-up Jaime Sifers was a physical force on the blue-line, throwing a team-leading three hits and finishing second only to Jeff Finger in terms of ice-time (a resounding 21 minutes including 5 minutes of short-handed time). Sifers played a role in a critical penalty kill in the late stages.
Be sure to check out Scot Louck's post-game thoughts below.