Good skater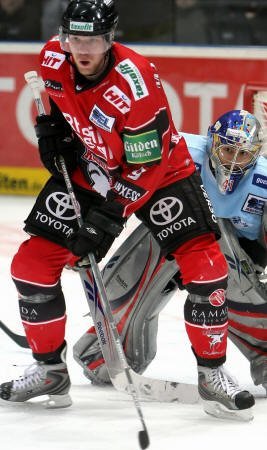 The Maple Leafs announced on Wednesday afternoon that they had come to terms on a two year entry-level contract with 22 year old free agent forward Marcel Mueller. Mueller is a 6'4 212 lb power forward who has spent the past 4 seasons playing against men in the top German league. He had a terrific '09-'10 breakout campaign that saw him record 56 points in 53 games played, good for 13th overall in league scoring.
Although it has Mueller has been rumored to be a target of NHL teams for a couple of seasons now, the recent transfer agreement reached by the DEL and NHL in late June has allowed Marcel to be officially pursued by NHL clubs. [more…]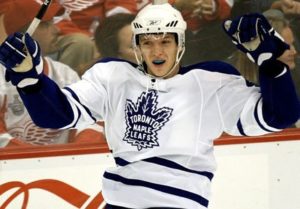 Now that the Leafs' most important pending free agent -- goaltender Jonas Gustavsson -- has been signed to a two-year contract extension, it is time to take a look at their remaining free agent players.
Notably, the list of expiring contracts includes pending RFAs Nikolai Kulemin, Christian Hanson and John Mitchell. Pending UFAs on the Leafs' roster include Wayne Primeau, Rickard Wallin, Jamie Lundmark, Garnet Exelby and Mike Van Ryn.
Reports indicate that young forward Jiri Tlusty has been traded to the Hurricanes for Philippe Paradis, Carolina's first round pick (27th overall) in 2009.
I often have to deal with a lot of commentary that seems when the Leafs skid, becomes more and more of the 'I told you so' variety. I don't get many 'hey great job' comments when things are going well, however. With this six-game funk, there's a boatload. But a couple made me think about why Schenn should be a candidate to sit on Saturday night.
[more…]
I won't go into a lot of detail about the game itself, as Alec covered that quite well.
The news, for the most part, was good.   Many of the Leafs' prospects were impressive in their bids to earn a spot on the big club and/or the Marlies.   The following is a quick summation of some of the things that stood out to me from my vantage point at the game.
#9 - RW Jimmy Hayes, 18, Boston College (NCAA)
Drafted: 2nd round, 60th overall in 2008
Strengths: Superb size and strength (6'5 210 lbs). Good skater for a player his size. High end offensive talent with quick hands around the net. Can be a very intimidating presence along the boards and in front of the net. Tons and tons and tons of potential. [more…]
#5 - C Jiri Tlusty, 20, Toronto Maple Leafs (NHL)
Drafted: 1st round, 13th overall in 2006
Strengths: Strong skater with good acceleration. Quick hands, a great shot and excellent offensive instincts. Complete player who can bang a bit, and provides a developing two-way game. Possesses some gamebreaking ability. [more…]