injury
While the NHL Stanley Cup playoffs are in full swing and continue to provide us with some fantastic moments of triumph, the fans of the Toronto Maple Leafs are now forced to once again shift their focus to off ice activities.
And so too has Leafs brass.
Despite his team sitting on the sidelines, Leafs GM Brian Burke made quick work of two signing he was keying in on, signing goaltenders Jonas Gustavsson and newcomer Jussi Rynnas to contracts. Â Continuing with the in-house theme, Burke will now certainly turn his attention to Nikolai Kulemin, if he hasn't done so already.
And while we are seemingly quite far away this point, it won't be long before the draft and subsequent free agency period rolls around.
Is it just me, or has the hockey season passed us by far quicker than usual? It seems like I just finished making arrangements for the home opener against Hamilton (which, might I add was a win) and here I am already looking back at the season that was.
It was an absolute blur of call-ups and injuries. The bright young stars that comprised the frat-pack line (Tyler Bozak, Christian Hanson and Viktor Stalberg) all found their way up to the Leafs. Carl Gunnarsson, the player I was most keen on going into the season, left the Marlies early on for the big club and never looked back. [more…]
Lots of reading today: Gus chips in an  analogical look at the NHL playoff series; Alex has your links with a look at potential Leaf Jussi Rynnas.

In what was Brian Burke's first summer on the job with the Toronto Maple Leafs, it was clear from the get go that he put an onus on improving specialty teams, and also team defense. Â The brash Toronto GM made a lot of moves as it related to improving these areas, and on paper they looked like a sure recipe for change and improvement.
[more…]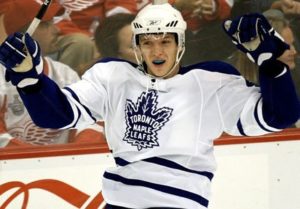 Now that the Leafs' most important pending free agent -- goaltender Jonas Gustavsson -- has been signed to a two-year contract extension, it is time to take a look at their remaining free agent players.
Notably, the list of expiring contracts includes pending RFAs Nikolai Kulemin, Christian Hanson and John Mitchell. Pending UFAs on the Leafs' roster include Wayne Primeau, Rickard Wallin, Jamie Lundmark, Garnet Exelby and Mike Van Ryn.
When Brian Burke became the new general manager of the Toronto Maple Leafs in November of 2008, Leafs Nation embarked on a new journey. Â A new beginning. Â With Burke at the helm, the Leafs organization finally had a general manager who had credentials. Â Who had a winning pedigree. Â Who had the exact type of attitude the Toronto market needed.
A man who wouldn't take any nonsense from anyone, and a man who wasn't afraid to pull the trigger on a big move that may set the team up for the better in the long term, a characteristic it seemed so many Leafs GM's lacked in between the time of Fletcher's first run, and Burke being christened as the new head of the front office.
Finally, Leafs fans were able to legitimately talk about the "Big O", and they weren't faking it either.
With the final bell about to ring season most fans would be happy to forget - although the impending draft all but dictates they most assuredly will not - the Maple Leafs will officially enter the offseason five campaigns removed from the playoffs at the conclusion of Saturday night's game in Montreal.
Unlike previous years, however, this season has revealed to fans -- amidst the rubble of far too many losses -- a silver lining of sorts: the promise of youth.
Note: If you crave insightful, indepth Leafs' analysis, I highly encourage you to read RSW's excellent article on Victor Stalberg.
This past Saturday, Brian Burke was a guest on "Leafs Lunch" (am 640) and spoke at length about the status of injured defenseman Mike Van Ryn.
Van Ryn, as you know, underwent career-threatening surgery as a result of a structural anomaly in his left knee.  The surgery, an osteotomy (known throughout hockey circles as "Steve Yzerman surgery"), is a complex procedure in which the knee is realigned via the removal of part of the bone.  Van Ryn has since resumed skating, but whether or not he will be able to resume his NHL career remains, at this point, unknown.
I really had so many options with this title. With all the Anaheim prospects on Toronto, I thought of calling it "Duck, Duck, Duck, Moose!" With many players returning from injury, I pondered using "I've got 99 Problems, but a Stitch Ain't One." But really, being five points out with five games remaining, the Marlies truly are on a wild Moose chase.
As it stands now, the Marlies will have to win all of their final five games to have a hope of extending the season past April 12th. The two most important of these will need to come this weekend as Toronto faces Manitoba, the current occupant of the 4th and final spot. [more…]
* aka "Operation: Basement Breakout"
With last night's loss, the Maple Leafs were mathematically eliminated from playoff contention for the 5th straight year. This was not really news - even the most optimistic of Leafs' fans pretty much knew this to be the case since early into the New Year, if not sooner.
However, a more prevalent question regarding the season standings remains: is getting out of last place in the Eastern Conference still possible?
Submitted by Michael Stephens (a.k.a.  Baumgartner)
Apparently Sidney Crosby still lives with Mario Lemieux. Anyone else find that weird? Dude, you're almost 23. You've got a Stanley cup ring, an Olympic gold medal, an 8.7 million dollar per year salary (to say nothing of the endorsements). Damn man, move out already. But I digress...
#NHLAnagrams have been a big thing on twitter over the past week, and what a riot we've had. Some of the creations have been strictly comical (Daniel Alfredsson = An Idle Ass Fondler), some have been ridiculous (Brian Burke = Urban Biker) and others have fit so perfectly, you would think that it was by some magical force that their name and anagram had come to be (Zdeno Chara = A Hazard Cone, Vesa Toskala = aka Lost).
With the Toronto Marlies seven points back with 12 games to go, I'm torn as to my thoughts of the post-season and based on the Marlies' anagram, Realism Torn Too. [more…]
For the sixth and final time this season, the Toronto Maple Leafs will face their rivals, the Ottawa Senators, this time in enemy territory at Scotiabank Place.
Tonight's game will close out the season series between the two teams. The series currently stands at 3-2 in favor of the Leafs, who have won their past three against the Senators.
The Leafs are coming off Sunday's loss to the New York Islanders in which the players appeared completely spent (5 games in 8 days, culminating in back to back games, will have a negative effect on any club).  However, prior to that debacle, Toronto had won three in a row on merits of effort-laden, energetic play.  With a much-needed day off under their belts, the players will look to return to their winning ways with a strong effort against their bitter provincial rivals.