Jeremy Williams
The Torontosaurus Rex for Week 21 is ....
[more…]
After recovering from the initial shock of the Leafs trading yet another highly rated, potentially top end prospect (Tlusty in this case) for picks, prospects (Paradis in this case) or players who at best can be defined as "depth" acquisitions, I decided to sit back, absorb all of the feedback and coverage from this transaction and form an opinion based on rational thought processes and any available factual information.  Past my initial, oh no, here we go again feeling, I was uncertain as to my actual opinion on this deal.  After all, I have never seen the young Paradis play, knew very little about this prospect, and the only information I had available was that he was a late 1st round pick in last years entry draft.  So, I decided to err on the side of caution and keep my initial opinion on this transaction to myself.  After researching this prospect, reading the various scouting reports and watching some film, it became rather apparent that Mr Burke had traded a potential top 6 type of sniper for a 3rd-4th line character guy.  Someone who was physical, had speed, was fearless and could become a real heart and soul leader on an NHL roster one day.  Considering the intangibles this player could potentially bring down the road, I was willing to overlook the obvious imaginary offensive upside Mr Burke was touting with this prospect and the projections of a top 6 "power forward" type in the NHL and was settling in with a comfortable neutral, "Wait and See" decision on this transaction.
Last week, the Toronto Maple Leafs held their prospect development camp to gauge the progress and future outlook of both prospects within the organization, and unsigned players on the team's radar.
The camp, which ran from July 5th to July 10th, featured six full days of on-ice practice activities and off-ice seminars ranging from nutrition to lifestyle to the business of the NHL.   It provided an opportunity for the players to get to know their possible future teammates, as well as the chance showcase their abilities to the team's player development personnel.
A month into the offseason, one thing can be said for sure about the steps the Toronto Maple Leafs have taken toward rebuilding the team:Â  credit Brian Burke with having a plan, and sticking to it.
The beginnings of that plan are clearly reflected in the sweeping changes to the goaltending and defence corps this summer, as well as a noticeable infusion of truculence.
Update: TSN is reporting 3 years, $11.5 million for Beauchemin (3.8 per).
Also, Nazem Kadri has been signed to a three-year, entry level contract.
Leafs [more…]

While the Leafs made the decision not to renew Marlies coach Greg Gilbert, some of the players are truly on the ball.
[more…]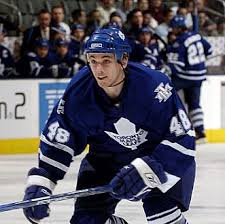 I'll be answering a question or two every few days to fill time and space while we wait for the dog days of another playoff-less spring to wane away. It should also give each topic it's due deliberation as opposed to throwing a series of topics at you guys at once. Today's topic: The UFA-eligible Jeremy Williams.
[more…]
Let's take a break from the rumour mill, and have a look at where the Toronto Maple Leafs roster currently stands.
With the draft a little over a month away, and free agency beginning shortly thereafter, it's time to take a look at the current Maple Leafs' roster, who is and is not under contract for next season, and the resultant depth at each position.
Now that the 2008-09 regular season has officially ended, it's time to take a look back over the roster to assess each of the Maple Leafs' players.
Note that I'm only including players who finished the season with at least one game played for the Maple Leafs, and am excluding those traded away during the course of the season.
Statistics for those who were acquired mid-season reflect games played as members of the Maple Leafs only.
The American Hockey League has released the 2008-09 Clear Day Period lists for each of its 29 member clubs.
[more…]
Jiri Tlusty will return to the Leafs' line-up for Thursday night's game against Buffalo to fill the void left by an injured Jeremy Williams. The timeline on Williams' shoulder injury isn't yet known. Meanwhile, Luke Schenn has returned to full contact practising and appears to be less than a week away from returning to action. [more…]
It's hard to imagine that by the Christmas break, the offensively-challenged, Sundin-less forward corps of the Toronto Maple Leafs would be sitting at 7th overall in league scoring. They're averaging a robust 3.10 goals for a game, which is a marked improvement over their 2.74 goals for average from last season. And what's even more impressive is that key roles are being played by some of the Leafs younger players. [more…]