Joe Thornton
The Tomas Kaberle trade watch is now in effect with only 36 hours to go until this situation concludes. The rumor mill is running rampant with some high profile names and some future fan favorites, but let's dive into who is being mentioned as possible blue and white sweater bearers.
- If the TSN reports that Frolov could sign a 1 year deal comparable to that of Afinogenov last season ($800,000) are true, then why weren't the Maple Leafs heavily involved in discussions with Frolov's agent? He's a big guy who can win some pucks, plays a well-rounded game and would fit perfectly in the top line left wing role at a bargain basement price. Remember a few weeks ago when I talked about a deteriorating market? This potential signing may just be the beginning.
- The Toronto Sun reports that the Maple Leafs' Rookie tournament will take place at the John Labatt Centre in London from September 11th-14th this year.
- The Hockey News makes the case for the Maple Leafs as a surprise playoff team this coming season.
- On to the FanPosts. Andrew Edwards (AKA Crazyaces) proposes a solution for these ridiculous long-term contracts, while Michael Cuttell continues his preseason synopsis by evaluating the Leafs' current forward group. [more…]
For Greg McKegg, nothing has necessarily come easy in his hockey career. Â A slow start to his rookie campaign in Erie, followed by a knee injury which threatened the start of his season this past year, McKegg began the year as a winger for the Erie Otters that ISS ranked in the 90's.
It was something that McKegg couldn't not think about, no matter how much he tried.
"It's something you try not to think about too much really, but you can't help but look. Â It was disappointing to see that for sure, but I think it gives you that edge to work harder and show people that you deserve to be higher up on the list."
And that is exactly what he did.
Being described by some in the hockey circles as a perennial underdog, McKegg did the only thing he knew how to do. Â Work hard.
Things may be relatively quiet in Leafs Nation these days, but that doesn't mean there has been a lack of excitement elsewhere in the NHL.
As such, here are a few quick takes on some of the headlines dominating the NHL landscape these days (including the Phoenix Coyotes situation, the Patrice Cormier charges, and Willie Mitchell's controversial comments),  as well as a quick glance at the nearly-completed 2nd round of the NHL playoffs.
My Team Canada Roster selections may seem a little vanilla, but they've been selected to play out various situations. Penalty killing, power play and balance on all the forward units took precedent over sheer offensive/defensive ability.
[more…]
By now, I'm sure many of you have seen ESPN's report of a significant offer by the Maple Leafs for Phil Kessel: two 1st round picks and a 2nd round pick. The general reflex reaction that we've been conditioned to by the Toronto media the last few seasons is to avoid moving 1st round selections by any means necessary. The thought of moving two such commodities is beyond horrifying. I've seen the name Taylor Hall used as the backbone of many an argument over the last few days, often associated with the "chance" of landing said player. If we're gonna turn this into a game of chance, let's at least get all the cards on the table. [more…]
Coming into this offseason, GM Brian Burke promised to drastically overhaul the Maple Leafs roster, and he knew that the primary asset at his disposal was cap space: lots and lots of it. After handing out long-term contracts to Orr,  Beauchemin, and Komisarek, he's got a little under $3 million left to play with in order to add an impact top six forward. In an attempt to minimize the amount of outgoing "talent" via trade, it's no secret that he's been trying to corner GM's of teams that are pressed right up against the cap. [more…]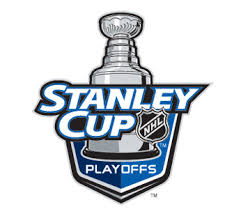 The New York Rangers, Vancouver Canucks, Pittsburgh Penguins and New Jersey Devils were all victorious in Game 1 of the NHL Playoffs. What sort of matchups will we see tonight? Will the Boston Bruins beat the Montreal Canadiens to a bloody pulp? Will the San Jose Sharks choke once again? All those questions and more… RIGHT NOW: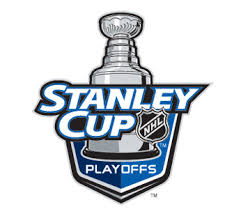 Western Conference:
San Jose Sharks (1) vs Anaheim Ducks (8)
Preseason odds: Sharks 10/1 Ducks 12/1
Last 10: Sharks 5-4-1, Ducks 7-2-1
Season Series: Sharks win 4-2-0
Brian Burke:
On the implications of the Leafs' recent turnaround:
"I'm proud of the guys, they're working their butts off and that's important for a lot of reasons; a lot of what we're trying to build here and reward our fans and our season ticket holders. They're important wins, and I know people are saying we're messing up our draft choice but we'll happily accept that; we'll take that trade off any time. If I could make a deal - I said this last week, and I'll say it again today - if I could make a deal today that would put us in the playoffs, I would do it, as long as it was consistent with our long-term strategy. Those type of deals right now are not being presented, so I don't think it's going to change our approach."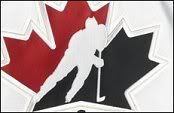 It's their final exhibition matchup of the pre-tournament and Canada looks to apply the same pressure they've produced in their first two meetings. Sunday night's game against Finland showed that this team can in fact change on the fly, and I'm not talking about the lines.
[more…]