Keith Primeau
The wait is over. After yet another long off-season following a fifth consecutive year of missing out on the NHL post-season, the Toronto Maple Leafs are set to kick off the 2010-11 season against their oldest rival, the Montreal Canadiens.
Both teams have undergone an off-season where - despite the lack of a full-scale overhaul - crucial moves were made to bring in key players or (in Montreal's case) provide a better opportunity for players already in the organization. Gone from the 2009-10 Toronto lineup are Viktor Stalberg, Rickard Wallin and Keith Primeau, replaced by Kris Versteeg, Colby Armstrong, and Brett Lebda. In Montreal, the most impactful move was the trade of playoff hero Jaroslav Halak to St Louis in exchange for Lars Eller, a move which paves the way for Carey Price to assert his standing among starting NHL netminders.
We've partnered up with Pension Plan Puppets to bring to you a Player Review series, where we will be evaluating and grading the 2009-10 season for every Leaf who featured in a significant number of games for the Blue and White last season, with an eye towards 2010-11. Today we feature Wayne Primeau, profiled by Garrett Bauman.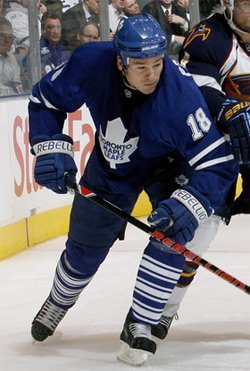 Summary:
Acquired via trade, Primeau was brought in to provide a veteran presence to a young locker room, add grit to the fourth line and fill the role of defensive faceoff specialist.
Although he did not particularly stand out during his 59 games, Primeau was relativley effective in his limited (albeit important) role. An unrestricted free agent, he is unlikely to return barring a substantial paycut from the $1.4m he earned last season.
Phew. Finally a chance to catch our breath after what was perhaps the best 2nd round of playoff hockey ever played. We were treated to three 7 game series, 9 overtime periods, and an epic showdown between the league's premier young rivals, Crosby and Ovechkin. Perhaps overshadowed by all the intensity and exciting finishes, is a fairly simple underlying theme: Youth.