minnesota
Trade rumours are flying rampant around Leafs Nation, some centered around specific Leafs' players, some centered around specific players on other teams, and some centered around the idea of salary dumps.
Rather than speculating the rumour mill this morning, let's take a little break from that and have some fun with this instead.   Let's play "GM For A Day".
The Toronto Maple Leafs' first draft under the watchul eye of Brian Burke displayed a stark change in the team's draft philosophy. The scouting staff searched for the type of players and attributes that would be able to fit into the mold of a tough, physical checking style of game that the Leafs hope to play several years down the road. As a result, we saw a lot more emphasis placed on size and toughness than skill and speed. Not surprisingly, all of Toronto's seven selections were from the North American ranks, four of them from the Ontario Hockey League and three from American hockey programs. [more…]
The first round didn't quite live up to all the hype that we were hoping for, but Toronto did come out of it with a promising two-way centreman in Nazem Kadri. As it currently stands, Toronto will have six selections on Day 2 of the NHL Entry Draft, which encompasses rounds 2 through 7. It all kicks off on NHL Network at 10am ET. Live updates and analysis throughout the day. [more…]
Don't shoot the messenger when you read this.
Even in the days of modern technology, many still profess that meteorology is an inexact science more guess work than theory. The very same can be said when scouting goaltenders. For every Mark-Andre Fleury (selected 1st overall in 2003) there's a Brent Krahn (selected 9th overall in 2000). Meanwhile recent Vezina nominees and winners such as Tim Thomas, Mikka Kiprusoff and Evgeni Nabokov had to wait until the 217th, 116th and 219th selections respectively to see their names on the board. Indeed, the vast majority of netminders who started a game last season in the NHL had long waits deep into the second day to see their dreams realized while others went completely unnoticed only to resurface as free agents years later.
With only one day remaining before the draft, the NHL rumour mill is of course running rampant.
Here is an update on the latest "non-source" chatter I've been hearing regarding draft moves, trade possibilities, and free agent speculation as it may or may not pertain to our boys in blue.
[more…]
The ability to select future stars or even useful role players in the mid-late rounds is what separates the pretenders from the contenders. The class of the NHL when it comes to late round drafting are the Detroit Red Wings, with players like Helm (5th), Franzen (3rd), Filppula (2nd), Hudler (3rd), Ericsson (9th), Zetterberg (7th) and Datsyuk (6th) all playing key roles on a Stanley Cup Finalist team. As E.J. Mcguire alluded to in the previous chapter of Draft Watch '09, there will be plenty of potential impact players available beyond the first round of this year's entry draft. Let's take a look at some of the names: [more…]
This time of year pretty much everyone is doing a mock draft of some sort.  So, with one week to go until the Entry Draft, I figure it's time I chip in with my two cents on what may or may not unfold with the top 10 picks come June 26.
Note that the draft projections listed here are made based on current draft positions, and are not reflective of any possible trades involving the top 10 picks.
In just over two weeks, the NHL Entry Draft will be upon us.  Naturally, speculation as to the future destination of the top prospects is heating up.   With July 1st rapidly approaching, trade rumours (some related to the draft, some not) and free agent speculation are abounding with fury.  And, of course, possible internal team moves are getting their fair share of play as well.
Here are a few scenarios based on the latest buzz surrounding the Maple Leafs.  The question is:  which of these scenarios would you consider, and why?
I've been trading a few emails of late with some "non-sources" (I want to be very clear about that) employed by various media outlets in the Toronto area, to get their take on the rapidly-churning Maple Leafs' rumour mill.
Although these folks are obviously not directly tied to anyone you would call a "source" affiliated with a team, their insight is often valuable as they are privy to more of the backroom chatter with those who are connected to the so-called "sources".
From TSN:
"The Minnesota Wild are building a list of candidates to replace fired general manager Doug Risebrough. Sources tell TSN the Wild have contacted the Toronto Maple Leafs seeking permission to speak with Dave Nonis, the Leafs' senior vice president of hockey operations." [more…]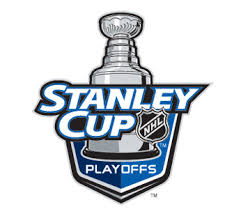 Western Conference:
San Jose Sharks (1) vs Anaheim Ducks (8)
Preseason odds: Sharks 10/1 Ducks 12/1
Last 10: Sharks 5-4-1, Ducks 7-2-1
Season Series: Sharks win 4-2-0