Northeast Division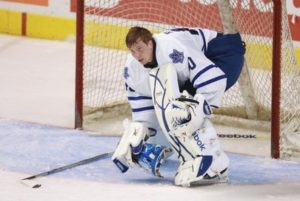 After the jump, Derek Harmsworth recaps last night's action in the NHL Rookie tournament, including locker room access, and looks ahead to today's action.
The following is an up to the minute, live game blog of tonight's rookie tournament game featuring the Chicago Blackhawks and the Toronto Maple Leafs. Â Remember to hit refresh to see the absolute latest updates. [more…]
Finally the day many of us have been waiting for has arrived. Â The NHL Toronto Maple Leafs rookie tournament kicks off this afternoon in London, Ontario, and for many it's a chance to catch on ice hockey for the first time in quite a while.
Today's action features the Pittsburgh Penguins rookies taking on the Ottawa Senators rookies in afternoon action. Â Also on the bill today, the Maple Leafs rookies will play the Chicago Blackhawks rookies in the nightcap.
Here is all you need to know about today's games.
Beginning with Howard Berger's bittersweet commentary on our little corner of the web and and piquing tonight with a grade A case of trolling from a user that's been taken care of, let me make a quick note about moderation.
Firstly, it's important to remember that our willingness to allow for freewheeling and largely unrestricted conversation gives MLHS commenters a privilege, not a right. Unfortunately, in a few instances I'm beginning to see this being taken advantage of.
Being intentionally vulgar is not the way to stick it to Howard Berger. We are getting noticed not only for the efforts and insights the blogging team brings to the table but for the breadth of Leafs knowledge among our users, backed by a strong sense of community. Pension Plan Puppets' sports bar analogy was a good one and I similarly am not going to nitpick at every curse word - if this is how a poster opts to express himself and it's within reasonable limits, I'm not going to ask anybody to change the manner or mood in which they want to communicate their thoughts. Unfiltered dialogue helps create the virtual club house I spoke about striving for in an interview last summer, where fans can relax and chat with a passionate crew who have something informed to say about their favourite sport and team. What is absolutely unacceptable is personal attacks, allowing of course for some friendly banter about Jordan's grammar. [more…]
The speculation after the Matt Lashoff trade a few days back was that it was a precursor to another move for the Leafs. Sure enough, Clarke MacArthur was announced as the newest Maple Leaf. At a cap friendly $1.1 million, MacArthur is being paid like a 3rd liner. Burke has other things in mind, recently stating to the Toronto Star that MacArthur will spend "significant time" on the top two lines this coming season. With that in mind, let's take a look at the kind of role we can expect from MacArthur. All stats not specifically referenced are borrowed from BehindtheNet.ca.
According to LeafsTV, the Maple Leafs have signed unrestricted free agent forward Clark MacArthur to a 1-year contract worth $1.1 million. MacArthur has been a [more…]
In the final part of his 12 Burning Questions series, Derek Harmsworth takes a look at the Maple Leafs chances of getting back to postseason hockey this year.
May 4th, 2004.
Both teams, tired and weary from what had already been a long, arduous road, a journey that had left both teams battered and bruised. Â The teams went back and forth, showing tremendous heart and determination, showing what it takes to win hockey games at this time of year.
Up the ice they went, rewarded with a good scoring chance, but stopped by a goaltender who was up to the task. Â Then down the ice the other way, another good chance, this time for the other team. Â The goalie in this net, equally up to the task of making the save and preserving life, for at least another moment.
Quickly, and in a whirlwind of emotion, it was over. [more…]
In part ten of his 12 burning questions series, Derek Harmsworth takes a look at the importance of a good early start, and if the Leafs can avoid another disastrous start.
There really isn't any other way to put it. Â No matter how you slice it, no matter how you try to spin it, or how you try to put a sugar coating on it, the cold hard fact still shines through.
The Toronto Maple Leafs were not a very good team last year.
Although their stats, and their general play, improved dramatically following the late January trades that saw them overturn nearly half their lineup, the fact remains that the 2009-2010 edition of the Maple Leafs fought inconsistency, as well as young inexperience that had them struggling most of the year.
But it could be argued that never were they worse, than in the first month of the season. [more…]
In part nine of his 12 burning questions series, Derek Harmsworth looks at the Maple Leafs special teams, and why it must improve in order for the team to have success.
When it came to doing this 12 burning questions series, I discovered a lot of things about the Leafs, and how I will be looking for different things this year. Â And even though I already knew the fact, it was all the more confirmed to me that there really are no definitive answers to these burning questions, at least not in August anyway.
However, as we reach part nine of the series, I can confidently say that I can, for the first time this series, give a more defined answer. [more…]
Midway through the month of July, I had the privilege of chatting with Dave Poulin, Vice President of Hockey Operations with the Toronto Maple Leafs, for an article appearing in Maple Leafs Annual.
Having a professional background in publishing, I was not the least surprised that limitations on available space, plus design and layout constraints, resulted in the necessity to crop certain parts of the interview.
With the Annual due to hit stores next week, I thought I'd share a few of the "lost excerpts" from the cutting room floor in which Poulin offers his thoughts on the progress of the Toronto Marlies, as well as the emergence of the NCAA as a growing prospect pipeline.
Think of it as the equivalent of a "DVD extra" to your copy of MLA.
Hopes and expectations are that the conclusion of the 2010-11 season will see the Maple Leafs  return to playoff action for the first time since Jeremy Roenick ended the Leafs' 2004 post-season run in overtime of game six on May 4, 2004.
Many factors led to the Leafs' demise during the 2009-10 campaign, which ultimately meant the relinquishment of Tyler Seguin to the Boston Bruins. Inconsistency was the primary issue, as many key players were ineffective or downright useless---I'm looking at you, Vesa Toskala. The off-season acquisitions of Mike Komisarek and Francois Beauchemin had fans salivating at the potential of the team's defense corps. However, things took an unfortunate turn for the worse when both defensemen---it was later revealed Komisarek required season-ending surgery for a pre-existing shoulder injury--- struggled mightily out of the gate. Moreover, the combination of Toskala's horrendous goaltending and Luke Schenn feeling the early effects of the dreaded sophomore slump only added to the nightmarish start to the season. Leafs fans had to endure seven torturous games before the club posted its first win. To put it simply, the Leafs didn't even take a step forward before they crashed and burned.
In part seven of his 12 burning questions series, Derek Harmsworth takes a look at how the new faces will fit in with the Toronto Maple Leafs.
Brian Burke has always argued the fact that July 1st is his draft, the time where he does his best work in bringing in key pieces that will push his team to that next level. Â While he isn't inept on the draft floor, it isn't his strength. Â To his credit, it's something he doesn't necessarily hide either.
And while this summer's free agent frenzy is more calm than in the previous years, there is no doubt that through free agency, and the days leading up to it, that Burke took steps towards continuing to shape this team in his vision. Â The moves have been made, and barring any sort of changes, this may well be the team we see enter training camp in under a month. Â With that in mind, it's time for Leafs Nation to ask, exactly how will the new faces fit into place in Toronto? [more…]