phaneuf
The Leafs have had a lot of positives to start this season, but the power play isn't one of them.
Last year, Toronto's power play was a team strength finishing tied for ninth with Colorado in the league clicking at 18.4% over 82 games. After eight games to start this season, the Leafs are currently converting 14.3% of their man advantages, which is 22nd in the league. [more…]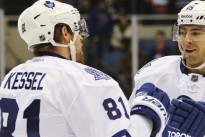 It seems like a fruitless endeavor to make full season predictions with the uncertainty of when the actual season does begin.
Regardless, here we are. Under ideal circumstances, the season would start as per the current schedule and should both parties salvage a full season, we need to be ready.
Every summer we get the McKeen's Hockey Yearbook together and about this time, I'm usually done with Leafs predictions.
It's a summer tradition to post Leafs predictions here, and I wanted to continue the custom. [more…]
Zone starts, zone finishes and a bunch of QoC.
Get ready for a lot of charts.
New metrics surfacing rapidly are being put to use. The charts below are being more-widely used to visually demonstrate usage of players in comparison to the level of competition they face.
Plenty of different examples exist.
OZQoC charts were architected by Rob Vollman of Hockey Prospectus. A full explanation is spelled out here. [more…]
Part 1 can be found here.
Notes on Day 2 of training camp:
I didn't watch any of the drills and instead took in more of the scrimmages today. Here are the notes for the second day of training camp: [more…]
Training camp is set up with a scrimmage in one rink and drills going on in the other rink. The notes are about the scrimmages. Camp was split into three squads. The notes below are observations from the scrimmages.
[more…]
An annual tradition, here's the scoring predictions for the 2011-12 version of the Toronto Maple Leafs.
I won't get too much into player specifics since my scouting reports are in the Maple Leafs Annual with further expansion in the McKeen's Yearbook to be released soon.
Some minor commentary on Kulemin winning the scoring title. When coming up with predictions, the hold of the top spot was so delicate any slump/streak could cost some player the scoring crown. If it wasn't Kulemin, it could be Grabovski coming off a breakout campaign (and entering a contract year) or Kessel for a third straight season. [more…]
This was a memorable evening for all Leaf fans. After 12 seasons and 878 games in a Leafs uniform, Tomas Kaberle returned. Many of us criticized his play in the past, many of us admired his crisp clean passes. Whatever the case may have been, I would just like to take the opportunity to once again thank Tomas for his time in Toronto. More than anything else, this night was about him. Continue for some rosy cheeks and a big bad blowout!
On January 31, 2010, the Calgary Flames dealt Phaneuf, Fredrik Sjöström and Keith Aulie to the Leafs in exchange for Matt Stajan, Niklas Hagman, Ian White and Jamal Mayers. A move that will most probably shape the future of the Toronto Maple Leafs once again involved Calgary. Call it fate, call it coincidence, it really doesn't matter.
On June 14, 2010, Brian Burke named Dion the 18th captain in the history of the Toronto Maple Leafs and that, more than any other transaction or move, signaled a new era for our beloved team. The Edmonton native became captain at 25 years of age, and although a vocal, running the dressing room type of guy, he still had to experience the expectations of a Maple Leafs captain first hand. I don't mean this as an insult, but Calgary is no Toronto.
Waffle Guy of The Checking Line wrote his own rendition of the Night Before Christmas, but based it on the Leafs and waffles. I thought it would be a nice little read for all of us for the holidays. Merry Christmas and happy holidays. Hopefully Santa can bring us all more wins.
Twas the night before Christmas, when all through Leafs nation
Not a fan was cheering, and no standing ovation;
The players were stung by a pair of quick goals,
And had hopes of digging themselves out of their hole; [more…]
Nearing in on his first full year wearing a blue and white sweater, Maple Leafs captain Dion Phaneuf is ready to return to his NHL roots as Toronto visits the Calgary Flames in their second game of a Western road swing.
The Flames were a struggling team looking for a desperate change in their core and it came in a deal with Toronto that earned them Ian White (now a member of the Carolina Hurricanes), Matt Stajan (who has recently returned from injury), Niklas Hagman (who has, at times, shown brilliant chemistry with fellow countryman Olli Jokinen), and Jamal Mayers (who cares about him).
[more…]
It took the Leafs nearly 168 minutes to earn their first goal in three games in last night's loss to the Ottawa Senators. It has been the story of the team in terms of points production as the club lost its fifth game in their last six outings. That said, the drive and scoring chances the team has created for themselves during that time made most of those games "close ones". Tonight, with scoring hopefully back on their side, the .500 Leafs hope to erase their current three game losing streak by conquering the Capitals.
[more…]
It's been quite the time span since my last post here. But as many of you know, I've been working on the McKeen's Hockey Annual Yearbook. That is in addition to the work on the player profiles for the Maple Leafs Annual.
So to kick things off, and to change the subject from Tomas Kaberle, here are my player predictions for the Maple Leafs this season after the jump.
(NOTE*** Predictions appearing the McKeen's Annual Yearbook are decided as a collective from many different sources. These values will unlikely appear as they indicated below in the publication.)
[more…]