phil kessel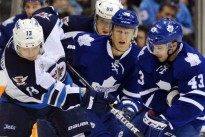 It's like déjà vu all over again.
And no, I'm not talking about "The Slide."
[more…]
Among certain members of the mainstream media covering the Leafs, there seems to be this idea that won't go away where Tyler Bozak will name Mikhail Grabovski's $5.5 million as his starting point if he is going to negotiate a new contract with Dave Nonis.
You don't need me to tell you it doesn't make any sense. [more…]
With just over three weeks to go until the trade deadline, I feel as if I can get away with a rosterbation post without too much scrutiny. I'll do my best to not go full HFBoards with my ideas, but certainly have a few players in mind that I'd like for the Leafs to target, and a few that I'd like Nonis to jettison. While I'm sure this won't be the most intelligent post you'll read this morning, hopefully it will at least spark some Monday morning conversation. [more…]
I took in what felt like a one-point win last night at the ACC. I of little faith was thinking "blow out" after the bang-bang goals in the first, but there seems to be something different about this team (visible in the Bruins game as well). They didn't slip silently into the night, and by the end of it you had the feeling Crosby, Malkin and co. snuck away, or limped away, with the extra point.
I'll ignore the awful first period from the Leafs - and how deeply underwater the first line was in its head to head with Crosby's line, or how off Reimer was for the first 20 - because in many ways the fight back was just that good. Reimer played one of his poorer periods of the season in period 1, but his overall performance matched the trajectory of the rest of the team - started slow, but without him the Leafs don't get the point. [more…]
The Leafs welcomed the Penguins in what was their second meeting of the season. A win in the first game in Pittsburgh certainly felt good, but this was a Penguins team that has 7 wins in their last 10 games and has just now started to push for the top of the Conference standings. It was a different game entirely. [more…]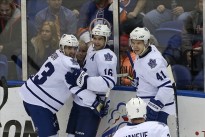 Since we are almost at the halfway point, I thought now would be a good time to write some notes on each individual player thus far. Here is the close-but-not-quite-halfway Leafs Notebook: [more…]
On Wednesday, Wade Arnott, Phil Kessel's agent, indicated his client's apparent desire to spend the rest of career playing hockey for the Toronto Maple Leafs.  This, despite being disappointed in the club's performance last season (I don't even want to know what adjective he'd use to describe the two previous seasons in Toronto), and with little guarantee yet that this team is primed for long-term playoff success.
We'll probably never know why the camera-shy Kessel wants to remain in a media-laden Toronto; Arnott seems to suggest it is an admirable inner desire to win in hockey's mecca. Perhaps the better question is, what could it cost to keep him?
The agent for Phil Kessel joined Greg Brady and Jim Lang to discuss the evolution of Kessel's game, his mindset during the scoring drought and how the forward feels about playing in Toronto. [more…]
The Leafs have had a lot of positives to start this season, but the power play isn't one of them.
Last year, Toronto's power play was a team strength finishing tied for ninth with Colorado in the league clicking at 18.4% over 82 games. After eight games to start this season, the Leafs are currently converting 14.3% of their man advantages, which is 22nd in the league. [more…]
Randy Carlyle has not been with the Leafs for long, but he's beginning to put his stamp on this team.
Hired on March 2nd 2012, the former Ducks bench boss inherited a team on the decline and wound up finishing with a 6-9-3 record to close out the season in his first 18 games as the Leafs head coach. Questions and attention were given to things such as whether or not Carlyle, a former Norris Trophy-winning defenseman, could turn around Luke Schenn's game, how he was using Connolly-Steckel-Crabb as a shutdown line, whether he and Joffrey Lupul could get along, if Phil Kessel could produce with him, and the intrigue of the looks he was giving Matt Lombardi and Matt Frattin on the top line. [more…]
Through a season of inconsistencies, the one thing that has remained constant for the Maple Leafs is the production of Joffrey Lupul and Phil Kessel. The duo surely formed one of, if the best, forward duet in the league, consistently tussling with the Sedins for the highest scoring pair (they're trailing the race by a single point currently). All the while still keeping pace in the Art Ross race individually, as well. With all the success created and sustained, it was at one time far-fetched to believe the two could be split him for any reason.
With a three game losing streak in hand - one that all but made the Leafs four game win streak irrelevant - Ron Wilson made the peculiar coaching decision to split them up. And early progress reports signify it could turn out for the better. [more…]
It was far from a satisfying send off but last night's 4-1 loss to the Habs was in some ways a microcosm of 2010-11 season that was. With their powerplay quite literally working against them, the Leafs put themselves in a hole early, showed some fight back and ultimately fell short, while some promising youthful performances comprised a silver lining for a better tomorrow. That said, it seemed a good portion of the Leafs roster was still suffering from the hangover of a playoff run fallen short, the giveaways and breakaways against were plentiful and the effort generally uninspired.
It's important to keep one game in perspective but debutants Frattin and Colborne gave Leafs fans a pretty good feel for what the future may hold last night. Colborne's frame will need some further filling out but he looked like an unrefined model of that big-bodied skilled center fans have been yearning for since Mats Sundin's departure. Matt Frattin showed no hesitation in getting right in the mix with a high-tempo game and some good offensive instincts in finding the good scoring areas, registering five shots in 15 minutes of icetime. Frattin would have notched his first NHL goal if not for a couple good saves from Carey Price.