point-a-game player
It was a quiet Day One at the 2010 NHL Draft for the Maple Leafs, but the team stepped up its game in a big way on Saturday afternoon. The club wheeled and dealed its way into the 2nd round of the draft and through some crafty maneuvering in the later rounds, managed to add seven new players into the organization.
The Leafs were able to significantly upgrade their depth up front, by grabbing six forwards to go with one defenseman. Surprisingly, Leafs' Swedish scout Thommie Bergman had a big day, selecting three players from the Swedish leagues. [more…]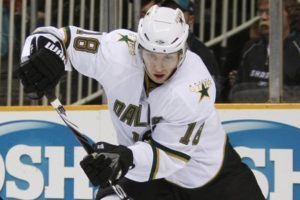 During his first full year at the helm in Toronto, you could make the case that Brian Burke was the league's most active general manager. There was the Kessel summer blockbuster with Boston and then the mega-deals on January 31st that brought in Phaneuf and Giguere. It's quite obvious that he's willing to expend assets to target any top notch premium young talent when it's made available. Both of those trades were opportunities: Kessel was a restricted free agent on a team with cap issues. Burke often spoke of inquiring on Phaneuf several times throughout the year until the "pressure points" of the cap and the struggles of the Flames pushed Sutter into making a bold move. This summer should be no different. Let's take a look at some of the young RFA's that might potentially attract Burke's interest.
With the rebuild process in full effect, the Toronto Maple Leafs are exhausting every single possibility when it comes to bringing quality young players into their system. Dave Nonis, senior VP of hockey operations for the Leafs,  was just on the Bill Watters show earlier this hour and discussed a number of topics pertaining to the Leafs, including the team's approach to handling its NCAA prospects as well as possible interest in some of the prized college free agents. [more…]