Ricoh Coliseum
As we await the season opener for the big club, let's see how some of the kids are doing:
Greg McKegg is off to an [more…]
"Being a kid growing up just outside Toronto, you always want to play for your team you watched growing up, and Toronto's my team."
It was one of the last things Andrew Engelage said after a lengthy discussion at the Ricoh Coliseum, but it definitely resonated the loudest.
There's nothing quite like the story of the home-grown athlete. Everyone likes asking Oakville's John Mitchell what it's like to put on the Leafs sweater every day, or trying to find some way to relate to Jesse Blacker's being drafted by his local club. But when adversity is thrown into the mix, when a player has to go through some degree of hardship to make it to not only the level he wants to be, but for the team he wants to play for, that's when a story becomes a best seller.
It was no less than two months ago that I was pondering this same question, that of captaincy, and examining the same factors. Thinking of all the tangibles – speed, talent and scoring – along with attributes that are harder to judge – the ability to command the respect of the team, lead with strength of character and handle the Toronto media through success and failure. The lone difference is that last time, it was the Leafs.
#NHLAnagrams have been a big thing on twitter over the past week, and what a riot we've had. Some of the creations have been strictly comical (Daniel Alfredsson = An Idle Ass Fondler), some have been ridiculous (Brian Burke = Urban Biker) and others have fit so perfectly, you would think that it was by some magical force that their name and anagram had come to be (Zdeno Chara = A Hazard Cone, Vesa Toskala = aka Lost).
With the Toronto Marlies seven points back with 12 games to go, I'm torn as to my thoughts of the post-season and based on the Marlies' anagram, Realism Torn Too. [more…]
Naz Tracker. Kadri Nation. Kaptain Kadri...
... Kadri, Kadri, Kadri!
Who would have guessed that with all the attention surrounding the Leafs 2009 1st round pick, it would actually be the Toronto kid selected in the 2nd round that would be first to string some games together on a pro club. Though not officially announced, Jesse Blacker has left the OHL and joined the Toronto Marlies for the remainder of the season.
Johnny Bower Bobblehead Night Saturday (today) at Ricoh Coliseum as the Marlies take on the Minnesota Wild AHL affiliate Houston Aeros. (Note**Bower will be in attendance at Ricoh).
[more…]
Make sure to catch Daniel's Rangers/Leafs preview.
I'll be attending my second Marlies game of the season today at Ricoh Coliseum at 3:00 PM. They try to avenge a loss last night to divisional rivals, Rochester Americans in the second half of a home-and-home.
Watching games, got me to thinking about perspective.
EDIT: Brad has a great take on this situation as well!
[more…]
Over the course of the offseason, the Maple Leafs have made several moves to ensure the focus they have placed on grit, heart, and tenacious play at the NHL level will extend to the AHL Marlies as well.
The team has re-signed Marlies' stalwarts Darryl Boyce, Andre Deveaux, Alex Foster, and team captain Ben Ondrus, as well as rugged waiver acquisition (and recent Memorial Cup winner) Richard Greenop, and free agents Jay Rosehill and Tim Brent.    All are hopeful that solid play at the AHL level will result in NHL opportunities during the course of the season.
Even though the Maple Leafs season is officially over, it doesn't mean that there's no playoff hockey here in Toronto. The Marlies just started their Round 1 series of the AHL playoffs last night against the #1 ranked Manitoba Moose. [more…]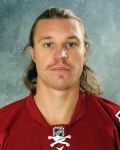 JUSTIN POGGE (# 29) – G
Player Facts
Birthdate: April 22, 1986
Stargazing: Taurus
Hometown: Fort McMurray, Alberta
Chatter ... non existent.
Rumors ... rampant speculation, but nothing really.
Movement ... absolutely dismal amount of transactions (if you don't count waiver placement)
Just, eerily quiet ...
And I have a theory as to why. But first, some good news.
"The Toronto Maple Leafs announced Friday that forward Nikolai Kulemin and defenceman Anton Stralman have been assigned to the Toronto Marlies of the American Hockey League. Kulemin and Stralman will join the Marlies for their game tonight in Syracuse.
[more…]