Ricoh
Over the course of the offseason, the Maple Leafs have made several moves to ensure the focus they have placed on grit, heart, and tenacious play at the NHL level will extend to the AHL Marlies as well.
The team has re-signed Marlies' stalwarts Darryl Boyce, Andre Deveaux, Alex Foster, and team captain Ben Ondrus, as well as rugged waiver acquisition (and recent Memorial Cup winner) Richard Greenop, and free agents Jay Rosehill and Tim Brent.    All are hopeful that solid play at the AHL level will result in NHL opportunities during the course of the season.

While the Leafs made the decision not to renew Marlies coach Greg Gilbert, some of the players are truly on the ball.
[more…]
Even though the Maple Leafs season is officially over, it doesn't mean that there's no playoff hockey here in Toronto. The Marlies just started their Round 1 series of the AHL playoffs last night against the #1 ranked Manitoba Moose. [more…]
In the first column of this two-part series, we took a quick look at Leaf prospect Jiri Tlusty's breakout campaign in the American Hockey League this season. Entering a season where expectations were tempered and hope and patience were preached, we've been privy to a few oustanding seasons by Leaf youngsters across all levels of junior, minor, and collegiate hockey. Today, the spotlight's on Mikhail Stefanovich of the Quebec Remparts. [more…]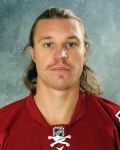 JUSTIN POGGE (# 29) – G
Player Facts
Birthdate: April 22, 1986
Stargazing: Taurus
Hometown: Fort McMurray, Alberta
Chatter ... non existent.
Rumors ... rampant speculation, but nothing really.
Movement ... absolutely dismal amount of transactions (if you don't count waiver placement)
Just, eerily quiet ...
And I have a theory as to why. But first, some good news.
"The Toronto Maple Leafs announced Friday that forward Nikolai Kulemin and defenceman Anton Stralman have been assigned to the Toronto Marlies of the American Hockey League. Kulemin and Stralman will join the Marlies for their game tonight in Syracuse.
[more…]