skater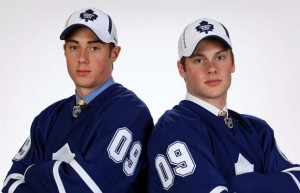 Brian Burke must have felt a lot like the eponymous Old Mother Hubbard when he first reached into the Leafs prospects cupboard. Of course, unlike the elderly dog-mistreating crone of the rhyme, Burke already knew what lay in stock prior to his arrival in Leafs country. In short: a few notable exceptions to a decade of draft property mismanagement.
Subsequently, the draft of 2009 looked to be a vital cornerstone in Brian Burke's rebuild. The first chance for the Leafs to restock in a new, finally directed era.
The NHL Draft is less than 18 days away...can you feel the excitement? The Leafs won't be landing Taylor Hall, but it doesn't mean they can't grab another talented young forward from the Windsor Spitfires, today's feature player: Justin Shugg. Justin's a local kid from Niagara Falls who has been a key cog in for the most powerful offense in Canadian Major Junior, enjoying a 39 goal, 79 point breakout season in the Ontario Hockey League. Word around the scouting circles is that the Leafs are deeply interested in his services, as are the Atlanta Thrashers. [more…]
For as long as I have been reading the comments section of this site, I've been overwhelmed by the sheer volume of posts that discuss the Leafs need to obtain a 2nd round pick through a trade.  While the tenability of some trades, "Bobby Ryan, Jesus Christ (who historically has done his best work on the boards) and a 2nd pick for Tomas Kaberle, Howard Berger, and a 7th" may be questioned, there is certain validity behind the desire.  Indeed, the Leafs have had some success in the second round (Stajan and Kulemin have both become solid players, and the Leafs have three 2nd round picks in the past two drafts as promising prospects).
In the second installment of the Prospect Season In Review, we will take a look at a couple of Maple Leafs prospects who have proven a positive product of the John Ferguson Jr / Cliff Fletcher draft era.
Profiles in this segment include German DEL winger Jerome Flaake and defender Korbinian Holzer, as well as a prospect closer to home: Windsor Spitfires winger Dale Mitchell.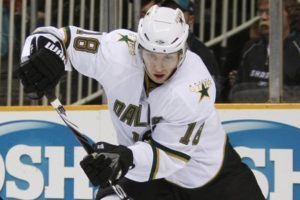 During his first full year at the helm in Toronto, you could make the case that Brian Burke was the league's most active general manager. There was the Kessel summer blockbuster with Boston and then the mega-deals on January 31st that brought in Phaneuf and Giguere. It's quite obvious that he's willing to expend assets to target any top notch premium young talent when it's made available. Both of those trades were opportunities: Kessel was a restricted free agent on a team with cap issues. Burke often spoke of inquiring on Phaneuf several times throughout the year until the "pressure points" of the cap and the struggles of the Flames pushed Sutter into making a bold move. This summer should be no different. Let's take a look at some of the young RFA's that might potentially attract Burke's interest.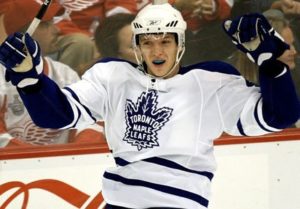 Now that the Leafs' most important pending free agent -- goaltender Jonas Gustavsson -- has been signed to a two-year contract extension, it is time to take a look at their remaining free agent players.
Notably, the list of expiring contracts includes pending RFAs Nikolai Kulemin, Christian Hanson and John Mitchell. Pending UFAs on the Leafs' roster include Wayne Primeau, Rickard Wallin, Jamie Lundmark, Garnet Exelby and Mike Van Ryn.
It was a light day practice wise as the optional skate drew only a handful of players to the MasterCard Centre for Hockey Excellence.
[more…]
While the Maple Leafs struggled through a horrific 3-10-2 record to start the new year at the NHL level, many of the organization's top young prospects enjoyed a very productive month of January on the scoresheet. Jerry D'Amigo (left) continued to build off a strong World Junior tournament, Mikhail Stefanovich seemed to finally turn the corner, while Nazem Kadri took his game up to that dominant level we all know he's capable of. [more…]
Dion Phaneuf was far and away the biggest name exchanging teams in the Toronto-Calgary deal on Sunday morning, and as a result, young defenseman Keith Aulie may have gotten a little overlooked in the shuffle. But make no mistake about it: Aulie was a significant piece in this trade for Brian Burke and the huge, imposing blueliner should figure prominently in the Maple Leafs' defensive core of the future. Let's take a look at what the newest Maple Leafs' prospect could bring to the table in a few years time. [more…]
He glided down the ice, not showing any sort of intimidation despite the fact he was a little out of his element.  Like a veteran, he flew down the wing and fired a shot that eluded the goaltender.  It was his first NHL goal.  It was his first NHL game.
He skated through the neutral zone, accepting a stretch pass, only to be met by a member of the opposition, who's eyes were as big as saucers, knowing he was going to catch him.  He was leveled, sent for a trip down dream street.  A hit that caused a nasty gash to open up over his eye, blood streamed out of his nose.  It was his 425th NHL game.
All 425, as a member of his hometown team, the Toronto Maple Leafs.
No truer words ring out to the ears of the throng of fans and particularly management of the Leafs victory over the current GM's former organization.
And it took Alice in Chains to create them.
Cali, you're alright .....
[more…]
Leafs coach, Ron Wilson made it clear, Nazem Kadri will not be getting a nine-game audition this season, just to be sent down to the OHL London Knights. Answering questions in the media scrum after the scrimmage at training camp in the Mastercard Centre of Hockey Excellence, Wilson was adamant about being against an audition for the young pivot. In order to stick with the Leafs, the 1st round pick in the 2009 draft will have to beat out one of Mikhail Grabovski, or Matt Stajan for a top-6 role in order to stick, and as of Wilson right now, both are 'way ahead' of Kadri for a spot at the moment.
Kadri will get every opportunity to earn a top-6 spot, but unless he completely overwhelms, expect to see him in London for the entire season.
More notes from Training Camp, Day 2.
[more…]