toews
Nothing beats a partial Habs GDT on a Toronto Maple Leafs fansite, right? To get more in line with the general sentiments of everyone here and making sure the glass is half full, or at least not half empty (one quarter empty) let's just call this a ¼ Boston GDT. Sure, we might dislike Seguin and an certain draft pick, but for a Leafs fan desperate for playoff hockey, there's always Kaberle to cheer for. The Hot Stove will also be looking at Vancouver's possible exit from the playoffs in what I like to call "Chaos in Paradise".
The Chicago Blackhawks are just 60 minutes away from drinking out of Lord Stanley, and it will be present at tonight's game at the Wachovia Center in Philadelphia. Should the Blackhawks win, it will be their first championship in 49 years.
"It has been flashing in my head since Game 1 of the playoffs," said Blackhawks captain Jonathan Toews. "Every time you win one game, it feels like you're going all the way to the Cup. I've always said when you lose a game it feels like your season is going to be over. It just has been such a crazy ride."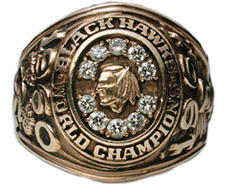 While many didn't predict the Blackhawks and Flyers to be in the Stanley Cup Finals, there are plenty of historical facts that may prove the hockey Gods have decided this would be the match-up for the Stanley Cup before the year even started.