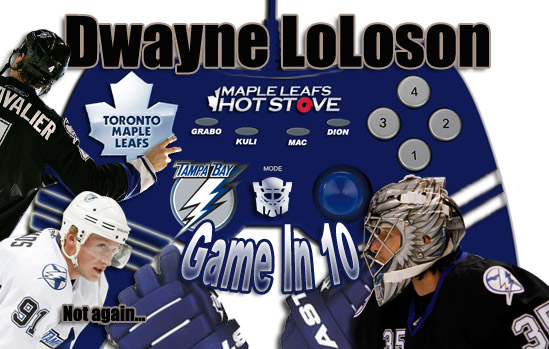 A game against the surging Stamkoses, as the Lightning are currently known and will be known for some time in the future, featured some very entertaining hockey. After all who cares about defense? All it does is win championships. I was entertained and Tampa were plainly and soundly beaten.
1 — The Leafs are 19-15-5 and this was a great start to a month where we have to get a lot of wins under our belts.
2 — A chip and chase play by the Lightning, they get some zone time, poor defensive coverage on the play and Vinny Lecavalier makes it 1-0 Lightning with a shot from the slot. First shot of the game and we—re already down a goal. Schenn and Connolly were in no man—s land on that play. Liked the immediate response from Kadri that draws a call.
3 — Immediately following that PP, Lupul starts the play with a great effort in the corner, digs the puck out in the offensive zone, Connolly makes a great play and a slick pass back to Lupul for a quick shot and it—s 1-1 on an even strength goal by the Leafs. Not a powerplay goal but I don—t think anybody is complaining.
4 — Gunnarsson drills one from the point with good traffic in front and the Leafs have the lead. While I can—t knock Connolly for not taking any crap from Downie in the first period his penalty was exactly what we—ve have to get away from. Undisciplined penalties cost you games, call them good ones, bad ones it doesn—t matter. Luckily we killed both penalties that time.
5 — Of course Stamkos scored, I mean he—s sizzling right now, but it was how he scored is what bugged me. Kadri had a shift that was way too long, we turned it over and Stamkos was left with no coverage for goal. Immediately after though, we find a way to score after Grabo catches a sky high puck and rifles it in. Tampa ties it again after some puck chasing that—s becoming an epidemic this season but right after that we score again after Boyce gets on the end of a very good play by Frattin. Buy me a cake and call me Sally! Don—t blink folks, end to end defensive breakdown action!
6 — Happy birthday Matt Frattin! The kid got a goal after a sick wraparound by Kadri that created a rebound which Frattin buried for his second point of the night. Kadri creating out there.
7 — I didn—t watch the third because I switched over to Canada vs. Russia at the WJC. Just kidding but will do so while you—re reading this. Also, Dion Phaneuf from a wonderful dish from Mikhail Grabovski! A power play goal makes it 6-3 Leafs. Love that end to end stuff when it—s in our favor.
8 — Kulemin played a good under the radar game, Lupul was our best player tonight collecting 4 points including the 300th NHL point of his career. Kessel had a PP goal on a 5 on 3 PP, had 7 shots and was +1 on the night.
9 — 3/6 on the PP with the first goal coming seconds after our PP ended, 5/5 PK. I—d say the special teams did their job tonight. Let—s build on this shall we¦
10 — Schenn just put a final touch (fist) on a very entertaining Leafs win. Good momentum builder going forward.