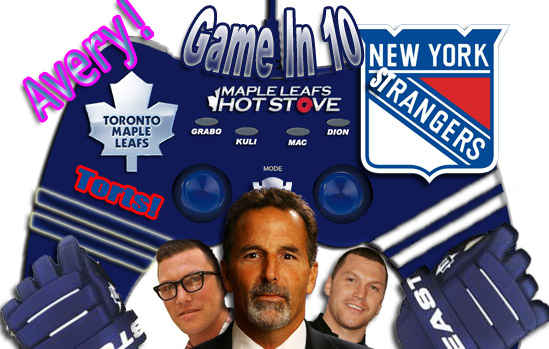 The Leafs were facing the Conference leading New York Rangers in an Original Six matchup. Our team knew what they were getting with the Rangers. Under John Tortorella they only play one way — hard, and we needed to match that. Unfortunately, we just needed to put some more weight on the gas pedal and we didn—t do it.
1 — The Leafs are 22-17-5 and we didn—t play that badly, but we didn—t play that well either. It was one of those phantom nights where a game just gets away from you because you don—t work as hard as the other team. The Leafs fall to 2-5-1 in the second game of a back to back.
2 — Rangers came out hitting everything is sight, including Kessel, who wasn—t in Boyle—s sights because he—s much shorter. See now you just had to send Orr on¦ oh. Ah well, at least Phaneuf leveled him in the third period.
3 — It was a hard checking first period, not a lot of free ice out there. Good patient period by the Leafs but not many chances created on either side of the puck.
4 — Mike Rupp scored after a great three man passing play, and after a bad pass by Komisarek ended badly for the Leafs. Komi went to change probably thinking he didn't want to be on the ice when they score. That—s a minus!
5 — Good news, our PK does indeed look much better. It—s not just about the improved stats, which are always a nice conversation starter, but the improved stats come from a more aggressive and much harder to score against unit/s.
6 — Cody Franson has a rocket of a shot. I know it—s common knowledge by now but it—s so fun seeing it go off his stick. His overall play has vastly improved and he's looking really comfortable in a Leafs jersey right now.
7 — Brian Boyle scores his first goal in his last 23 games against the Leafs. You had to figure it was going to happen. It was only his 3rd goal of the season, on a rising shot from way out. Didn—t like it much, but then again, I don—t like any goals scored against the Leafs. I'm biased that way.
8 — Couldn—t get the bounces tonight, but hey, that—s not an excuse. It evens out during the season. Didn't help ourselves out with a ton of giveaways, as sloppy play on a back to back night kills us again. Random thought of the night: "Oh look, it's John Mitchell."
9 — Derek Stepan puts the nail in the coffin as he freezes Gustavsson after a good rush up ice and easily finishes to make it 3-0 Rangers.
10 — Does Burke wait and keep this group together after two consecutive defeats in one of the most important months of the season right after he publicly announced (Fan 590) that a trade is on the burner? My guess is no but I guess we—ll find out soon enough.