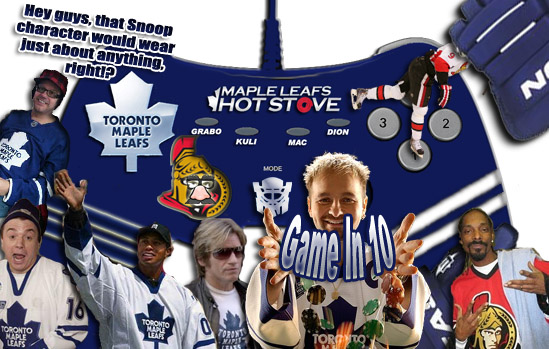 The Leafs played a good game in the Battle of Ontario. Unfortunately, we needed points from the Battle of Ontario and we got none. Not to take anything away from the boys, because this really was a good effort, but Ottawa now sits 9 points ahead of us in the Conference standings while we trail the eighth-placed Capitals by one point.
1 — The Leafs are 22-18-5 and yes, those are three straight losses in which we scored a total of four goals. What really gets my goat is we didn—t deserve to lose last night. Hopefully it evens out down the stretch. One concern, the Leafs scored both goals off the rush, and their reliance on that type of offense is getting to be a problem.  It's a great strength in the transition game, puts a lot of teams on their heels and shows off the team's speed, but you need to be able to grease some goals as well. You can totally see why a big, top six forward capable of enabling a cycle game is a glaring need on this team. Getting defencemen stopping and starting and changing direction over a 45 second to minute-long shift kills them towards the end of the shift, and as the game progresses. I'd expect Burke to address this in advance of the deadline.
2 — Craig Anderson turned away 37 shots as he was the clear difference last night. Reimer faced 21 shots and gave up three. One difference was also uncalled goalie interference penalties on the first and second Ottawa goal. At least, definitely the second Ottawa goal. It looked as though Reimer was expecting the puck a little lower on the game winning goal from Kyle Turris, and it could have picked up after clipping Schenn's stick. Regardless, that goal won't help deflect any adversity. Let's hope he can fight through this.
3 — Too many giveaways and sloppy passes, which created a lot of chances for the Senators. A team that has been very good offensively for most of the year is going to take advantage of that by SITTING ON YOUR GOALIE. Okay, not "sit" but at least "lean on." It seemed to me the refs judged the Sens forwards were forced in on both plays, which I must admit has some merit. The Leafs' defencemen "front" during zone defense, so when the puck enters the crease area, they don't have inside positioning, turn, and sometimes force the attacker into the goalie when trying to clear the goalmouth. They can do a better job directing them, but that might be a fault of the system.
All that said, it didn't seem the Sens forwards in question put much of an effort into avoiding Reimer.
4 — Kessel and Lupul ended the drought! People use that term loosely. After Cowen bobbles the puck, Kessel takes the puck on his own blueline, makes a wonderful pass to Lupul, and Joffrey just buries it top shelf. Anderson had no chance.
5 — Lombardi played a good game last night. His speed was there for all to see and he got rewarded for the effort with a goal, which Anderson really should have had as it trickled through his open five hole. Mr. Anderson, you have an open five hole. Wasn't a brilliant performance, but it was a step in the right direction for him.
6 — Franson can really pass that puck. That blazing pass which opened up the space for the Lupul chance late in the second period was a thing of beauty.
7 — Personally, at first I didn—t think Foligno's hit on Phaneuf was that dirty, but after watching it again – that, my friends, wasn—t a hip check. Good for Dion for making him answer for it. Nobody else would though, which I find strange, though Burke tried to fight Foligno vicariously from the press box.
8 — I have a feeling all of Ottawa—s wins this year are directly correlated to MacLean—s moustache. Hate the Sens or well, hate them, but that's an impressive stache.
9 — Trade? I'm not going to pretend to know what—s coming, but this is a really important month, and the Leafs can't afford to lose games like this one, especially when you give up a two goal lead in the process. The running into a hot goalie excuse doesn't really matter when important points are on the line.
10 — What can you say, really? On one side, you had a tired Senators group that played back to back in a home game which you really needed to win. On the other side you had a Leafs group that did everything to win, but didn—t. In a game of traded chances, more often than not the team with the better goalie that night emerges with the two points. That was the case last night, and the Leafs lose a four point game to the sizzling Senators, marking their third straight defeat and keeping them in 9th for the time being. The Leafs have all but erased their 4-0 start to 2012, and are now 13-15-4 since their 9-3-1 opening month.