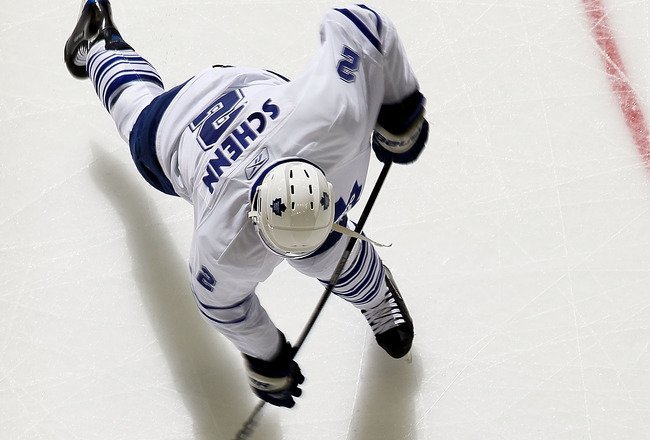 Asset management was really the theme of the deadline for the Maple Leafs.
At the end of the day it appeared Brian Burke and company tried their best to bring in immediate help for this team and add to the roster, but the prices were just too high to justify. No offense to Paul Gaustad, but when he actually netted a first round pick that more or less summed it up.
Had the Leafs stood in say, fifth place, yesterday, I suspect they would have been a little more open to flipping a younger player for more veteran help, but this recent stretch probably caused them to hold back.
Of course, the Leafs did actually make one move of moderate significance, swapping Keith Aulie for Carter Ashton.
The first player I thought of when that deal was announced wasn't Aulie, or Ashton, or anyone currently on the Leafs for that matter. It was Jimmy Hayes.
You know Jimmy Hayes. Drafted by Cliff Fletcher in the second round of the 2008 draft. He's 6'6, 220 pounds and was traded in 2010 for the second round selection the Leafs used to select Brad Ross.
That's always stood out as a head-scratching deal in my mind. Brian Burke comes in, speaks with bravado about an accelerated rebuild, revolving around truculence, pugnacity and so on, and he trades away a 6'6 forward who fits the plan moving forward for a guy whose significantly smaller and much further away from making the NHL, let alone impacting it. Jimmy Hayes is able to play in the NHL right now, today. Brad Ross is at best another year away. And I stress at best.
In fairness, there had been mixed reports that the Leafs were struggling to get Jimmy Hayes under contract and they did technically move up in the draft with the move (they drafted Hayes at 60, Ross at 43). That said, while Ross' numbers look good, things haven't exactly been smooth sailing with him. Forget the fact that he didn't make Team Canada, he's had problems with his WHL team, the Portland Winterhawks. Brian Huddle, Future Considerations prospect writer, told me that he was on the verge of being sent home and traded away from the team because they were having issues with him on-ice and off-ice.
In fact, there have been rumblings that Brian Burke himself had to go to the west coast last season to talk to Ross about these issues. This preseason, when the Leafs said they had a prospect they planned to play at least one game but opted not to because they didn't like said prospect's work ethic, many believed that was Brad Ross.
The point of this isn't to rip Brad Ross. A lot of young players suffer from immaturity – Steve Downie, Ryan Getzlaf, to name two – only to come out of it as better players in the long run.
What is the point, and in question, though, is the general evaluation of talent. Over the last year the Leafs have acquired Joe Colborne, Tyler Biggs and now Carter Ashton in an effort to bolster the size in the organization. Jimmy Hayes is bigger than all of them. Hayes isn't the be all and end all – his ceiling is that of a second liner, so please don't construe him as a saviour – but it is fair to wonder whether or not the Leafs even make this move to acquire Ashton had they not traded Hayes away nearly two years ago.
And that in turn, leads to this trade and evaluation. Over the last year Brian Burke has been keen on telling everyone that they traded Francois Beauchemin to make room for Keith Aulie, that they thought the towering defenseman could step into the lineup and Burke on many times has said that the "Dion Phaneuf deal" could become the "Keith Aulie deal." And that is something he said on many occasions.
So after a bad sophomore season – that's not even over – you trade a guy you may have evaluated to be better than your current captain?
The problem isn't the trade, and I will talk about Carter Ashton shortly, and the problem isn't that I think Keith Aulie is magically going to become better than Dion Phaneuf all of a sudden. The problem is the evaluation within itself.
Who evaluated it as a wise move to trade Jimmy Hayes, in an accelerated rebuild, for a player whose further away from impacting the NHL? Who evaluated that Keith Aulie was that good? Is he still getting paid to scout? Is it the same person who evaluated Jonas Gustavsson to be the answer in net? Sure, a lot of teams loved Gustavsson, but this is about the Leafs and their scouting, and their evaluation of Gustavsson looks wrong. Generally speaking, they've misjudged their goaltending situation every year under Brian Burke. And that started with Vesa Toskala right from the start, something he admitted.
There's something to be said of taking shots in the dark and hoping a player pans out, but it's another thing altogether to ever think a Christian Hanson or a Brayden Irwin could actually be regular NHL contributors. Who knows if Ron Wilson was talking out on his own or if it was an organizational belief, but he actually called Hanson a free first round pick. Who scouted Hanson? Considering his age and the role they thought he could fill, it should have taken one game to watch him and then talk to his coach to realize that he'd never develop the necessary bite to play in the NHL.
Under Brian Burke, the Leafs haven't been downright terrible at evaluating players, as Jake Gardiner is obviously a gem of a find, Jesse Blacker looks like he will be able to play in the NHL, and you can double and triple that for Nazem Kadri and Joe Colborne, with honourable mentions to Greg McKegg, Tyler Biggs and Ben Scrivens.
That said, their free agent evaluations have more or less been a whiff. Even putting money aside, the simple play of guys such as Colby Armstrong (even before he was hurt at the very beginning of the year) and Mike Komisarek  has struggled to live up to NHL caliber. And they are assistant captains.
There's no question Brian Burke's staff has had some major, major hits, but they've also had numerous misses, and big, troubling misses.
They viewed Luke Schenn as a potential captain and not worth including in a deal to acquire a true franchise player in John Tavares, then Burke comes out just last week and says they consider and value Schenn as a fourth/fifth defenseman? I'm not sure how that evaluation has taken place, evolved and changed, but that's scary.
As a whole, this team has gotten younger, much more exciting, and has accumulated quite a bit of talent. Brian Burke has taken advantage of his old team to acquire some key pieces in Joffrey Lupul and Gardiner (even Mike Brown for that matter), he used his time with Team USA to realize Phil Kessel was a player he coveted, he used his resources well to court Tyler Bozak, and he fleeced Calgary for Dion Phaneuf no matter which way you cut it.
Past that, Mikhail Grabovski, Nikolai Kulemin and Luke Schenn were already on the big club when he got here. John Ferguson Jr. – who, by the way, couldn't make a trade to save his life but was an excellent drafter – left him Carl Gunnarsson, James Reimer, Matt Frattin, Korbinian Holzer and the odd other asset to play with – Jerry D'Amigo and Dominic Moore are two that come to mind.
Otherwise, the rest of the roster is filled with generally speaking overpriced players and a couple of valuable producers (namely Cody Franson and Clarke MacArthur). Nobody said this was going to be easy for Brian Burke to turn this thing around, and obviously, it hasn't been.
But he did say it was going to be quick, and then he said he misjudged how long this process was really going to take.
Clearly, that's not the only thing he misjudged.
The Leafs are still going in the right direction and Brian Burke still has a ton of assets and tricks up his sleeve, but had they been more on the money on their scouting and player evaluations from the start of his time here, they would probably already be looking at a playoff team in Toronto.
And a lot of this is brought on by Burke himself. He talked about the trade deadline being crazy here yesterday, as if he just found out. This is year four, surely he can't be new to this. As much blame as the media and fans should take, he has to step up and take some too.
Why are you telling Luke Schenn you aren't shopping him but you can't say for sure say he'll stay here? How did he think that would go down once it became public in this market? If you have to lie to quiet everyone up, you do it.
Why would you go on TSN radio and say you're going to look at the goalie market after Jonas Gustavsson plays terrible? I find it hard to believe a guy like Burke whose been in the NHL for this long really wasn't aware of the rumour swirling that would cause.
You have Darren Dreger saying the Leafs were offered a second round pick and AHL prospect for Mikhail Grabovski, and who do you think told him that? Obviously it was someone in the Leafs organization (and I may be wrong, but didn't Dreger say Burke told him that too? Again, I may be wrong). Run a tighter organization then. Don't let that leak.
I like Brian Burke. I think he's a great guy, he's smart, insightful, is probably a hell of a person to go grab a beer with, and so on. But don't sit there and bandy on about the trade deadline, the problems it causes, and how many times your players have been traded, when a lot of it you bring on yourself. Don't stop making trades ten days before the deadline because of all the speculation flaming up. Just stop sparking the fire altogether in the first place.
As for Carter Ashton himself, by all accounts he appears to be a solid pickup. He's big, a willing scrapper on occasion, can take the puck to the net, play a shut down role, chip in with some offense, and generally looks like a versatile player all good teams need to have.
(Really though, the best thing I can tell you about Carter Ashton is that I'm not going to lie to you about him and pretend I know his game very well. He's a player that's been on my radar and someone I know of, but he's someone I'm going to need to watch for a bit with the Marlies to understand his game better and then I'll come back with a solid, in-depth look at him as a prospect and what he can offer to this team).
In terms of the Leafs roster for the big picture, the biggest question moving forward is how many bodies can they clear out this summer to make room for the kids. At this point it is more or less assumed Matt Frattin is a mainstay. You'd have to think Nazem Kadri and Joe Colborne need to get real time with the Maple Leafs at the beginning of next year too, and now Carter Ashton, by the sounds of it, appears closer to the NHL than farther.
Does that mean the Leafs will start packaging some of these young players in deals in order to really upgrade the proven talent on the NHL team? Or will they simply clear out bodies and let these kids develop because it will pay off in the long run? Who knows.
But much like this trade deadline, and managing in general, it's all about asset management. And asset management will be made a lot easier if they evaluate and value not only their own players properly, but also the players they're acquiring.