These Leafs are rolling.
Their first six game winning streak since 2006 comes thanks to another offensive explosion and a commendable effort in a back-to-back situation at mile-high altitude against a top team in the West. The Leafs chased goaltender Semyon Varlamov, who was 11-0-5 in his last 16, with three goals on their first 10 shots.
The Leafs have scored 25 goals over their six game winning streak, as the top line is blazing hot, the Leafs' offensive production from their defense has gone from famine to feast, their PP continues to be elite, and their goaltending continues to be great.
The first half of the first period was classic Maple Leafs hockey, making mockery out of even strength possession play with great goaltending and counterpunching quick strikes offensively. Outshot 11-2 with two penalties against to start the period, amid long spells of Avalanche possession,  Dion Phaneuf sent a pass 180 feet for Kessel to outrace the Avs D and deposit past Varlamov. That was the 25th goal for Kessel and he was far from done.
The Leafs proceeded to get into a groove, get their feet under them and draw a couple of penalties while taking the period's final seven shots.  Franson and JvR worked more Leafy PP magic to make it 2-0, on JvR's 20th of the season and Franson's 21st assist. JvR's off the charts hand-eye skills  tipped another one home.
Cody Franson on van Riemsdyk's redirection abilities: "JVR's got a no-fly zone. Put it in a certain airspace it's going down."

— Jonas Siegel (@jonasTSN1050) January 22, 2014
The Leafs were asleep for a few shifts to start the 2nd period, but on their first real foray into  the offensive zone they made it 3-0 after Nazem Kadri tipped in a well-placed Jake Gardiner point shot.  That's goals in two in a row for Kadri, who has six points in his last four games.
Just two and a half minutes later, Phil Kessel added to his account with his 26th of the season after a beastly net drive by JvR off the half wall produced a loose puck for him to pounce on. This tandem has now produced 46 goals between them in 52 games.
we had front row seats to the biggest sports entertainment extravaganza of the year and all the bad guys won, fuck pic.twitter.com/RK8Hmc4Xdm

— Anthrax Jones (@AnthraxJones) January 22, 2014
The Leafs were almost cocky about the way they were moving the puck on the PP with 12 minutes to go in the 2nd. They were just tossing tape to tape passes around across the zone like it was nothing while Gardiner and Rielly were on the ice.
The Leafs were having more fun out there at the end of the 2nd,  as the confidence was visible in their legs and puck movement. A gorgeous breakout pass up the middle from Rielly to Bozak saw Bozie throw no-look backhand pass to Kessel, turning the play into a fast developing a 2 on 1 for Kessel and JvR. Kessel, passing up a chance for a hat trick, deferred to JvR, but Giguere was up to the task.
Perhaps the Leafs were a little too loose, as Nathan MacKinnon burned them on a 2 on 1 to make this a 4-1 game late in the 2nd. Between Bozak peeling for a half-assed change and Orr being the other forward, the Leafs had too few forwards on the ice and Phaneuf was caught at the end of a long shift.
Rielly, by the way, was tossing stretch passes around with complete confidence and often amazing accuracy. Seeing him and Gardiner grow together, beside one another on a pairing, into their ridiculous skillsets is a sight to behold.  It is also going to feature some frustrating moments..
Such as when Gardiner tried an outrageous spinorama backhand pass attempt on the breakout a few minutes into the third period, leading to the 4-2 goal. Seemingly recognizing how good the kid pairing had been, Gardiner got sent straight back out after Dave Farrish gave him a friendly reminder about not doing stupid things with the lead in the third period, followed by a pat on the back.
The coaching staff deserves some commendation here for a willingness to live with the thorns that accompany the rose known as this "kid pairing" of Rielly and Gardiner, who didn't miss a shift after that goal, much like last night in Phoenix after another costly Gardiner giveaway. You take the good with the bad, because the good outweighs the bad, and the potential is even greater. The good part is that the Leafs have gotten the goal support and it didn't cost them the game, which Gardiner himself mentioned:
Gardiner on turnovers the last couple of games: "Guys are joking around with me, 'Thank God we're winning right now'"

— Mark Masters (@markhmasters) January 22, 2014
Reimer was delivering huge save after huge save to prevent this third period from becoming, in the words of Wayne and Garth, "GAME ON."
As the second period wore on this seemed to be going the way of a Leaf blowout, but don't underestimate the importance of Reimer throughout the full 60 minutes. He saved the Leafs at the start of the 1st, start of 2nd, and through all of the 3rd.
The league's worst third period team (not being snarky – they lead the league in 3rd period goals against with 61) was under siege in the final period, with Reimer the only thing between them and a three-goal collapse.  That said, JvR and Kessel both could've added to their accounts with point blank chances on the counter attack.
It does seem logical that a team which relies so heavily on quick-strike rush attacks and the PP (the refs tend give out less powerplays when a team is trailing late in a game and trying to tie it up, as we saw when Bodie was blatantly felled in front of the ref), while collapsing in its own zone defensively, would be susceptible when trying to protect a lead late in the game. A team that can dump and chase effectively (the Leafs can't) can get in and grind down some clock. The Leafs are dangerous on the counterpunch with the lead (as seen on the JvR and Kessel breakaways) as teams get more aggressive, but they cannot seem to burn out the clock without making things more interesting than they need to be.
Nonetheless, the Leafs did enough and Jay McClement deposited an empty netter to secure a 5-2 win. Joffrey Lupul made a risky but successful pass to the middle of the defensive zone to begin the breakout after the Avalanche left D had pinched down the wall. Despite a quiet game overall, that gave Lupul his second assist of the night.
A few notes…
– The Leafs penalty kill was 4 for 4, which moves them up to 11th in PK% on the road.  They're dead last at home and it's not even close, with a 70.9% kill rate. Beats me.
– What a battler Reimer is. He's barely been playing, but he stepped in and was huge in stopping 35 of 37 shots.
Reimer improves to a .930 even strength save percentage on season, tied for sixth in NHL among guys with 20+ starts. Big game by him.

— James Mirtle (@mirtle) January 22, 2014
– He scared the crap out of us all night, but we're all going to love Matt Duchene as a member of Team Canada. Those hands and wheels on the big ice… Wow.
– Nine points from the D in the last two games. What could this be a product of? The Leafs are giving the kid pairing of Rielly and Gardiner the green light to go out and create, which is great to see and Carlyle/Farrish deserve props for.  Jake Gardiner has three points in his last two games, while Rielly has three points in his last four.
Cody Franson has been placed with a more defensively reliable, stay-at-home type in Gleason instead of Gardiner,  which is perhaps freeing him up for more offense. He's taking more shots, with 17 in his last 7 games. Overall, these pairings are providing some stability back there.
– Phil Kessel is now back to a point per game with 52 points in 52 games, placing him seventh in league scoring. His 26 goals put him on a 40-goal pace, and place him fourth in the league in goal scoring. Philthy.
– Just like that, with 6 points in his last 4, Kadri is back on a .66 points pace.
The Leafs are now at the 100-game mark if we combine the lockout-shortened season with the 52 games played so far during this 2013-14 campaign. They're 53-37-10 over those 100 games while being outshot in 79/100. They've scored on 10.6% of their shots over those 100 games, and their goalies have stopped 91.9% of their league-worst 3443 shots against.  Seems like great goaltending, opportunistic scoring and a great PP continue to defy the normal rules of regression.
Toronto Maple Leafs vs Colorado Avalanche Shot Data
| PLAYER | G | A | TOI | +/- | SOG | PIM | FW | FL | HITS | BS | TAKE | GIVE |
| --- | --- | --- | --- | --- | --- | --- | --- | --- | --- | --- | --- | --- |
| Carter Ashton | 0 | 0 | 3:32 | 0 | 0 | 0 | 1 | 0 | 2 | 0 | 0 | 0 |
| Troy Bodie | 0 | 0 | 11:08 | 1 | 1 | 0 | 0 | 0 | 1 | 0 | 2 | 0 |
| Tyler Bozak | 0 | 2 | 20:42 | 1 | 2 | 0 | 9 | 20 | 1 | 1 | 2 | 0 |
| Cody Franson | 0 | 1 | 23:04 | 0 | 2 | 0 | 0 | 0 | 2 | 2 | 1 | 0 |
| Jake Gardiner | 0 | 1 | 18:03 | 0 | 5 | 0 | 0 | 0 | 1 | 4 | 0 | 0 |
| Tim Gleason | 0 | 0 | 18:29 | -1 | 0 | 0 | 0 | 0 | 3 | 1 | 0 | 0 |
| Carl Gunnarsson | 0 | 0 | 20:02 | 2 | 0 | 0 | 0 | 0 | 1 | 1 | 0 | 0 |
| Peter Holland | 0 | 0 | 10:45 | 0 | 0 | 0 | 4 | 4 | 1 | 1 | 1 | 0 |
| Nazem Kadri | 1 | 0 | 17:11 | 1 | 4 | 2 | 4 | 6 | 1 | 0 | 0 | 0 |
| Phil Kessel | 2 | 0 | 23:11 | 0 | 8 | 0 | 0 | 0 | 0 | 0 | 1 | 0 |
| Nikolai Kulemin | 0 | 1 | 16:34 | 1 | 0 | 0 | 0 | 0 | 1 | 1 | 1 | 0 |
| Joffrey Lupul | 0 | 2 | 19:37 | 2 | 1 | 0 | 0 | 0 | 1 | 0 | 0 | 0 |
| Jay McClement | 1 | 0 | 11:26 | 0 | 1 | 0 | 9 | 3 | 3 | 2 | 1 | 0 |
| Colton Orr | 0 | 0 | 3:52 | 0 | 1 | 2 | 0 | 0 | 0 | 0 | 0 | 0 |
| Dion Phaneuf | 0 | 1 | 25:08 | 2 | 2 | 2 | 0 | 0 | 1 | 2 | 1 | 0 |
| Mason Raymond | 0 | 1 | 14:00 | 0 | 0 | 2 | 0 | 0 | 0 | 0 | 0 | 0 |
| Morgan Rielly | 0 | 0 | 15:23 | 1 | 0 | 0 | 0 | 0 | 1 | 0 | 0 | 0 |
| James van Riemsdyk | 1 | 1 | 20:00 | 0 | 4 | 0 | 0 | 0 | 0 | 0 | 1 | 0 |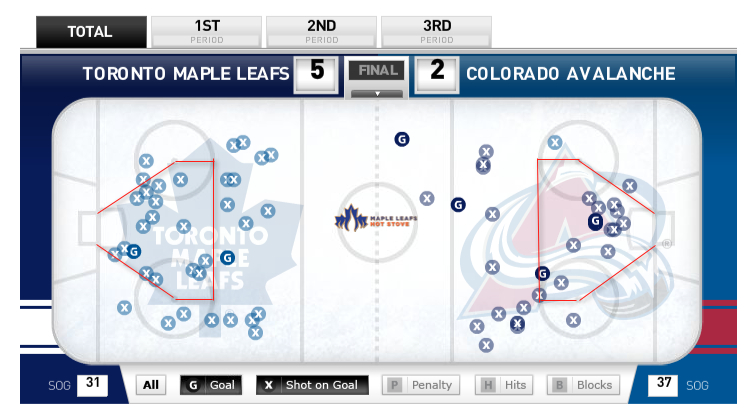 Phil Kessel Speaks:

Game in 6: