The Calgary Flames were just what the doctor ordered for the Leafs, at least as far as ending the losing skid goes. The 10-game skid of 1967 will not be touched, and the "making the playoffs and winning the Cup" theme of the 1967 season also likely won't be repeated.
Toronto survived a choppy, out-of-synch first period that was clear evidence of a team playing in fear in their home building amid an eight-game collapse. It was a terrible period of hockey by both teams, and really a terrible game in general, too.
The Leafs never really played well at any point, but they eventually broke through and did enough to grab a much-needed two points and maybe, just maybe, can now take a breath before gearing up for the Bruins on Thursday.
The obligatory Matt Stajan goal and Joe Colborne point took place and made things interesting after the Leafs took 1-0 and 3-1 leads on goals from McClement, Bolland and – this is not an April Fools joke – David Clarkson.
Notes:
– The Leafs won a game on secondary scoring alone. That's been too rare of a feat. And they only had 11 forwards. The top line was the Leafs' worst tonight (one good chance all game). A makeshift Bodie, Kulemin and McClement line may have been their best.
– Kessel is definitely hurt, and may also be letting the frustration get to him, because he was way off in this game. Bozak looked like he had checked out of this one early. Let's hope this line is reinvigorated by the win and this new shred of hope. They'll have to heat up fast if the Leafs are to make this interesting.
– Morgan Rielly remains the shining light amid the darkness of the final month of the season. He created the Bolland goal by identifying his chance to go and spanning from the crease to offensive blueline in a blink, before sending a great pass across the crease to Bolland. The vision/smarts on this kid in addition to all the physical tools (skating stride perfected, solid as a rock on his skates, strong for his age, great hands) are incredible (just needs to keep refining his defensive zone coverage and shot). It's so hard not to get unreasonably excited. There was a zone exit by Rielly at around 5:30 to go that was probably the one thing I'd rewatch from this game by choice (that and his rush for the goal). He turned back into the corner with a forechecker on his back, side shifted, curled between the two forecheckers and skated it all the way up past the red line.
– Rielly leads all rookie defencemen in assists with 24. That mark puts him inside the top 40 in assists among NHL defencemen.
– Paul Ranger does a good job pitching in during these intermittent appearances. Couple of good clearances in this game and a number of instances where he broke up a play with his stick or a good show of strength. This team would be better off with him in their 6D, Franson or Gleason out, and D'Amigo in up front, but if Phaneuf is hurt as rumoured, 11f/7d does have the benefit of sharing the minutes around a little more.
– Franson is one contract I wouldn't worry about this summer, for the simple reason that the Leafs shouldn't be giving him one. There has been way too many slow, braindead plays from Franson that have hurt this team at points this season. You could probably pin some blame on Gardiner for the Stajan breakaway, but at least I knew what Gardiner was thinking there. I have no idea what Franson was doing. He's been submerged under elevated responsibility this season, and he hasn't even been a good PP specialist for months now. He has no powerplay points since February 1st.
– Franson had his chance to be a top 4 guy here, it's not like he's still young and developing, and there's been a couple of ugly contract situations between him and the Leafs with another negotiation ahead this summer if they want to keep him. It's time to part ways. I'm not sure when Hockey Analysis last updated their numbers (Franson picked up an assist tonight), but Franson is second last ahead of only Gleason in even strength points/60. Who leads the d-core (granted, in only 700 minutes TOI)? Ranger.
– Speaking of Ranger, it's worth considering bringing the guy back as a depth defenceman with the potential to be a full-time bottom pair guy. He requested an NTC in order to sign his one-year, one-million contract, so it's safe to assume he wants to stay close to home.
– It sounds weird, and don't crucify me without hearing me out, but the Leafs could've used another Bodie in their bottom six during their losing streak (might require using 4 lines). The guy just puts his head down and goes to work. Doesn't think so much, just works his bag off to try to gain some momentum and tilt the ice for his team. He is very effective at maintaining his deceptive level of speed through the neutral zone and winning puck races/50-50 puck battles (or just simply pinning the guy and waiting for help) down low after a chip in. Opposing defencemen definitely don't enjoy the prospect of the gangly 6'5 wild man bearing down on them toward the end boards, which likely makes him the only forechecker on the Leafs the other team fears.
What the Leafs can take out of this win over Calgary, besides the desperately-needed two points and an opportunity to feel better about themselves – they allowed under 3 goals for the first time since the win over the Kings that preceded this massive collapse 9 games ago. The Flames have been no stiffs offensively lately, either, scoring 26 goals in their last 8 (3.25/game).
The Leafs' playoff chances increased 4% tonight, up to 8.6%. Next up is Boston on Thursday.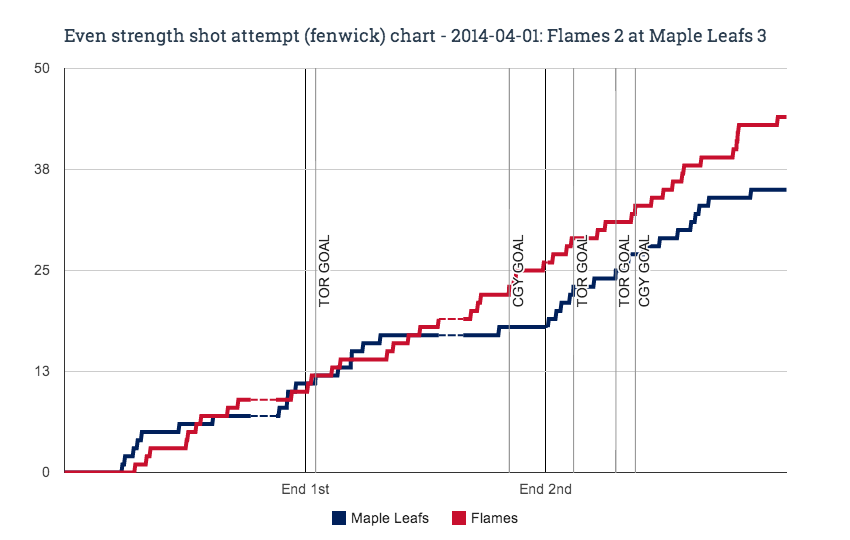 Toronto Maple Leafs vs Calgary Flames
| TORONTO STATISTICS | | | | | | | | | | | | |
| --- | --- | --- | --- | --- | --- | --- | --- | --- | --- | --- | --- | --- |
| | | | | | | | | | | | | |
| GOALIE | DEC. | SHOTS | SAVES | SAVE % | MIN. | | | | | | | |
| Jonathan Bernier (26-19-7) | W | 24 | 22 | 0.917 | 59:56:00 | | | | | | | |
| | | | | | | | | | | | | |
| PLAYER | G | A | TOI | +/- | SOG | PIM | FW | FL | HITS | BS | TAKE | GIVE |
| Troy Bodie | 0 | 0 | 13:17 | 1 | 3 | 0 | 0 | 0 | 0 | 0 | 0 | 1 |
| Dave Bolland | 1 | 0 | 11:42 | 0 | 1 | 0 | 7 | 6 | 0 | 0 | 0 | 2 |
| Tyler Bozak | 0 | 0 | 19:37 | 0 | 1 | 2 | 12 | 14 | 0 | 1 | 1 | 0 |
| David Clarkson | 1 | 0 | 10:40 | 0 | 3 | 0 | 0 | 0 | 0 | 0 | 0 | 0 |
| Cody Franson | 0 | 1 | 14:01 | 0 | 1 | 0 | 0 | 0 | 3 | 0 | 0 | 0 |
| Jake Gardiner | 0 | 0 | 21:04 | 0 | 1 | 0 | 0 | 0 | 1 | 0 | 0 | 0 |
| Tim Gleason | 0 | 0 | 13:06 | -1 | 0 | 0 | 0 | 0 | 2 | 0 | 0 | 1 |
| Carl Gunnarsson | 0 | 0 | 18:56 | 1 | 0 | 0 | 0 | 0 | 2 | 0 | 0 | 0 |
| Nazem Kadri | 0 | 0 | 12:13 | 0 | 2 | 0 | 6 | 2 | 1 | 0 | 1 | 1 |
| Phil Kessel | 0 | 0 | 17:36 | 0 | 2 | 0 | 0 | 0 | 1 | 2 | 0 | 2 |
| Nikolai Kulemin | 0 | 0 | 19:09 | 1 | 1 | 0 | 2 | 2 | 2 | 1 | 0 | 0 |
| Joffrey Lupul | 0 | 0 | 18:32 | 0 | 0 | 0 | 0 | 0 | 3 | 3 | 1 | 0 |
| Jay McClement | 1 | 0 | 18:18 | 1 | 4 | 0 | 11 | 8 | 1 | 1 | 1 | 0 |
| Dion Phaneuf | 0 | 0 | 22:10 | 0 | 0 | 24 | 0 | 0 | 1 | 1 | 0 | 1 |
| Paul Ranger | 0 | 0 | 15:10 | 1 | 0 | 0 | 0 | 0 | 1 | 1 | 2 | 1 |
| Mason Raymond | 0 | 1 | 16:41 | 1 | 1 | 0 | 0 | 0 | 2 | 0 | 1 | 0 |
| Morgan Rielly | 0 | 0 | 15:33 | 1 | 0 | 0 | 0 | 0 | 0 | 2 | 1 | 2 |
| James van Riemsdyk | 0 | 0 | 20:12 | -1 | 2 | 0 | 0 | 0 | 0 | 0 | 0 | 1 |
| | | | | | | | | | | | | |
| CALGARY | | | | | | | | | | | | |
| | | | | | | | | | | | | |
| GOALIE | DEC. | SHOTS | SAVES | SAVE % | MIN. | | | | | | | |
| Karri Ramo (14-13-4) | L | 22 | 19 | 0.864 | 59:02:00 | | | | | | | |
| | | | | | | | | | | | | |
| PLAYER | G | A | TOI | +/- | SOG | PIM | FW | FL | HITS | BS | TAKE | GIVE |
| Mikael Backlund | 0 | 0 | 20:12 | -1 | 4 | 0 | 12 | 14 | 2 | 1 | 2 | 0 |
| Chad Billins | 0 | 0 | 11:34 | 0 | 0 | 0 | 0 | 0 | 0 | 1 | 0 | 0 |
| Lance Bouma | 0 | 0 | 13:27 | 0 | 0 | 0 | 0 | 3 | 3 | 2 | 0 | 0 |
| T.J. Brodie | 0 | 1 | 25:30:00 | -2 | 1 | 0 | 0 | 0 | 1 | 3 | 0 | 1 |
| Chris Butler | 0 | 1 | 19:59 | 1 | 1 | 0 | 0 | 0 | 0 | 3 | 0 | 2 |
| Paul Byron | 0 | 0 | 18:06 | -1 | 2 | 0 | 0 | 0 | 2 | 0 | 3 | 0 |
| Michael Cammalleri | 0 | 0 | 21:13 | 1 | 2 | 0 | 0 | 1 | 0 | 0 | 0 | 1 |
| Joe Colborne | 0 | 1 | 17:25 | 0 | 1 | 0 | 0 | 0 | 3 | 0 | 1 | 1 |
| Mark Giordano | 0 | 1 | 27:23:00 | -2 | 2 | 0 | 0 | 0 | 0 | 1 | 0 | 1 |
| Curtis Glencross | 0 | 0 | 19:13 | -2 | 3 | 0 | 0 | 0 | 2 | 1 | 0 | 1 |
| Jiri Hudler | 0 | 0 | 17:06 | 0 | 0 | 0 | 0 | 0 | 0 | 0 | 1 | 0 |
| Brian McGrattan | 0 | 0 | 7:16 | 0 | 1 | 0 | 0 | 0 | 0 | 0 | 0 | 0 |
| Sean Monahan | 0 | 0 | 17:09 | 0 | 2 | 0 | 12 | 7 | 1 | 0 | 0 | 0 |
| Kris Russell | 1 | 0 | 22:19 | 1 | 4 | 0 | 0 | 0 | 1 | 2 | 1 | 1 |
| Matt Stajan | 1 | 0 | 17:53 | 0 | 1 | 0 | 8 | 13 | 2 | 1 | 1 | 0 |
| Bryce Van Brabant | 0 | 0 | 5:36 | 0 | 0 | 2 | 0 | 0 | 1 | 0 | 0 | 0 |
| Kevin Westgarth | 0 | 0 | 4:22 | 0 | 0 | 0 | 0 | 0 | 2 | 0 | 0 | 0 |
| Tyler Wotherspoon | 0 | 0 | 13:15 | 0 | 0 | 0 | 0 | 0 | 2 | 1 | 0 | 0 |
Toronto Maple Leafs vs Calgary Flames