Kyle Dubas joined Prime Time Sports and TSN Overdrive on Monday evening to wrap up his media rounds on the William Nylander signing and the Josh Leivo trade.
Below is a full transcript of his comments, re-ordered and edited for clarity and readability.
Kyle Dubas on the ups and downs of completing the deal over a months-long period
---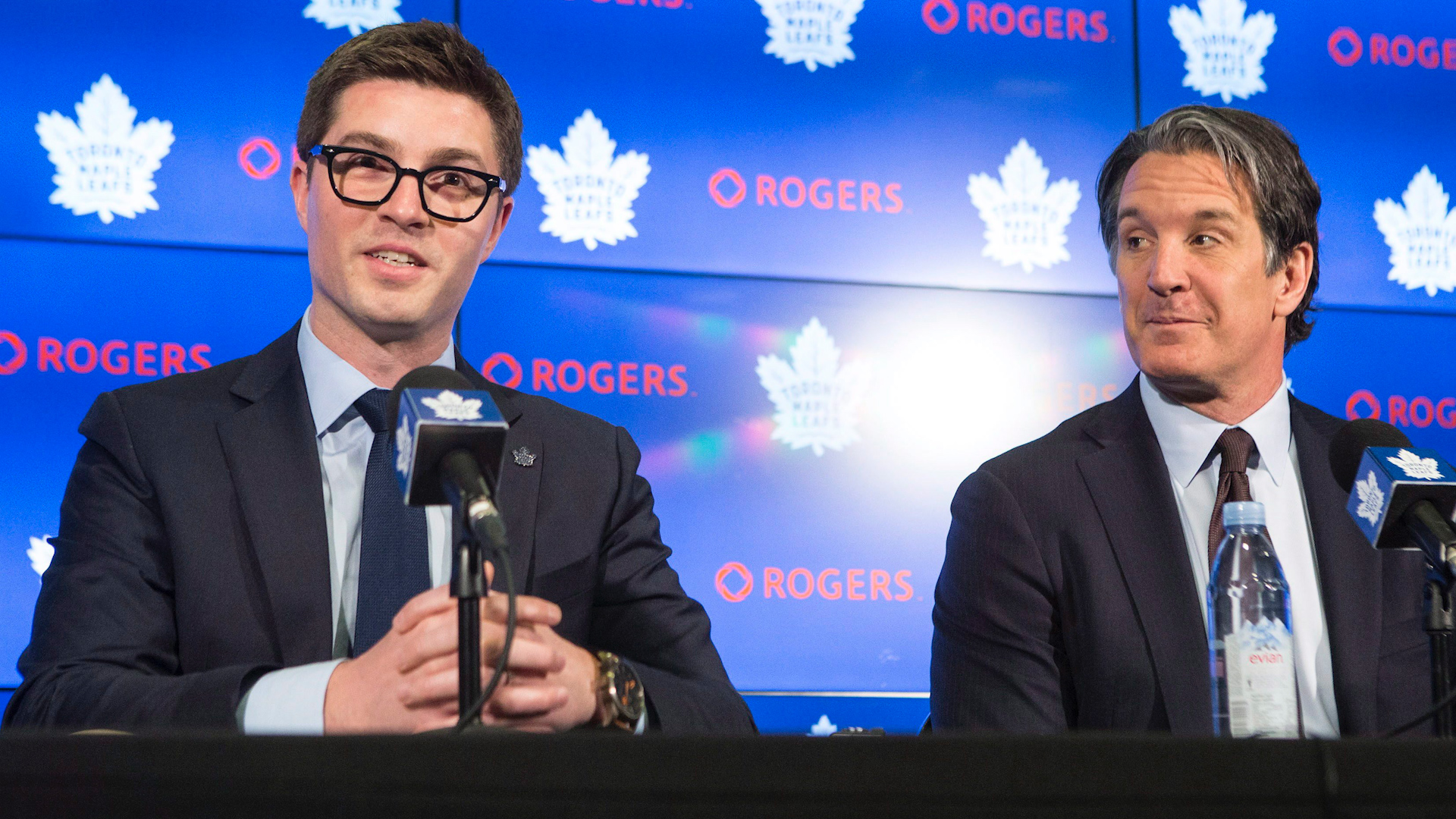 At any point were you panicked in the 4 p.m. hour that you were going to lose cell reception and somehow this couldn't get done?
Dubas: My phone went to no service in the St. Paul Hotel with about 20 minutes before the whole thing and the wifi there was not great. But Brandon Pridham — God love him — found a way to make it all happen. We made it through partially unscathed, so it's all good.
If somehow the deal got signed at 5:01 p.m., it wouldn't count? There is no leeway?
Dubas: It definitely would not have counted.
That had to be full-blown panic. No cell reception? A bit jittery, don't you think?
Dubas: No, we were good. At that point when we knew by and large that we had a deal and that the player was coming back, it then just became a race to make sure we could get it into the league. Even if he had called back and said… That was always the worst case, that he would call back and say, "I'm in. I'll take the deal," and then we couldn't get it in somehow. They couldn't get email it over and sign it, or the wifi went down at the place we were at. That would be not good. You'd get past 5:01 and you'd have no player and a lot of explaining to do. But it all worked out and we are excited, obviously.
You mentioned Nylander placed a phone call to you. How important was that? Did that signify that he maybe stepped away from his agent and possibly his father and said, "I've got to talk to my GM on my own and help push this forward?"
Dubas: William and I have talked a lot throughout the process. That call actually came in from the agent and he had William on the line. When I answered, it was William who said, "Do we want to make a deal, or what?" At that point, once he said that, I kind of had an idea that we were moving along towards a conclusion and getting him signed. I only ever talked to William during the process from the family, and his agent. He and I had kept in close touch and it was good. That will be a positive here. There was no real awkwardness today when he came and I saw him for the first time.
As this played out over the last couple months, how many times were there where you thought this just isn't going to happen? Given that it was right to the wire and you weren't sure this was going to happen, were there any times that you kind of despaired because of where the process was going?
Dubas: Our discussions with Lewis Gross and with William always centered around that he and his camp were adamant from the beginning that he and his camp wanted something long term. In our situation, we were excited to hear that because we want all of these young guys to be here for a long time. In a utopian world, you dream of them playing their whole careers as a Toronto Maple Leaf. Now, things are going to happen one contract at a time — hopefully not as long in terms of the negotiation as this one.
Our ambition with it was to do a long-term deal. Certainly, there were times along the trail where while we were always optimistic because of that ambition on both sides, as you get into the final days and final hours and final minutes, your optimism can take a bit of a hit. We are thankful that it got done and William will be back, but I would be lying to you if I said, especially in the final day, that we had not to come to the realization that it may not happen if they weren't willing to accept one of the deals at hand.
How would you compare the two experiences — waiting for Nylander to get done and waiting for Tavares to get done?
Dubas: The opposite. The Tavares one was a major anxiety in terms of wondering whether your team had presented well enough and whether you'd done a good enough job preparing the group to go in and present to John what we were about. You are trying to read the tea leaves every time there is some news out or a rumour out about teams that are going in and where he is going to end up.
And then you end up in the contract part. The contract part, for him, was an hour's long process starting on the 1st and just getting done because of the nature of it as a UFA.
In William's case, it was obviously a much longer process, and with Mitch and Auston it will be even longer where you're just sort of grinding towards a conclusion. In John's case, it was expedited into the length of a week. Very, very different.
At any point during all of this, were you just tired of hearing about it? At some point, you had to have heard how loud the market was on the outside. Was it tough some days to kind of go through that process?
Dubas: I saw Jeff [O'Neill] last week say he just didn't want to talk about it anymore. It got to the point at the end… The fans have been great and they largely, in my experience, have been. It was just the odd person who would yell at you, "What is going on with Nylander!?," "Sign Nylander!", or the opposite end of the spectrum. But nothing too, too much. We tried to keep the focus here on the group that is here and playing. I think it was a big media topic and rightfully so. I'm sorry that we had to put you guys through that.
What was the day-to-day like? Does the GM of the Leafs go into his office and have a coffee, do work, and all of a sudden he is like, "I'll call William's agent and see what is up with him!" Were there long periods with no communication? How was that process going through it?
Dubas: It was different at different times in the process. There were some days where you would be on the phone with them long portions of the day and then you'd go a few days without communication. Brandon Pridham from our staff — our assistant GM — had the majority of the discussions with Lewis Gross. Lewis and he talked probably more to each other more than they ever wished to. We tried to work our way through it. I am thankful to both of them for their efforts throughout this process.
But it was different at different times. Some days you'd be on the phone for what felt like the whole day inching towards a conclusion, and then other days, you would just feel like things were very cold and you probably weren't going to talk for a bit.
Kyle Dubas on the final terms of the contract
---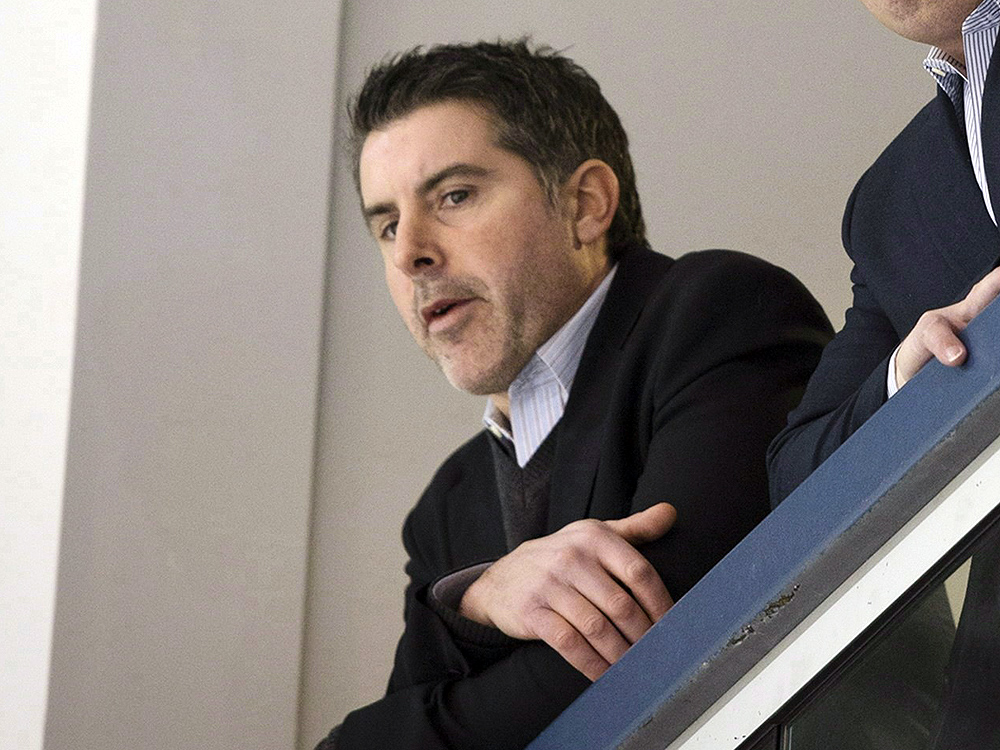 What do you make of some of the comments saying this deal could've been done last summer?
Dubas: If this deal could've been done in the summer, we would've done it in the summer. These things sometimes take time. When you say this summer, you mean this past summer, not 2017? [Yes]. We've kind of been with it the whole time. If this had been available to do early on, certainly we would've moved to do that. It wasn't until the last day where it seemed to be reality that they would be willing to accept it. We were happy that it got to that point and we are excited to have William back.
Based on the way you just explained it, does that mean you were comfortable with this number you ended up giving him back in the summer, or did you both move?
Dubas: Their camp started off at one point and our started off at another point. Unfortunately, and I think I'll certainly take my share of the blame in it, we weren't able to come to a compromise and a solution until, obviously, the last day. Throughout the process, you start at different ends of the spectrum depending on what side you are on and work your way to it. I am only disappointed in myself that we weren't able to better explain it or be more convincing earlier on. It's a shame that William hasn't been here for two months. Obviously, we would've liked to have had him a lot sooner.
Kyle Dubas on the upcoming upcoming Auston Matthews and Mitch Marner negotiations, cap flexibility for the deadline
---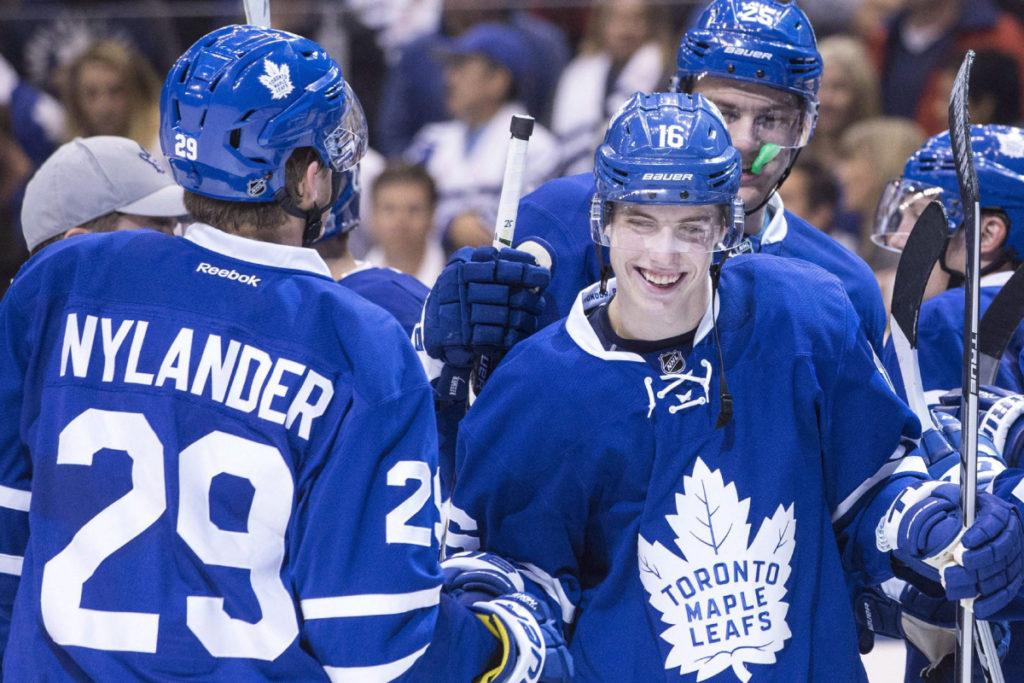 The page turns and we start looking at two other RFAs almost immediately. Based on this experience, there is some anxiety in the fan base that as of November 30th, 2019, we could be doing this dance again with Mitch Marner and Auston Matthews. If Nylander feels like he got the best deal possible that last day as of November 30th, why would Matthews and Marner think it makes sense to sign as of July 1st or as of today? Why wouldn't they wait until the deadline?
Dubas: I think the major difference is that I can't speak to the… I know Lou spoke with Lewis Gross last Fall and into the winter, but with Auston and Mitch, we have been in close touch with their representatives throughout and will continue to be. It is our ambition to, obviously, have a conclusion to their situations far in advance of this and continue to have open dialogue with them and work with them.
One of the great things about this market and fan base is that people care enough to be anxious about the team when there is excellent young players who are coming up due for contracts. We will be working to alleviate that anxiety and that nervousness through how we handle it going through the winter and the spring.
Tell us where you are at with Marner and Matthews. Have we been led to believe that there are perhaps no conversations ongoing with Matthews at his insistence and that maybe there have been some discussions with Marner? Is that accurate?
Dubas: We have had discussions with the camps of both players. For the last stretch of time, and I would quantify that as being the last month or month and a half, our focus has been largely on clearing up the one situation that was directly affecting our hockey club and our coaching staff and our players. Now that that is done, we will begin having discussions with them. If they are insistent that there be no discussions during the season for reasons of distraction or preference, immediately following the season, we will round back to them again. If not then, then at the conclusion of the playoffs.
Getting those players signed is a high priority for reasons that we discussed and that are obvious to everybody. This is a group of players that we've drafted, developed, and that we are building around. With the addition of John, and I wouldn't discount Morgan Rielly or Naz and Fred Andersen in that as well, this is our group and our core and we are going to continue to try to add to it through drafting and developing and whatever means we possibly can. But those are our guys that are a huge priority to certainly clear up their situations and statuses as soon we can.
In terms of the salary cap hit this year, it is kind of a strange CBA loophole. William's cap hit is $10.2 million. You guys obviously had that kind of flexibility. But it's a big hit. How does that affect what you are capable of doing between now and the trade deadline?
Dubas: Our cap space will continue to accrue daily before the trade deadline. We will continue to have space and some flexibility to be able to do what we feel we will have to to improve the team. We still have a good amount at face value and that will just continue to grow as we work towards the deadline. There is no way of really avoiding that in these contracts that are done late in the year. You are going to have a fairly significant cap hit in year one. We were fortunate in our circumstance, with the job Brandon Pridham does here, that we do have a lot of cap space this season, so that wasn't really an issue. The out-year cap hits were obviously the important ones in this one for us.
Kyle Dubas on the promise not to trade William Nylander and whether the trade option or bridge option were still on the table at the final hour
---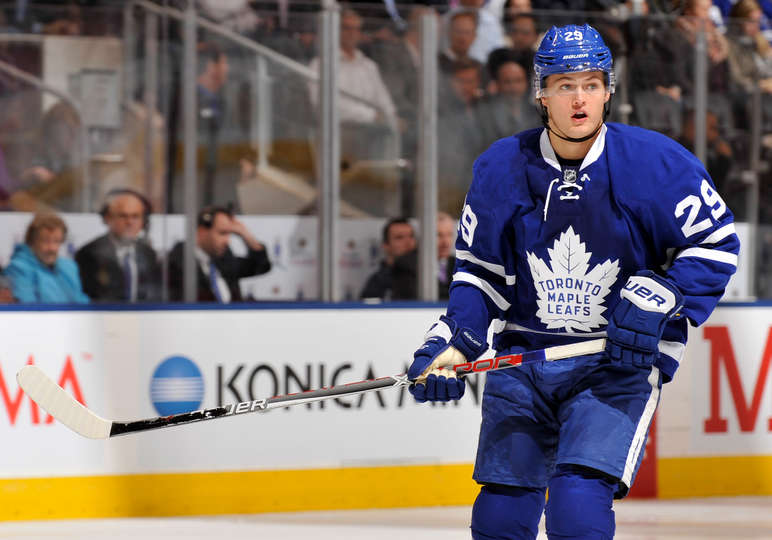 One of the things John mentioned when he signed was a promise that you would make sure that you keep this core together which would include Nylander and Matthews and Marner. William just spoke with the media and he stated that you promised him that as long as you are in charge of the Leafs, you will not be trading him. Can you confirm that? If so, why would you grant him that promise?
Dubas: What I had told him through the whole process — especially as things started to ramp up and the deadline came closer and different teams were inquiring and more teams were involved and rumours started to pick up — what he wanted to know is that he wasn't just being signed to be traded right away. What I told him was that is absolutely not the case. I said to William, "I am on the record as saying in training camp that we want William to be here as long as I am here."
I think he is an excellent young player. He is only 22 years old. At that age, you expect that a player is only going to continue to improve and improve. Knowing his disposition and the way he handles himself and the way that he works, I have full faith that he will continue to do that. I don't think we want to get into the business of jettisoning very good young players here. That is why I feel very comfortable in saying that to you guys and to William and to anybody.
We have been discussing this topic over the last three or four months in the context that you three or four other significant contracts that have to be done at the end of this year. We have been trying to figure out what might be available depending on Nylander's contract and we think it is probably in the neighbourhood of $18-19 million for the other two. Are you saying that your promise to William was only that you wouldn't flip this deal right away?
Dubas: That was certainly one of the parts of the discussion. For me, I had been on the record earlier in training camp that as long as I was here, I wanted William to be part of the group. I don't think we want to get into the business at all of having these young core pieces of ours going forward and moving them from our team. We want to be having as many of these young guys as we can that are talented young players be here as long as possible. There is no intention to move any of them — period.
Before you had that, "Let's get something done with Nylander" conversation, were all other options still on the table from a Leaf point of view, including dealing him before the deadline?
Dubas: Just in terms of the time it takes to do a trade, I don't think that was on the table anymore at all. It was never a preference of ours and never anything that we ever wanted to do. As much as people say letting him go past the deadline was the nuclear option, I think trading him, for our franchise, would've been worse. He is a very talented young player who is just 22 years old entering his age-22 season and that seems to be where young players have taken off of late. Obviously, he is not coming in with a full year so we've got to give him time to get ramped up, but knowing William and what he is about, we definitely wanted him here for the long term and we are thrilled it worked out that way.
Was there a short-term deal on the table as well?
Dubas: I don't want to get into the exact specifics of what deals were available, but there were many deals across many terms as we tried to find a solution. We didn't forgo any term whatsoever.
Kyle Dubas on Brendan Shanahan and Mike Babcock's comments throughout the process
---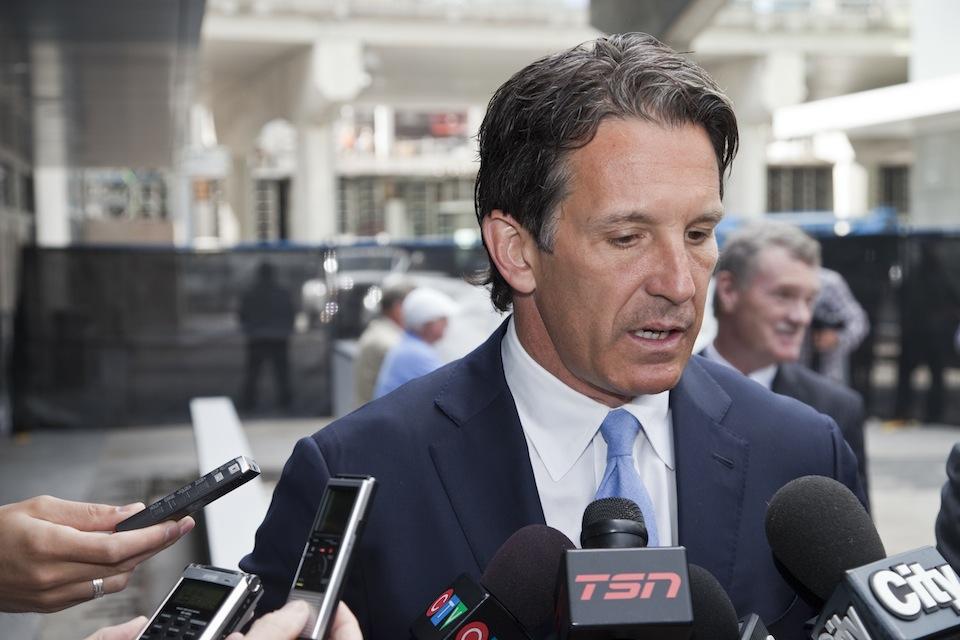 Early in the process, Brendan Shanahan held a rare media scrum and brought up his experiences in Detroit and mentioned something along the lines of, "We'd like our young players to take a little bit less to keep all of our guys together." Based on comparables, he didn't take less, so to speak. He got a pretty good deal. Do you feel like this is a team-friendly deal?
Dubas: I feel like it is a fair deal. We can get into everything and try to grind everybody down. I've read some of the apprehension about it. It's easy to compare them to deals that were done two or three years ago and say, "They should have got him for this guy." At the other end of the spectrum, there are people who say, "He should've gotten more based on these other players."
Our ambition was to find a deal that was fair for William and for the team and then it would be up to me to follow through on making the salary cap work for our team. It was never our ambition and I know it was never Brendan's ambition to grind these guys into deals where they were forced to take them or be threatened to be shipped out or anything like that. We want our players to be treated fairly and we have to manage all of that up against the salary cap. That's what we will continue to do.
As this was coming down to the deadline, Mike Babcock seemed to be predicting the future, saying he always believed this would happen and that he would be a Leaf. Is that just him trying to be positive? Do you have any issues with those comments? Is it just the coach wanting a talented player?
Dubas: That might be Mike and any coach wanting their team to be as talented as it possibly can. It was the exact same thing that he was saying to everybody. Mike is not one to have much grey. It is black and white. What he says in here is what he says to the media. I have no problem or any issue with that at all. Any coach would've wanted that player back in the fold, especially as it got down to the final week and the media questions about it started to become more and more prominent. He just gave his opinion and how he felt about it. I have no issue with that. It didn't affect me or the negotiation one bit.
Kyle Dubas on the Josh Leivo trade and the state of the team as of early December
---
As a result of William signing, you have had to make some roster moves. You have traded Josh Leivo for a younger prospect in the AHL today. Can you take us through that deal?
Dubas: It was just quite simple. In the summer, I had met with Josh and Ian Pulver, Josh's representative. Josh has been here the whole time I have been here. I have seen the way the last few years have gone. Their concern was having another season where he is scratched for long portions of the year. If there was ever a remote chance that that would happen, they had my word that we would find a better opportunity for Josh and try to move him along for all that he has done and how he has conducted himself in very difficult circumstances. That was just simply us following through on our word and finding a good opportunity for someone who has been an excellent person in his time here. We wish him all the best in Vancouver.
There has been a lot of focus on this negotiation but also a lot on the ice. Your team is second overall in the NHL at 19-8-0. Now you add William Nylander. You had Stanley cup aspirations prior to the season, but now that we stand here in early December and William is back in the fold, how do you feel about your team's chances this year?
Dubas: I think we are in a very, very tough division. It is nice to think that and to look way down the road, but I always say we have to focus in our division and look where we stand. You lose a game and you're suddenly down to third place and you are not even a home-ice team in the first round, as had happened a few weeks ago. We lost a game in Columbus and then we won on Saturday, but it was on Wednesday and we didn't play for a few days. Just by not playing, we moved out of home ice in the first round even though we were fourth or fifth overall in the league.
Our division is very difficult. Tampa Bay is a perennial contender. Boston as well. Buffalo is going to be exciting to play tomorrow because they have had a great resurgence here. Jason Botterill has done a great job with them. Our focus just has to be on working our way up in the division to have home ice in the first round and that is what we will be focused on here during the season to try to set ourselves up well for the beginning of the playoffs.