Three of the current top six teams in the league by point percentage reside in the Atlantic Division. Between the second-seed Maple Leafs and third-seed Lightning, no other team in the league will face a more difficult path to reach the conference final.
This is not a new story for the Leafs or their fan base, but as a reminder, the conference finals mark the halfway point of the playoffs.
With a razor-thin margin between the three teams at the top of the division and a daunting playoff path ahead, the 2023 trade deadline becomes all the more critical.
Last March, the Leafs added Mark Giordano, who fit in nicely on the Leafs' third pairing and has been a rock this season after returning on a hometown discount. They also added Ilya Lyubushkin, who ended up pairing with Morgan Rielly, which is… not ideal, and arguably an indictment of the coaching staff. At forward, the Leafs acquired Colin Blackwell in the Giordano trade after adding Kyle Clifford earlier in the season.
It was a decent deadline at the time, and it was elevated to a good deadline by keeping Giordano for this season. Essentially, though, the Leafs added one player of note.
The Lightning added two players of note, Brandon Hagel and Nick Paul. In a series so tight, I'm not going to say this is the reason they beat the Leafs, but it did make a difference.
The Bruins added Hampus Lindholm, and while they also lost in the first round, he has been a big part of their potentially historic season to date.
The eventual Stanley Cup champions added a top-six forward in Artturi Lehkonen, a defenseman who played in their top four in Josh Manson, and a key depth forward in Andrew Cogliano.
When Tampa Bay kicked off their run of three straight finals appearances, they traded for Blake Coleman and Barclay Goodrow, who were both critical in their back-to-back championship runs.
Other than St. Louis – who had Jordan Binnington arrive in the NHL and black out, serving as a midseason acquisition of sorts – pretty well every champion made a move or two to take them over the top.
In the 2022 offseason, the Leafs focused on improving goaltending as their main priority, but they didn't make any real moves of note to improve the player roster. They swapped Ilya Mikheyev for Calle Jarnkrok. Ondrej Kase, Jake Muzzin, Jason Spezza, Colin Blackwell, and the aforementioned Lyubushkin were also on the 2022 postseason roster. They now have Pontus Holmberg, Zach Aston-Reese, maybe Bobby McMann, and some combination of Timothy Liljegren, Rasmus Sandin, Jordie Benn, and Conor Timmins.
If the idea was to take the first half of the 2022-23 regular season to evaluate the team while slotting in a bunch of young players, they have carried out their plan. The situation was always set up to give players a look, evaluate, and make a big swing at the deadline.
Kyle Dubas has to know the team still needs at least one forward of note. They can't go into the playoffs with Pierre Engvall as indisputably their best bottom-six forward.
The Matthew Knies question
Part of the deadline conversation has centered around prized prospect Matt Knies and the kind of impact he could make upon his anticipated arrival later this season. But we have to be realistic about the Leafs' lineup configuration and the real possibility that Knies isn't immediately ready to be a point producer in the NHL playoffs.
How many players have joined a contender right out of college late in the regular season and been productive in the postseason?
Chris Kreider stepped right into the Rangers' playoff lineup and tallied seven points in 18 playoff games. Cole Caufield walked in with four goals and five points in 10 regular season games before recording 12 points in 20 playoff appearances. Cale Makar – who I don't think is comparable by any stretch of the imagination – walked into the playoffs and put up six points in 10 games for Colorado. For what it's worth, a quarter of Kreider and Caufield's playoff points came on the power play.
For every good example, we can find any number that did not work out right away. Alex Newhook arrived as a 16th-overall pick and averaged 6:24 per game for Colorado in the playoffs. Ryan Donato, a second-round pick who lit it up in college (26 goals and 43 points in 29 games), played just three of 12 playoff games for the Bruins after arriving in the NHL. They traded him the following season in a package for the more established Charlie Coyle, who played a huge role in their Cup run and is still a good contributor on their team to this day.
Jordan Greenway was pretty solid upon joining Minnesota, putting up a couple of points in a seven-game series loss while playing just over 14 minutes per game. Andrew Copp played one regular-season game and did not factor into the Jets' playoff lineup.
The next question is where Matthew Knies slots into the Leafs' lineup in the scenario where he isn't immediately a high-impact scorer.
The Leafs' third line is a checking unit centered by David Kampf. Is this the spot that sets him or the team up for success at playoff time? Last playoff, Kampf primarily matched against the Hagel – Paul – Colton line followed by the Stamkos line. There are shifts to be had there, but it doesn't really fit within the structure the Leafs have been playing with all season.
From last season to this season, the Leafs would effectively be replacing Ilya Mikheyev – who put together a great season – with a rookie who will have played in the NHL for all of a month (approximately). It's a big ask, and the reality within their division is that there is hardly any time for the Leafs to wet their feet. There is no first-round layup opportunity that allows them the flexibility to try things out.
The Atlantic Division arms race
As if the difficulty of the division isn't enough, we also have to factor in how the trade deadline market is shaping up. It includes one of the best groups of potentially available players in recent memory:
Bo Horvat
Ryan O'Reilly
Vladimir Tarasenko
Jonathan Toews
Patrick Kane
Jakob Chychrun
Mattias Ekholm
Timo Meier
John Klingberg
Vladislav Gavrikov
Brock Boeser
In a division so difficult, the Leafs can't afford to sit idle and watch Boston acquire (for example) Bo Horvat while they add a promising rookie and some depth players.
This is year seven for Auston Matthews. The team has yet to advance out of round one even once. The prospect of entering the offseason with Matthews a year away from free agency after a zero-for-seven run is enough to significantly raise the urgency level.
With so many good players available and three very aggressive teams in the division, this is an arms race now. And if you're the Leafs, everything should be on the table.
They cannot stand by and watch their rivals load up while they ride with essentially the same group and hope it all works out. In the right scenario, it might have to include a willingness to move Matthew Knies in a trade as well. There are no untouchables outside of the players on the current NHL roster.
The Leafs aren't the defending Cup champs who can play with house money and see how it goes rather than pushing their chips into the middle of the table. They have three stars in their primes, and an aging John Tavares still having a very good season. Any number of Horvat, O'Reilly, Tarasenko, and arguably Kane (who is still good but probably not the best fit for Toronto) are legitimate needle movers. Trading a high pick or prospect for an established high-end player to push the team over the top is exactly the right move.
The table is set this season. The opportunity is there to make the biggest trade deadline acquisition since the franchise acquired Brian Leetch in 2004 (while they lost out in the second round, the only real regrets are losing the additional year of Leetch's contract due to the lockout and the fact that they didn't get done with him in the '04 playoffs – not paying up and going for it).
Now, nobody demanding that Kyle Dubas must trade his top prospect or first-round pick or else. Ideally, he doesn't have to, but he cannot go value shopping while the direct competition is big-game hunting.
This is high-stakes poker, and the Leafs have to pay to play.
Notes
---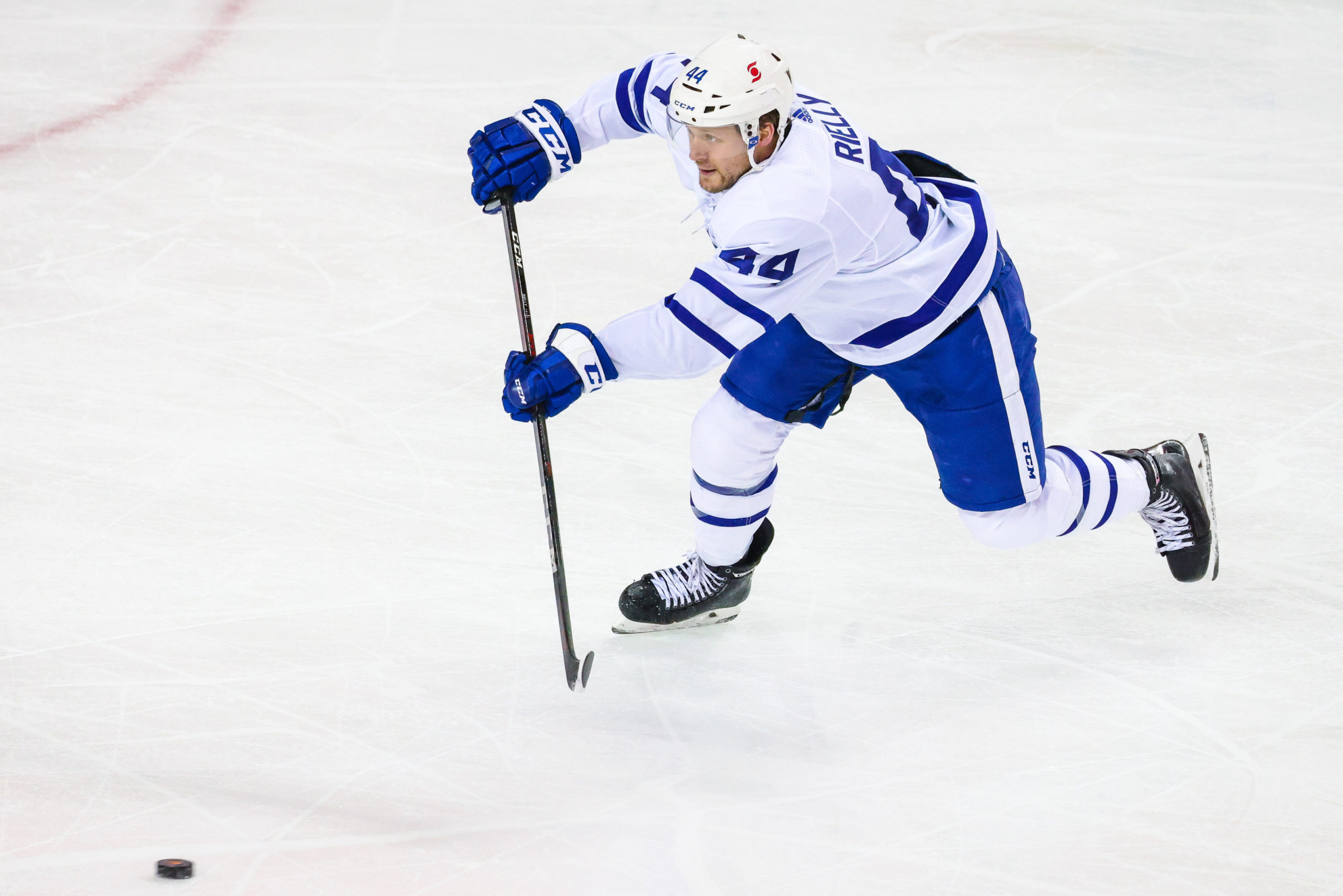 –  Unfortunate to hear about Nick Robertson's season-ending injury. It's worth reiterating it happened when he physically engaged with a 6'1, 200-pound Matt Roy, who is… not that big. On the play, he was trying to make a play on the puck instead of protecting himself first, and while it's admirable that Robertson is willing to go in the dirty areas despite his stature, it's going to be tough for him to last this way. At the NHL level, his game should be that of a triggerman who works the soft areas at the top of the offensive zone and tees off with his shot. 
–  The beautiful overtime winner by William Nylander against Florida highlighted a real strength of his now: protecting the puck and driving the net. See how he kicks his leg out wide and blocks the desperate stick-checking attempt right before he scores: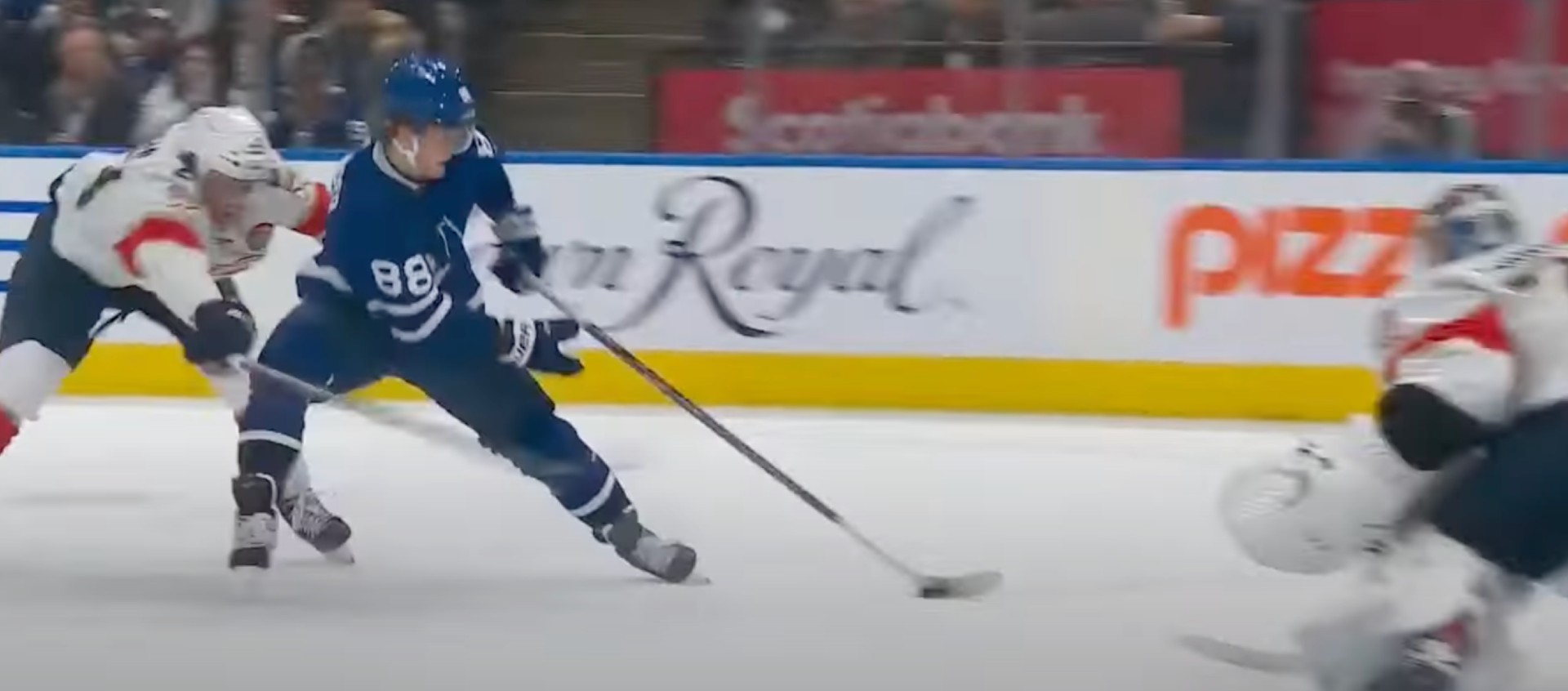 Nylander is launching a career-high 3.6 shots on net per game. Early on in his career, he might have looped behind the net to make a play or stop up for a shot, but over the years, he has become very good at taking the puck to the net off the rush. 
–  Morgan Rielly has averaged over two shots on net per game in six of the last seven seasons. The only season when he didn't – the COVID bubble year. So far this season, he's putting just 1.88 shots on net per game.

32 games into his season, he has yet to score (his career low is two goals in his rookie season). At some point, he'll probably snap the slump and maybe even heat up once the monkey is off his back, but I think it is affecting his confidence at this point as he's definitely passing up shot attempts. 
–  The Leafs are still trying to sort out their defense. For all the talk of their depth, there are a lot of uncertainties around the pairings and who fits with who. Against Florida, Timothy Liljegren was second among Leafs defensemen in time on ice. In the next game against Winnipeg, he was last while Justin Holl played nearly 25 minutes.

The only real consistent theme is Morgan Rielly and Holl finishing games in the top two in time on ice; they play either the most on the power play or shorthanded, respectively. Mark Giordano is almost always good for 20 minutes give or take. If TJ Brodie was healthy, he'd be around there as well.
Quotes
---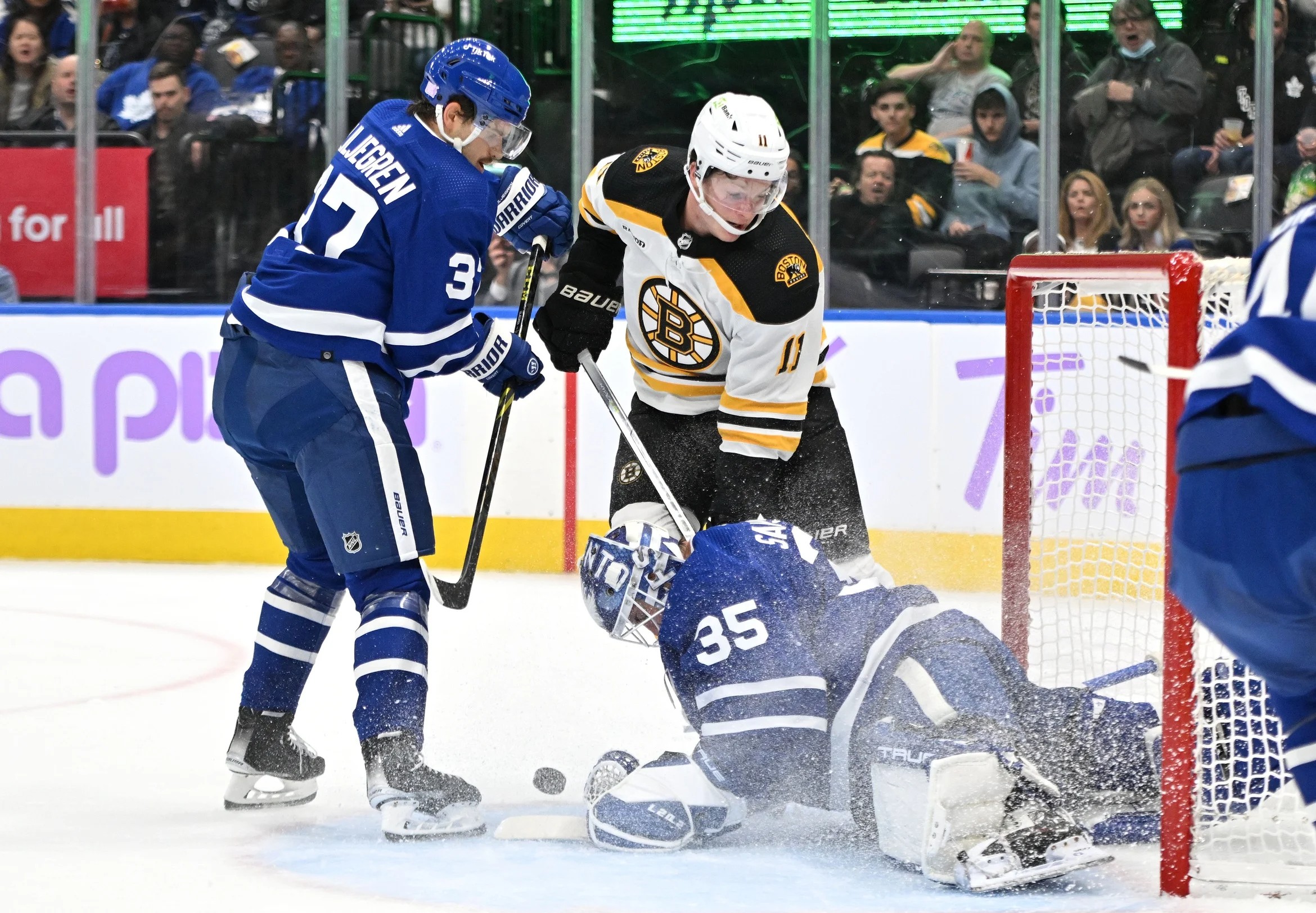 "My confidence is back after Detroit game here. I feel a little bit different. I didn't go play too far. I'm more stay in the net. I see puck better and not panic in the net. I feel good. We'll see in the future. This is hard league."

–  Ilya Samsonov after stringing together a few good games
I can't say it enough: A goalie's confidence shouldn't shift day-to-day like this. A short memory is needed with the same approach day in and day out as opposed to this, "I feel better after this game and worse after this one," which seems to be happening here. 
Ilya Samsonov has generally been great so far, but to be a full-time starter, a goalie needs a really short dwell time after a game ends.
"It was good to reset and physically feel better, mentally, everything. It's no secret it's a bit of a grind throughout the season and sometimes a little bit of rest can go a long way. I've been feeling good lately."

–  Auston Matthews after a resurgent performance in a big game against Winnipeg
There has been so much discussion about Auston Matthews' perceived struggles, but watching him turn it on against a team we know the Leafs dislike and hearing this quote makes me wonder if he's basically been pacing himself through most of the season. 
"For me, I am more pulling the goalie for our team. We just needed to change something. You can't give up four goals on eight shots no matter how you shake it out. That was really it."

– Sheldon Keefe on pulling Matt Murray vs. Florida

Since we commented on this a few weeks ago, I felt I should follow up with this one. It was nice to see Sheldon Keefe finally yank a goalie for struggling. It took a pretty drastic stretch of play, but sometimes it has to be done.
Tweets of the Week
---
Ilya Samsonov at home: 12-0-1, .938.
Matt Murray on the road: 7-4-1, .929.

"It's definitely a thing," Sheldon Keefe says.

One playoff home goalie, one playoff road goalie. Do it.

— luke fox (@lukefoxjukebox) January 20, 2023
I don't want to call this a concern, but at the same time, the team can't alternate goalies depending on whether they're playing at home or on the road. Sheldon Keefe has indicated an effort is underway to start each goalie where they haven't been at their best (home or away); at some point, it will probably just even out. Worth monitoring, though.
Something to keep an eye on as we get closer to the deadline: Kerfoot's TOI has been on a downward trend recently, having been passed over by Kampf, Jarnkrok and Engvall on the depth chart

Wonder if this possibly leads to him being a salary matcher for TOR to go big game hunting pic.twitter.com/B5NOvDIn3G

— Willyston Riellander (@nylanderthews) January 20, 2023
It's still confusing that the Leafs didn't cash in Alex Kerfoot's career-high season, especially as multiple reporters talked up his trade value. At this point, either they move out his salary or keep him, and the only way it looks good is if Kerfoot has a strong 2023 playoff. Otherwise, this was a miss.
Very sad news that Pension Plan Puppets will no longer be financially supported by Vox Media as of March, and the future of the site is in question. If this is the end, it was quite the fun ride.

— birky (@b1rky) January 20, 2023
I'm sorry to hear about our friends over at PPP. Different voices are needed in this space, and whether it's through blogs producing less content, publications moving behind paywalls, or outlets simply not covering the team the way they used to, it seems we are getting less coverage than ever.
Five Things I Think I'd Do
---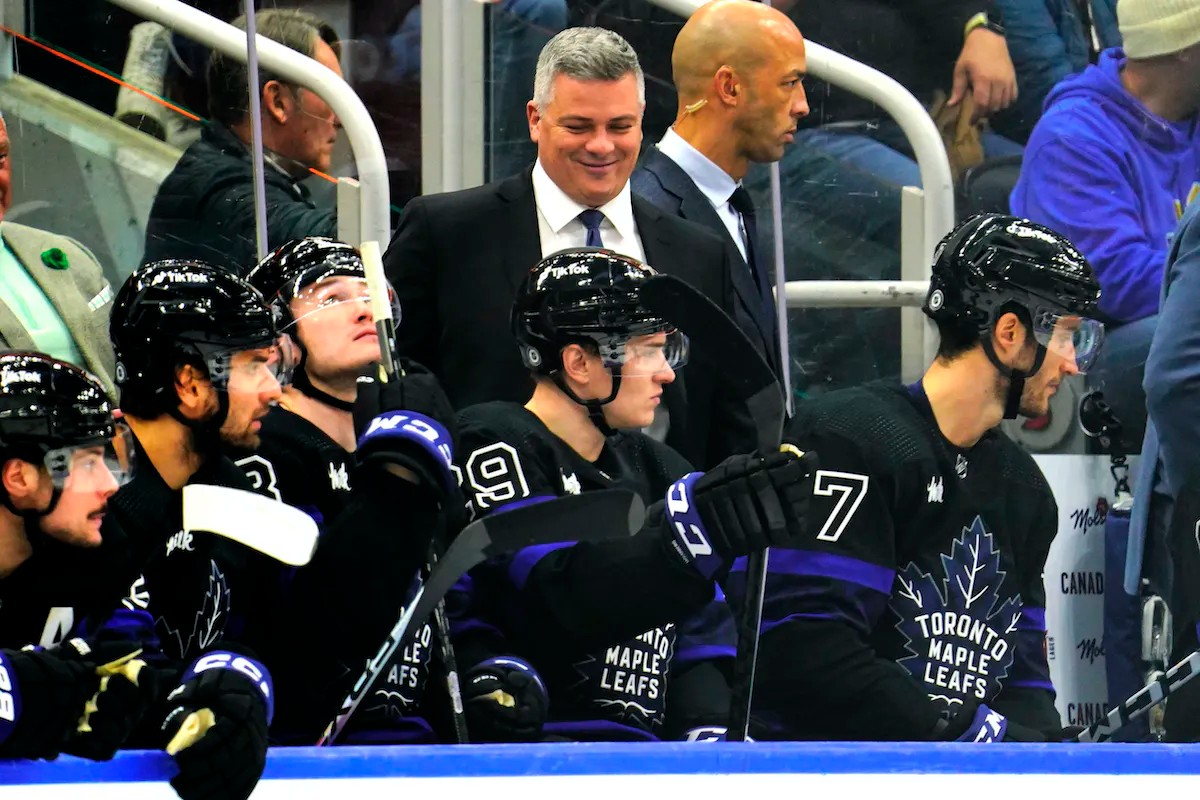 1.  I think we got a good look at the five-forward power-play unit, and while it can be used once in a while, it's probably time to keep Morgan Rielly at the top. Michael Bunting is a fine forward, but the idea of squeezing him on the unit as the fifth forward and moving Mitch Marner to the top is not a net win over Rielly at the top and Marner on the half-wall/goal line, where he belongs. It just seems to awkwardly force a few players into spots that are not optimal for their individual talents.

They also gave up two shorthanded goals against, a number that flattered them. The Leafs have only given up three shorthanded goals in total this season. The risk isn't worth the potential reward.
2.  I think it's pretty clear at this point in time that Pontus Holmberg is the fourth-line center. We are at the regularly-scheduled part of the season when we say Alex Kerfoot is best used on the wing, where he can use his speed to go up and down the wall and has some ability to contribute offense. He can't drive play at center – even when playing down the lineup – and he either won't score enough or be good enough defensively.
3.  I think I'd like to see Bobby McMann on the fourth line with Zach Aston-Reese and Pontus Holmberg to see how he fits. I like what I've seen from McMann so far – and he has been a little unlucky not to pick up a point through five games – but to play on the third line of a contender, he has to either be a really high-end checker or be productive, and he probably falls a bit short in both categories. I think he can be a good fourth-line energy player, so we need to see him in the fourth-line spot to find out if it'll work. 
4.  In regards to the trade deadline, I wonder how much the Leafs are looking at their 17th-ranked penalty kill, seeing Tampa Bay with the second-ranked power play and Boston with the third, and wondering how much of a problem it's going to be at playoff time. Perhaps this is one of the reasons for the rumoured interest in Vladislav Gavrikov, who is fifth among all defensemen in shorthanded time on ice per game. One of the Leafs' biggest issues, spring after spring, has been their special teams. 
5.  Even with Ilya Samsonov rolling of late, I think I'd only give him up to two starts in the next three games. The Leafs are playing three games over five days. They have to platoon him and Matt Murray and keep both fresh.