Last week, we discussed the high-stakes poker game that is the NHL trade market this deadline. Between the speculated asking prices and a daunting playoff path, it's naturally led to some discussion around whether Kyle Dubas should really go for it this season.
The price the Islanders paid for Bo Horvat yesterday was a good indication of the cost of doing business at the top of the market: a top-12 protected first-round pick (completely unprotected the following year), a mid-20s forward with some remaining upside, and a roughly B+ level prospect.
The Leafs can't offer as high of a first-rounder as the Islanders can, and the only young forward of note that Kyle Dubas would feasibly move is Pontus Holmberg, which he probably doesn't want to do (nor should he). The Leafs also have two good young defensemen on the NHL roster. Timothy Liljegren definitely isn't going anywhere, and while the same likely can't be said of Rasmus Sandin, he would probably have to be a part of a significant acquisition involving term beyond this season for the Leafs to move him.
In this context, we can see why Dubas will be asked to part with top prospect Matthew Knies in trade talks. The team's 2023 first-round pick is going to be low in the draft order. He doesn't own a second-rounder. He may only have one third-round pick (depending on what the Coyotes decide to do with the conditional pick in the Nick Ritchie trade), which is actually slightly more valuable than their own since it originally belonged to Ottawa. He doesn't have a fourth-round pick this season, either.
There isn't much on the NHL roster that Dubas would want to part with as he attempts to win now. There are some decent Marlies – Nick Abruzzese is quietly one of the highest-scoring rookies in the AHL this season, although he is 23 years old – but nobody that is going to win him a bidding war for a top target such as a Ryan O'Reilly.
Last week, when we mentioned how difficult and rare it is for college players to step right into the NHL and make a contribution in the playoffs immediately, we stopped short of mentioning how long it usually takes young players, in general, to produce in the postseason.
Look no further than the playoff trials and tribulations of superstars Auston Matthews and Mitch Marner. It is not easy for young players to make a big impact right away. With this in mind, it's worth weighing the contributions they'll likely be getting over the next three years and how it aligns with the timeline of the Leafs' current core.
John Tavares and Mitch Marner have two years left on their contracts. William Nylander and Matthews have one year left on theirs. Will the Leafs be able to re-sign all three, and how productive will Tavares be by the time his contract expires?
Is the plan to keep Knies, hope he develops into a stud alongside the likes of Liljegren and Sandin, and keep at least two of their three stars while hoping the current core can break through on its own in the meantime? Or is it more reasonable to stack the deck in the favour of the current group while Tavares is still an offensive force and the team has their three younger stars under contract at their current cap hits?
Any notion that the challenge posed by the Bruins and Lightning means the Leafs should bide their time – i.e. wait for another season when the divisional path might be gentler – should be promptly dismissed. If the Leafs are one of the five-to-eight best teams in the league this season – which they are – with a chance at a deep run if things break their way, Dubas has to make moves.
There will always be significant hurdles to winning the Stanley Cup – and in the one season when the team was handed a proverbial layup of a playoff path, they blew it anyway. Either management believes in the team or they don't. To not seek to aggressively improve the roster – one with clear holes up front, at a minimum – would not send the right message to a core in which the franchise has invested so much and that has, by and large, delivered this regular season.
There's also a very real psychological element to the management group declaring with their actions and acquisitions that they don't care about the playoff bracket and are plowing full steam ahead. It is the kind of message that can galvanize a group, injecting an extra bit of juice ahead of a difficult playoff journey.
A trade involving Knies would only make sense at the top of the market. That list might pretty much be down to Ryan O'Reilly and Timo Meier at this point unless you're of the belief that the Leafs should pursue Patrick Kane. If there is an option to add a top-end player to gear up for a big playoff run, it has to be seriously explored.
There is also perhaps a happy medium that can be accomplished somewhat similar to last season.
The happy-medium option
Mark Giordano was not the homerun swing of the 2022 trade deadline, but he has been a good fit who improved the Leafs then and now without costing them an arm and a leg. This year, due to the fact that the top end of the market is so strong, there likely won't be as big of a bidding market on the mid-tier players. The market tends to bell curve based on the available talent, as seen when the Leafs acquired Nick Foligno for a significant package in 2021.
The rumoured price on Jonathan Toews is said to be a second or third depending on cap retention. He is playing to a roughly 25-goal, 50-point pace on one of the worst teams in the league and has the highest faceoff win percentage of any player with over 300 faceoffs taken. He has the championship pedigree and a highlight reel of big playoff moments that would dwarf the collective playoff accomplishments of the entire Leafs roster. He has shown he can play left wing for Team Canada, and he is certainly skilled enough to ride shotgun with top players.
Unless you're of the belief that Toews is completely over the hill (I obviously don't), I don't think the Leafs could go wrong adding a veteran with one of the more impressive playoff resumes in the league.
Without a second-round pick and should the market heat up for Toews, it could become problematic. If not, it may be a combination of either the Leafs' own third-rounder or the Senators' third-rounder in 2023 and the Leafs' second or fourth-round pick next season.
The Leafs are going to take a chunk out of their draft capital in the process of adding this deadline. There is no path to keeping their prospects and their draft picks – something has to give, and potentially a bit of both.
Much like the Giordano acquisition, though, Toews likely isn't enough unless Matthew Knies is an impact player as soon as he steps into the league. The move will eat into their cap space and draft capital, but it's critical to keep their first-rounder for an additional deal.
The reported interest in Vladislav Gavrikov, which I do think is legitimate, would mostly sweep up the rest of their draft picks and probably a prospect of note – but not Matthew Knies. The reported asking price is similar to the package Tampa Bay sent to Columbus to acquire David Savard (the Lightning won the Cup that season, for what it's worth). It cost Tampa a first, a third, and a fourth.
The Leafs might not have all those draft picks at their disposal, which is where a prospect would come into play. It would leave them with pretty well zero draft picks this summer, but they keep Matthew Knies and also add two legitimate players with have clear fits on their roster.
It would be fairly reminiscent of the Avalanche acquiring Arturri Lehkonen and Josh Manson or Tampa adding Blake Coleman and Barclay Goodrow. In other words, multiple good but not great players can make a difference on a team with the Leafs' core talent.
The home run swing
Alternatively, the Leafs could consider moving Matthew Knies for a bigger target as part of a massive swing at a Timo Meier or Ryan O'Reilly type. The Meier discussion is particularly interesting on account of his RFA status with a qualifying offer of $10 million.
NHL clubs can exceed the cap limit in the offseason. It is entirely feasible that a team acquires Meier, he has a strong playoff, he is qualified, and then he is traded again. Would other teams not pay up for a very good, prime-aged scorer coming off of a strong playoff? Short of Meier's production tanking in a new location, there is a lot of value to be recouped in the summertime – or perhaps the acquiring team is able to convince him to sign for term and a lower AAV.
This kind of acquisition would require a package that includes Knies. In the case of Meier, it would give the Leafs the opportunity to restock, to some degree, in the summertime. As a pending UFA, Ryan O'Reilly would not, but he also brings the playoff pedigree Meier does not.
The conservative shore-up-the-bottom-six option
There is also a third option where the Leafs keep their top picks and prospects and skirt around the edges, adding more Colin Blackwell and Riley Nash types.
In this scenario, Kyle Dubas would address the bottom six – which is probably two legitimate NHLers short – and add some proper depth to raise the floor of the team. Perhaps Dubas considers players such as Teddy Blueger and Noel Acciari, who can definitely take good shifts in the NHL. Maybe he aims a little higher on a Max Domi type – if he can be acquired on the cheap – which would give the team some flexibility with a forward who can move up the lineup a little bit.
This approach would still improve the team overall, but it wouldn't be the kind of move that boosts them higher in the lineup (Domi aside, perhaps). That said, the Leafs' depth has consistently failed them in the playoffs.
If the Leafs do this and go on to win a Cup, Dubas is a genius. If he does it and the Leafs fall short, the Leafs still have their late first-round pick, which will be three-to-five years away from contributing, if ever (note: Timothy Liljegren was drafted in 2017 and Rasmus Sandin was selected in 2018). The Leafs would still have Matthew Knies in the organization with the hope that he will be a significant contributor right away next season.
The question is: Which deadline approach is most likely to sustain the Leafs through a long playoff run? The goal is to win now, and without notable playoff success, it could be someone else making these decisions next year.
Quotes
---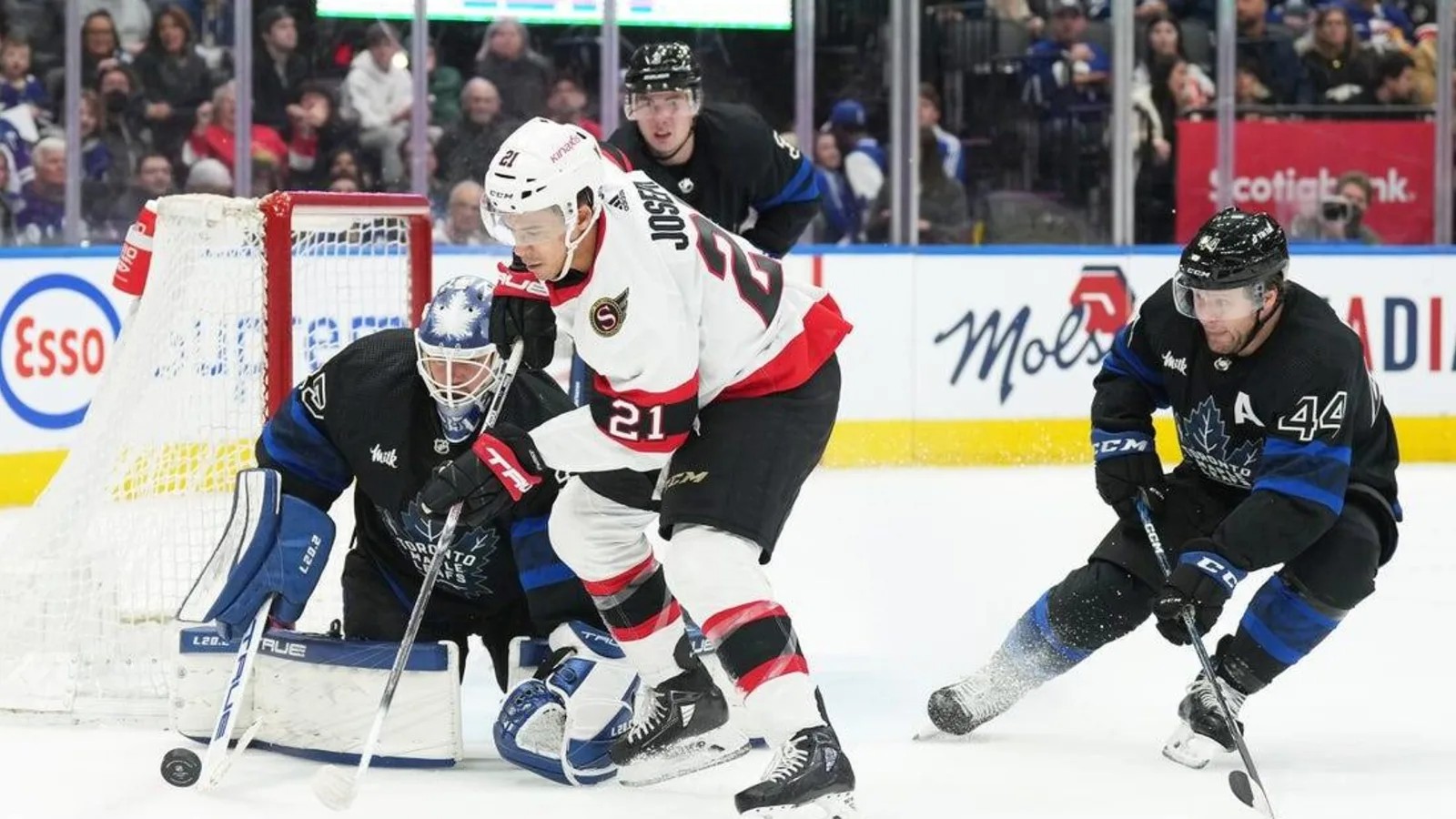 "I don't want to say bad about my teammates … We need the head up after this game. We need the head up tomorrow. Back to hard work and more concentration."

– Ilya Samsonov after a lackluster game against the Senators
We've previously discussed Ilya Samsonov needing to roll through the highs and lows of the season, but I thought this was a super encouraging response after the loss to Ottawa. Even better, he responded with a strong game against Washington a few nights later. That's an encouraging sign for the Leafs.
"Just relief, that's all. I got some good karma from Easter Seals. I was out there with those guys a lot and smiling. I think that's what it was."

– Morgan Rielly after scoring his first goal of the season in his 36th game
I mentioned last week that Morgan Rielly is shooting less than usual this season. You could visibly see the weight lift off of his shoulders after he finally scored one against Washington. This probably isn't the best time for Rielly to play one game in 10 days — he would want to keep it rolling — but we'll see if finally notching one gets him going. It was clearly weighing on him.
"I thought he had a great game [vs. Washington]. We have talked about it a lot here. He has been in that position a lot in terms of filling in when someone in our top six gets injured and he has to change positions or linemates. He has handled that extremely well over his time here. Last night, it was more of the same. That is a really good sign for him and us."

– Sheldon Keefe on Alex Kerfoot after moving him to the 2C spot
I know some fans have been looking at Alex Kerfoot's lower ice-time figures and deployment in the 4C spot as signs that he's on the outs. It's a fair conclusion to make. However, by all indications, Leafs brass really values him and has shown it at every turn.
Kerfoot plays up the lineup when the chips are down, and I think that Sheldon Keefe appreciates his willingness to move down the lineup at times without complaint — even when is coming off of a career year with one season remaining on his contract.
There was no indication that Kyle Dubas even remotely tested the market for Kerfoot. I think they very much view him as a glue guy who makes sacrifices when required. While exchanging his salary to facilitate a deal does make sense in some situations, if we're taking their comments at face value — and there is no reason not to at this point — I don't believe it's something they're specifically wanting to do at all.
Tweets of the Week
---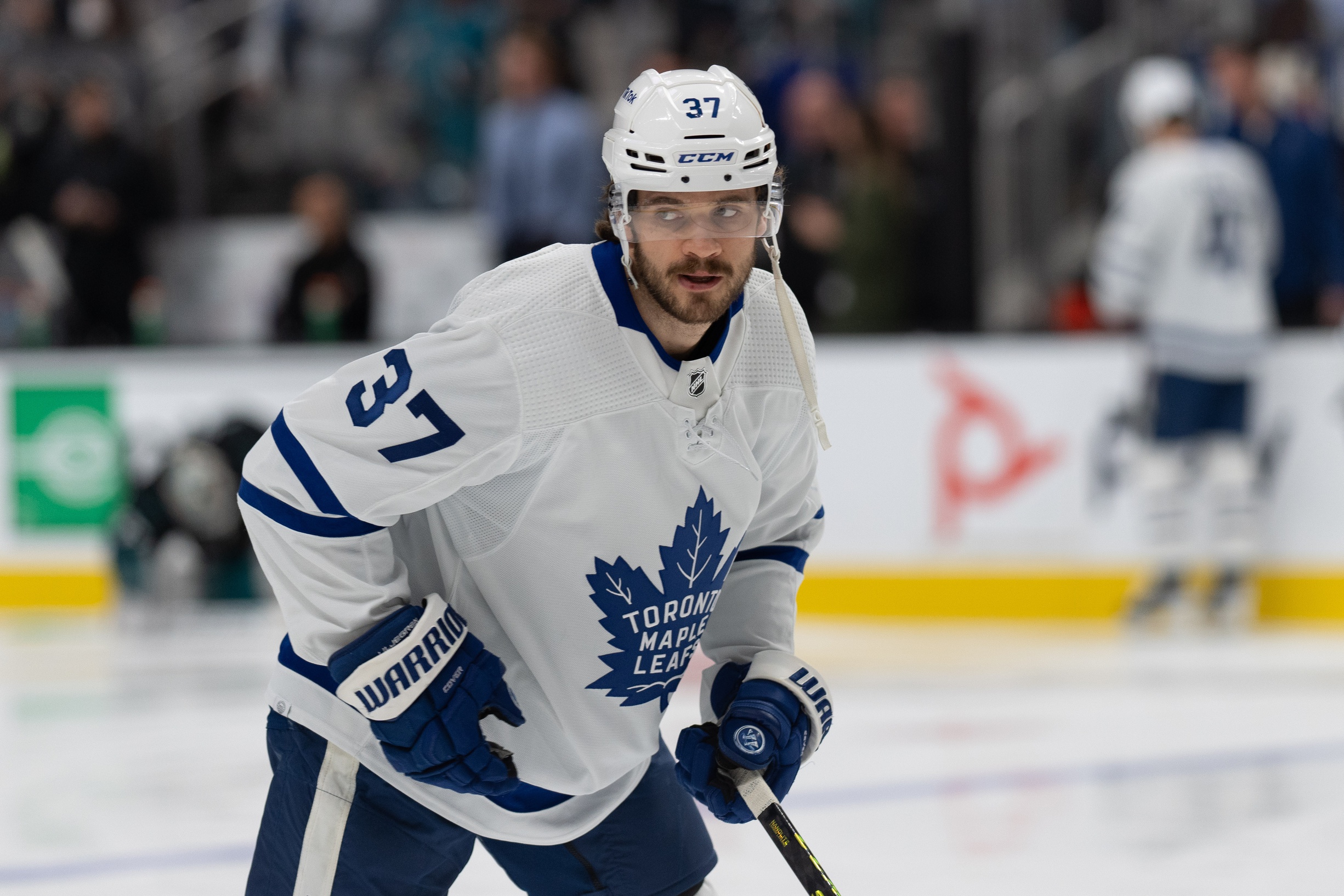 Timothy Liljegren's a great example of players never 'over cooking' in the minors. Felt like he was a Marlie for a decade. Now an everyday pro with tons of confidence.

— Bryan Hayes (@HayesTSN) January 26, 2023
I wish the Leafs followed the same approach with Nick Robertson, who they have essentially yo-yo'd since bringing him straight from the OHL into the NHL playoffs.
NHL top 5 teams, man-games lost to injury and health protocols

TOR 358
WSH 352
MTL 346
PHI 332
CBJ 320https://t.co/9OUgKDJDeM

— Man-Games Lost NHL (@ManGamesLostNHL) January 27, 2023
Obviously, losing any regular player is unfortunate, but I find the man-games-lost conversation – something Sheldon Keefe referenced last week – to be slightly misleading when it comes to the Leafs.
Until the Auston Matthews injury a few games ago, their four best players have been healthy the entire season. Their fifth-best forward, Michael Bunting, has also not missed a game. The Leafs are built to be a top-heavy team, and as long as their top forwards are available, they are generally more than fine over the course of 82 games.
JT1K

The Leaf: Blueprint Moment pic.twitter.com/7jAZUloCC9

— Toronto Maple Leafs (@MapleLeafs) January 30, 2023
Congratulations to John Tavares on the 1,000-game achievement.
Five Things I Think I'd Do
---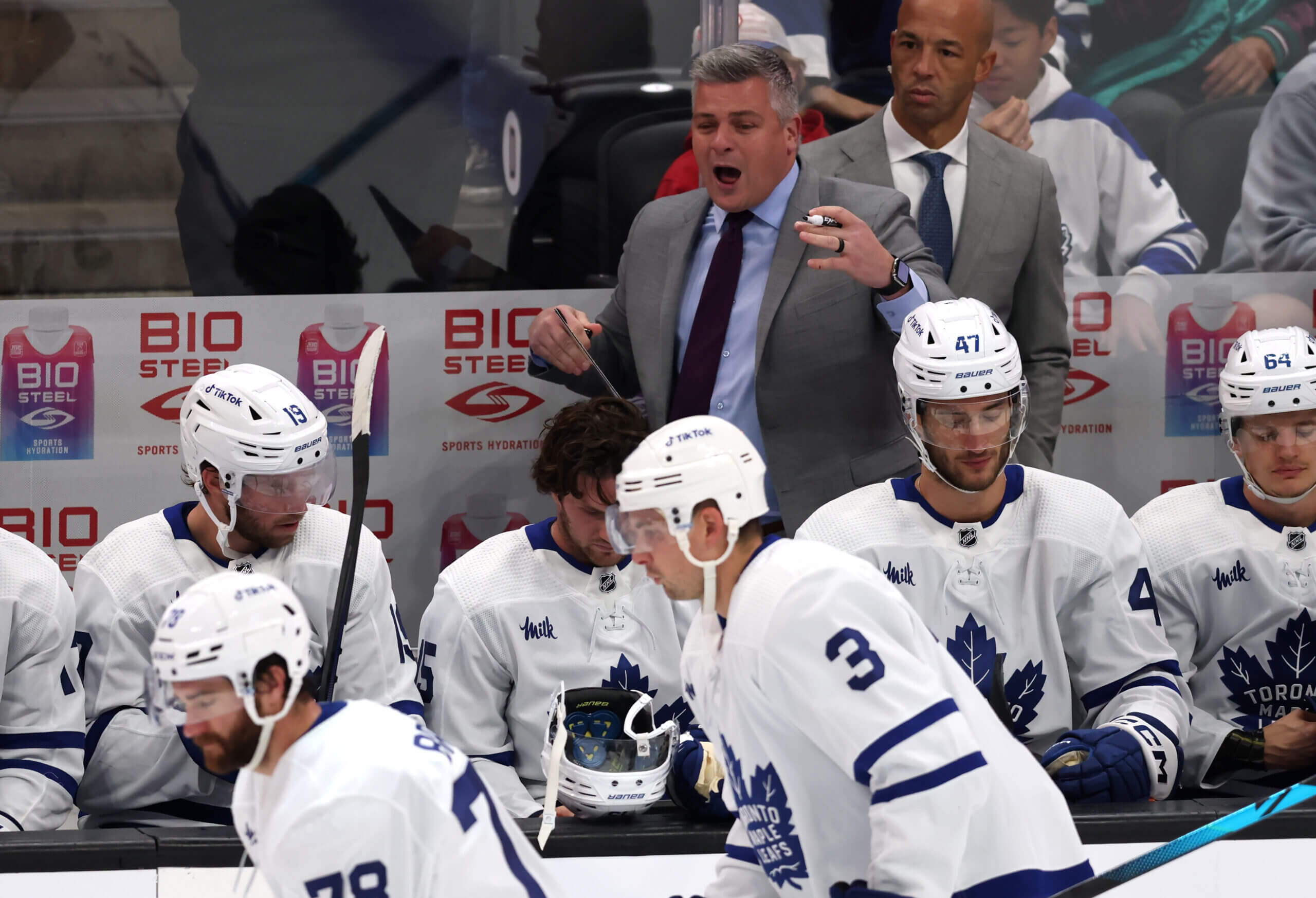 1.   I hope the game against Ottawa is not the end of Pontus Holmberg receiving a look in the top six this season. He did generate a few chances, and while I understand that he ended up taking six minutes in penalties the game, the whole perception easily could've swung if he scored early in the slot off of a nice William Nylander feed. Those are the breaks sometimes.

Holmberg has proven his competence in his first season, and he has produced at a good rate in limited minutes with linemates who don't exactly produce offense. 
2.   When looking at the bottom six, I think few players have really claimed a spot. David Kampf and Pierre Engvall are mainstays. Pontus Holmberg has been a pleasant surprise, and even though he's a rookie, I'm guessing his spot is safe for now. Otherwise, it's slim pickings.

Bobby McMann provided an initial jolt but faded. Zach Aston-Reese is a reliable veteran, but he will go entire games where you don't notice him – and he was recently healthy scratched.  Joey Anderson is in and out. Wayne Simmonds is not the answer.
As Keefe once told Jimmy Vesey, it's too vanilla. The concerning part is that we're talking about half of the bottom six. Even when Matthews returns, there will be two spots up for grabs. Nobody has really staked a firm claim to them. 
3.   In each of the last three seasons, Dubas acquired some sort of depth forward, be it Kyle Clifford, Riley Nash, or Colin Blackwell. I would be floored if he didn't do it again. If they can manage it, I would consider adding two. 
4.   With TJ Brodie back, I think the defense pairings are pretty straightforward: Morgan Rielly – Brodie, Mark Giordano – Justin Holl, Rasmus Sandin – Timothy Liljegren. But considering only two of those six have played all season, I would probably look to mix and match – either in-game or game-to-game – just to test out other pairings. Situationally, the Leafs do tend to do a lot of that already. 
5.   I think the net pretty clearly belongs to Ilya Samsonov right now. Even when Matt Murray eventually returns, it's Samsonov's to lose at this point.