At the end of the bye week, Kyle Dubas addressed the media to discuss his priorities at the upcoming trade deadline, his own contract status, and the team's goals for the final stretch of the regular season.
Earlier in the day, the Maple Leafs announced a two-year, $1.1 million AAV contract extension for defenseman Conor Timmins (previously a pending RFA) as well as the callups of Alex Steeves, Pontus Holmberg, and Joe Woll, with Matt Murray placed on IR.
Kyle Dubas on the deadline, positional needs, and trade chips
---
What is your sense of what the current trade market is like? Do you anticipate doing something big or small?
Dubas: With where we are at as a team and where we sit as a franchise, we look at everything. Whatever way we can improve the team, we would like to do that with the exception of our goaltending.
Up front and on defense, if there is a way we can improve the team and give ourselves a better chance to make a run at it, we will do that.
The focus is always on the bigger names, but we have to look at the people who may improve us overall.
Have your priorities in terms of a forward or defense changed over the course of the season?
Dubas: At the beginning of the year, when Muzzin went down, my focus shifted automatically to defense. We accumulated a lot of injuries on D. All of those respective players really stepped up.
We missed TJ Brodie for long stretches. We had Muzz for all of four games. We've missed Brodie on a few different occasions for long stretches. We had Morgan out for a long stretch. Really, the only guys that have been consistently in are Gio, Holl, Sandin, and Liljegren — and Liljegren was out for a stretch as well.
Conor Timmins has come in and done well. Our depth guys have stepped up and done well. With them doing that, the way the team played as a whole defensively opened it up to say, "We do feel somewhat comfortable with the group." If we can improve it, we will do so, but it's shifting the focus from just the backend to the overall team and how we can improve that.
Do you wish you had a Muzzin-like element still around on the blue line?
Dubas: I think you'd always like to have that. You'd always like to have someone like Muzzin who is able to defend the other team's best players and defend very hard.
I think TJ Brodie has really stepped up this year, in my opinion. For one, he has been everything we thought we were getting when we signed him in 2021, but this year especially, when he has been in, he has added so much to our group defensively and been able to take on those hard minutes and play really well defensively. He just knew it was time for him to step up in that absence.
Morgan was playing extremely well for us before he got injured. Like with anyone, coming back, it has taken some time. In the last stretch, Morgan started to get back to what he is fully capable of as well.
For me, someone else who has stepped up defensively has been Timothy Liljegren. Holl has been solid with Gio. They had to take on a lot in that stretch when everyone went down as the top pair.
Would I love to have that element? Of course, I would. Do I think other guys have stepped up to fill it by committee? I do. That may not be the direct answer you are maybe hoping for, but these are complex and really not binary situations.
I would always love to have that, but it is just a matter of how readily available it is and what the value is in getting it.
In terms of assets you have to trade, you have a first-round pick and a prospect like Matthew Knies. Is there anything that is off the table or untouchable given the team's situation?
Dubas: The answer I might give to that question might sound a little deceptive. With every single trade discussion that we have, we are at the point with the franchise where you don't want to necessarily say no to anything right off of the hop.
Having said that, there are some players and some draft capital that we have that are extremely valuable and would be hard for us to move on from — not just the one player you mentioned, but the whole group of prospects and younger players off of our roster.
In regards to rentals, I can't see that happening. With regards to other options, I don't think you say no off the hop to anything, but those are very important pieces to us now and in the future.
What impact do you feel Matthew Knies could make if he signs before the end of the season?
Dubas: I think our primary focus with Matthew has always been… He decided last year he wanted to go back and he wanted to win a national championship. Our major focus is not so much trying to figure out what he can bring right away. It is very rare that a college player leaves and then right away jumps in and makes a huge impact.
I want to temper that a little bit but also keep the main focus on him at the University of Minnesota and then making his decision as to what he wants to do as a pro. He is obviously very physically gifted. He is with a great program there in Minnesota and is playing on a great line on the number-one team in the country.
My major thing, from what we can see with him right now, is can he win the Big-10 championship and then win a national championship? It is a hard thing to do, but I think it would be great for him as a prospect.
Are you a little jealous of your NBA counterparts with how many moves they're making compared to how difficult it is to make trades in the NHL?
Dubas: It is a different beast, I think. I follow the league but not closely. The valuation of the picks is a little bit different in the NBA as well just in terms of what you can expect if you are picking lower in the first round. I don't know it well enough, but I guess, yeah, there is a little bit of jealousy.
How do you think your bottom six stacks up against Boston and Tampa's?
Dubas: We haven't seen it in its full form yet. What I have seen of late on that front: The line with Kamp and Engvall, regardless of who has been with them on the other wing, has really begun to play well and build some momentum for themselves.
On the fourth line, we have really tried to give our own internal players a lot of opportunities. Alex Steeves is there now. Pontus Holmberg is back up there. Alex Kerfoot was down there. It shows his versatility. Kerfoot was down there and now he is up on the second line with Auston out.
For me, I would like to continue to see some growth from our own guys with the Marlies that have been given opportunities and chances there and really see them start to run with it.
With Joey Anderson — this season, and especially during this current stretch — we've seen how competitive and strong he has been in those tougher games like the one in Boston before the break. I thought he was one of our best guys at winning pucks and winning possessions low against their defense, allowing us to get set up in the offensive zone and get rolling.
We are just looking for continued growth from that group, and we're looking for guys — Alex Steeves is going to get his go here — to really take advantage and run with it. We would like to see where we are at with that before we start to look externally.
Dubas on his mindset entering the final months of his contract
---
A few years back, Alex Anthopoulos was in the final year of his contract and basically traded the farm ahead of the playoff run. You are kind of in a similar boat. How are you approaching the final few months of your contract?
Dubas: No different than I ever would. Anyone who knows me well enough would know that everything I look at it is what is best in the short and long run for the organization and the people who are there.
As I said at the beginning of the year, it is not about me and my status. It is about what is best for the team. That is what we will continue to look at. I am not treating it any differently than any other day.
How badly do you want to stay in Toronto after this year?
Dubas: Toronto has been great for my family. More than anything, I love coming in every day and working with the people here. I never take for granted a day working in the league in any role ever.
Toronto has been great for our family.  I don't focus on the end of it. I just focus on every single day giving my best for everybody inside the facility.
Have you given any thought to what extending your contract with the team might look like, or is it something that is waiting until the end of the season?
Dubas: As I said at the beginning of the year, I don't want to get into that publicly. I understand and respect the question, but it is not something I will get into publicly. I want to be about the team, and I want to be about the people that are here every day and doing what is right for them.
Dubas on Muzzin's status, injuries to Murray and Matthews
---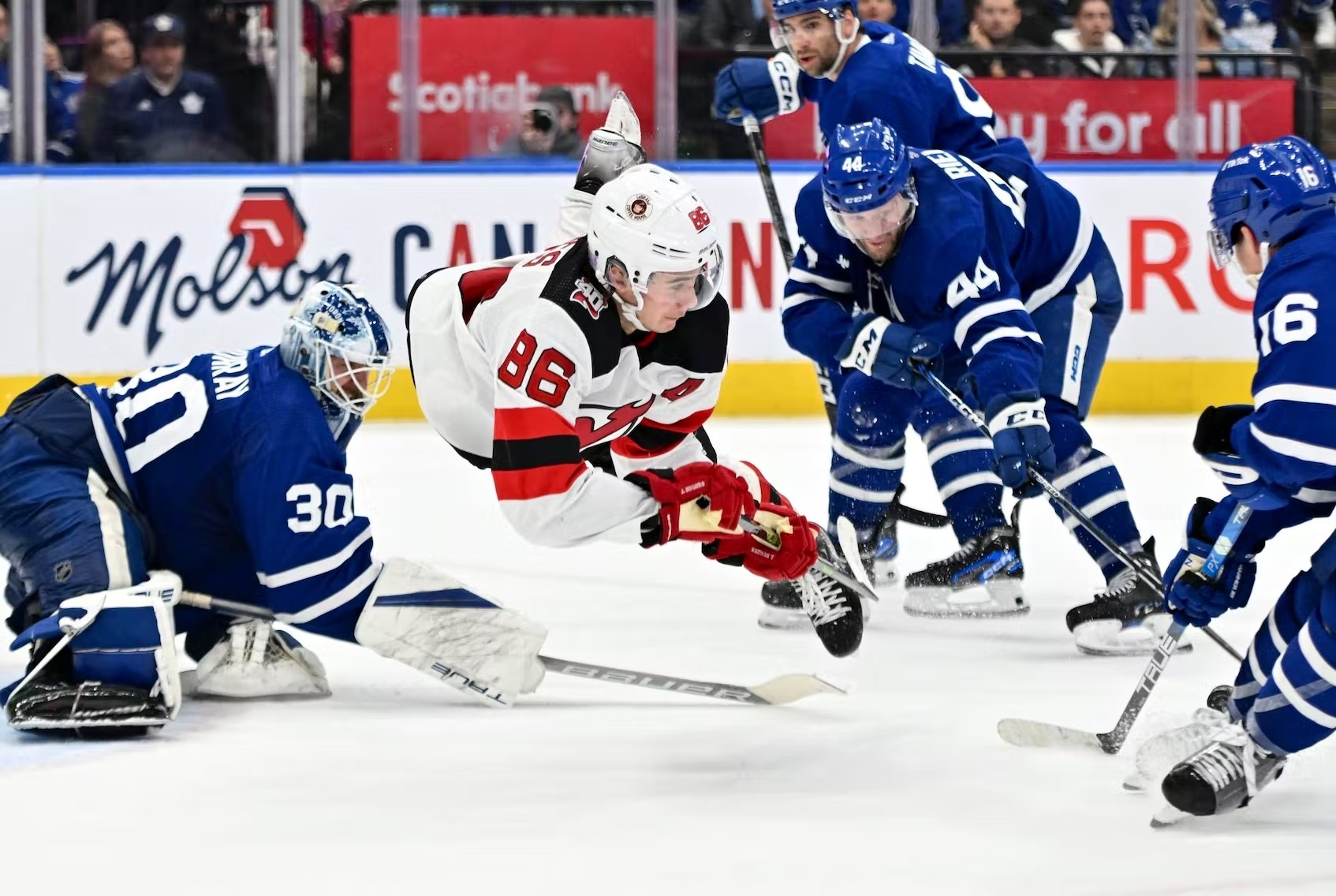 Is there an update on Jake Muzzin's status?
Dubas: There is no change from the last update. He has an appointment coming up here in the next stretch of weeks. Around mid-February or in about two weeks, we will have an update on where he stands.
We will have an update internally on him for the remainder of the season in terms of what his condition is going to be and whether he is going to get back at it or if that is not possible.
Is Matt Murray's injury situation a concern for you at this time?
Dubas: He got back out skating today. He will go on IR just because we need the roster space. He is past the seven-day window.
Matt had an injury earlier in the year, came back, and played great for us. This will let him get to work with Curtis Sanford and get back rolling.
It is not a huge concern for the reason that 1) I think Matt is going to come back in great form, and 2) Joe Woll has come off of his injury last year and is 14-1 now with the Marlies. He has a save percentage over .930. He is an All-Star in the AHL and was named the top goaltender in the skills competition at the All-Star Game.
Joe has been a guy who has put in a lot of work and a lot of effort. It has been a great lesson for us in goaltending development. Sometimes, it takes time and patience. With his work ethic and his attitude, it has been great to see him. He is likely to get into action on the weekend for us, so that will be a lot of fun to see him back in the net again. He had a good stretch for us last year.
Do you have a timeline for Matt Murray's return?
Dubas: I think it will be a couple of weeks from now. Again, I haven't checked in after the skate, but I don't know definitively.
What is the latest on Auston Matthews' timeline for a return? Does the run of non-playoff teams coming up give you a little bit of extra runway in the next little while?
Dubas: Well, I would like us to play really well against the non-playoff teams. Those are important points for us. Frankly speaking, I think we have been a bit better this year, but these are areas where I am looking to see growth from our team.
You are always looking for signs of growth, and this is a stretch for us to do that. These are important games for us, too. There are two points every night whether we are playing Boston or Tampa or teams that are currently outside the playoff picture. These games are important for us and our own growth.
With regards to Auston, it is good to see him back on the ice and skating. We are going to be very cautious, obviously, with him and where he is at. He was non-contact today. He will need to be in contact before he gets back in.
Dubas on the final stretch and preparing for the playoffs
---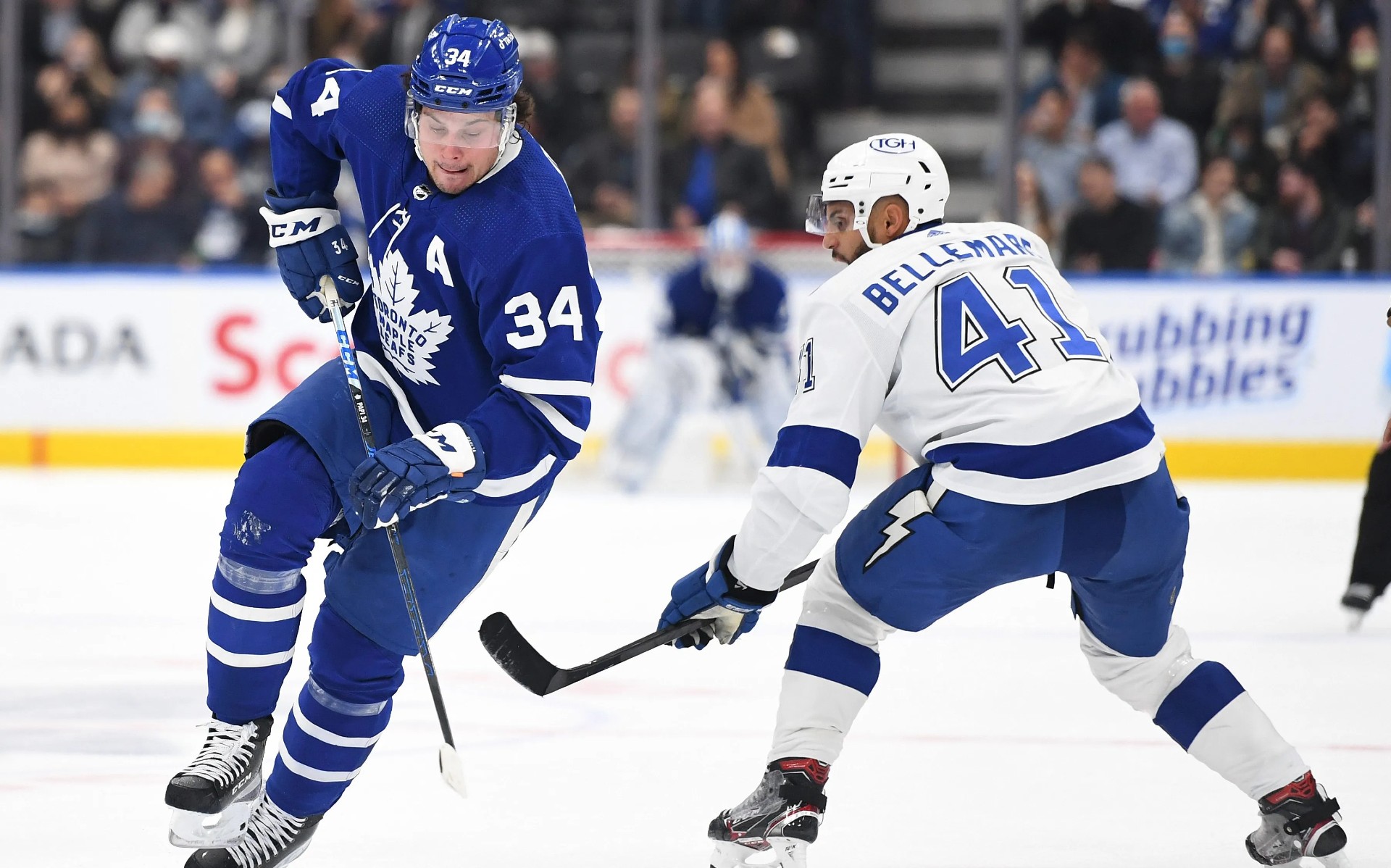 How can the team best prepare itself in the final 30 games for the challenge ahead in the playoffs against Boston or Tampa?
Dubas: Our hope or how I look at it is that we have to control those 30 games that we play. We have to put ourselves in the best [position] regardless of who our opponent is. We have to secure our spot. The minute that you shift your focus away from being at your best night in and night out and competing night in and night out…
You can see it now Florida is firing on all cylinders and are coming. Buffalo is coming. Ottawa went into the break hot. Detroit has had stretches as well. The minute we start to lose our focus is the minute that we start to really give it back. That is not what we want to do.
Our hope is to continue to chip away at it and put together a strong month here and then stack that all up and see if we can chip away at the lead Boston has. As everyone knows, Tampa is right there on us. We can't take anything for granted for a second — especially in this division.
What have you learned about the group this season that leads you to believe this could be the group that gets it done?
Dubas: Just the continued growth. The thing that I have learned this season is that the group has a much better ability to recover when we have disappointing nights.
I think we might lead the league in man games lost to injury. I am bringing that up not to build in any sympathy, but I am bringing it up to answer about growth. It has never come up in the building. I didn't know about it until yesterday when someone outside of the team sent it to me as sort of a kudos thing to the group, which I never thought of.
I think it is a huge sign of growth. I felt earlier on or in the past, whether it was back-to-backs or injuries, those were crutches that would enter into the psyche of the team. I don't feel that way [now] at all. When guys have gone down, other guys have stepped up.
The team has a whole has stepped up defensively in terms of the forwards committing more to the group. I find that the leadership is much more open to taking criticism and seeking out criticism for how they can be better and push one another.
I think it is just slow and continued growth, which is not the big moments that draw a lot of attention and people point to, but it is just the reality of what it is like to grow as a young group of players trying to push each other and get better in a really difficult circumstance in a tough division.
They know the competitors are going to be very tough when we get there. They are tough every night. We have played Tampa twice and Boston three times. The margins are razor-thin. Save for the last Boston game, the games have been very, very close. That is a good amount of pressure. These guys seem to be stepping up and reacting well to it.
You have a lot of pending UFAs, with Michael Bunting among them. How are the contract talks going with some of those guys? Do you hope to get a few signed before the end of the season?
Dubas: As you know, I am not going to get into the ins and outs of any discussions.
I don't necessarily put any emphasis [on getting them signed before the end of the season]. With where we are at going into the end of the year, we have a lot of cap flexibility. We want to see what the rest of the year brings before we commit to anything necessarily.
We have great relationships with all of those players and their representatives. They know very clearly where we are at and us with them.