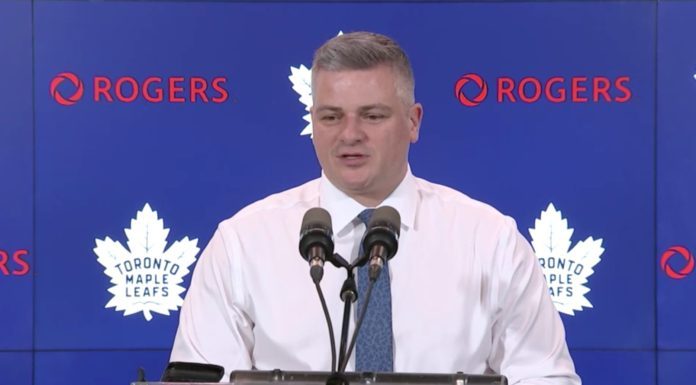 Sheldon Keefe addressed the media after his team's 4-3 loss to the Columbus Blue Jackets which dropped the Leafs' record to 32-14-8.
---
On how he explains the team's effort falling off in the second period:
I can't. You guys talked to the players. I'm sure you asked them the same questions. I can't do the work for them.
On whether it was an effort or execution issue:
Effort. Competitiveness.
On the message to the team in the second intermission:
They have to make a decision as to how important it is to them. That is really it.
On Joe Woll's performance:
He was fine. We just gave up too much. Too many shots. Too many things in and around the crease. It makes it a lot harder on him than it should've been.
On the lack of built-in excuses with both teams in a back-to-back:
Definitely. There is no variance to the schedule. We both are in the same situation. That makes it tougher for sure. It is something that we have to continue to find a way through.
On the lack of discipline leading to penalties against:
When is the last time you saw Willy Nylander retaliate or something like that? I kind of like it, to be honest. If they want to take runs at him every now and again, he is going to make the other team aware of it.

In Bunting's situation, that is something entirely different. That is something where he has to stay on the line.
On the team's response after the second period:
It was a huge power-play goal. We had a good opportunity right away there. The guys come through for us there in a big moment to tie the game and get some life in the building.

Obviously, it was not enough. We give that back, and then we get the goal against… High stick, no high stick, or whatever, it goes in the net. We couldn't get another one after that.
On whether he was surprised the 4-3 goal stood after a high-stick review:
At first glance, yeah. I don't have as many angles as what they are looking at. When you look at it, the stick is clearly above the crossbar, but that is not where the puck hit the shaft of the stick. It is a little bit misleading when you first look at it.
On the message to Pierre Engvall, who missed shifts after the 2-1 Columbus goal:
It is just habits slipping. It is not just Pierre. It is the whole line.

Those guys, in particular, were our best line last night. They had good things happening tonight as well, but we need to be able to really consistently… That is what that line has to do. They have to be competitive. They have to be great defensively. They have to be physical.

When all of that slips, it is not acceptable. It is really as simple as that.