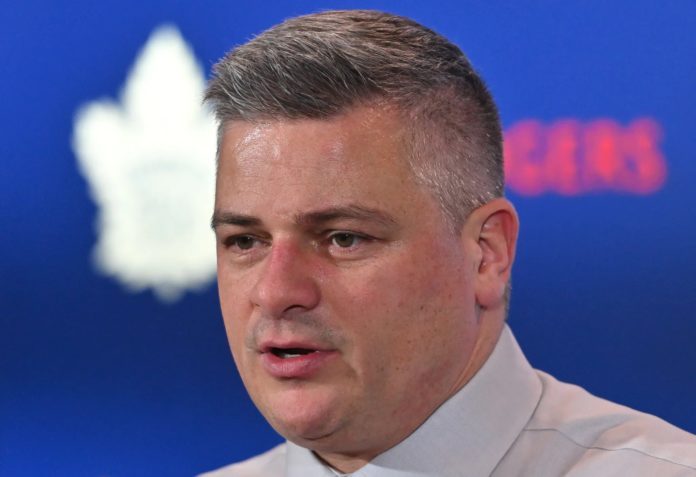 Sheldon Keefe addressed the media after his team's 5-1 win over the Montreal Canadiens which improved the Leafs' record to 34-14-8.
---
On the first game for Ryan O'Reilly and Noel Acciari:
In terms of the two guys, they come as advertised in terms of their personality, character, and the way they fit in. They are two veteran players who are very experienced and accomplished guys that can fit right in right way. The new guys fit in really well.

That was great to see for sure. It is going to really, really help us. It is tremendous.
On the decision to play ROR with Tavares and Marner:
I know it is something I would've tried at some point for sure. We are going to give it some runway. I thought that setting up O'Reilly and Acciari both by playing them at their natural position at center… In O'Reilly's case, in particular, playing them with two of our top guys helped put them in a good spot upon arrival.

John and I, over my tenure here, have talked about him playing wing at times. We haven't had the depth at center to be able to give it much of a look other than the odd shift here and there.

For all of those reasons, it just made sense for me to start with it right out of the gate.
On the decision to start ROR for the opening faceoff:
For me, I am doing it for the player, but I am also doing it for our fans. I am sure they are excited for us to add a guy like him. They get a chance to acknowledge him and see him out of the gate.

Like anything else, you give him a good moment. It is not just him. Even in the room, you get a good reaction from the rest of the team. They are excited for him.

That was great. It was a tremendous shift, too. It was all good.
On ROR and Acciari insisting to play tonight rather than meeting the team in Chicago tomorrow:
I hadn't even put together the whole Chicago thing. They go right back to the time zone they started the day in. It just speaks to their character. They were adamant about it.

I had never spoken to O'Reilly about it, but Kyle mentioned to me last night that one of the hiccups in getting here was that they didn't have their gear when all of this happened. The way it was explained to me, O'Reilly might have found a way to acquire the keys to the building to go get his gear and make sure he was not going to be slowed down in the morning. He grabbed Acciari's while he was there.

It just speaks to what those guys are about. There are the on-ice things that everybody is going to see. I got a glimpse into what they are going to bring to our room.
On the opening shift:
I thought it was tremendous — the first shift and the second shift both, which is what you want to see. You want to see the shifts stacked on top of one another to build some energy in the building.

Unfortunately, we weren't able to sustain it, but it was great. O'Reilly had a tremendous look right off the hop, which would've been something.

I thought he was great. Big-time assist that he got tonight, too, in terms of making that play off of the entry there. It was a tremendous initiative by Sandin at the end of the power play to not just dump it in and default to another player but to get the entry and make a play there to O'Reilly.

It is a huge moment in the game for us.
On Joseph Woll's performance:
It is a storyline that will go under the radar perhaps, but I thought he was really solid for us. We gave up, at times, some looks that we wish we hadn't. There were some clean looks. He really stood tall and made some strong saves.

He was very good tonight.
On Ilya Samsonov's status for tomorrow:
He is going to meet us. He is going to travel with us today. He felt better today as the day went along. He is going to prepare to play tomorrow. Even though it is a five o'clock start, he will skate in the morning to be sure he is feeling right.

Källgren will travel with us as well, and we will make the call tomorrow.