There is – rightfully – so much buzz around all of the Maple Leafs' trade activity that it can be difficult to think about anything else. Who is moving next? How do the new additions look? What are the new line combinations?
It's easy to overlook what's actually been happening on the ice. For example, the Leafs just went through the month of February without allowing a single power-play goal against.
Their penalty kill went a perfect 19 for 19. For the season, they have now killed 81.5 percent of their penalties, which is good enough for 10th in the league. Prior to February, they were sitting in 16th at 79.3 percent. This is a good run of success to climb the rankings and hopefully build some confidence along the way.
There are a few notable disclaimers off the top, though. The first is the Leafs' quality of competition. Buffalo, Boston, and Minnesota are ranked sixth, seventh, and eighth in power-play efficiency, but their other six opponents – Columbus (x2), Chicago (x2), Montreal, and Seattle – all rank in the bottom 10.
The second thing of note is that the Leafs stayed out of the box in February. Nobody took fewer penalties in February than the Leafs' 19. Before the start of February, the Leafs were tied for 15th in times shorthanded.
Generally speaking, under Kyle Dubas, the Leafs have subscribed to the belief that one of the best ways to kill penalties is simply not taking many. With Dubas as GM, this is where the team has ranked in the fewest times shorthanded:
| Season | Times shorthanded ranking |
| --- | --- |
| 2018-19 | 2nd |
| 2019-20 | 8th |
| 2020-21 | 4th |
| 2021-22 | 18th |
In terms of player deployment, there was no substantial change of note. The Leafs' top four penalty-killing defensemen were TJ Brodie and Justin Holl followed by Mark Giordano and Timothy Liljegren. At forward, they were led by David Kampf and Mitch Marner, with Alex Kerfoot and Calle Jarnkrok on the second unit. More or less, those eight have been the nucleus of the team's penalty kill all season.
However, it is worth noting that since he was acquired, no Leafs forward has played more on the penalty kill than Noel Acciari. There has also been a noteworthy knock-on effect: Marner ranks fourth among Leafs forwards in shorthanded time on ice per game since the trade. It has long been a gripe of mine that the Leafs burn Marner's minutes on the penalty kill instead of preserving him for driving offense at five-on-five, which is where he's needed the most.
There are some changes worth noting in the play of the Leafs' PKers – most notably, the pressure the Leafs are applying has noticeably increased. 
Effective penalty killing in the NHL is really about two things: preventing clean entries and setups, and disrupting power play formations if the zone is set. Otherwise, NHL players are too good to allow the time to stand still, snap passes around, and rip shots on net. 
On this power-play goal below, there is hardly a Leaf within a stick length of a Panther as Florida snaps the puck around. Brandon Montour has all day to make a play. Montour puts a puck in Alexsander Barkov's skates, but Barkov has enough time to sort it out and step into a shot. Jordie Benn hardly challenges the shooter; he is below the hashmark as the puck rips by him and into the net. 
Compare the above to the following power-play attempt by Chicago. It's a similar play with the puck working up to the point man while looking cross-ice. The difference? Marner bee-lines for the puck twice, forcing poor passes. When the puck makes it back to Max Domi on the half-wall, Justin Holl aggressively challenges the shot angle above the hashmarks instead of hanging below them.
Against St. Louis, here is another example (below) of the Leafs sitting back and watching the power play pass the puck around before the Blues walk into a shot and score too easily. Allowing the Blues so much time that Robert Thomas can point and direct traffic is unfathomable. Brayden Schenn ends up scoring the goal, but the play could have gone to the backdoor to a wide-open Justin Faulk to one-time it home instead.
Against Seattle, we again see the increased pressure – particularly up top at the points – and on the half-wall. The Mark Giordano giveaway is horrible, but everything leading up to it from a structural standpoint is very sound. In the clip right afterward, the Leafs funnel the puck low thanks to their pressure up top before clearing the net effectively. 
In their game against Minnesota, the Leafs took a penalty with a few minutes left in a tie game and remained aggressive. They attacked the half-wall and forced their hand. Even though the Wild got a shot off, they made it uncomfortable to get there and then successfully cleared.
Staying aggressive in a tough situation – in a tie game, on a late penalty, on home ice, while trying to preserve a point – is a good sign. It would've been easy to play it safe there, but on the PK, safe is death.
Special teams have been a massive storyline in the Leafs' playoff futility over the years. Now that March is here, we'll anxiously watch to see if their power play does its annual fall-off-a-cliff routine. On the other side of special teams, though, the penalty kill is showing positive signs of life – or aggressiveness – and that's great news.
Notes
---
–  With all the talk of Alex Kerfoot vs. Pierre Engvall, one thing to note (which is highlighted above): The coaching staff trusts Kerfoot on the penalty kill. He is a staple for them there. Engvall was a fixture at five-on-five and really nowhere else. He was also a massive question mark at playoff time given his past performances in the postseason. You can see how it adds up one way over the other.
–  I am still largely digesting the flurry of activity from the Leafs, but by and large, the group feels a forward short. I can't get to three proper lines on paper. Ryan O'Reilly can carry a line on his own, but who are his linemates going to be? Alex Kerfoot and Noel Acciari? Maybe Calle Jarnkrok, but who goes into the top six then? Again, Kerfoot? Sam Lafferty and Zach Aston-Reese are really fourth-liners. They look to be one forward shy.
–  One Washington forward who is available and the Leafs actually offered a contract to before: Conor Sheary. The Leafs, of course, went after Erik Gustafsson instead, and then they went out of their way to acquire Luke Schenn for a third-round pick. It makes me wonder if there's still another shoe to drop on defense.
–  A few years ago, Kyle Dubas gave up a third-round pick for David Rittich and a fifth-round pick for Ben Hutton. Neither played in the playoffs and neither re-signed. It's possible he just doesn't care about shedding picks when he really wants depth for a playoff run.
–  The Leafs' win in Seattle improved Ilya Samsonov's road record to 5-5-1 and bumped his road save percentage up five percentage points to .904. I often think the home/road splits are more of an anomaly than an actual long-term issue of note, but within the confines of a season, I do think a goalie needs to prove he's able to steady the ship and break the trend at some point. Keefe made a note of the splits earlier in the season, mentioning a desire to get Samsonov going on the road and Matt Murray going at home. 
Samsonov was really good against the Kraken on the road on Sunday. Seattle was credited with 20 scoring chances in the game including a number of opportunities in the slot. He stood tall. Early on in the game, the Leafs were (strangely) a mess for the first five minutes, coughing the puck up repeatedly. They probably deserved to be down multiple goals at one point. It was a positive road performance for Samsonov to start the west coast trip.
–  It's worth noting that the best solution to boosting anyone's offense – getting John Tavares going, helping Ryan O'Reilly start hot, getting Auston Matthews scoring again – is to pair them with Mitch Marner. The list of players who have enjoyed career years alongside him is hilariously long: Tyler Bozak, JVR (in goals), Tavares, Matthews, Michael Bunting, and Alex Kerfoot, to name a few. It is amazing how much Marner can drive his lines off the wing and how even star centers are at their best with him rather than vice versa.
–  It was a really promising rookie season for Pontus Holmberg, but after a number of veteran additions, he's far removed from the roster and it's unlikely he plays in the playoffs. I think it's a good example of the growth of the organization.

The Leafs aren't counting on green players to contribute at playoff time. There was a lot of talk about Holmberg as a good 4C option for this spring only a month ago, and now his name is nowhere to be found.

For Homberg, it is important to build on his momentum from the NHL down on the farm. The Marlies are a good team this season. He could legitimately compete for an AHL championship. It's up to him to seize the opportunity.
Quotes
---
"That is what we have tried to do. There is no reason for us to really beat around it. We have wanted to become more competitive. Sam makes us faster as well up front while maintaining the group that we have. We didn't want to deplete from our actual prospects that are already in the system.

That has been the whole goal here. It is something we feel like we've needed in those big moments and we have maybe lacked a little bit of to push us over the top. The thing about all three of the forwards we have acquired is that they have also proven — Sam more so this year than in previous, but with Noel and Ryan — that they can score and they can score in tight to the net, where are going to have to find a way and haven't found a way in key moments in the past."

–  Kyle Dubas on changing the identity mix of the team

There are a lot of takeaways from this Kyle Dubas passage as it touches on points that have been debated in this market over the years: the need to get inside and drive the net as opposed to playing on the perimeter and then shrugging it off as the team getting "goalie'd" after another early playoff exit; needing more of the competitive drive to change momentum in games with players throughout the lineup who can impact a game instead of simply relying on the star players to do it all; the need for lineup versatility so that the coaching staff can shift things around rather than loading it up at the top of the lineup as their only answer.
The latter point includes the need to create a third line of consequence with players who have notable playoff experience/success. All we can ask is for Leafs brass to actually learn from their defeats. I think we are seeing evidence of this in many ways now. 
"I think he has adjusted well. Moving from center to wing is really not that big of a deal. I think we make a bigger deal of it than it really is.

We make a big deal of it with a guy who has played so long in the middle, of course, but in terms of the actual play and making the adjustment, probably the biggest thing is just accepting it and being in the right place mentally. Certainly, John has been right from the time I discussed it with him.

He just continues to play. He has fit in well with O'Reilly. He is going to the net. Pucks are getting there. He is as good as anybody in the league in that area."

– Sheldon Keefe on Tavares moving to the wing

He's right. Moving to the wing is easy. There is little responsibility involved in skating up and down the wall. Once inside the offensive zone, it is a free for all anyway. 
This is why it's important to stash centers on the wing. It's actually hard to play center; it is a difficult switch that many forwards can't pull off. The opposite is simply not the case.
"Throughout the game, obviously, it would have been nice to just shut the door and not let them get back into it. But, you know, a win is a win."

– Ryan O'Reilly after the game against Buffalo
I thought this little snippet showed the importance of Ryan O'Reilly's voice in the room. He scored a hat trick against his former team in Buffalo – mind you, it was basically a home game for the Leafs – but he lamented not properly holding onto the lead and locking the game down. A good mindset to impress upon the team.
Tweets of the Week
---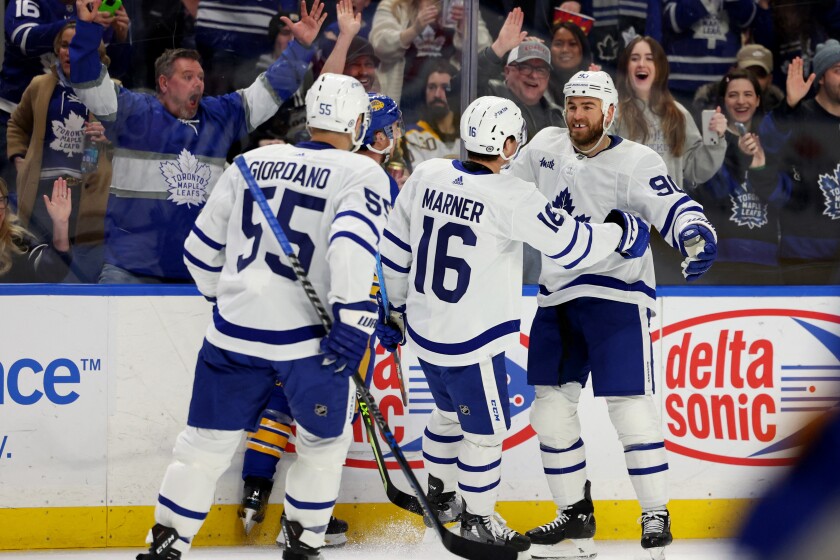 Can't remember a game the Leafs forwards (namely Ryan O'Reilly) spent so much time battling on top of the blue paint, really great for creating and wearing down opposing goalie. D haven't looked great, but have scored on the backs of that great F work.

— Justin Bourne (@jtbourne) February 27, 2023
This is noted above, but it is again worth repeating: Ryan O'Reilly drives the net hard. Dubas mentioned it in reference to Sam Lafferty, and Noel Acciari's whole game is built around going to the dirty areas. You won't appreciate it as much against the Leafs' February competition, but I think it'll be noteworthy against better teams, especially in the playoffs.
Best 19-year-old seasons in KHL history:

1. Kaprizov: 42 PTS, 49 GP
2. Kuznetsov: 41 PTS, 49 GP
3. Buchnevich: 30 PTS, 48 GP
*4. Grebyonkin: 26 PTS, 52 GP*
5. Filatov: 22 PTS, 26 GP
6. Kravtsov: 21 PTS, 50 GP
7. Panarin: 21 PTS, 40 GP
8. Tarasenko: 19 PTS, 42 GP

— Kyle Cushman (@Kyle_Cush) February 25, 2023
This is noteworthy, and it's another reason why the Leafs didn't dip into trading any prospects of note. They kept their top prospects, which are all closer to the NHL than any draft pick, even if it's the first round.
1-8 has Leafs-Bolts and Devils-Rangers too, as it stands https://t.co/1hzDUUcAyn

— Justin Cuthbert (@jccuthbert) February 27, 2023
It's just one of those years. Sometimes, one conference is simply significantly better than the other, and this year, it's the East.
Five Things I Think I'd Do
---
1.   I think it's very difficult to sort out the defense right now. Again, it seems like something has to give still. Did the Leafs acquire two defensemen to sit one or both plus another defenseman who has played all season to date? Morgan Rielly, TJ Brodie, Mark Giordano, and Jake McCabe are locks. Timothy Liljegren should be a lock, too. It would make sense for the Leafs to try McCabe – Brodie, Rielly – Schenn, Giordano – Liljegren.
Frankly, there are a number of pairing options that make sense, but sitting a number of players who should be regulars when the forward group looks a tad shallow seems a bit strange and imbalanced.
2.   Further to the above point, I think the Leafs need another forward, and I think this forward needs to be a legitimate top-nine option. Zach Aston-Reese, Sam Lafferty, Noel Acciari – and even David Kampf – are really better fourth-line options.
3.   Based on the current group, I think I'd probably keep the top two lines together for now and try out Kerfoot – Kampf – Jarnkrok followed by ZAR – Lafferty – Acciari. It's very obvious this bottom-six group still lacks some offensive punch and play-driving ability. 
4.   For the record, I think it was smart to start Ryan O'Reilly at 2C. For one, it helps get his confidence up. He was not enjoying a productive season – by his standards – on a struggling Blues team. Finding confidence early on with a new team can be critical – they have already built some of it back up, clearly.

They will also probably want to sign him beyond the season, and what kind of sales pitch would it be if he played strictly on the third line, where he would be asked to carry his linemates? They played him with star linemates right away and set up him to have some fun.

I am certain ROR will do whatever it takes to win no matter what, but the Leafs definitely want to make Toronto as attractive of a place to stick around as possible. I think they started on the right foot with this approach.
5.   I think it's noteworthy that the Leafs have a run of 10 games in 19 days in March. Unless they add a goalie, this will be the time for Matt Murray to get on some kind of roll and make a run at starting in the playoffs. As solid as Ilya Samsonov has been so far – and I would consider him the starter right this second – I don't think anything is even remotely set in stone in terms of who the game-one playoff starter is going to be.

Murray needs to start playing games (and playing well in those games, obviously). With a partner who is pushing him, Samsonov will have to perform well down the stretch. The competition is healthy.