The St. Pat's jerseys were on, Luke Schenn was welcomed home (with a big hit and a 'Luuuuuuke' chant to boot!), and the Maple Leafs played with some real purpose in this 5-2 win over Carolina.
Other than an injury to Noel Acciari, this was a great night for the Leafs. Let's hope Acciari is okay and that the Leafs continue to play with this kind of urgency and pace.
Your game in 10:
1.    The Leafs came out ready to go in this one, starting the game with a Noel Acciari-led line to get a forecheck going along with a Luke Schenn opening shift paired with Jake McCabe. The Leafs got the puck in deep before — as usual — Acciari finished a check. It was fitting when a few shifts later, a Zach Aston-Reese – David Kampf – Calle Jarnkrok line scored a goal.
Jarnkrok threw the puck on net and ZAR crashed the net, helping to create the space for the puck to go back to McCabe with some time. After McCabe curled and snapped the puck, it bounced back to Jarnkrok, who passed it off to Erik Gustafsson. The new Leaf made a really nice play at the point to freeze the checker, step around him, and shoot.
Gustafsson brings this kind of element, and it is one only two other Leafs defenders can really do in Morgan Rielly and Timothy Liljegren. He put a waist-high shot on the net for a tip that ZAR got his stick on.
ZACH ATTACK 💥 pic.twitter.com/Tsndpys0JZ

— Toronto Maple Leafs (@MapleLeafs) March 17, 2023
ZAR, who had only eight points to his name this season entering the game, was clearly fired up to score. He has done his job as a checker, but he has to contribute some offensively. Hopefully, this gives him a bit of a confidence boost — apparently, it did a little later on…
---
2.    The pace of the game was fast early on for both teams. Both teams created scoring chances; Carolina more off the rush, and the Leafs more off some zone play.  When the Leafs got their first chance off the rush, they buried it. That's where the scoring talent gap really shows.
John Tavares and Mitch Marner combined to win a battle on the wall just outside the Leafs' blue line. Marner fished it out and created a quick give-and-go with Michael Bunting before looking up and seeing Martin Necas was playing defense.
Marner skated right around him as if he didn't exist, walked down on a 2v1, and the Carolina goalie completely lost his net. It looked like he tried squaring up the shooter directly instead of angling his net, and Marner did what elite players do: identified the opening and burned him badly by ripping a puck off the post and in.
Up to his old tricks again 🪄 pic.twitter.com/gJakblx8Mw

— Toronto Maple Leafs (@MapleLeafs) March 17, 2023
That's 25 goals now this season for Marner, who should make a push for his second straight 30+ goal season.
---
3.    As Carolina created some chances early, Ilya Samsonov looked a little up and down to start the game. He tried catching a puck floating over his head while he was standing, and it bounced off of his glove and stayed in play.
Maybe it was a sign that he wasn't sharp early on; a few minutes later, Brady Skjei put a shot on net from the boards that was basically directed at the center of the net yet it squeaked through Samsonov to make it 2-1. There's not much else to say other than it was a shot the goalie has to save.
A few minutes later, it looked like Carolina was going to tie it after the puck took a weird bounce and sent Martin Necas on a clear-cut breakaway, but the puck rolled and Necas shot it six feet wide. The Marlies played at Scotiabank Arena earlier in the day, and the ice looked absolutely terrible for most of the night.
---
4.    The Leafs were not done scoring for the period. After Aston-Reese was boarded by Jordan Staal, the Leafs went to the power play against the second-ranked penalty kill with their best penalty-killing forward sitting in the box. They took advantage.
It was a bizarre sequence of events as Morgan Rielly was literally standing still in the neutral zone waiting to make the drop pass. It was an annoying-looking thing, and if it resulted in a turnover, you'd hear lots of complaints. Not only did it not turn over, but Rielly found an in-stride Matthews, who sliced through the neutral zone, passed it off to John Tavares on the wing, and drove the net.
I am not sure what Carolina was doing, but that one dump-off pass saw Tavares pick up the puck with all sorts of space to walk in, curl the puck, and shoot it. He hardly ever takes a shot off the rush on the power play, but he had so much space that he couldn't resist.
The bounce was obviously lucky — deflecting off the defender and then Matthews' knee into an empty net — but the breakout worked, resulting in a good scoring chance and a goal.
Guess you could call it a lucky bounce 😉🍀 pic.twitter.com/1C6Ckp2lDJ

— Toronto Maple Leafs (@MapleLeafs) March 17, 2023
---
5.    I usually avoid talking about the officiating, but I'd be remiss to leave out the events at the end of the first period. With the score at 3-1, Noel Acciari was clipped on the far side of the ice and was down hurt and bleeding. It's a high-sticking penalty with blood drawn, which can be discussed by the officials on the ice, especially when the play stops due to an injury. No call.
Sheldon Keefe was clearly pissed off — as he should be; it was important to protect/stand up for his player — and was visibly making a point of asking why the refs didn't even discuss it. 
On the very next shift, the Leafs put it in deep with 10 seconds left, and Calle Jarnkrok was interfered with on the forecheck, spinning him around. Again, it wasn't called, but as he continued skating toward the puck, he was forced into the goalie. Jarnkrok was called for goalie interference.
It was just an egregious series of events and definitely jaw-dropping enough to note here. Fortunately, nothing came from the Carolina power play. Keefe raced out before the start of the second period to further discuss it with the officials.
---
6.    The play in which Noel Acciari was hurt was clearly a missed call. A player getting injured in a game is not exactly uncommon, though, and for the second time in a few weeks, the Leafs dressed 11 and 7, a forward got hurt, and they were down to 10 forwards.
The first time it happened — against Vancouver — it was in the second half of a back-to-back. This time, it was in the first half of a back-to-back. This is obviously part of the risk involved in running 11 and 7, and it's asking a lot of the forwards in a busy schedule to take on even more.
---
7.    On the Hurricanes' power play to open the period, the best scoring chance went to Sam Lafferty, who went a 2v1, eventually kept it, and shot it. Again, the Canes goalie really lost his net on the sequence, and it did feel like Lafferty could have done better — in general, he has not been dangerous as a goal scorer as he has yet to score in eight games as a Leaf.
Shortly afterward, the Hurricanes went on another breakaway on a little give-and-go play, but Ilya Samsonov made his best save of the night, extending his pad and beating Sebastian Aho to the post to close off the space.
A little later on, Auston Matthews went through his own legs and put one off the goalie's helmet. It generally felt like the Leafs had the game in hand at this point; there was some trading of chances both ways, but the Leafs weren't ceding control and were able to create on their own.
---
8.   The Hurricanes strung together a few offensive-zone shifts and started to control play a bit, running some offense through their defensemen at the point and winning some races for pucks.
A Brent Burns point shot deflected, and the Canes won the race to keep possession before working it back to the top of the point to Teuvo Teravainen, who passed it off to Necas with all sorts of time and space to shoot it into the net.
The Alex Kerfoot – John Tavares – William Nylander trio was a bit lost in coverage on the play. Moments before the goal, we could see Leafs with two defensemen and Tavares in front covering two Canes players, leaving Necas all alone for an easy goal.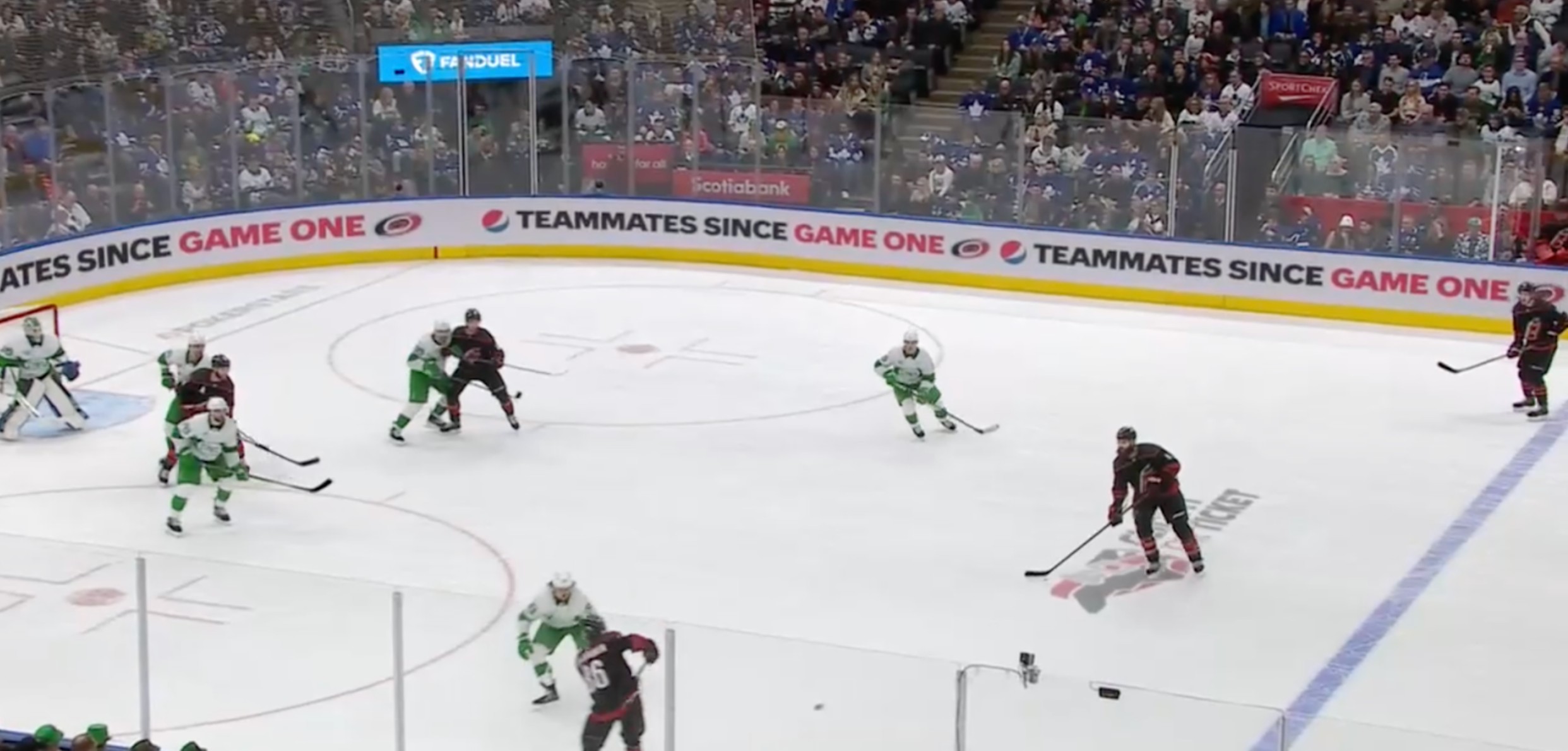 ---
9.   Make it 10 points for Zach Aston-Reese!
Timothy Liljegren won't receive much credit, but he stepped up in the neutral zone to prevent the Canes from walking right in and gaining the blue line. The little step-up caused a bad pass resulting in a turnover.
We could see where Sam Lafferty's speed pays off on this goal. A slower player doesn't pull away there, but he saw open ice and ran with it, racing in and making a skilled play by saucing a beautiful backdoor pass to a streaking ZAR, who looked like a real goal scorer making no mistake with his finish upstairs.
ON A PLATTER 🍽 pic.twitter.com/ZXGpI3Gt2l

— Toronto Maple Leafs (@MapleLeafs) March 18, 2023
While the overall points haven't been there, ZAR is up to seven goals now, which is two off his career high.
I thought the Leafs had trouble with Carolina's speed through the neutral zone all night, but one player who looked fast and made a difference with his speed on the Leafs' side was definitely Lafferty. He can fly out there and offers a bit of jam as well. If the production returns, he's going to be a really important player for them.
In the third period, Lafferty also contributed a big shot block while shorthanded. This was his best game as a Leaf so far.
---
10.    In the third period, Ilya Samsonov's game really settled in. While he wasn't called on to stand on his head, he made a number of good saves (and did benefit from a post on a Canes power play).
Before Carolina hit the post, Morgan Rielly scored a great goal that started from behind the Leafs' net. TJ Brodie made an outlet pass to Calle Jarnkrok, and Rielly ripped up the ice. All Jarnkrok needed to do was win a battle and chip it to him, which he did.
Jarnkrok is low-key really good at those kinds of little battles — winning pucks in tight spaces, getting low, and muscling opponents off the puck.
Rielly broke in and made no doubt on a 2v1 with Auston Matthews in which he kept it and ripped it up high.
Pyotr Kochetkov has put together a good season for Carolina, but the Leafs' shooters made him look silly and way out of his depth multiple times tonight. This was another example as Rielly peppered it short side over the shoulder and in.
No, that was Rielly gross 🤢 pic.twitter.com/DPNePP0mjN

— Toronto Maple Leafs (@MapleLeafs) March 18, 2023
That's now goals in back-to-back games for Rielly and four in his last 18 after not scoring his first 36 games of the season. It's the right time of the year to get hot.
---
Game Flow: 5v5 Shot Attempts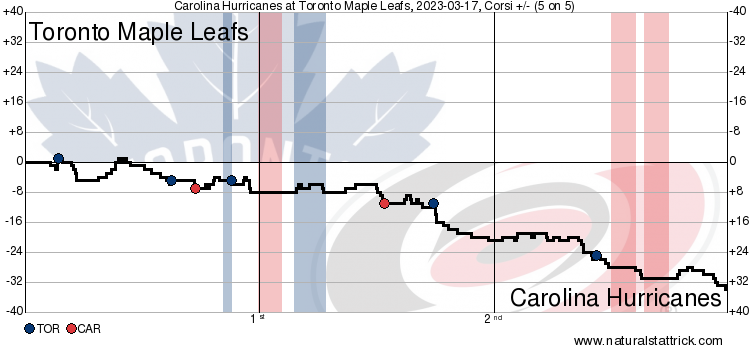 ---
Heat Map: 5v5 Shot Attempts