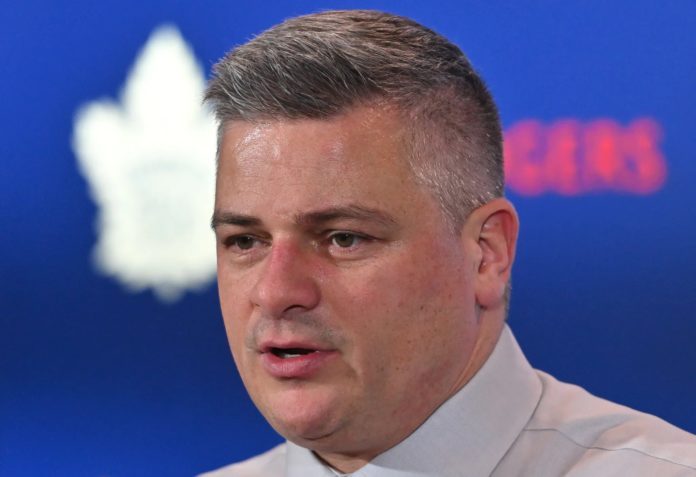 Sheldon Keefe addressed the media after his team's 3-2 overtime loss to the Florida Panthers which dropped the Leafs' record to 44-20-10.
---
On the team's performance:
I thought we played a good game. We didn't score enough to win. We made some mistakes at the end that cost us the extra point.
On the team's inability to find enough offense, including on the power play:
Whether it is power plays or some of the chances we had at five-on-five, we had opportunities to bury them and build a substantial lead.

We have seen this a lot. We let teams hang around, and they end up getting points from you.
On Ilya Samsonov's first game back after the birth of his son:
I thought he was good — really good. We don't help him with the first shot that he faced there. After that, we didn't give up a lot, but I thought they definitely had some looks. He looked sharp.
On his philosophy for defending 2-on-1s and if the defenseman should always take the pass away and leave the shot for the goalie:
I think it is play-specific and even sometimes player-specific. We have some guys that are extremely good at sliding and taking away a little bit of both, including the bottom half of the net to make it easier.

It is a tricky one. I have talked to 100 different coaches over the years. Everyone has a different opinion on it. What we have settled on is that it is very player specific. You have to read the handedness of the player. You have to read the timing of it.

In general, you want to prevent the pass from coming across, whether it is to take it away with the stick or to lay out. You want to help the goalie and make it a little bit simpler for him there.
On the difficulty of calling out the next line under 11 and 7:
With 11 guys, it is a little trickier, although, for the most part in the last chunk of time we have played with 11, the top two lines have remained the same, basically. That has remained standard — "John, your line," and, "Auston, your line."

Sometimes — a couple of times tonight — I put Bunts in Jarnkrok's spot. You call that out a little bit differently. It is a little bit unique in that sense, but within the 11, we have found a lot more consistency within the lines.

The top two lines are rarely broken up. You are just kind of moving around the other five. That is something that — as we have gone through it — we have found works better. We just try to keep things relatively normal for the top six.

The other five — especially when we have Acciari in — those guys are all interchangeable and all do a good job.

Credit to Simmer tonight, too. He has done a really good job — not only tonight but in each of the games we have had him in of late. That has made it easier.

It has really been a "top six and bottom five" kind of situation.
On what he has learned about himself when managing 11 and 7:
I have never done it this many games either in a row or over a period of time. I have learned a lot not so much about myself but more about handling this situation. I have never really been through it before.

I think we have found a greater rhythm with it as we have settled into pretty much leaving the top two lines the same. You are giving extra minutes to the bottom group that maybe would play a little bit less if there were 12 forwards. I think we are getting more out of those guys as well.
On whether he ever finds himself in a situation where he feels like he has a group of players on the ice that he doesn't want out there together:
No. I am better than that, Steve [Simmons].
On Zach Aston-Reese stepping up his play of late:
That is a good example of a guy who, since the trade deadline and in the times we went with 11 forwards, a guy like Aston-Reese is playing more. We have a bottom five instead of a bottom six. We are kind of moving those guys about.

He has gotten on the ice more. He has gotten into more of a rhythm. Also, I think as the trade deadline passes, a guy like him really settles in. We have been very clear with him about what our expectations are and what we need from him.

I think he has done a really nice job here over the course of the month of March. I have liked a lot of what he has given us.
On mixing Wayne Simmonds into the lineup:
He has worked extremely hard and stayed patient. He has been very professional about everything. To me, he has done a really good job in the minutes that he has gotten. He is very smart with the puck. He has put it in good spots.

Reeser gets the goal tonight, but Simmer is right there, too. He is involved with it. Even on the road, he has done a really good job for us.