On a night when the Maple Leafs and Lightning round-one playoff matchup was officially confirmed, Toronto put home-ice advantage more firmly in hand with a fairly nondescript 3-0 win over Ottawa.
Your game in 10:
1.   If you were told before the game Auston Matthews and Mitch Marner would be held scoreless and the top line would lose the shot-attempt battle in their matchup against Tim Stutzle's line by a count of 15-2 in unblocked shot attempts and 8-1 in shots at five-on-five, you might not have assumed a Leafs win was in the forecast.
Especially not after a first period in which the team generated a total of .15 expected goals as the recent trend of sleepwalking into games offensively continued in this contest — possibly a byproduct of the Leafs playing teams more desperate than them down the stretch.
---
2.   A great second period, sound structure defensively throughout, excellent goaltending from Ilya Samsonov, and a few depth contributions offensively ended up making the difference for the Leafs.
The middle frame has been a dominant period more often than not for the Leafs this season, and it was the difference-maker for them tonight. The Leafs upped their intensity, started stringing shifts together, and generated some opportunities on the interior of the offensive zone, out-chancing the Senators 10-4.
---
3.   The goal-scoring started with a much-needed goal from a much-needed goal scorer in Michael Bunting, who entered the game with one goal and three points in his last 10 games.
It was a bit of a broken play off of a looping puck that landed in the slot off of the glove of a Senator, but Bunting reacted nicely and finished well on the turn.
BIG MIKE RIPS IT HOME!! pic.twitter.com/Af97r7glh9

— Toronto Maple Leafs (@MapleLeafs) April 2, 2023
The Leafs' best configuration for the playoffs probably includes Bunting up on his familiar line and not down the lineup — which is why Sheldon Keefe continues to move him up within games — so getting his confidence going offensively in these final few games would be a highly welcome development.
---
4.   Starting to find his offensive rhythm at the right time of year amid a down season offensively, Alex Kerfoot made a great play to extend the Leafs' lead to 2-0 by batting a clearance attempt down along the wall in the offensive zone and picking out William Nylander at the back post.
Nylander did what elite finishers can do, even if the goal wasn't his prettiest or most memorable one of the year. He sorted out a pass that was into his feet very quickly to get it and off his stick before chance passed him by, finding a hole in the goaltender.
Make it 37 on the year for Will Ny! 😎 pic.twitter.com/WKV84ngPDK

— Toronto Maple Leafs (@MapleLeafs) April 2, 2023
Nylander entered the game with one goal and two points in his last eight, so it was a productive night of getting players off the schneid (to some degree).
---
5.   With a couple of minutes left in the middle frame, the Leafs put the game in hand with the 3-0 goal on a sequence where Jake McCabe showed nice composure with the puck at the offensive blue line to patiently wait for a passing option to open up rather than tossing it deep or throwing a puck at the net without traffic.
Radim Zohorna supplied said passing option immediately after coming off of the bench and finished nicely to the far post for his first as a Leaf in his first game as a Leaf and ninth NHL game of the year.
🚨 DEBUT GOAL!!!! 🚨 pic.twitter.com/XyRqia1HTX

— Toronto Maple Leafs (@MapleLeafs) April 2, 2023
McCabe was really solid all night advancing the puck up ice and continuing offensive sequences while giving up next to nothing defensively on his pairing with TJ Brodie, which continues to shine (one bad turnover vs. Florida aside). The pair allowed a total of one shot on goal in 11:12 of five-on-five ice time.
The duo is controlling over 60% of the shots, 57% of the expected goals, and has outscored the opposition 5-3 in 139 minutes together since the trade.
---
6.   Radim Zohorna could've made it a two-goal Leafs debut but was denied point-blank by Cam Talbot in the third period. That shift — Zohorna with David Kampf and Alex Kerfoot — came against the Stutzle line, and they kept Ottawa's top line hemmed in while nearly scoring.
Overall, it's hard to judge much of anything in 6:15 of ice time, but Zohorna put four shots on goal in just 10 shifts (on a night when the Leafs put just 20 on goal in total). The old Babcock adage of "6'6 every shift" comes to mind, and he has a little bit of skill to him.  Even if he isn't an overly mean player with his size, players that big with the ability to hold onto a puck are just tough to play against in general. 
As much as it perhaps felt harsh not to give Pontus Holmberg this game, he hasn't shined when thrown in over his last couple of callups, and it was good to take a look at what the organization has in Zohorna. He did nothing to dispel the idea he could take some shifts in a pinch.
---
7.   The question of how the Leafs would protect the lead against Ottawa this time around — after coughing it up two Saturdays ago — was front of mind, but it was a reasonably stress-free third period this time around.
The one slipup was Nylander's ill-timed penalty giving the Senators a two-minute lifeline back into the game, but the PK held on, and Ilya Samsonov remained very sharp when down a man. The Leafs spent a little too much time in their own zone for comfort in the last 8-9 minutes, but they protected the house pretty well late on and had a goaltender who wasn't going to be beaten tonight.
One of Samsonov's more noteworthy saves came when the Leafs were caught on a change for a Dylan Gambrell partial breakaway; Samsonov challenged him confidently, squared up, and took away the net for a key save with 14:50 left in the third. Another came in the final 10 minutes on Alex Debrincat after the Leafs failed to clear a puck twice and Debrincat ripped one at the far post from just inside the faceoff dot; Samsonov flashed the leather beautifully to keep it 3-0.
---
8.   There was a lot of line shuffling from Sheldon Keefe within the 11 and 7 tonight; the Leafs head coach mentioned after the game it was his plan going into the night to look at a lot of different combos, not to mention the Stutzle line having the run of things in the Matthews matchup.
One of the more interesting looks he threw out there was Mitch Marner with John Tavares and William Nylander in the third, which he followed up with Alex Kerfoot / Michael Bunting with Auston Matthews and Calle Jarnkork.
Keefe swapped Bunting onto the top line with Matthews and Jarnkrok, which he stuck with for another couple of shifts afterward. Marner, Tavares, and Nylander remained together for the shift where Nylander took the late penalty.
---
9.   Against a player (Brady Tkachuk) that's made life hard on Leafs goaltenders in this divisional rivalry since he entered the league, this kind of thing is really refreshing to see from Luke Schenn.
Luke Schenn boxing out Brady pic.twitter.com/3mYmYO5WTR

— Omar (@TicTacTOmar) April 2, 2023
Schenn also landed a couple of hits that stung Tkachuk, Stutzle, and others in this game.
Schenn has consistently landed in the 10-13 minute range when he's played this season, so it'll be interesting to see how Keefe balances the tradeoff of sprinkling this element into his lineup under a 7D setup — which also buttresses Timothy Liljegren's inexperience with the ability to control his minutes — versus the benefits of four full forward lines in the playoffs. It's questionable whether Keefe would suddenly trust Schenn to play 17-18 minutes in a 6D setup if he hasn't done it in the regular season at any point.
---
10.   What was safe to bet on basically as far back as American Thanksgiving is now official as of tonight: Leafs vs. Tampa in round one.
It felt like the Lightning's recent slump was timed just a bit too early to be ideal. Sure enough, they've now rattled off 4-0, 5-1, and 5-0 wins consecutively (including victories against Carolina and the Islanders), and they are healthy. The Leafs, for their part, are getting healthy (knock wood), and while they're not playing totally lights out, they're doing a good job of not easing off the pedal down the stretch.
In terms of tonight's game, it felt like Ilya Samsonov added the exclamation point at the end of the sentence that states he's the team's game-one starter when TB vs. TOR finally kicks off in a few weeks' time.
---
Heat Map: 5v5 Shot Attempts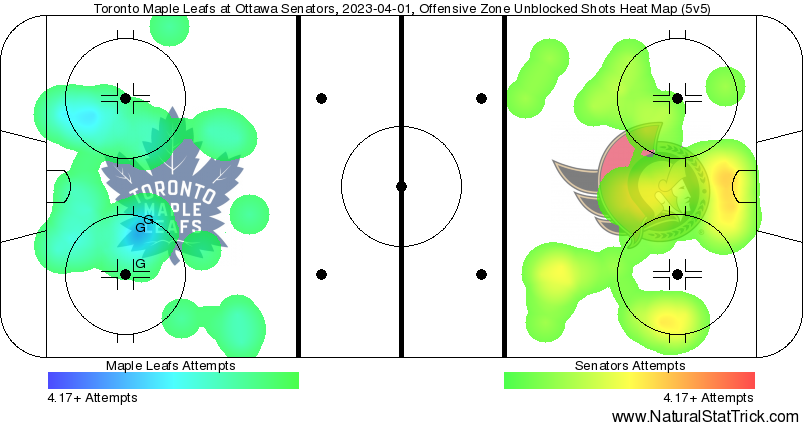 ---
Game Flow: 5v5 Shot Attempts