We all knew the Maple Leafs were going to play the Lightning again in round one of the playoffs as far back as November, but it's now official, and the only part left to confirm is home-ice advantage (it's worth pointing out that the Lightning have won three straight games).
Now that we are in April and two weeks out from the playoffs, it's time to start looking ahead to the matchup. We can start by looking backward.
The most significant focus for me will be the Lightning defense. This was the blue line Tampa trotted out for Game 7 last year:
Victor Hedman – Erik Cernak
Ryan McDonagh – Zach Bogosian
Mikhail Sergachev – Cal Foote
Of note: Sergachev and McDonagh played together quite a bit in that series.
Entering their most recent game, Tampa ran this group of six on defense:
Victor Hedman – Nick Perbix
Mikhail Sergachev – Darren Raddysh
Ian Cole – Erik Cernak
It should also be noted that Sergachev left their recent game against the Islanders with an injury and did not return. Also noteworthy is that Bogosian started as a scratch last year against the Leafs, but he entered the lineup after Game 1 and never left.
Tampa is still a very good team, but this is not the same group. Their defense is vulnerable, and to mitigate that vulnerability, they have spread out Hedman, Sergachev, and Cernak across three different pairings.
Hedman's two most common defense partners this season are Perbix and Bogosian, and he has been out-chanced and is below water in expected goals alongside both. Hedman is also in the midst of his least productive season since 2015-16. He's still a very good player – and he'll find another level come playoff time – but he's been asked to carry defensemen who are playing much higher in the lineup than they should be.
To that end, last playoff, the Lightning started with Hedman next to Jan Rutta in the first game. Rutta never played another game in the series. Afterward, they reunited Hedman-Cernak, who played the majority of their minutes against the Matthews – Marner line.
In the other matchup, this meant that the two defensemen John Tavares played against the most at five-on-five were Ryan McDonagh followed by Sergachev.
The subtraction of McDonagh – a veteran all-star and legitimate playoff warrior – with no suitable replacement changes the picture notably.
Perbix and Raddysh have 80 NHL games played between them. Both have flashed promise this season – and I don't want to write off either – but stepping right into the playoffs, even though they are both in their mid-20s, is a big ask, especially against a high-powered offense like the Leafs'. Ian Cole, for his part, has generally been a solid third-pairing defenseman and has won two Cups with the Pittsburgh Penguins while playing in every game.
This season, the Lightning rank 13th in goals against per game compared to sixth last year. They also rank 13th in expected goals against per 60 this season.
Their forwards at the top of their lineup are good enough to cover up at least some of the lack of depth on their defense, and their goaltender is capable of winning a series all on his own.
However, the Leafs have the depth at forward to really make life uncomfortable for Tampa's defense.
How will Sheldon Keefe play the matchup game?
When the Leafs load up at the top of the lineup – as they have of late – it likely plays into Tampa's hands. They can reunite Hedman – Cernak to play against the Matthews – Marner duo as they did last playoffs; Hedman drew even against the Leafs' top line in terms of goals for/against.
What would happen in behind that matchup? The Tavares – Nylander duo would see a lot of Sergachev and Nick Perbix (who Sergachev has played with the most this season) or possibly Bogosian. It might sound tempting on paper, but the Tavares – Nylander duo doesn't exactly light it up together, and Tampa can deploy centerman Anthony Cirelli head-to-head in that role.
Would ROR feature on the second line? They would need to feast against that Tampa five-man unit to make it worthwhile, and it's a bit of an awkward line on paper – one we've never seen together, and one that would feature two players who are not exactly fleet of foot alongside a burner in Nylander.
On the flip side, if the Leafs spread out the wealth up front, the matchups for Tampa become a lot tougher to sort through due to the number of options at Toronto's disposal.
The Bunting – Matthews – Nylander trio was excellent for a large chunk of this season. If they are reunited, it's likely that Hedman would draw that matchup, but with Marner on the other line alongside Tavares and possibly ROR, would Tampa dare unite Hedman with Cernak and leave Sergachev alongside Bogosian/Perbix to play against that Marner-led line? It would play into the Leafs' hands match-up-wise.
At five-on-five, the possession numbers sway one way, but the goal outputs swing the other:
| 5v5 | CF% | FF% | xGF% | GF% |
| --- | --- | --- | --- | --- |
| Matthews - Nylander | 51.75 | 54.83 | 56.56 | 74.51 |
| Matthews - Marner | 56.9 | 56.23 | 58.92 | 61.22 |
| Tavares - Nylander | 53.26 | 53.28 | 54.17 | 44.74 |
| Tavares - Marner | 51.68 | 51.20 | 52.11 | 65.22 |
These are problems that the Leafs' coaching staff will likely have to sort through as the playoff series unfolds. It would be shocking if they set their lines in the first game and made no subsequent adjustments. 
As we saw last year, Jon Cooper will also shift things around, but this is a matchup that Leafs should enter feeling as though there's a good chance to flip last year's script.
Quotes
---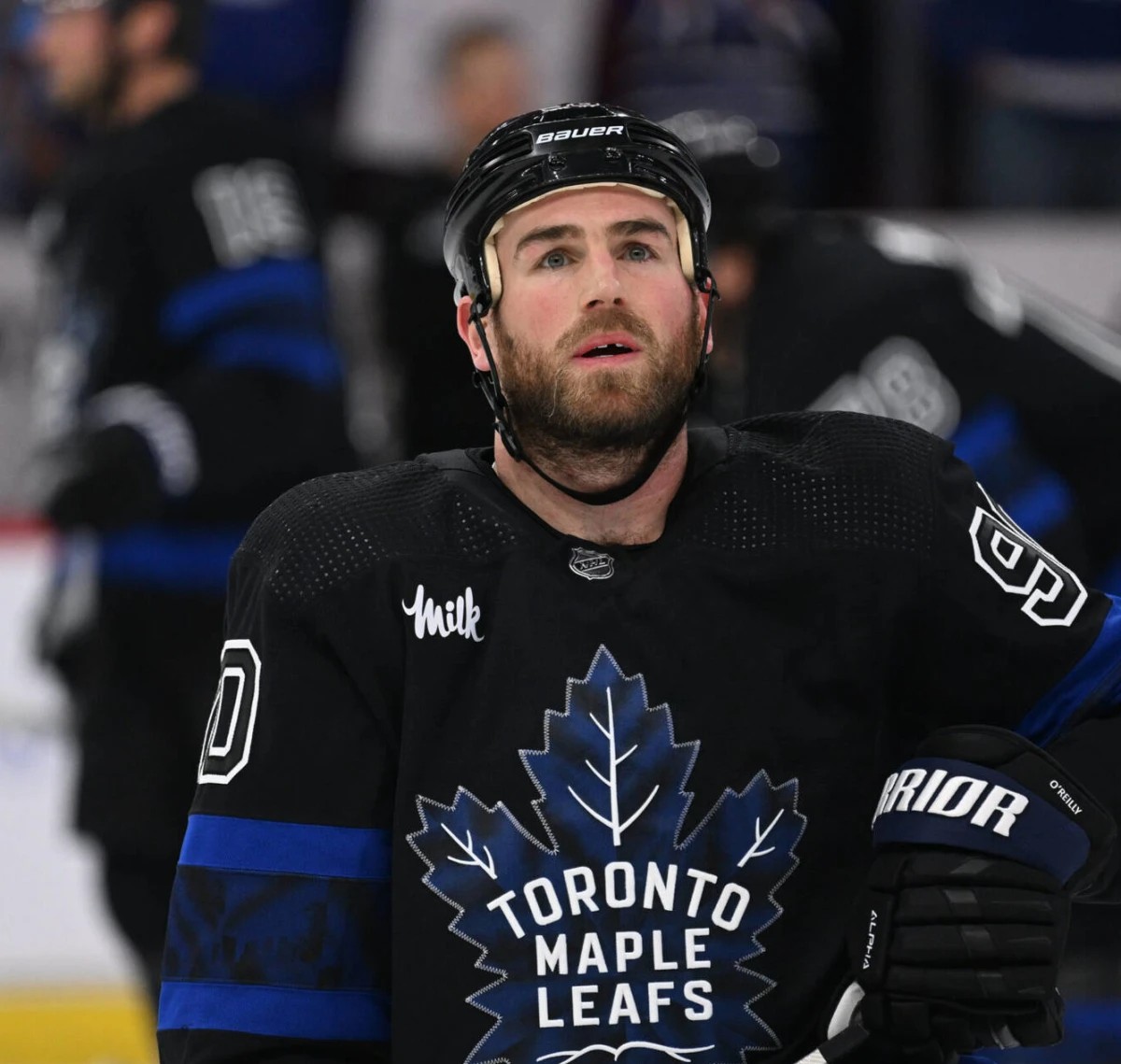 "The shooting and passing feel great. It is just the other stuff — the stick battles and all of that, and just being able to trust that it's 100% strong in that.

Again, that is going to come. It is progressing. I feel like I could push it harder, but there is no point. We just have to be smart with it and make sure it heals the right way. It will help me down the road."

– Ryan O'Reilly
The right approach is to obviously rest up Ryan O'Reilly and get him ready for the playoffs. It's important to get into a few games before the season ends for a few reasons, though. 
The first is to get his legs underneath him, which is part of preparing for the playoffs. The second is a combination of setting the lineup and/or trying out some lineup configurations while there are still games to play with.
"I just got to stay positive. I was getting a little irritated at myself, but it's all going to work out in the end. I just got to work hard and that stuff will come"

– William Nylander on his play of late
William Nylander finished March with 10 points in 16 games, which isn't bad but is below his regular-season pace. John Tavares finished with 15 points in 15 games, nine of which came on the power play. 
They largely played together through March as Matthews and Marner were reunited. While there are some mitigating factors, Tavares was -10 in just 15 games and Nylander was -9.
Over the whole season, the duo has been outscored 17-21 at 5v5, although their shot share, scoring chance, and expected goal numbers are on the right side of 50%.
Last season was the same story – generally ahead in the underlying numbers, outscored 35-43 in actual goals. Ultimately, they have been outscored in three of the last four seasons, and the only one in which they weren't was the Canadian division year.
At some point, it's not bad luck. It just is what it is. The coaching staff shelters them and gives them offensive opportunities, so they should be grading out well, but when the puck is in their end, it generally does not go well for them. 
"They're good. They're still finding their way.

We have gone with McCabe and Brodie for a good chunk of time now, and the same with Gio and Holl, who have played together a lot in the last couple of seasons. Rielly and Schenn is the newest one.

Schenn is kind of sharing shifts with Liljegren, so that is the one that hasn't had as much time, but I see it coming together. I thought Mo had some really good moments in the game today activating and being involved in the offense. He broke up plays defensively.

Schenn is doing his thing as well, being physical and advancing the puck. To that end, I thought it was good. They played some tough shifts against their top line, which was a real handful for us tonight. You can see it coming together. I like that."

– Sheldon Keefe on the Morgan Rielly – Luke Schenn pairing
This sounds to me like Keefe is outlining the starting six on defense for the playoffs.
Tweets of the Week
---
Career goal differential at 3v3:

Brodie 8
Nylander 3
Liljegren 2
Matthews 1
Jarnkrok 1
Holl 1
Giordano 0
O'Reilly 0
Lafferty 0
Kampf -1
Acciari -1
Kerfoot -2
McCabe -2
Bunting -2
Gustafsson -3
Rielly -6
Marner -7
Tavares -7

— Kevin Papetti (@KPapetti) March 30, 2023
Ultimately, 3v3 is about puck management and speed, and a number of the Leafs' top players just haven't adjusted particularly well.
Some bad luck is also involved. It looked like Auston Matthews was going to end the game in overtime against the Panthers, but it just didn't fall.
Ultimately, there's no 3v3 in the playoffs, and it's not really impacting their place in the standings unless they lose home ice down the stretch, but it's something to remember for future seasons (not that anyone cares about that right now).
TOR and TBL have been matched up with each other as projected playoff opponents every day since 11/27. That's 126 days, 52 Leafs games, 57 Lightning games without any change in projected opponent, plus 7 TOR and 5 TBL more to go. 75% of the season with the same Round 1 opponent. https://t.co/cm1geWYjLu

— Jeff Veillette (@JeffVeillette) April 2, 2023
Right now, the Leafs should be battling for a top-three seed in the East. They are neck-and-neck with the Rangers for what would be fourth place right now. This would be compelling stuff down the stretch and fans would hang on every point.
Instead, we're watching the Leafs sit a number of key contributors. When John Tavares makes a poor play on the breakout and the Red Wings score, they show Keefe on the bench slow burning, but in terms of the standings, it means little. How much can you really say?
Congratulations to the @TorontoMarlies who have clinched the North Division title! pic.twitter.com/NEfIWzb4Lg

— American Hockey League (@TheAHL) April 2, 2023
From missing the playoffs to winning the division is a great accomplishment.
Five Things I Think I'd Do
---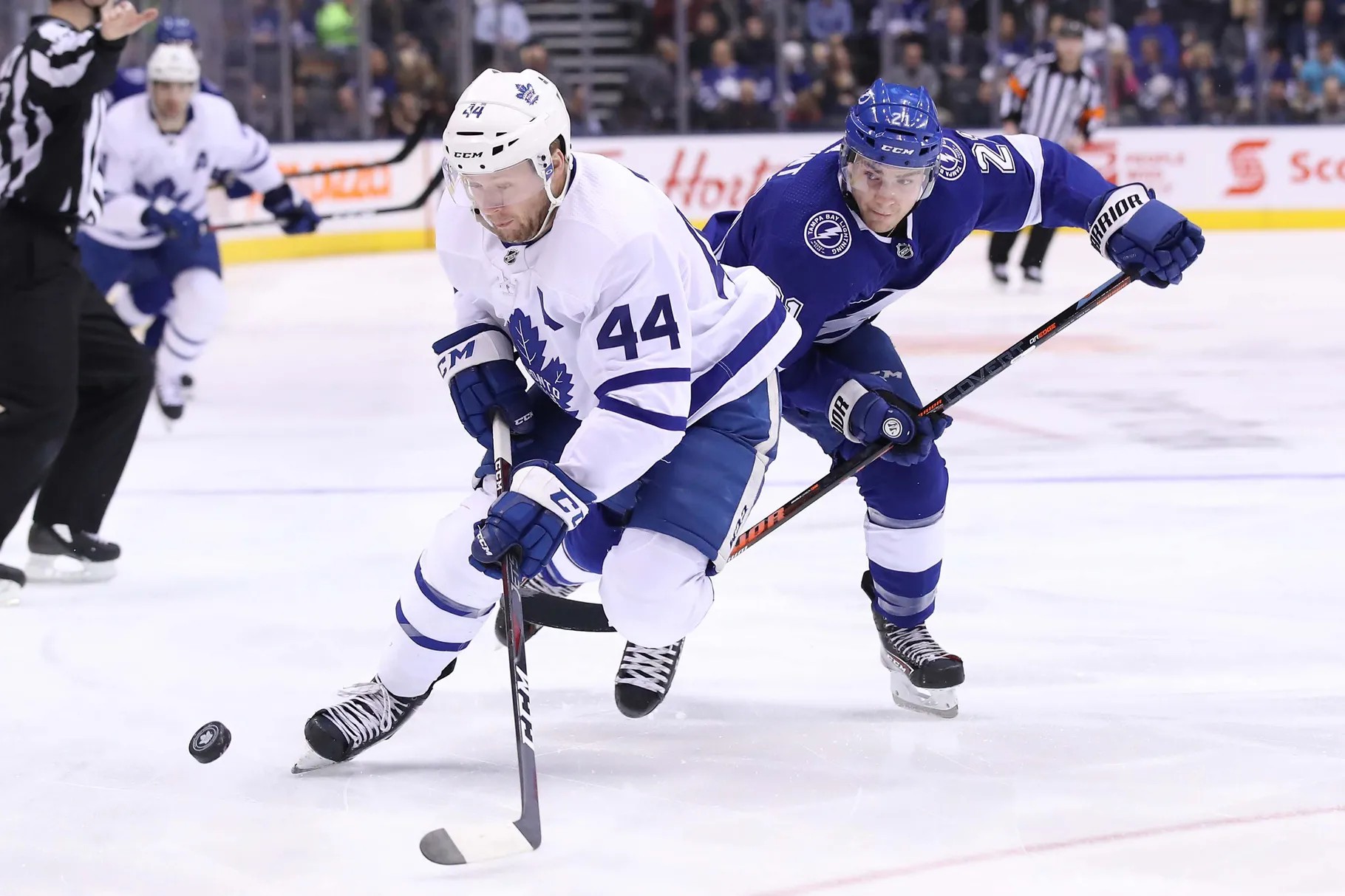 1.   At this point, I think the only real decision left for the Leafs on defense is whether it's Luke Schenn or Timothy Liljegren pairing up with Morgan Rielly for the first game. The other two pairings (McCabe – Brodie, Giordano – Holl) appear to be set, although I do find it strange how they are using and viewing Rielly considering they paid him the big bucks last year.

Against the Habs in the playoffs, Rielly played with TJ Brodie ( they were good and did not get scored against on 5v5), but otherwise, his partners have been Ilya Lyubushkin, Cody Ceci, and Ron Hainsey. He'll still get big minutes – as he did last playoffs – but those pairings are a bit bizarre considering how highly they regard Rielly.
2.  To this point, I think Sam Lafferty hasn't shown much to say he should be in the top nine when Ryan O'Reilly returns. He has some nice wheels and will finish some hits, but there has been almost no offense or much ability to create offense outside of the odd time he's able to burn someone wide.

That might mean Noel Acciari, who can actually score a bit, moves up to the third line. It might be worth pairing up Zach Aston-Reese and Lafferty more to see how they fare together. 
3.   I think Calle Jarnkrok has been solid up the lineup and is a nice complementary player, but some shiny new toy syndrome is happening here. Michael Bunting's career points per game rate is higher than Jarnkrok's best season. Bunting is a craftier offensive player who – while also a complementary player – offers a bit more offensively.

The extra bit of scoring punch would be a priority to start games for me. Moving Jarnkrok up there when protecting a lead would make more sense.
4.   I think it was already obvious, but the Game 1 starter at this point is Ilya Samsonov. I would plan to give him at least three of the final six games to help keep him sharp while staying mindful of not overworking him too much.

With playoffs starting April 17 at the earliest, it would mean just three games in two weeks, which isn't a lot. On the other side, it's also fair to get Joseph Woll into more games to continue evaluating him.
5.   I think the healthy scratches are commendable and should continue on rotation throughout the rest of the season. Playing Mark Giordano all season never made any sense. Sitting players with some notable bumps and bruises – as Mitch Marner did – also makes complete sense.

I'd like to see the full forward group together in at least two of the last six games, but that doesn't mean the Leafs can't rest defensemen in the process. Last year, the Leafs went 11-2-2 in April while Tampa Bay went 9-5-2. We all know what happened in the playoffs.

It's the time to rest players, re-introduce Ryan O'Reilly into the lineup, and get ready for the postseason.