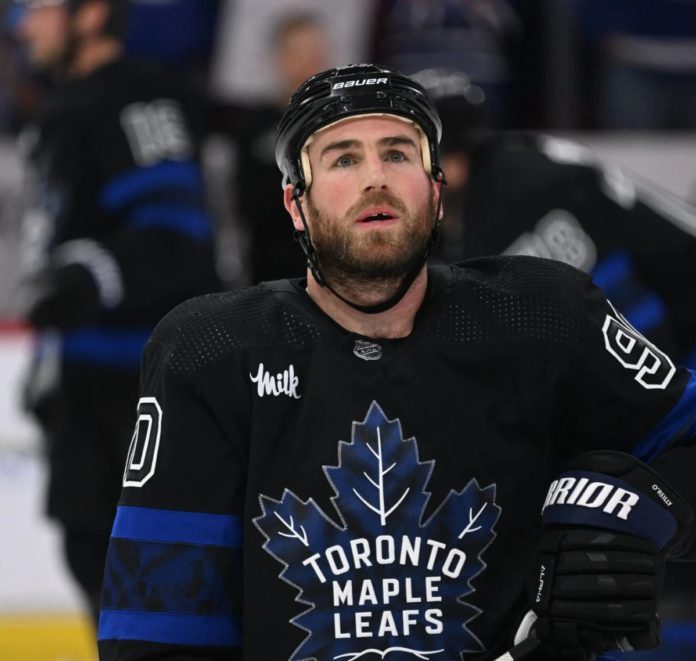 Ryan O'Reilly met with the media to discuss his return to the lineup on Thursday night in Boston.
---
How did it feel getting back into full practice knowing tomorrow is looking like a go for a return?
O'Reilly: It looks like I am going to play, which is nice. Hopefully, there are no setbacks between now and tomorrow.
It feels great. I practiced today fully. I didn't even notice it. I was into the full thing. It feels 100%.
It will be nice to get back into it. I have five games to tune up here and get ready for playoffs. I am excited to be back.
Are you going to have to do anything different for the finger in terms of taping it together or a special glove?
O'Reilly: It is just buddy tape to keep the flexion with it. I didn't feel anything in the stick battles and such. It feels 100%. Hopefully, it stays that way.
Are faceoffs a question mark at all?
O'Reilly: Nope, I feel great. I don't know if it will be a full load of faceoffs tomorrow, but it is feeling good and I expect to.
During the injury, you have been able to skate. Are the legs feeling pretty good?
O'Reilly: It is actually great with the development staff they have here with the skills coaches working with the team and skating. I think it has helped a lot to be able to do that. For a while there, I wasn't handling pucks, but being able to work on my skating and stay in shape, it's been great that way.
How challenging was it from a mental standpoint to get here with all the excitement about the trade, and as you just get going, you are out of the lineup for a month?
O'Reilly: At first, it is obviously extremely frustrating. I didn't know how long I'd be out. It could've been worse. I could've missed the playoffs.
To come back and get a few games in before, you have to look at the positive side of it. I am excited to be back now.
What kind of potential do you see for your line with Alex Kerfoot and Noel Acciari in tomorrow's game?
O'Reilly: We all know how good Boston is. It is going to be a good challenge for us. I think we have to lead the way in the sense of being a hard line to play against and making it difficult for those guys.
[Acciari and I] played together a few times [in St. Louis]. We've penalty killed together. We know each other very well. I think it is nice to know what he brings to the table with his intensity, his work ethic every shift, and his physicality. That's something we want to bring as a line — be physical, be a good forechecking line, and create offense from that.
[Kerfoot] is a great skater with speed. He's really smart out there. I think we want to establish ourselves with good forechecking and build offensive play from that. He's a really good player. I think we can create a lot together.
How have you found the process of establishing a rhythm with different guys with the limited number of games so far due to the injury?
O'Reilly: I haven't played a ton. One of the good things about being out is that it gives you the ability to take a step back, watch everybody — see their details, how they play — and understand their game more. That kind of helps going forward here.
There is great depth here. With the smarts and how guys work, it makes it easy to jump in and play with anyone, really.
What are you seeing from the Bruins that has allowed them to be so consistent?
O'Reilly: They have been the best team in hockey. You can see the results and points that they have. It is a good test and a good first game for myself going right into the fire here.
They play a smart game. They work. They're detailed… They don't deviate. They stick to their structure and they're consistent with it.
It is a lesson for ourselves. It will be good playing them. It is going to be tight-checking. It is going to be physical. It's going to have a playoff feel to it.
You were working with the power play at the end of practice. What's the feeling like in the middle of the setup with the second group?
O'Reilly: I have been on before earlier in the year with them. I like it. It is nice to get some good reps in there.
It is a good unit. Depending on the time you get, we have to be more of a direct unit — shoot the puck, win battles, and go from there.
Why are you always out there so late as the last guy off every practice?
O'Reilly: Just trying to find it and get my touches in. You have to use the time you have to kind of tweak things and get ready. I try to stay out there for a bit and tweak my game any way I can.
How long do you think it takes to find your touch again?
O'Reilly: Coming off of the injury, it is tough. Even in the practices, it is tough to replicate a game with the timing. Hopefully, I can find it as quickly as I want to. The speed of the game, the physicality, and being able to maneuver around that — it will take a game of feeling it out.
Working with the team here, my hands and feet feel great. It is just incorporating it now into the games.
Who gave you the nickname The Factor?
O'Reilly: It goes way back to Colorado. I think it was either Paul Stastny or John-Michael Liles. That was when The O'Reilly Factor tv show was out there. They started calling me The Factor, and it kind of stuck.