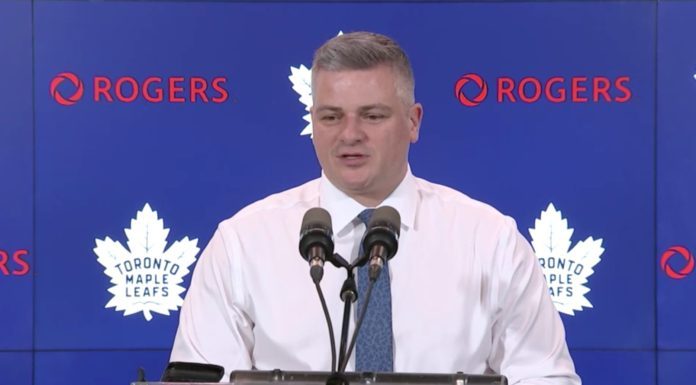 Sheldon Keefe addressed the media after his team's 4-2 win over the Columbus Blue Jackets which improved the Leafs' record to 46-21-10.
---
On the contributions of the bottom six:
It is what you need. Those guys — the Aston-Reese, Kampf, and Lafferty line — were great all night long.

It was great to see them rewarded in a game like this. When you have really good habits and details, things tend to go your way. It was great to see that. Those guys have really been working.
On the Nylander – Tavares – Marner line:
It is a tricky game, right? We have the puck a lot. Obviously, they couldn't get one to fall for them.

I thought they were good. I thought we had a good flow with all of our lines tonight.
On Joseph Woll's performance:
I thought he was good. He fell down and caught an edge on the first goal. He put himself in a tough spot there, of course.

In the second period, there was more action for him. I thought he was really good there. He held them off the sheet.

At the end of the game, he keeps them at two. When that is the case, we are going to win a lot.
On the encouraging signs in Woll's play for the long-term big picture:
He should be confident. He's played really well for us. The last time we played Columbus was probably one of the games he would want back that he has played here. A bit of a do-over is a good thing for him.

He has played well. We have lots of confidence in him. He has been a dominant goaltender at the AHL level this season. He has played well when he is here.

Curtis [Sanford] loves working with him. His talent, work ethic, his athleticism — there is a lot there. He comes in, he's pretty even-keeled, and he goes to work. It was great.
On Zach Aston-Reese's uptick in play and production in the last couple of weeks:
I would say it has been more than a couple of weeks. He has been excellent, I would say, from the trade deadline and maybe even a week or two before the trade deadline. He has really settled in.

He has played a lot of time with Kampf. The guys have really had some great chemistry. They are talking a lot. They know what the expectation is and what we need from them.

He has scored some good goals for us which has got his confidence going offensively. He is scoring the right kind of goals for a guy like him. He is not getting odd-man rushes or anything like this. He is working for it. He is around the net, whether it is pucks hitting him, him tipping it, or finding pucks in the slot.

It is all coming from a really good process of working hard, being above the puck, being physical, and all the while giving up almost nothing defensively. We have really liked that pairing. We have used Acciari there. We have used Lafferty there.

We have gone 11 and 7, and things have moved around a bunch. Those guys — Kampf and Aston-Reese — have been excellent no matter who we have played them with. Lafferty has fit in really well. I thought that line was terrific tonight.
On the role of the depth lines within 12 and 6 vs. 11 and 7:
We have talked about it before. For the last few weeks especially, any time we have gone with 11 forwards, we have gone with a top six and a bottom five that has kind of moved around. It is giving those guys more ice time. I think that is part of it, too.

Aston-Reese, Kampf, and these guys are out there a lot more. They are moving a lot more. They are excited by it. They are getting more ice time. They are wanting to do well for the team and for the coach so they can get back out there.

Having the 11 and 7 has really helped those guys. Early on, we were going in and trying to get more ice time and matchups for the top guys. We have sort of flipped that in the last few weeks. We settled on the top two groups, and they have played together pretty consistently except for a game here or there or a circumstance here or there.

For the most part, we have tried to give more ice time to the bottom six. Guys like that have benefited from it.
On the growth in Nick Abruzzese's game this season versus last:
To me, he looks quicker. He certainly looks a lot more confident and assertive with the puck. He has shown in the two games that he has played here that if he gets the puck in a good spot, he is going to make a play on it. He is confident and plays with his head up.

The play he made at the tail-end of the power play against Detroit is an elite play. It is a very, very headsy play to set up the Jarnkrok goal.

Tonight, he put himself in a good spot to give the puck and be prepared to get it back. He gets a shot off. It was a good sequence there in terms of Kampf and him playing off of each other and Kerfoot following it up.

I have seen some growth there for sure. They have been thrilled with him with the Marlies. He has been a very consistent player there. It has been nice for us to get him up here and give him the reward of getting some games.
On the team's play at 6-on-5 late in the game protecting the lead:
We would've liked to have relieved some pressure there as we didn't get a line change, but I liked that the guys just stuck with it with the structure. Acciari blocked a couple in there. There was enough gas in the tank to win a loose-puck battle, and then Auston made no mistake icing the game.

That is what you are looking for. Some of those situations haven't gone our way of late. It is good to have a game end that way.

It is a challenging game tonight, right? We have the puck a lot. We get lots of shots and chances, and yet it is a close game. You still have to be really smart and really disciplined defensively.

Ultimately, this is really kind of a perfect game for us in a lot of ways. We had the puck a lot. We were in control of the game, and yet it is keeping us honest and playing with the mindset that is going to be required the rest of the way.