A fantastic hockey game by both teams.
Great goaltending at both ends. Dialed-in penalty killing both ways. Evenly-played, tight-checking, playoff-style hockey at five-on-five.
But you're not beating the Bruins — in Boston — by scoring one goal.

Your game in 10:
1.   It was foreseeable that the Leafs would need to survive an early push from Boston out of the gates of this game as the team recalibrated to the massive step up in the quality of the opposition and competitive intensity following nothing games against the likes of Detroit and Columbus. It felt like the realistic outlook for a matchup like this at this stage in the schedule on the road in Boston, with the Bruins chasing league history and the Leafs coming off of games with little competitive juice against non-playoff opponents.
That's what transpired in the first 10 minutes or so. The encouraging part was that the Leafs' bend-but-don't-break defense didn't break, and Toronto didn't give up much in the way of true grade-A chances before finding their way into the contest.
---
2.     From there, this game was incredibly tight with the Leafs carrying a slight edge in the overall run of play. As the Leafs trudge through the final portion of the schedule hoping to avoid injury more than anything else, it was a breath of fresh air to watch these teams battle tonight. The lack of goals didn't detract from the viewing pleasure one bit.
There were so many intensely-contested puck battles and such committed and organized defending through the neutral and defensive zones from both clubs. Each team would string together sequences of three or four touches only to run into the next layer of the opposition's defense that would negate the telling final play. That characterized much of the night in addition to excellent penalty killing and goaltending from both sides.
By no means have the Leafs looked like they aren't in there shot-for-shot with the Bruins during this four-game season series, even though it ended 1-2-1. They edged them in shot attempts, scoring chances, and expected goals at five-on-five. Three of the four games were decided by one goal.
---
3.   He didn't hit the ground running with the team as quickly as Noel Acciari did, but Sam Lafferty is really coming on strong now and seems to have found a home on a line with David Kampf and Zach Aston-Reese.
Starts with Laffs
Ends with Laffs! pic.twitter.com/RWKhbxfBOj

— Toronto Maple Leafs (@MapleLeafs) April 7, 2023
Lafferty gave the Leafs a lot of good shifts using his foot speed and non-stop motor to check back hard, win battles defensively, hound pucks/finish checks on the forecheck, and transition the puck onto offense. His hard hit on Matt Grzelcyk and subsequent scrap drew a Leafs power play tonight.
The fourth line had the first positive offensive-zone shift of the first period for the team, scored their only goal in the second period to make it 1-0, and after the Leafs were unsuccessful on a third-period power play — which felt like a potential momentum-swinging moment — the fourth line generated a strong offensive-zone shift that hemmed in David Pastrnak's line and forced an icing.
It's one thing to look good against Columbus and Detroit, but it is quite another to earn 13 minutes of ice time on the road in Boston and score the team's only goal while generating momentum swings, stem-the-bleeding shifts (including right after Boston's 1-1 goal), and drawing a penalty.
---
4.     Not to belabour the point, but this is potentially a really important development underway for the Leafs — a fourth line is materializing with a clear identity, one that is impacting the game positively game after game of late as the playoffs near.
Neither teams' stars could find much more than a handful of half-chances throughout this game tonight. As much as you'd love to see the Leafs take advantage of one of their three power plays or grab a difference-making goal somewhere from the top of the lineup, a lot of playoff series between elite teams end up in roughly a saw-off between the respective star talent, and depth contributions end up making the difference on the margins.
No better example than last year versus Tampa when the Leafs received more than solid contributions from their top-six group and lacked the credible scoring depth behind them en route to a tough loss in a toss-up series.
Past postseasons for the Leafs have mostly been about hoping something magically comes together with fourth lines that have strange (borderline incoherent) compositions, and it's always ended in them becoming an afterthought/barely playing as the series wears on. This fourth line appears to be earning actual trust from Keefe, who started them — on the road in the toughest building in the league — for the opening faceoff and again to start the third period in a 1-0 game as well as after Boston's 1-1 goal.
Even when they're not scoring (which they're doing a fair bit of lately), in terms of leaving the game in a better place for the next line over the boards, they've been pretty consistently generating momentum in that regard.
---
5.   It was a great night for the Leafs PK (four for four), which largely owned the Bruins power play in the season series (nine for 10).
The Leafs were excellent as a collective four-man unit at denying the line, preventing setups, winning the trench battles, and making sure of their clearances down the rink. But Justin Holl deserves an individual shoutout tonight — if you were watching the number of dangerous plays he cut out, clearances he made, times he filled the shooting lane effectively, and the hits he took to get pucks out while shorthanded, you started to lose count.
---
6.   Another encouraging sign from the game was the Leafs' response once Boston made it 1-1. We saw a similar scenario play out the last time the Leafs were in Boston with the game tied in the third. The Leafs were a little rattled as the Bruins pushed, turned some pucks over, and Boston showed their killer instinct by tilting the ice on them and scoring the game-winner before the end of regulation.
This time, the response was completely different. The Leafs reacted well and started to tilt the ice back, and at one point (with a minute and change to go) Auston Matthews stepped over the boards and nearly won the game on his own through sheer determination to win a puck battle and take it hard to the net.
---
7.     It is important to note the Nylander – Tavares – Marner line took on quite a bit of the Bergeron and Marchand matchup at five-on-five with great underlying numbers in those minutes. That said, if there is a (minor) concern for me, it's how long William Nylander's "dip" is starting to linger at the wrong time of year (one point in seven games, three in his last 11).
More than the production, there have been far fewer examples of Nylander taking over shifts as we know he can do — especially in tight games like this one where the neutral zone is locked down — and he's not looking as sure about himself / as lethal when he has the puck on his stick with an opening in the offensive zone.
It's an easy switch to move him up with Matthews and move Jarnkrok down. Bunting – Matthews – Nylander was really good earlier in the year — as in outscoring the opposition at five-on-five by a count of 30-10 good — and it would feel odd not to see it again before the playoffs.
Nylander as a finisher, facilitator, and playoff neutral-zone trap antidote is such an important element on the team, so while I have no big-picture concerns really, ramping him up and getting him playing great hockey at the most important time of year would be a welcome development.
One game can change the entire vibe with a talent like #88.
---
8.   You're basically looking at this game as a tie for all intents and purposes knowing three-on-three isn't real when it matters, but it's really hard to recover from basically losing every single faceoff at 3-on-3 and then 4-on-3.  Patrice Bergeron took the Leafs' faceoff men to the cleaners in extra time.
It was interesting that Keefe deviated from the plan not to start Morgan Rielly at three-on-three until the Leafs possess the puck and can make a change. When Rielly has started three-on-three OTs off the draw and the other team starts with the puck, it's often ended poorly as reflected in the numbers over the past few seasons (outscored 8-4 in OT). Granted, it's typically been Timothy Liljegren that Keefe has used there (he was in the press box).
---
9.   Ryan O'Reilly returned from his last stint on the IR (in January in St. Louis) by potting four points in four games after six weeks off. While he wasn't on the scoresheet tonight, he didn't miss much of a beat, either. The details in his game are so dependable and his preparation is so top-notch that there isn't anything to worry about if you needed to drop him straight into a playoff series, let alone with five games to ramp up.
I'd like to see Keefe stick by building a third line that works around ROR in the final few games of the regular season. When he was moved up with Tavares and Marner for a few shifts in this game, they largely owned the puck, but we know that combo would work at any time.
---
10.   All in all, you'll take a really hard-fought battle, a point on the road in Boston to clinch home-ice advantage, and no reported injuries on a night when Tanner Jeannot appeared to sustain a potentially major one in Tampa and Charlie McAvoy left the game for the Bruins.
---
Game Flow: 5v5 Shot Attempts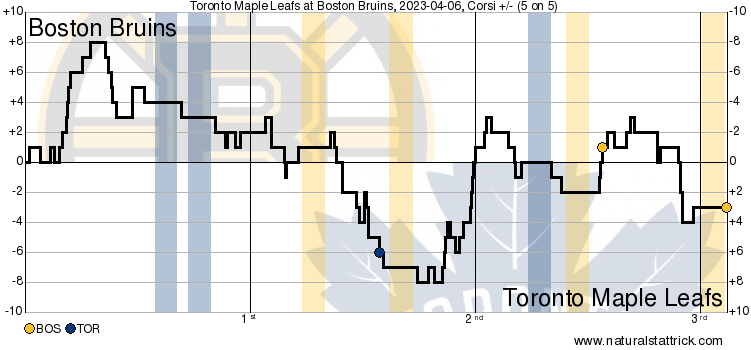 ---
Heat Map: 5v5 Shot Attempts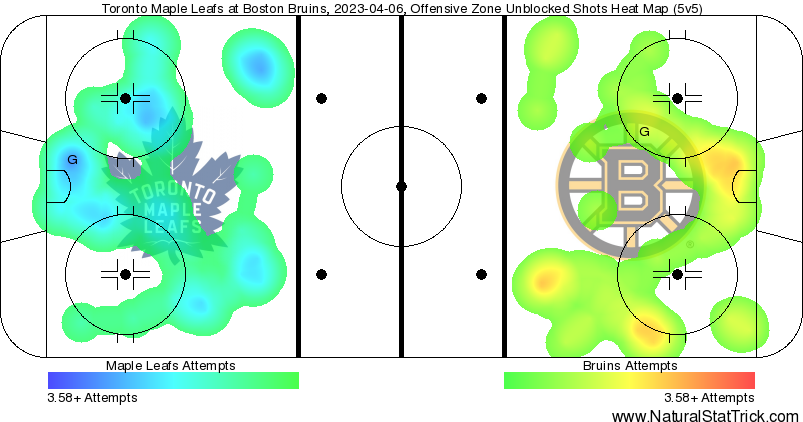 ---