The 82-game slog finally comes to an end for a Maple Leafs team that has known its playoff seeding and opponent for several months now (7:00 p.m. EST, TSN4).
A checklist of goals for this final game at MSG:
No one gets hurt
40 goals for William Nylander (currently on 39)
100 points for Mitch Marner (currently on 99)
More adjustment time and reps — and maybe even a first NHL goal! — for Matthew Knies
Continued confidence building for Joseph Woll in the net (5-1-0, .933 SV%)
Once more: No one gets hurt
Sam Lafferty and John Tavares are both away from the team for personal reasons, and Mark Giordano is taking the final game off as he rests up with a few bumps and bruises. All should be ready for game one.
---
Head to Head: Rangers vs. Maple Leafs
In the season-to-date statistics, the Leafs hold the advantage over the Rangers in four out of five offensive categories and four out of five defensive categories.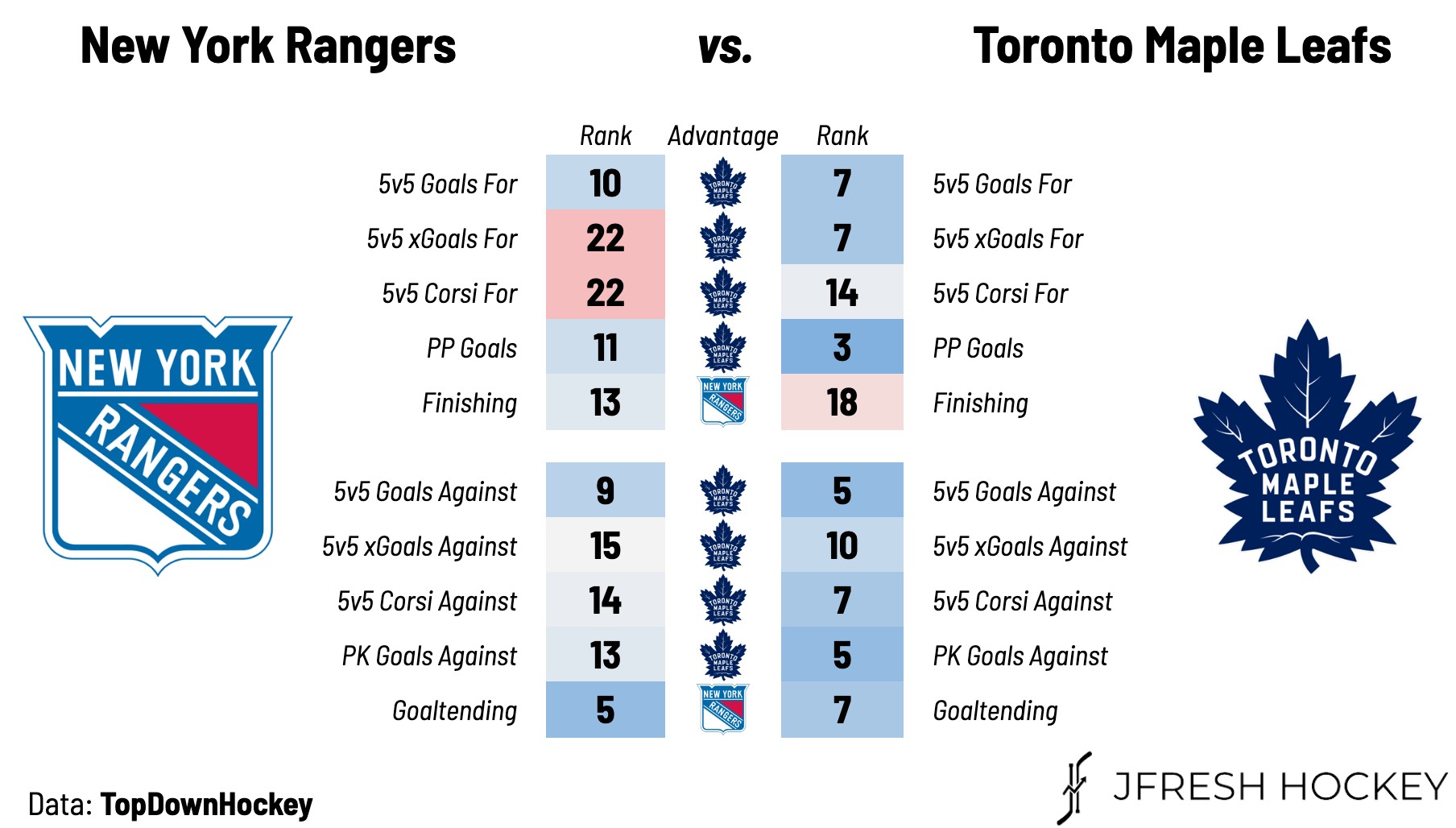 ---
Game Day Quotes
Sheldon Keefe on the team's goals for the final regular-season game:
We want to play everybody and get everyone rolling out there. You are always going to coach and play to win, but most importantly for us is just making sure we get out of it healthy and do all that we can to do that.

It is a hockey game. You can only control so many things. For the most part, we are trying to manage everybody's minutes. We will look to get out of here unscathed.
Keefe on Matthew Knies' adjustment process:
Each game and each day is a new experience to help him with his adjustment. We are just going to continue to watch him.

In the two games he has played so far, he has done very well in not easy games that he has played in or easy circumstances that he has been through.

An off day yesterday was hopefully a chance for him to settle in a little bit.

He has shown us at the moment that the adjustment isn't all that big for him. He has really stepped right in, done a good job, and played with confidence.

There are still going to be mistakes and adjustments to be made, but he has been impressive.
Auston Matthews on watching the team's effort against Tampa as he sat out the game:
Watching it from up there gives you a bit of a different perspective. It was just awesome to see how hard we competed on both sides of the puck.

It is going to be a very tight series. They're a very good team with a lot of good players with lots of experience. It was a good test run for us in that game.

It is going to take all 20-plus guys night in and night out.
Conor Timmins on his feelings as he found out he was playing forward vs. Tampa:
A lot of panic to begin with. As the game went on, I started to get used to it. I felt comfortable.

… It's just the skating and how much you are going the whole shift.

On defense, a lot of time you are kind of gliding up the ice or reading the play in front of you. At forward, it just seems like the play is happening all around you. You are always sprinting from one spot to another.
Timmins on whether he found himself defaulting to defensive tendencies:
I was definitely F3 for most of the game. It is kind of nerve-wracking when you have two guys behind you even though it is still only a 2-on-2. I was trying to stay high a lot.
Timmins on the last time he played forward:
Tampa Bay. That was the first time ever. Ever. Not even as a kid.
Matthew Knies on his ability to use his size and strength at the NHL level:
Those are my biggest strengths: my strength, my speed, and my ability to use my size. As much as I can use that to my advantage, I have to. I think it gives me an upper hand on my opponent.
Knies on his goals for the last regular-season game:
I just have to make sure I am not making too many mistakes and play within our systems. I am still learning how to play in our o-zone and how to play in our d-zone.

I think I need to tighten those details up a little bit. I think that is going to make for an overall better game for me.
---
Toronto Maple Leafs Projected Lines
Forwards
#58 Michael Bunting – #34 Auston Matthews – #16 Mitch Marner
#23 Matthew Knies – #90 Ryan O'Reilly – #88 William Nylander
#15 Alex Kerfoot – #52 Noel Acciari – #19 Calle Järnkrok
#12 Zach Aston-Reese – #64 David Kämpf – #25 Conor Timmins

Defensemen
#78 TJ Brodie – #3 Justin Holl
#44 Morgan Rielly – #2 Luke Schenn
#22 Jake McCabe – #37 Timothy Liljegren
Goaltenders
Starter: #60 Joseph Woll
Samuel Richard (ATO)
Resting/Out: Mark Giordano, Ilya Samsonov, John Tavares, Sam Lafferty
Injured: Erik Gustafsson, Matt Murray, Nick Robertson, Jake Muzzin, Victor Mete
---
New York Rangers Projected Lines
Forwards
#20 Chris Kreider – #93 Mika Zibanejad – #88 Patrick Kane
#10 Artemi Panarin  – #16 Vincent Trocheck – #91 Vladimir Tarasenko
#13 Alexis Lafreniere – #72 Filip Chytil – #24 Kaapo Kakko
#26 Jimmy Vesey – #21 Barclay Goodrow – #14 Tyler Motte
Defensemen
#55 Ryan Lindgren – #23 Adam Fox
#79 K'Andre Miller – #8 Jacob Trouba
#77 Niko Mikkola – #45 Braden Schneider
Goaltenders
Starter: #41 Jaroslav Halak
#31 Igor Shesterkin