It almost feels a little surreal that the playoffs are finally here.
At this point, time is basically a flat circle as most fans have been waiting for this day since the end of Game 7 last season.  The Leafs put together another strong regular season, but the Bruins got off to such a hot start — en route to a historic season — that the division title was never within reach and the matchup with Tampa Bay was all but set on paper back in November.
And here we are.
For all the talk of Tampa's poor play down the stretch, the overall season-wide team stats don't net out too heavily in favour of the Leafs. Let's take a look:
| | GF/game | GA/game | PP% | PK% | 5v5 CF% | 5v5 Fenwick% | 5v5 xGF% | 5v5 SCF% | Save % |
| --- | --- | --- | --- | --- | --- | --- | --- | --- | --- |
| Leafs | 3.39 | 2.68 | 26 | 81.9 | 51.07 | 51.93 | 54.01 | 53.86 | 90.91 |
| Lightning | 3.41 | 3.07 | 25.4 | 79.7 | 51.45 | 51.21 | 53.45 | 52.41 | 90.24 |
The biggest disparity, goals against, can flip in a hurry depending on goaltending.
Where things look a little different than last spring — as we've discussed in this space a few times now — is the loss of depth on Tampa's side.
Ryan McDonagh is a playoff warrior who has been to four Stanley Cup Finals. They cannot replace him with Nick Perbix and Darren Raddysh — neither of whom has played in the playoffs before — and not feel the effects.
Up front, Ondrej Palat was a needle mover for Tampa Bay; Jon Cooper proclaimed that Palat will go down as, "one of the top players that ever was a Bolt." He has 48 goals and 94 points in 138 career playoff games. Tanner Jeannot is a useful player, but he is not a one-for-one replacement.
On the Leafs' side, Jake McCabe is not as good as Jake Muzzin — it has been somewhat forgotten that Muzzin was excellent in the series last year and is a notable loss — but Ryan O'Reilly is a significant upgrade on Ilya Mikheyev.
There is a switch that has taken place a year after the teams played a series decided on razor-thin margins. The Leafs brought in a legitimate game-breaker while the Lightning lost one at forward. Tampa lost another one on defense, and while the Leafs did as well, they brought in veterans to mitigate the loss whereas Tampa couldn't afford to.
In a matchup game, the depth is notable, too. David Kampf is now Toronto's 4C after he was the 3C last playoff. The Leafs are not counting on a collection of over-the-hill veterans, either. Instead, players such as ZAR and Sam Lafferty are very much prime-aged compared to an aging Tampa group of Pierre Edouard Bellemare, Corey Perry, and Patrick Maroon.
The pieces are there for Sheldon Keefe to play with. In playoffs past, he has struggled to make in-game adjustments, ride the hot hands, and — to state it simply — change things that aren't working. Keefe is going to have to push the right buttons and use what looks like a deeper roster to overwhelm a Tampa team that is showing some signs of its mortality for the first time in many years.
Quotes
---
"In general, because Matthews and Marner are two of our best defensive players, I don't get too concerned about going best-on-best with them. They are so good and so dynamic on both sides of it. We also have to look for windows of opportunity to get them favourable time."

– Sheldon Keefe on line matching his top line against Tampa Bay in 2023
"First of all, I don't feel the need to protect Auston from anybody. He and Mitch [Marner], they need to take on the most difficult matchups. That's important for our team, especially when you look at Danault with [Brendan] Gallagher and [Tomas] Tatar. That's been as good a line as there is in the league the last few years. We have to respect that line. Auston and [Zach] Hyman and Mitch, those are three players that we like to take on those matchups. They've found a way to succeed in those matchups … I'm not going to be hiding our best people from anyone."

– Sheldon Keefe on line matching his top line against the Canadiens in 2021
I don't think Auston Matthews and Mitch Marner are the exact same players they were two years ago, but it's fair to point out that Keefe was super stubborn about this matchup against the Habs, even after John Tavares got hurt and missed the entire series.
The Leafs have more depth now; hopefully, it's a healthy Tavares as well as Ryan O'Reilly alongside William Nylander instead of Alex Kerfoot and Alex Galchenyuk. 
That said, I do think it's noteworthy that Keefe constantly returns to this duo. In that series against the Habs, the line of Hyman – Matthews – Marner actually outscored Montreal 3-1 while on the ice at five-on-five, but that's not a big enough gap to matter, especially when the power play didn't produce.
Matthews and Marner are the team's two best players and are capable of going off. If they do that, the Leafs are a big problem. If they don't, they need some sort of combination of their power play and second line to make up the difference.
They have won a lot of games playing Matthews and Marner together. It's not like it's a bad option. Their second line — as things stand — has ROR, Tavares, and Nylander together. Those are three legitimate needle movers, but I still think the best this team has looked is with Matthews driving one line and Marner driving another. 
"He is one of the best players in the league. He is so creative with the puck. He is elusive. He is really, really smart as well.

The thing is that we can't be chasing him around the rink. We have a plan to be in the structure we're in, but in the end, you just hope to contain these guys. You are not going to completely shut them down. They are too gifted as players.

If we can contain them and put them in positions that they might be a little more comfortable in, that is what we have to do."

– Jon Cooper on Mitch Marner and by extension shutting down the Leafs' top players
In the above quote, Jon Cooper mentioned a couple of things to look out for in this series.  The first is, "We can't be chasing him around the rink," and the second is, "Positions that they might be a little more comfortable in." 
You would think Cooper would say, "We want to make them uncomfortable," but he's actually going the other way on it by suggesting he's happy to allow them to comfortably control the puck on the perimeter; he just doesn't want them to get to the inside. 
This is what Montreal and Columbus essentially did to the Leafs — two teams that did not have the firepower to match up, so they retreated, packed the house, kept the Leafs to the outside, and were all too happy to let the Leafs hold the puck while waiting for mistakes.
When I look at last year's Game 6, Tampa's first two goals came off an Alex Kerfoot drop pass in the neutral zone that got picked off and an Ilya Mikheyev power-play pass just outside the blue line that got picked off and stuffed down the Leafs' throat. The overtime winner came after a flip pass by Mitch Marner was picked off in the neutral zone; Tampa went downhill from there with numbers and speed. The first goal in Game 7 was a 3v2 off the rush.
Tampa will not say it out loud, but there is no chance Cooper is looking at his defense and thinking it's good enough to play the Leafs straight up. The domino effect of the loss of Ondrej Palat is also significant. They are outgunned head-to-head, and they will try to slow these games right down. 
"I always knew there was lots of staff here and resources. Getting here and seeing it firsthand, it's at first a little overwhelming. Once you kind of get a handle and get to know everyone, it's pretty amazing, the help that you have to assist your play. 

"Like myself coming back from injury and just every facet of your meals to… everything. It's just so elite and above everything I've seen before."

– Ryan O'Reilly on the resources available inside the Leafs organization
Ryan O'Reilly has played for the Avalanche, the Sabres, and the Blues. When it comes to the resources provided to players and the advantages available to them, it's hard to overstate how generously the Leafs treat their players.
Most players in the league know it, to some degree. It's a great selling point.
Tweets of the Week
---
#GoBolts practice lines and D-pairings:

Stamkos-Point-Kucherov
Hagel-Cirelli-Killorn
Colton-Paul-Eyssimont
Maroon-Bellemare-Perry

Hedman-Perbix
Sergachev-Raddysh
Cole-Cernak
Fleury-Bogosian

— Eduardo A. Encina (@EddieInTheYard) April 15, 2023
Last season, a Cirelli – Point – Killorn line was used against the Michael Bunting – Auston Matthews – Mitch Marner line and drew them even. You see the loss of Ondrej Palat here, and potentially the decline of Stamkos.
Keefe noted that Stamkos was primarily a center last season and has been a winger this year. Their top line is loaded offensively; Kucherov had more points than any Leaf, and Point had more goals than any Toronto player this season. It's an offensive-focused line, which means that the second line anchored by Cirelli will presumably be more of a matchup/shutdown line.
As much as I have talked about the Marner/Nylander deployment, the flip side of the argument is that with Tampa Bay loading up their top line, putting Matthews and Marner together allows the Leafs to match up head-to-head, which means the Ryan O'Reilly-led second line should take on the Cirelli matchup.
The logic is evident. We'll see if the matchups play out like this in Game 1 at home, where the Leafs have the last change.
#Leafs lines during practice Apr. 16/23

Bunting-Matthews-Marner
Tavares-O'Reilly-Nylander
Kerfoot-Acciari-Jarnkrok
AstonReese-Kampf-Lafferty
Knies, Simmonds (on another pad)

McCabe-Brodie
Giordano-Holl
Rielly-Schenn
Gustafsson-Liljegren@BodogCA @RinkWideTOR

— David Alter (@dalter) April 16, 2023
We've talked a lot about the top two lines so far, so I wanted to spend a little time talking about the bottom two.
The fourth line is as expected. Zach Aston-Reese – David Kampf – Sam Lafferty built some real chemistry down the stretch and each player really fits a role. Kampf and ZAR are good checkers, and ZAR brings a little jam. Lafferty does as well, but his speed really added some real pop to the line. They were good with Noel Acciari on the right wing, too, but the speed of Lafferty elevated the unit.
Acciari has gone 23 straight playoff games without a point. Calle Jarnkrok has four career playoff goals in 75 career playoff games. Statistically, Alex Kerfoot has been the best producer with four playoff goals and 16 points in 37 career playoff games.
It's fair to wonder if the third line can produce any offense, and they are likely going up against a third line anchored by Nick Paul and Ross Colton, who combined for 10 goals in the last playoffs alone. That's two fewer than Kerfoot – Acciari – Jarnkrok.
They are fine checking lines full of legitimate NHL players that will hold up well. They can impact games in ways beyond scoring — particularly Acciari with his physicality, Kerfoot with his speed, and Jarnkrok with his tenacity. The question is whether they can chip in enough offense or if it's all going to fall almost entirely on the shoulders of the top players again.
Leafs special teams at first pre-playoff practice

PP1
Rielly, Matthews, Marner, O'Reilly, Tavares

PP2
Giordano, Nylander, Jarnkrok, Kerfoot, Bunting

6-on-5
Rielly, Matthews, Nylander, O'Reilly, Tavares, Marner@TSN_Edge

— Mark Masters (@markhmasters) April 16, 2023
There will be a lot of focus on William Nylander getting bumped to the second unit, and I get it — the Leafs had an elite power play, and he was a big part of it throughout the season.
Ryan O'Reilly gives them a different look, as mentioned. He's another digger and a player whose skill set is better suited to play in either the bumper or the front of the net. Ultimately, I (would like to) think Keefe will bounce between options depending on any number of factors, so we'll keep an eye on it and see how long he actually runs with this.
I actually thought it was a bit more noteworthy that the second unit included Mark Giordano, who only averaged 35 seconds of power play time per game, as well as Alex Kerfoot, who only played 40 seconds per game there. There were long stretches of the season where neither really featured on the second power-play unit.
On defense, of the four Leafs' regulars this season ahead of Giordano and beyond Morgan Rielly, none of Rasmus Sandin, Erik Gustafsson, or Conor Timmins will be in the lineup. Giordano didn't play a ton there, and while I don't think he's incapable — he has 568 career points — there could be a bit of an adjustment period to look out for.
For Kerfoot, players technically ahead of him in average power play time on ice per game include Pierre Engvall, Nick Abruzzese, Sam Lafferty, Matthew Knies, and Nick Robertson. Basically, whenever there was another option, Kerfoot was an afterthought.
This is basically a brand-new unit.
Five Questions Ahead of Round 1
---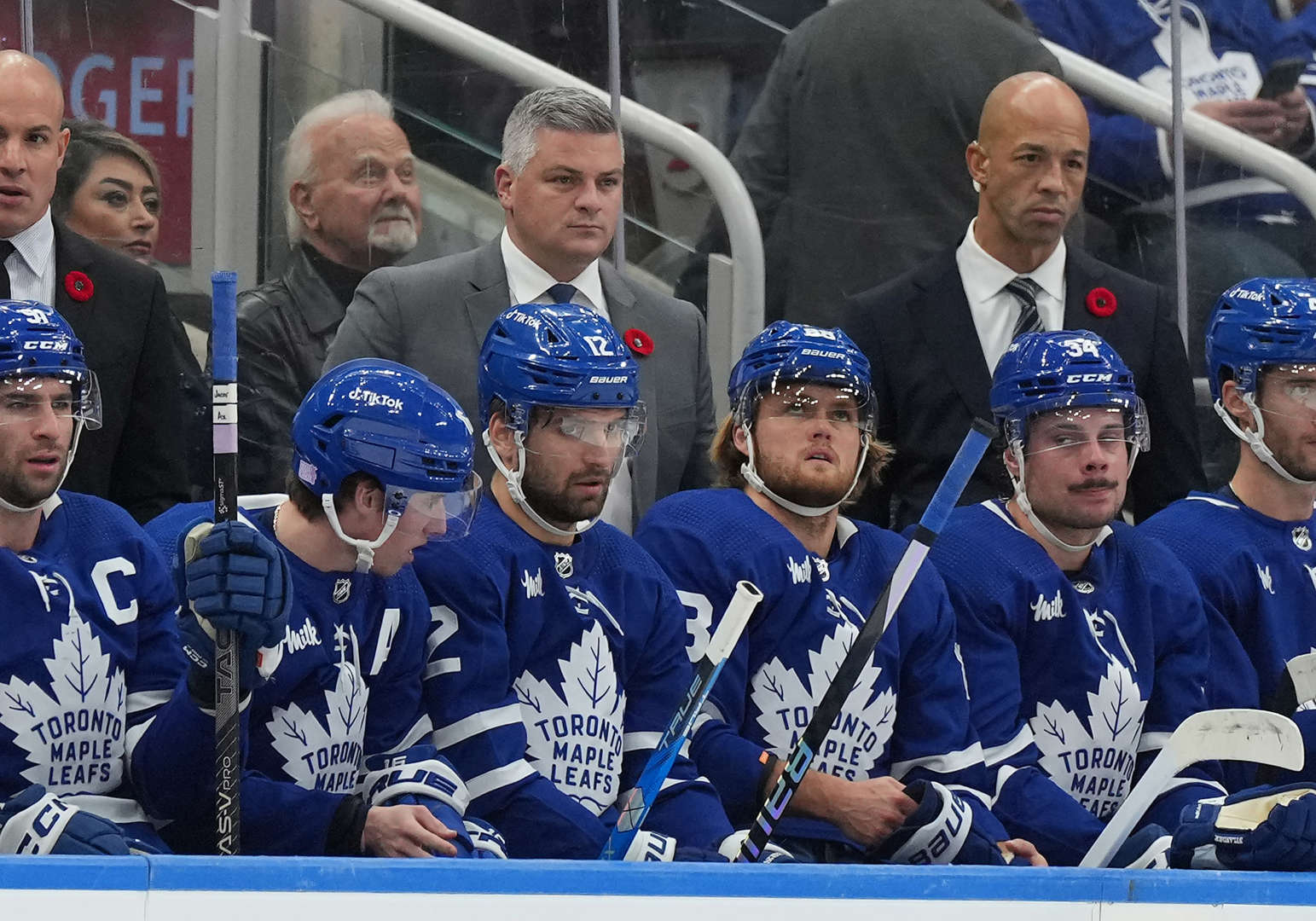 1)  Can the Leafs get to the net?
As discussed, I think the Lightning are really going to focus on keeping the Leafs to the outside, but they will be completely okay with Toronto controlling the puck and the play. Starting two defensemen who have never played in the NHL playoffs before and missing key vets from years past, it would be surprising if Tampa tried to go toe-to-toe with the Leafs (who would welcome them doing so).
The Leafs can't get lulled into the trap of holding it on the perimeter instead of getting inside. They need to make life difficult for Andrei Vasilevskiy. It was referenced at the time that they acquired Ryan O'Reilly along with Noel Acciari (to a lesser extent). I would imagine it also played a role in trading Pierre Engvall away as well.
If Tampa is going to retreat and rely on the Leafs making mistakes, the Leafs have to take it to them and cut through to the net instead of settling on the outside.
2)  Who wins the special teams battle?
If the Leafs' top players play up to their abilities, Toronto is just a little deeper than Tampa Bay. However, as we have seen a few times before, special teams can be a great equalizer.
With the Leafs deciding to start the series with both Ryan O'Reilly and John Tavares on the top unit — two strong, heavy menaces on the puck down low — it should set the table to funnel pucks to the net.
When I looked back on unsuccessful power plays, there was a lot of hesitation to shoot, be it Mitch Marner, Morgan Rielly, and even Auston Matthews (strangely). They don't need perfect shots with ROR and Tavares buzzing around the net. They simply need to get it through and let those two go to work.
On the flip side, the Leafs' penalty kill was roughly average against the Lightning last year, but it's noteworthy that Jake Muzzin played on the top unit and covered the Nikita Kucherov side. That left TJ Brodie on the Stamkos side.
Without Muzzin, it will be Brodie shifting over to the left and Justin Holl shifting to the right (the Stamkos side). The Lightning have a deadly power play, and those are really important positions on the penalty kill. They have been solid throughout the season, but it's a big job to keep an eye on. 
3)  How does the shutdown pairing hold up?
To me, the key to the Leafs' defense is the shutdown pairing they have put together.
Mark Giordano – Justin Holl has been solid all season. If the shutdown pairing performs well in tough matchups, it allows Morgan Rielly to run wild a little bit offensively as Luke Schenn basically hangs back defensively and provides a physical presence.
But it all depends on the success of the shutdown pairing, which is the toughest job of all. Jake McCabe – TJ Brodie has been a good tandem since they were paired up (as has any Leafs defenseman who has been paired up with Brodie). But McCabe has never played a playoff game in his career, and Brodie has had some uncharacteristically strange plays of late (e.g. Ryan Lomberg blowing by him for a breakaway).
I would like to chalk it up to a veteran playing out the string of games to end the season, but it's worth keeping an eye on. 
4)  What happens in net?
There has never been a playoff series in the history of hockey where goaltending was not a major factor to watch.
The Leafs actually finished ahead of the Lightning in five-on-five all-strengths save percentage. They are a strong team defensively and have built a safe environment for goalies to thrive, but the goalie in the other net is Andrei Vasilevskiy. It's fair to say he has been the best goalie — consistently speaking — in the world for about a five-year span now.
Ilya Samsonov has earned the net to start the series, but even if he didn't, the status of Matt Murray is unclear at the moment. Samsonov has eight career playoff games to his name. Murray has two Cups, but it's hard to put much faith in him at this point given his inability to stay healthy this season.
If Murray can get healthy, he does give the Leafs a legitimate option to turn to should Samsonov falter. 
5)  Can the Leafs finally put a team away?
It's not like they haven't been close.
In 2019, Mitch Marner laid out with a bunch of shot blocks to take the series lead in Game 3, and the Leafs won Game 5 in Boston in one of the best playoff games I've seen from the team in at least a decade to take a 3-2 series lead (they then lost the next two).
The next year, they scored three goals in the final four minutes against Columbus while facing elimination to tie the game before winning in overtime. In the series-deciding game, they came up empty.
Against the Habs, they went up 3-1 and were full marks in Game 4. That was about as easy of a win as I've seen by the Leafs in the playoffs. We all know how it played out from there.
Against Tampa, they were up 3-2 after an electric win at home in Game 5.
They have been right there in all of these playoff series, but getting there and actually stepping on the other team's throat to get it done are two completely different things. To this point, the Leafs have fallen short when the chips are down.
Their top players have had moments leading up to those games, but they have produced essentially none in series-deciding games. It is time (frankly, it was time around two years ago). Star players need to produce signature playoff moments.