In Game 2 against the Florida Panthers, the Toronto Maple Leafs played a similar game to Game 1, generating more scoring chances and shots on goal but ultimately losing the game because of quick-strike goals against and inferior goaltending.
There were some differences from Game 1 — playing with the lead this time and then conceding the momentum-swinging goals in rapid succession — but it was fundamentally the same. Sergei Bobrovsky stood on his head again while the Leafs' high-priced finishers didn't finish, Ilya Samsonov was merely mediocre in the other net, and every Leaf mistake was maximally punished. The result is a loss in a game the team should've won, leaving Toronto in a 2-0 hole headed back to Florida.
What really happened
---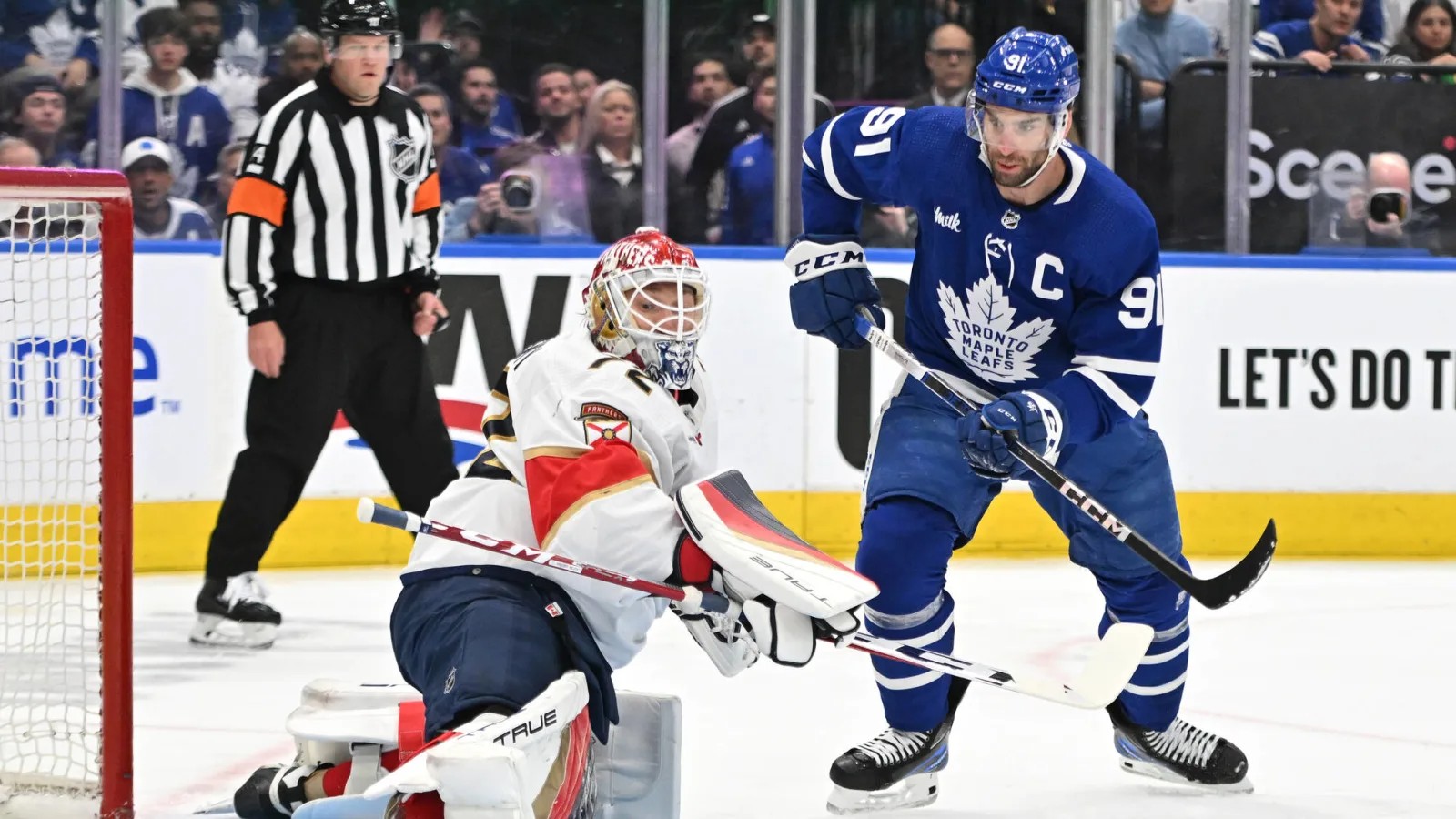 The story of Game 2 is also the story of the series through two games: The Toronto Maple Leafs have not had the better goalie in their net in this series so far, and the gap between the two has been steep. Framed a different way, Florida's shooters are finishing their chances at a vastly higher clip than Toronto's are.
You can decide which way you want to view it — from the perspective of the shooter or the perspective of the goalie — but the interplay between those two factors is the story of this series. The balance of play, the territorial battle, and the chance generation are lopsidedly in favour of the Leafs.
Here are some pertinent statistics through two games (all situations):
The Leafs own 58.96% of the expected goals but just 36.36% of the actual goals.
The Leafs own 59.52% of the scoring chances but just 37.5% of goals off scoring chances.
The Leafs own 65.45% of the high-danger chances but just 42.86% of goals off high-danger chances.
PDO, the sum of your shooting percentage and save percentage — which, in theory, should average out to 100 over a full season — is 0.932 for the Leafs and 1.068 for the Panthers. To demonstrate the gap between those two numbers, in the regular season, the highest PDO for a single team over the full 82 games in all situations was 1.04 for Boston and the lowest was 0.976 for Columbus.
I included the stats for both games because the overarching story for Game 2 is the same as Game 1. Sergei Bobrovsky has been the best player in this series, something that I remarked in my Game 1 post-game piece as a rather surprising development. Bobrovsky's track record said it probably wouldn't continue, but sure enough, it did for another game.
Predicting goaltending is the most impossible task in hockey; sometimes an iffy goalie can string his best two-game stretch of the past five seasons together in the two biggest games of the year, and there's not much to be done about it:
Sergei Bobrovsky's best two-game stretch in Florida: games one and two versus Toronto. pic.twitter.com/EgKqWbUgek

— Travis Yost (@travisyost) May 5, 2023
The two teams are playing wide-open run-and-gun hockey, which in the abstract, probably favours Florida. We talked about the Leafs needing to change some of the stylistic elements and slow the game down after Game 1 — I continue to believe there's merit to this — but you also aren't going to hear me crying about a game in which the Leafs were generating vastly more chances than the opposition and tilting the ice.
We can talk about the Leaf turnovers — and we definitely will in the next section — but for me, those are less important than this matchup between shooters and goalies.
The Florida Panthers are a terrific offensive team. According to Evolving Hockey, in all situations in the regular season, they generated 3.93 expected goals per 60 minutes, the best of any team in the NHL.
In Game 2, they generated 2.9 expected goals in the 58 minutes Ilya Samsonov was in the net. That's a fine defensive showing by the Leafs! They made mistakes and were punished for a few of them, but it's awfully hard to expect to beat a team that can scatter 30-goal scorers on three different lines by a score of 2-1, yet that's what the finishing of the Leaf forwards is forcing their defense/goaltending to have to do.
The Maple Leafs have now scored two goals in four straight games dating back to the Tampa series. In this series, they have scored four goals on 73 shots, a .945 SV% for Sergei Bobrovsky. They have created 9.19 expected goals, but they have scored just four actual goals. In Game 2, they took nine shots from the slot in the third period alone and scored zero times.
The Leafs are no stranger to opposing goalies posting extremely high SV% clips against them in the playoffs — Carey Price and Joonas Korpisalo both did it in 2021 and 2020, respectively — but in both of those cases, it had a lot to do with the defense in front of them. Those series were defined by Montreal and Columbus mucking up the neutral zone and defending the slot meticulously, keeping the Leafs to the outside, denying them high-quality looks, and making life easier on their goalies. I came away from those series more frustrated about the Leafs' inability to get to the greasy areas than I did about the other team's goaltending.
This series has been the opposite, and the third period of Game 2 was a prime example. Florida's defense has been poor (especially for a playoff team) all year long and a quick look at the roster will tell us why. We came into this series expecting the Leaf offense to be able to batter that group, and they are… in terms of chances. I'd argue that the Leafs created more Grade A chances in the third period of Game 2 than they have had in multiple Game 7s over the last few years combined. For anyone who thought the Leafs were "goalie'd" by Carey Price in 2021, this should be a good reminder of what getting "goalie'd" actually looks like.
I don't have much interest in offering the classic coach-speak/Hockey Man lines where we anchor our critique based on which goals go in as if goaltending is an opaque concept incapable of being squared in our analysis. We can talk about Toronto's skaters in their own end making a costly turnover here and there, but how about Florida's entire team of skaters losing every puck battle, turning it over, failing to defend the rush, and getting caved in for minutes on end for wide stretches of two straight games?
Right now, one team is getting killed defensively and the other team is doing mostly alright with a few glaring hiccups. I'm not going to spend more time talking about the latter than the former. I won't ignore the hiccups, but I'm much more interested in talking about why the ragtag crew that is Florida's defense has not put their team in a coffin. I pride myself on giving the readers an honest account of what's going on out there, and this is my best attempt to do so.
Now, in fairness to the traditional coach-speak approach, there is more to this than analytics, and there is more to this than Sergei Bobrovsky. Every great save is also a failure of the shooter, and the Leafs aren't paying their offensive stars $40 million to get their lunch money stolen in a big game by a hot goalie. Auston Matthews and John Tavares don't make $11 million each to generate expected goals; they are paid to score actual goals. Take for example this chance from Game 2:
Nylander to Tavares pic.twitter.com/lUJ8mgfYrn

— Omar (@TicTacTOmar) May 5, 2023
It was a brilliant play from William Nylander to set it up and a point-blank chance for John Tavares. That's got to be in the net. End of story.
Right now, the only Leafs to finish in this series are an ELC rookie, a complementary winger on a cheap contract, a bottom-six winger on the fourth line, and Ryan O'Reilly. Bobrovsky is cooking right now, but the Leafs' stars have to put some goals by him if they want to earn the mantle of a star player at playoff time. This is what you're paid like an elite player to do: solve a goalie playing at an elite level.
I agree with Anthony's Game in 10 about the first Leaf goal being the greasy sort that Toronto needs to find more of. With Bobrovsky so dialed in, the Leafs need to be doing more to make life hard on him — more screens, more traffic, shooting for rebounds, and so on. That's part of the equation of how to score more goals and solve this seismic gulf between expected and actual goals, but it would sure be nice if an elite shooter could finish chances like an elite shooter.
Defense and Turnovers
---
The Leafs allowed three goals in Game 2, all of which came shortly after turnovers, but only two of those are worth breaking down in depth. The second goal came after Jake McCabe was too slow to move a puck up ice and William Nylander cut to the middle and turned it over — both of which are errors, sure, but the end result of those two mistakes is a weak wrist shot from the top of the circle that Ilya Samsonov sees all the way.
Never in a million years should that puck be entering the net. It can't go in on a Tuesday in December, and it certainly can't go in in the playoffs, especially when the goalie at the other end is playing out of his mind. Sure, those were a couple of sloppy plays from McCabe and Nylander, but this goal is on Samsonov.
As for the other two, let's break them down.
On the 2-1 goal, Mark Giordano pinched up in the offensive zone and the puck broke out the other way. It was dumped into the corner, where Timothy Liljegren went to retrieve it and took a hit from Eetu Luostarinen. Liljegren hurried and made a play along the boards behind his net that was way too risky. With Giordano up the wall, it should have been nudged in that direction. John Tavares was in coverage in the direction Liljegren played it, but the captain fell over and was unable to obstruct the pass from Sam Reinhart to Anton Lundell. Lundell, we should note, was originally behind Giordano on the play, but he read it far better and has vastly superior footspeed. He beat Giordano to the puck and fired it behind Samsonov, who had no chance.
A lot of things are true about this goal. It's a testament to the tremendous offensive firepower of Florida, who can strike quickly and pounce on one or two mistakes in the blink of an eye. The backhand no-look pass by Reinhart to Lundell is filthy. That's an elite play. It's a testament to Florida's forecheck, placing pressure on the Leafs to be really sound on their retrievals and exit plays. It's an error by Liljegren in making the dicier play with the puck, but it's also an error by Giordano in losing track of his man and getting beat to the spot. There's also a bit of bad luck involved with Tavares falling down. All of the above is true on this one.
The third goal is the worst of them all. It was a fiasco that was much less about Florida's offensive brilliance and far more about a reprehensible shift from Toronto's top line. Mitch Marner made a brainless play skating the puck out of the zone and flipping a pass backward *into the slot* while still inside his own blue line. Even worse, Radko Gudas wasn't pinching at all! The Panthers had no real interest in trying to hem the Leafs in; only Sam Bennett came over to finish his check as always. Marner could've skated it out past the blue line or he could've chipped it up the wall. Either option represented a 100% chance of getting the puck out.
Instead, Marner flipped the puck backward to Auston Matthews, who had Luostarinen bearing down on him. Matthews tried to flip it over Luostarinen for some reason and turned it over. Even after the turnover was made, the Leafs had four bodies in the zone to Florida's two initially. The Panthers had a couple of skaters moving in behind the play — one of which being the eventual goalscorer in Forsling — but someone out of Matthews, Michael Bunting, and McCabe needed to make a defensive play. Florida carved the Leafs like a knife through warm butter, with no Toronto skater doing a single thing to obstruct the movement. Samsonov had no chance.
Both the second and third goals — the two plays that swung momentum massively in this game — were not merely the result of turnovers. The first goal is the one where the turnover was the fatal moment. Instead, the second and third goals are more of a story about what happens after the turnover.
On the second goal, the Leafs defended it fine, but the goalie allowed an unforgivable howler. On the third goal, the Leafs' defense after the turnover was godawful at best. A team with a forecheck as aggressive as Florida's is going to force some turnovers. It happens. The Leafs can definitely do a better job of being smarter about limiting those, but to win this series, they also will need to do a better job reacting to turnovers, quickly getting back into their structure, and receiving a goalie performance that does not include one facepalm goal against.
Player/Personnel Notes
---
Everybody give it up for William Nylander, Toronto's best forward in this game. There are spurts during a given game or season where Nylander is possessed and those are moments of breathtaking hockey. We saw one of those during the third period of Game 2 when Nylander was all over the puck, dominating the game and creating chance after chance.
He deflected one off the iron, ripped one off the crossbar, forced several other stops out of Bobrovsky, and set up many good looks for John Tavares. Game 2 is Exhibit A as to why Sheldon Keefe and other coaches in the past have bashed Nylander so frequently: he is capable of playing like the best player on the planet, but it comes and goes. As a coach, that's frustrating. But when it happens, all you can do is recline in a nice chair, sip a glass of bourbon, and cackle to yourself at the misery of the defending team on the television screen.
On the topic of Tavares, it still feels like the Leafs need more from him. If he's not going to be driving play or dominating defensively, he has to be scoring goals. With Nylander going the way he was in Game 2, Tavares didn't even need to do a lot of the legwork to create goals. He just needed to finish the A+ chances landing in his lap, but he couldn't.
I think it's a similar story for Auston Matthews, who has taken 12 shots on goal in this series and has finished zero. The Matthews-Marner tandem did a fine job containing Matthew Tkachuk — a big storyline coming into Game 2 — but AM34 is paid to score goals, just like Tavares. It's his signature trait, and right now, he's not getting it done.
Mitch Marner wasn't notable enough offensively at even strength or at least not enough for my taste. Marner was a wizard on the PP, making a pass to Ryan O'Reilly for the second goal that few players in the world can make. But the rest of the game? I'd have liked more, too.
Michael Bunting was elevated to the top line, and I did like his game. The Scarborough kid looks totally rejuvenated in three games since the suspension. O'Reilly was fine — not too many notes on him — while Calle Järnkrok remains a hyper-disappointing ghost in these playoffs. I'm not sure what they can do to get him going at this point.
The fourth line of David Kämpf, Alex Kerfoot, and Sam Lafferty worked very well together and was a welcome sight. They created the first goal and had several other chances the rest of the night. I have to think that the unit is going to stick together. Lafferty, in particular, looked surprisingly comfortable after a nightmarish go of things against the Lightning. His speed seemed to play well in this wide-open series.
We have now learned that Matthew Knies is likely done for the series with a concussion. What can one say other than it sucks? Knies was playing so well and had become a valuable piece of this Leafs team. To lose him already down 2-0 is a tough blow.
On the flip side, though, it says a lot about Knies and his future in this league that he's already such a meaningful piece on a good team in the Stanley Cup playoffs. Knies' injury is likely related to taking a hit to the head when he got run over by Tkachuk in the first period — triggering a rare charging call — as well as the MMA-style take-down by Sam Bennett that had Hockey Twitter ablaze on Friday.
I was extremely disappointed to see no one on the Leafs go after Bennett for revenge in this game. I understand the Leafs were trailing and didn't want to deviate from the goal of coming back, but there needs to be retribution if the on-ice officials and the league aren't handing it out. I like the open-ice hits the Leafs are doling out, but they need to answer this specific hit and stand up for their rookie teammate, who got injured on a play that should have no place in hockey. If the league won't make Bennett answer for his actions, the old-school playoff hockey code suggests that the Leafs ought to take it into their own hands.
I have few notes on the Morgan Rielly and Luke Schenn pair other than that they are really tossing their weight around in this series with the hits. I love it. Schenn also grabbed his first assist since the trade by buying himself some time at the point and throwing a puck on the net for the kind of greasy goal the Leafs need more of in this series.
Jake McCabe and TJ Brodie were partially on the hook for the defensive breakdown on the third goal, but otherwise, they were alright. The third pair of Mark Giordano and Timothy Liljegren remains a problem, though. Liljegren played only 12:35 while Giordano played 15:00. Every other Toronto defenseman was up over 19:00. Liljegren's decision-making was tested by the Panther forecheck and Giordano's footspeed simply looks too slow to play in this type of series. I'm not sure if Keefe will make a change on that pair, but I'd be seriously thinking about it if I were him.
Finally, we have Ilya Samsonov, who keeps battling but is also getting outplayed. Was Samsonov bad in Game 2? No, not really. He gave up two goals he had next to no chance on, one howler, and made a number of big-time saves. His stop on Aaron Ekblad late in the first period was a big one. I'd grade him as close to neutral, but the issue for the Leafs remains that their goalie is roughly neutral or slightly below through two games while the Panthers' goalie has put together an all-time two-game performance.
Samsonov has produced moments of brilliance in these playoffs, but a .895 SV% and 3.27 GAA through eight games is not good enough overall — doubly so when he's up against a hot goalie. There are lots of indications that Samsonov is injured to some degree, but I can't speculate on this without more information.
Where the series stands
---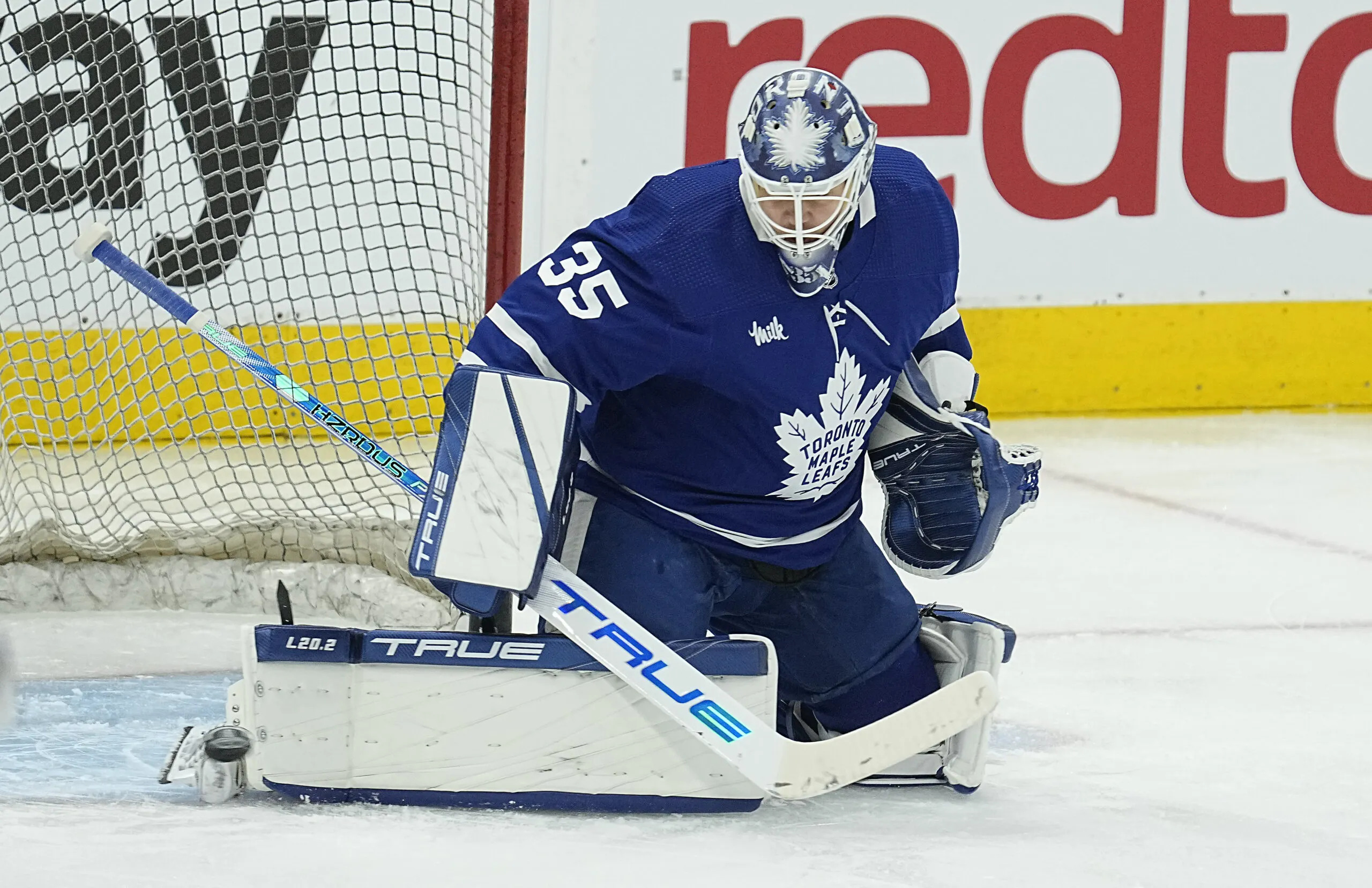 Here we are. Less than a week after the jubilation of winning round one, the Leafs find themselves down 2-0 in the series needing to win at least 2/3 in Sunrise, FL in order to win this series. That's how quickly things can turn in the playoffs, and sometimes it's not all your fault.
I don't have much time for the dialogue about how these losses show the Leafs are soft or don't have heart. They are playing pretty strong games — arguably, the last two are stronger games than any successive two against the Lightning. They won the finishing/goalie battle (some could call it luck) in the first series, but they aren't right now.
Bounces are bounces, but you can also make your own luck, and it's on the Leafs to start doing that. They need to be a bit sharper in their own end, more willing to slow the game down when they have a lead, and they can only hope Ilya Samsonov will be a bit stouter the rest of the series. Critically, their elite finishers need to solve Bobrovsky.
It's not easy to come back from 2-0 down. The stats are not in your favour, but since it was May 4th the other day, we might as well quote Han Solo: "Never tell me the odds." It's not insurmountable. Nothing is in hockey until the opponent has four wins.
The Leafs are unlikely to come back and win the series down 2-0 because every team in this position is unlikely to do so, but it's substantially more likely when the team down 2-0 also happens to be the better team. This is why it's actually more common for the team who loses the first two at home to come back and win the series. Intuitively, the team that goes down 2-0 at home is far more likely to be the better team in the series than the team that goes down 2-0 on the road since home ice is strongly correlated with the calibre of team.
There are plenty of examples of teams in this same situation who came back and won series. The '02 Red Wings and the '18 Capitals both lost two at home and then won the series en route to the Cup (not to mention the Raptors did in 2019 against the Bucks in the ECF). The '09 Penguins and '11 Bruins were down 2-0 after dropping two on the road — both in the Stanley Cup Final — and both rallied to win this series. Hell, the Devils lost the first two at home just last round and came back to win.
If the Leafs were up 2-0 in the series, we'd be feeling good but also reminding ourselves, "They're still the Leafs; they could blow this, and it's far from over." Now we're in the opposite chair, but the same sentiment is true.
The Maple Leafs are the better team. They have a deeper roster, and over 82 games plus two playoff games in this series, they have demonstrated that they are more talented, more able to tilt the ice, and more capable of controlling the game. That gives them a much better chance of coming back than a team that was caved in for two games.
The comeback starts one game at a time, but there's a very obvious path to accomplishing it. The team needs to be more opportunistic and effective at finishing on offense while blending it with a little bit of a cleaner effort on defense. The time for making costly mistakes is over. The margin for error is now close to nil, but that's the price you pay for going down 2-0.