If ever there was a hockey player who was a "Conn Smythe Maple Leaf," it surely had to be Bobby Baun.
I was a bit too young (born in 1953) to fully appreciate "The Major's" (Smythe) handprints on the Maple Leaf organization in the late 1950s and early 1960s. But that's when I fell in love with his hockey team (in a household of passionate, devoted Hab supporters; I was the youngest in our family by quite a bit and went against the hockey grain, but, hey, we all have crosses to bear).
But I knew what I was seeing – a team that, under Head Coach and General Manager Punch Imlach, was rekindling the excellence and success of the prime Smythe ownership years throughout the 1930s, '40s, and early 1950s.
The Leafs I knew in the late '50s and early 1960s were quite a mix: solid goaltending with Johnny Bower, and some young guys with speed like Dickie Duff, Billy Harris, and then Dave Keon.
But mostly, they were a "team." They battled. They had what I think of as "team toughness." They battled for one another. They weren't a dirty team like the "Big Bad Bruins" of the late '60s and early '70s or the "Broad Street Bullies" of Philadelphia in the mid and later 1970s (though they were both tremendously talented teams as well, to be sure). But the Leafs were –-in each their own way – tough-minded NHL players.
None more so than Bobby Baun.
Smythe loved physical play. He wanted guys who would give everything they had and fight, when necessary. After all, it was Smythe who coined the phrase, "If you can't beat them in the alley, you can't beat them on the ice."
I don't remember Bobby Baun as a guy who looked to fight. Hell, he was not a big guy at all. I don't think he was even 5 foot 10 inches. And I suspect he weighed maybe 180 pounds at most – maybe less.
But man, he was tough. And I mean genuine toughness – not the phony kind of "tough" stuff we see from many modern players who hit and run, or hit guys from behind and then act like it was a mistake. There was no cheap stuff with Baun.
Baun played much bigger than his size. And I always saw him as a clean player— he would often hit guys in the middle of the ice with old-school, open-ice body checks.
He was hard to beat one-on-one, very strong along the boards (as many wingers found out when trying to go around him on the outside). And of course, he could move guys in the front of the Leaf net.
After playing several years with the old Junior A Toronto Marlies and half a season with Toronto's then-AHL club in Rochester, Baun played his first NHL games at the tender age of 20 during the 1956-57 season and his first full season in 1957-58. The Leafs weren't a particularly good team at that point. In fact, in the old six-team NHL, they didn't make the playoffs either of those years and had not really been a strong squad since their then-most recent Stanley Cup victory in 1950-51.
But Baun was hugely instrumental in helping the blue and white create another Leaf dynasty.
Imlach was hired before the 1958-59 season and Baun was already a core guy on their defense. Tim Horton was there on defense as well, as was a young Marc Reaume (who happened to be born and raised in the small town next to where I was born in southwestern Ontario). Carl Brewer joined the Leafs full-time as a rookie that season. And Imlach traded for veteran defenseman Allan Stanley in a crucially important deal.
Soon thereafter, Imlach's defensive backline was set for years to come. He'd send out, almost without fail, Horton and Stanley as partners. And Baun and Brewer. The names rolled off our tongues like that as kids in those days because that's just how it was. Horton and Stanley. Baun and Brewer. (I should add, there were various but always crucially important "fifth defensemen" for the Leafs in the late 1950s and the early 1960s – remember, there were smaller rosters and each NHL team only dressed one goalie each game in those days. But Reaume, later Al Arbour, Larry Hillman, and Kent Douglas were key "extra" defensemen as the team continued its rise to relevance and ultimately championship success.)
In their tandem, Brewer was the "skill" guy – heady, smart, chippy, edgy but also extremely talented. Baun had skill, to be sure, but he played a tougher game. Big body checks and physical play. He nailed Chicago superstar (and he really was a superstar) Bobby Hull more times than Hull cared to remember because Toronto's Bobby seemed to know Hull's "moves" as he tried to get around Baun on the outside.
A lot of thunderous big hits ensued, although Chicago's Bobby also had some very big games against the Leafs in those days, including at Toronto's own Maple Leaf Gardens but especially at the unbelievably loud, old Chicago Stadium.
But what I remember most about Baun is that he was seemingly always "there," home and away and night after night. His playing style meant he was going to have to deal with various injuries throughout his career, but way more often than not, he was out there, proudly wearing the Maple Leaf crest on his jersey and being every inch a Smythe player, even after Conn sold the team to the triumvirate of his son Stafford as well as Harold Ballard and John Bassett Sr.
Oh yes, and Baun could fight. Despite being fairly short in stature, especially for a defenseman, he would take on all comers. He was built like a fire hydrant, just as strong and tough.
I remember one night at the Forum in Montreal in the early 1970s when a young and quite brilliant Serge Savard of the Canadiens tried to split the Leafs defense. Baun caught Savard with a hip check. It was what would then have been called a classic hip check— not dirty; just good, clean hockey.
But Savard was knocked off his feet and suffered a devastating leg injury—his second such injury in two seasons.
Some might have seen that as a "dirty" play by Baun. But open-ice hits were not uncommon, and Baun was a highly-respected player who was playing by the rules of the game at that time. (Fortunately, despite those two serious leg injuries, Savard continued on to a marvelous and well-deserved Hall-of-Fame career with the Habs and briefly the Winnipeg Jets).
Baun, of course, is most recognized for his famous overtime goal for the Leafs in Game 6 of the NHL finals against the Red Wings at the old Olympia in Detroit in April of 1964. The Leafs were behind in Game 6 but had tied the score.
Late in the third period, Baun took a faceoff in the Leaf end, to the right of Johnny Bower in goal. (If that sounds odd – as in, "Why did a defenseman take a key faceoff?" – well, Imlach liked to have one of his defensemen take defensive draws in those days — the same approach helped the Leafs clinch Game 6 of the 1967 finals against the heavily-favoured Canadiens, when Allan Stanley faced off against Jean Beliveau in the last minute of the game deep in the Toronto end. That faceoff resulted in the Cup-clincher into an empty Hab net from Leaf captain George Armstrong.)
But on this April night in '64, when Baun took the draw for Toronto – I believe it was against Gordie Howe – something happened that caused Baun's lower leg to snap. He tried to skate it off but couldn't.
He crumpled to the ice and was carried off on a floppy-seeming stretcher, lofted high up in the air to get past the Leaf bench. The assumption was he was done at least for the rest of the game, including any overtime.
By all accounts at the time, he was checked over and given a shot of some description to deal with the pain (we found out later he had suffered a broken bone in his leg). He hobbled back to the Leaf bench as overtime started. I remember Baun saying years later that Imlach was going to send another defenseman to play with Brewer in overtime, but Baun called an audible and told his teammate he was ready to go.
Bobby jumped over the boards when the Leafs changed their defense pairing.
Lo and behold, the Leafs shoot the puck into the corner to the left of Red Wing goaltender Terry Sawchuk (the legendary netminder who later helped us with that Cup in 1967), and though the Wings tried to clear the zone by shooting the puck along the boards, Baun stepped up inside the Detroit blueline and stepped right into a shot that drifted toward Sawhuck.
The puck hit a Detroit defenseman and bounded past Sawchuk. The Leafs could have lost that game many times over, but they kept the game alive on the road in front of a boisterous Detroit home crowd, and (with a bit of luck that night, I'd say) fought back to take the series to a seventh game back in Toronto a couple of nights later.
Baun managed to get his foot into his skate boot that night for Game 7 at the Gardens. While it was a tight game through two periods in (1-0) and Detroit hit at least two posts that night when the score was still close, the Leafs won 4-0 and earned their third Cup in a row.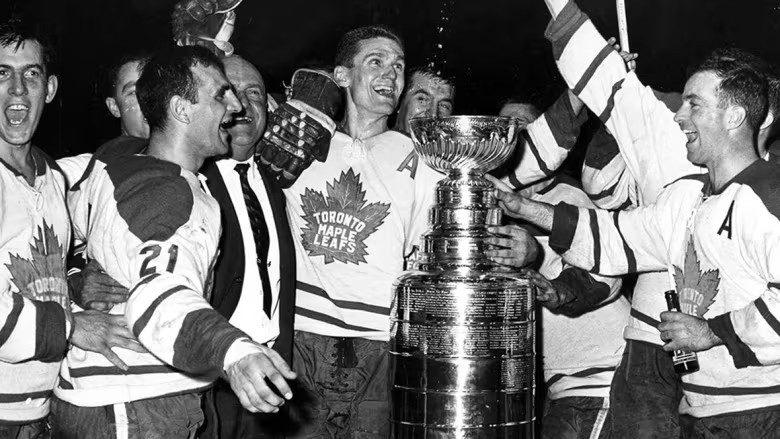 Baun was a Leaf hero, forever more.
But Bob Baun was so much more than that one overtime goal. He was really and truly one of those ultimate Maple Leafs. He played hard. He played tough— but fair. He had skill (he scored some other big goals in his career, including one, as I recall, in the semi-finals against Montreal in Toronto in the spring of '65, although the Habs went on to win that series). And he played with so much heart.
It was a bit sad when Baun lost some of his playing time toward the end of the 1966-67 season with Toronto. That was a difficult year all around. Frank Mahovlich had to leave the team to deal with what we now finally much better understand as a need to get one's mental health in order. Imlach himself was hospitalized for physical exhaustion as the Leafs spiraled downward during a 10-game winless skid in the second half of that '67 season (long-time former Leaf player and then assistant GM King Clancy took over behind the bench as squad started to rebound, and his lighter touch on the wheel of the Leaf car seemed to help until Imlach was able to return.)
But Baun saw a drop in playing time that spring and Larry Hillman came on and played alongside Marcel Pronovost, who the Leafs had acquired a couple of years prior in a big off-season trade. (Brewer had retired abruptly at the beginning of the 1965-66 season after a series of conflicts with Imlach, though Carl would return to the NHL a few years later with Detroit, where he was again an end-of-season All-Star, as he had been with Toronto earlier in his career. Carl also came out of retirement a second time for a brief spell in the 1979-80 season with the Leafs after Imlach had returned to be GM for his second go-round in Toronto, this time hired by Harold Ballard.)
Baun didn't play a lot during the playoffs, his role being that of a fifth defenseman. This seemingly did not sit well with Bobby, and who could blame him? Here was a man who had played through serious injuries and represented the Maple Leafs on and off the ice with distinction for a decade, being pushed suddenly into the role of substitute when things mattered most.
For me, the four Stanley Cups that the Leafs won during that wonderful era for those of us who, for our various reasons, fell in love with this team in those days, are due in large part to the fellow we have just lost, at the age of 86. Baun was that important.
This is not to, in any way, diminish the role that every Leaf who was part of one or all of those four championship teams played. We don't win without Bower (or in '62, Don Simmons in goal, too). We don't win in '67 if Sawchuk isn't there after Bower was injured.
"The Chief," George Armstrong, was Toronto's quiet but tough-as-nails leader. So good along the boards.
Ex-Hab stalwart, Bert Olmstead, helped us win our first Cup that decade in '62. Hillman, especially in '67. There was Kent Douglas in '63. Duff, the fantastic Dickie Duff, in '62 and '63. Bobby Nevin, too.
Eddie Litzenberger in those first three Cups. Larry Jeffrey in '67, along with Walton, Stemkowski and Pappin. Oh, Brian Conacher in '67 as well.
And those that won all four: Pully, Bob Pulford. So hard-driving, such a strong, hard-driving two-way player. Red Kelly. Oh my, what a leader and what a person. Eddie Shack, who was so much more than simply a rambunctious entertainer.
Dave Keon, without question. I don't think we win any of those Cups without Keon.
And of course, Stanley and Horton, both steady as a rock. Brewer in those early years. Billy Harris, too.
So many great old names. So many "heroes" at different points along the way. I would happily name them all.
Yet Baun will very much live forever in our hearts. He was made available in the summer '67 NHL expansion draft and became the first captain of the old Oakland Seals under his former Leaf teammate, Bert Olmstead. He then joined the Red Wings and played a role in awakening the great Gordie Howe that other guys in the League had been making make more money than Gordie was at the time, though Howe had been under the impression he was (as he should have been) the highest-paid player in the league. Howe had trusted his employers— sadly, not always the best approach.
Speaking of Howe, I was at an event in probably the early 2000s just north of Toronto. Gordie was there, and so was Bobby Baun. I was there to do a quick interview with Gordie, but I also had the opportunity to chat with Gordie's wife Colleen, who was such a nice, engaging person to speak with— so natural and down to earth.
Also that day, I ran into Baun. We had never met before but chatted for a while. He was speaking with a heavy heart about his old friend and teammate Gary Bergman, who was a fine Red Wing defenseman for many years in the 1960s and into the 1970s (Bergie, as Baun called him, was an important part of Team Canada's squad in 1972 as well). Bergman was in failing health, and you could see how sad Bobby Baun was that a dear friend was slipping away.
Baun was so soft-spoken, so thoughtful, and so unassuming. Here I was talking with a man that had been a "star" in Toronto, yet never acted the "star" part—not that day and not ever, as best I can tell.
Baun had returned to the Leafs during the 1970-71 season, in a trade from Detroit that went through St. Louis first. Baun, for me, played some of the most inspired hockey of his life for the next couple of years. He was the rock, the absolute leader and backbone of a very young Leaf defense that was emerging nicely— guys like Jim Dorey, Mike Pelyk, Brad Selwood, Rickey Ley, and Brian Glennie.
After a terrible start to the season, they made the playoffs in the spring of '71 and played a great series against a very strong Ranger squad that would make it to the NHL finals the very next season.
Baun was solid again as the Leafs played Boston in the playoffs in the spring of '72 but lost in five games to a powerhouse Bruin team that had not only Orr and Esposito but so much talent, toughness, and depth.
Unfortunately, early in the 1972-73 season, Baun's career came to a sudden end. He took a big hit and suffered a serious neck injury. He was never able to play again. He was forced to retire at the age of 36.
Baun tried his hand at coaching with the old Toronto Toros of the World Hockey Association in the mid-1970s, but I remember reading later on how difficult Bobby found it to work with some of the players of that era. Attitudes were changing. I'm guessing that with the arrival of this new competitor to the NHL, guaranteed, longer-term contracts created a sense of security for a lot of young, unproven players who did not have anywhere near the same kind of work ethic that Baun had had throughout his highly own successful career.
Baun was one of the Leafs from the early 1960s era that was very aware of life beyond hockey. He saw and understood the business side of the game. It didn't make him any less dedicated or passionate about how he played, but he was aware that players had to protect themselves and think about the future. In those days, there was no one else to help them think about life past the end of their hockey career.
He had some success in business, and while I'm not sure every venture he was involved in was successful (I don't know anything for a fact in this regard, just, like most of you, having read various reports about Bobby over the years), but he was obviously an astute individual and a proud, family-oriented man.
I know the Leafs retire numbers now (finally— what took so long??), thankfully. And to some, Baun may not "qualify" for that type of honour.
But I'll say this: if you were to build the "ideal" Maple Leaf team from scratch (even for this fast, high-flying era) and you cared about things like character, attitude, spirit, real toughness, a big heart, and being a real team player, you would want Bobby Baun on that team.
If you ever saw this guy play for any length of time, surely you would say that Bobby Baun would be one of the first players — and people — that you would pick to build a championship-level squad.
Bobby Baun will be missed, for sure — by his family, friends, old teammates, and many more. But he will also surely be missed by those of us who saw how much he cared when he played.
That's one of the good things about sports – not the negative stuff when many of us as fans are upset with this player or that, or frustrated when "our" team plays poorly or loses too much. The good things include when individual fans and the fan base of any team in any city appreciates those who gave back – in effort, heart, and grit — absolutely everything that they had to give— for themselves, sure, but as importantly for their team, their organization, their teammates as well as their team's fans and supporters.
I would venture to say that no one cared more than Bobby.
And while a lot of us lose, over time, some of the memories that were so riveting as youngsters, one other good thing is that for as long as we are able to maintain that memory bank, we will fondly remember this as Leafs fans: those heady days of the late 1950s – as the team was building toward something special – and then the 1960s.
And Bobby Baun was one of the men in blue and white helping to create those fantastic memories. Goodbye Bob, and thank you.