With the NHL offseason officially over and training camps underway ahead of the 2023-24 season, it's a good time to take stock of Brad Treliving's first summer with the organization as we look ahead to the upcoming campaign. 
Truthfully, this was an article I waited until the very last second to write due to William Nylander's contract situation hanging in the balance. At any point, Nylander could still sign a new deal to stay in Toronto. Nathan MacKinnon was announced at training camp last year. David Pastrnak signed in March during the season. But until he does, it hangs in the balance and makes the offseason somewhat incomplete.
The topic has been beaten to death at this point, so there's little use in rehashing it in depth. Nylander and Treliving have each said all the right things so far. If a deal is ultimately reached that is long term at a palatable annual salary, Treliving played his cards right and deserves applause.  
On the flip side, the closer Nylander gets to free agency, the more leverage he has. It is easy to test the market, and many teams have been burned by allowing their players to get too close to UFA period (as Treliving did with Johnny Gaudreau just a few years ago). 
Short of winning a Cup and watching him walk away to take some sort of overpayment elsewhere, it's not justifiable to lose a player as good as Nylander for free. He's turning 28 next May and scored 40 goals and 87 points last season after 34 goals and 80 points the year before. He's a bonafide top-line player. 
As we said, it feels a little incomplete without a conclusion to the Nylander situation. It's not the end of the world that it's not finished, but it is a little disappointing that it's not done yet. 
As for the offseason moves that did happen, here is the full picture:
In
Tyler Bertuzzi
Max Domi
Ryan Reaves
Dylan Gambrell
John Klingberg
Martin Jones
Noah Gregor (PTO)
Out
Ryan O'Reilly
Michael Bunting
Alex Kerfoot
Noel Acciari
Zach Aston-Reese
Justin Holl
Luke Schenn
Erik Gustafsson
The core remained untouched and no trades were made, but the complexion of the team did change. Let's break it down by position.
Left Wing
---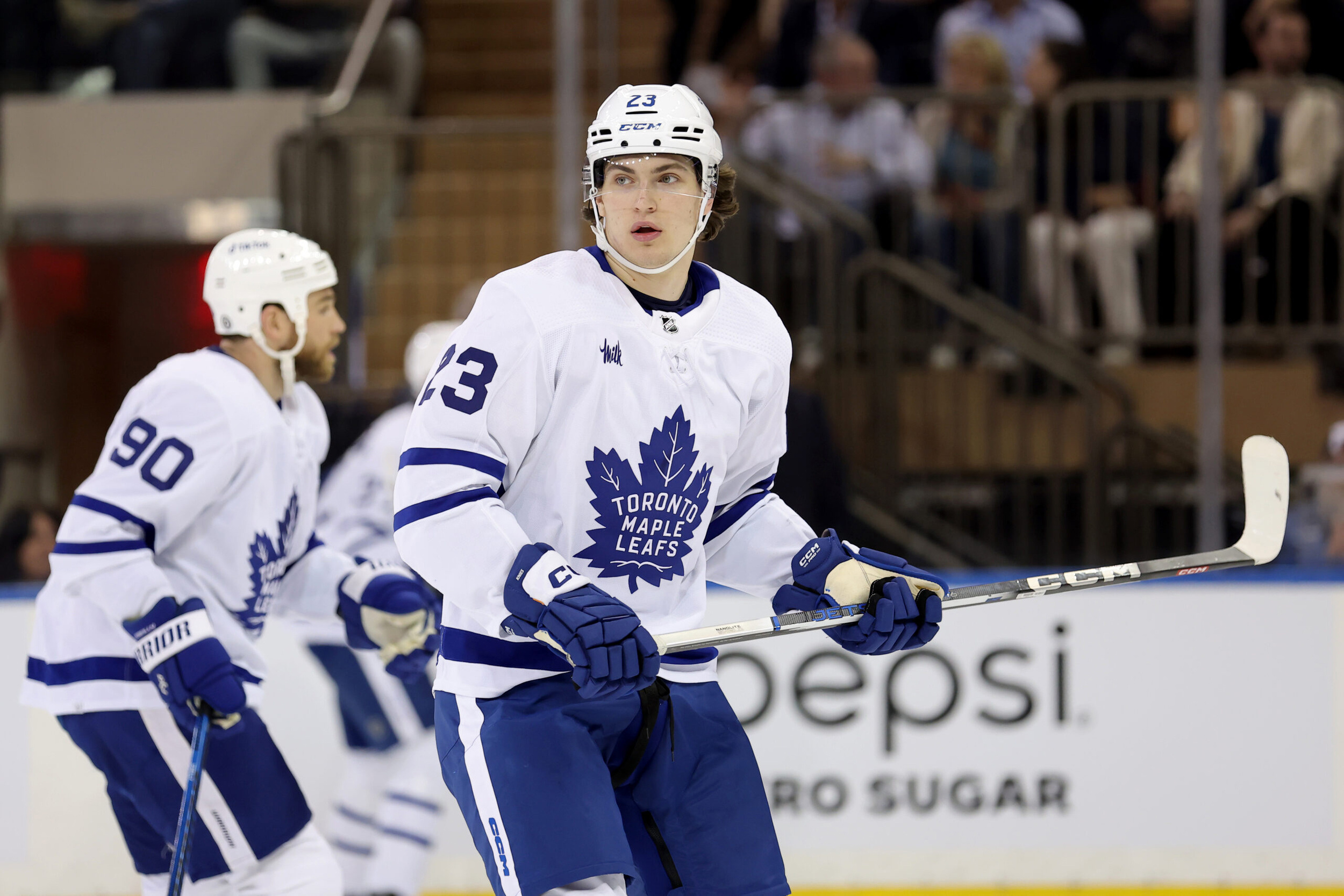 The left wing saw arguably the biggest improvement of any position for the Leafs in the offseason with the additions of Bertuzzi and Domi plus the potential for both Matthew Knies and Nick Robertson to enter the equation as well. At this point, the depth shapes up roughly like so:
Tyler Bertuzzi
Max Domi
Matthew Knies
Noah Gregor (PTO)
Last season, Michael Bunting, Alex Kerfoot, Pierre Engvall, and (eventually) Calle Jarnkrok out of necessity all featured here. John Tavares also played some left wing after the Ryan O'Reilly acquisition. 
In essence, the options were contributing players with clear holes in their game playing higher than they should in the lineup (namely Bunting and Kerfoot), or players playing out of position (Tavares and Jarnkrok). The Leafs have so many stars capable of carrying the mail elsewhere in their lineup that it largely didn't matter during the season, but at playoff time – especially after Knies got hurt – they reverted to Jarnkrok and Kerfoot in the top six and a struggling Bunting largely played on the third line. The options were limited. 
Tyler Bertuzzi needs to prove he can stay healthy, but there is little question he is a legitimate top-six forward. He is a three-time 20-goal scorer who has a career .28 goals per game – Mitch Marner is a career .33 goals per game player and Nylander is at .34, for reference – and he does his best work in front of the net. 
Domi gives the Leafs another scoring option that surpasses what Kerfoot could offer offensively. He isn't as responsible defensively, but he's talented enough to be a gamebreaker and create his own offense, which Kerfoot simply couldn't do. 
Especially if a few rookies are on the roster, Keefe is going to have to sort through defensive issues and achieve buy-in on that side of the ice. His work in this area has maybe been his most impressive accomplishment so far as Leafs coach, but there is an undeniable talent upgrade here. Additionally, both players were signed to one-year deals at more than fair value. There is essentially no risk.
Noah Gregor was added on a PTO, and with Bobby McMann battling through an injury and starting in Group 3 at camp, he would appear to have a clear path to a roster spot, cap considerations aside. He's feisty and has speed to burn. His old teammate, Mario Ferraro, was just quoted on ESPN as saying, "Noah Gregor, who's my good buddy, just signed a [professional tryout] there, but I'm confident that he's going to sign [a contract] there." In an energy role, he could be a fun player down the lineup.
Center
---
At center, it didn't seem like the Leafs were going to change much until they announced they were going to try shifting Nylander into the middle. Now the picture looks something like this:
Auston Matthews
William Nylander
John Tavares
David Kampf
One of my lasting memories from the 2023 playoffs was the Leafs running out a Tavares-Marner line against the Sam Bennett – Matthew Tkachuk line in the Florida series. The matchup didn't even last for one full game because the Leafs were getting dominated in those minutes. Shuffling it around created a domino effect, and they never quite settled into a lineup that maximized the usage of Matthews, Tavares and Ryan O'Reilly down the middle. Frankly, after acquiring ROR, they wasted time loading everyone into the top six (ROR also got hurt).
The start of the season is the right time to try Nylander at center. He can work through issues during much lower pressure games; he is good enough to drive a line on his own; the Leafs have enough talent to spread through three lines still, and if it works out, it will give the Leafs a calibre of three-line attack they have not come close to possessing in the Sheldon Keefe era. It could also help reduce the minutes of their top players by spreading them out across three lines. 
However, I will say this: If they are going to entertain this idea, they have to be willing to endure the inevitable warts that come with it. Either they are committed to giving this a real, multi-month look, or they shouldn't waste their time. There will be growing pains and adjustments. The payoff, if it works, would be well worth it.
The Leafs' one transaction of note at center was the re-signing of David Kampf to a four-year, $2.4 million AAV deal. The term is lengthy for a checking center, and they didn't exactly secure a discount while giving him that term, making it tough to reconcile. 
The UFA center market lacked quality, though. JT Compher, who signed a massive five-year, $25.5 million contract, has scored over 33 points all of one time in his career (conveniently, last season). 
There was a collection of veteran centers who signed varying deals:
Lars Eller, 34, signed a two-year contract worth $2.45 million AAVe

Pierre-Edouard Bellemare, 38, signed a one-year, $775,000 contract

Luke Glendening, 34, signed a two-year contract worth $800,000 AAV

Trevor Lewis, 36, signed a one-year, $775,000 contract

Nick Bonino, 35, signed a one-year, $800,000 contract
There was a group around Kampf's age who signed reasonable deals:
Nick Bjugstad, 31, signed a two-year contract worth $2.1 million AAV

Pius Suter, 27, signed a two-year contract worth $1.6 million AAV

Morgan Geekie, 24, signed a two-year contract worth $1 million AAV

Teddy Blueger, 29, signed a one-year, $1.9 million contract
It is hard to find quality centers and even more difficult to find centers that can capably play against the opponent's top players. All of those centers listed above are either past their best-before date or haven't exactly proven credible as a head-to-head matchup center to the extent Kampf has. And Kampf has been doing it on a perennial top-five team for two seasons now, logging heavy minutes in the process. 
However, it's important to note that a number of those centers have proven to be far more capable "two-way" centers who are good defensively but can chip in and create offensively. Add to that the fact that Kampf signed a longer deal than all of them, and there is notable risk involved because there's no real upside to him at this point. At 28, he is what he is: a checking center the Leafs can trust against top players in a pinch and an excellent penalty killer.
They could have signed those qualities for shorter term and less money, but they would be signing lesser players in those roles. If he logs heavy defensive minutes and does well it will generally be fine, but if Nylander successfully sticks at center and he's limited to a strict fourth-line role, it's going to look like a questionable use of cap space for a team that's tight against the upper limit and has a number of young players knocking on the door signed to ELCs.
Treliving made some other smaller moves at center as well.
Pontus Holmberg was signed to a two-year contract with an $800,000 AAV. He flashed potential last season and is waivers exempt this season. With Nylander potentially moving to center, it gives them needed flexibility. The contract was easy enough to get done and the extra year will look good if Holmberg solidifies himself this season once and for all. The bigger story will be their approach to developing him. 
The Leafs also signed Dylan Gambrell, who fits the mold of a checker. There is no real offensive upside here. If everything were to go right with him, he'd slot in as a checker and energy player who has some speed and can kill penalties. 
The biggest change to this position will be the internal movement of Nylander to C, and if that goes well, it's a potential franchise-altering move. John Tavares has two years left on his deal. The organization doesn't have a ton of center depth, and there's certainly nobody knocking on the door as a potential top-six center anytime soon. At 27, Nylander sticking at center locks them into Matthews-Nylander down the middle for the foreseeable future provided they can reach a contract agreement. A lefty-righty duo as the team's top two centers is also all kinds of appealing. 
Successfully transitioning Nylander to center would make him more appealing to pay up for on his next contract as well. When we have analyzed the comparables, we have routinely noted when other players play a premium position. Right wing simply isn't one, but if he's a center and maintains his production, it makes the numbers he's seeking more justifiable. 
We are a long way from Nylander proving himself as a center night in and night out in the NHL, but this is something we have been advocating for half a decade. With new depth on the wings, they are well positioned to give it a long, honest look.
Right Wing
---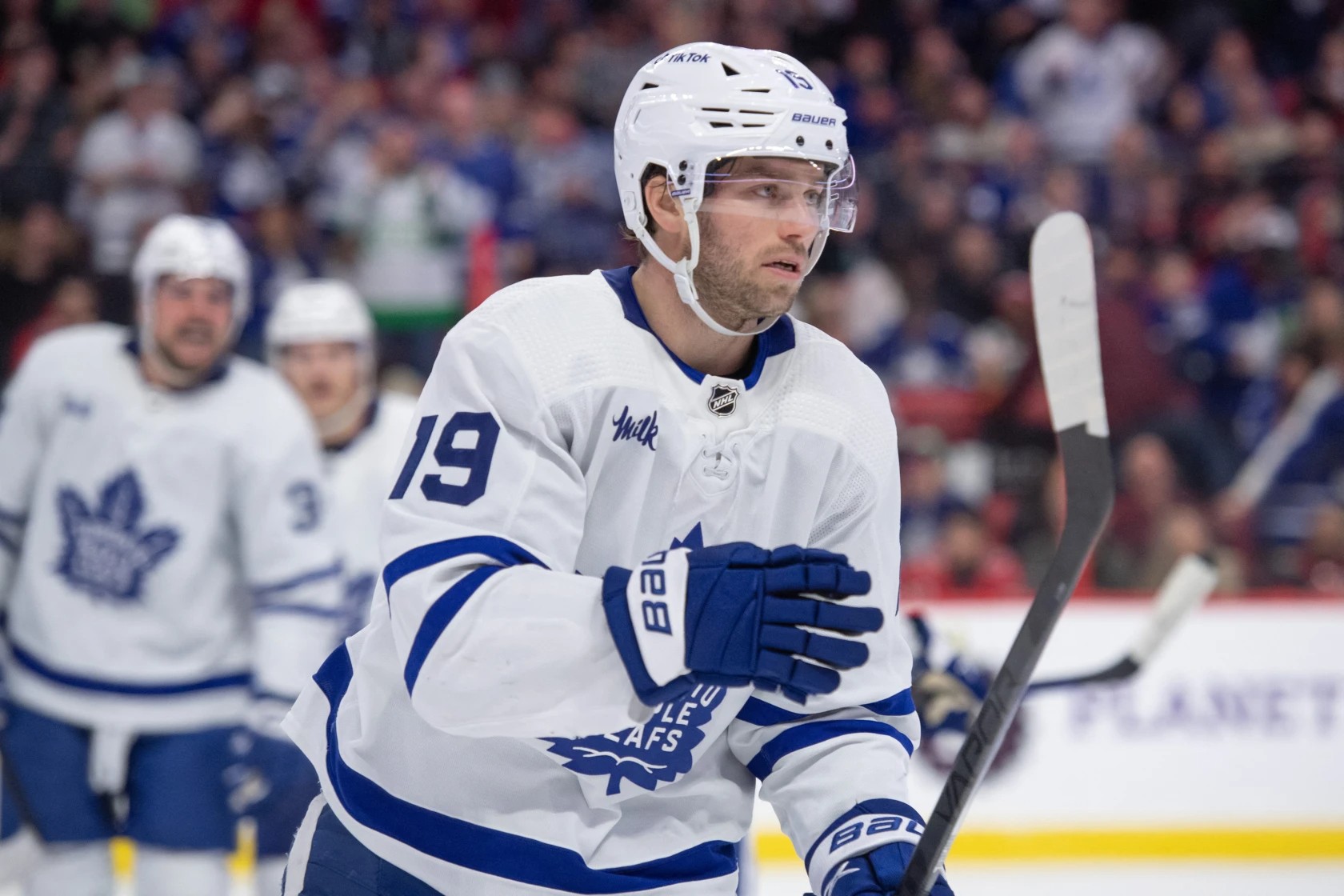 Without Nylander, the right-wing depth will take a substantial hit. They simply can't replace Nylander without a big addition (which is why they can't let him walk for free). Now the right-wing depth looks something like this:
Mitch Marner
Calle Jarnkrok
Sam Lafferty
Ryan Reaves
Truthfully, other than Marner, every player looks to be a peg above where they should be located on a contender's depth chart. Jarnkrok scored his first 20-goal season at 32 and has never recorded 40 points. In the playoffs last spring, he all but disappeared. Lafferty is coming off a career season of 12 goals and 27 points at age 27. Reaves is an enforcer.
That doesn't mean the situation is entirely dire, though. There are assets present that can be used to supplement the talent on the roster. 
Jarnkrok produced alongside Matthews last regular season. As we said in this space all last season, he can shoot a puck if nothing else. He owns an excellent release. He can't really create on his own, but he's an honest player who checks. Alongside linemates who can set the table for him, he can finish. The coaching staff can work with that when it has as much talent as the Leafs do elsewhere in the forward corps.
Lafferty struggled to find his role after the acquisition, but the hope is that with an offseason and training camp under his belt, he will be more comfortable and find a role. He has speed to burn. He has an edge to his game. He can't drive a line on his own, but he can contribute to a line and add an element to it. That's not to suggest he's slotted correctly, but he shouldn't look entirely out of place or be a notable detriment.
And then there is Ryan Reaves. The contract and the player type have been hotly debated enough by his point. It's a contract that is protected from a cap penalty if he retires, and it's barely above the buriable amount. 
On the ice, he can't be a complete liability. In Minnesota, he was on for 20 goals for and 19 against at 5v5. In New York the season before, he was outscored 16 to 30. That's too deep in the red. 
Off the ice, there's something to be said for the element Reaves brings. The team has felt stale at times over the past few seasons. There were times when it simply became a bit of an unlikeable team. The main purpose of any team is to win a championship at the end of the day, but it's also an entertainment industry. In a long, grinding, 82-game season, I don't think that's nothing.